Q: What is Geofencing?
Geofencing is a location-based service in which apps use GPS, Wifi, and mobile data to initiate a pre-programmed action when a device enters the no boundaries area or leaves the virtual boundaries. This geographical location is known as geofence.
Additionally, geofencing has surprising benefits, such as it helps you to get the live location of your children or partner.
In this article we will tell you how to Set up Geofencing.
Part 1. How to Set up Geofencing on Android?
As you know, the geofencing feature allows you to track the targeted phone location. If you want to track an android phone's real-time location, you can enable the geofencing feature of the android phone.
Geofencing Android is not a complicated process. But there is a chance that the owner of the targeted phone can easily turn off this feature to hide their location.
But don't stress, you can still track their real-time location with an amazing monitoring app, KidsGuard. KidsGuard is a parental control app that helps people to track their activities.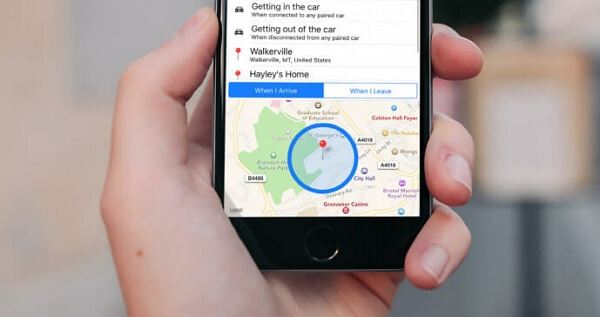 KidsGuard is not an ordinary parental control app. It includes all amazing features such as geofencing, websites and apps blocking etc. With the help of geofence, you can track the real-time location of people. This is a useful feature that lowers the tension of parents who remain worried about kids when they go outside.
Additionally, this amazing feature provides you with complete details of traveling history like where he did or she go, when they reached and when they left. It shows you date, time and spent time, etc.
You can add multiple geofencing like no-go areas; whenever that person goes to that specific area, you will receive the emails without notifying the owner of the phone. It is important to have this feature for the security of your kids.
This feature works in silent mode, no one can detect it and turn it off. So you can easily know about your kid's real-time location.
How to set up KidsGuard geofencing?
Setting up geo-fencing on a kid's phone with KidsGuard app is an effortless process; it just needs your 5 minutes for a complete setup.
Step 1.
Click download button below to gei KidsGuard from Google Play Store or App Store, installing it and sign up an account.
Step 2.
Log into your account and go to dashboard, click
Bind Now
button here and copy the Url in setup instruction, send it to your target phone.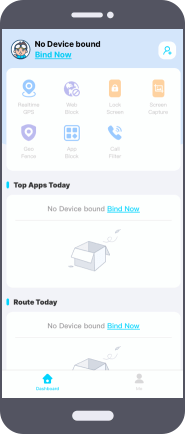 Step 3.
Open the Url in your target phone, download KidsGuard Jr. onto his/her phone. When installation is finish, you can start to set up geofencing on his/her Android phone.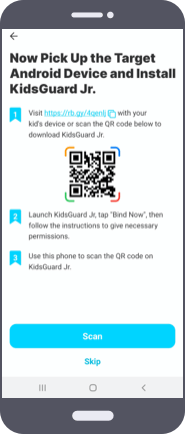 How can KidsGuard help you to manage kids' devices?
KidsGuard is a parental control app made for anxious parents who remain worried about kids' online activities. As you know Teenagers are rebellious, in that period of life kids don't take their parents' advice seriously.
That's why parents need a perfect solution to control kids' phone usage. This app gives you the authority to block all unwanted and inappropriate websites on the kid's phone. You can permanently block the apps which you don't want your children to use, like gaming apps, adult content containing apps, etc.
Additionally, you can set a filter on calls like who can call your kid and who's not. You can block a suspicious person's number from making a call to your kid.
Moreover, the KidsGuard app has an awesome feature," capture/lock screen." This allows you to capture the real-time screen; for example, if your kid tells you that he is studying or doing exercises, you can check if he is lying or not.
Parents can check the location history of kids; this app sends you notification if your kid goes anywhere.
More amazing about the KidsGuard app is that it provides you a comprehensive weekly or monthly report, which you can download.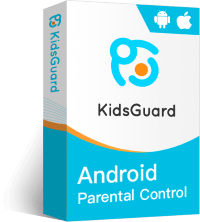 Features of KidsGuard Parental Control App
Block inappropriate games, websites to create a safe online environment
Capture kids' devices screen to know what they are doing
Track kids in real time and view their location history
Filter Calls to protect kids away from being harassed by scams
Receive detailed daily, weekly, and monthly reports of your child's online activity
Part 2. How to Set up Geofencing on iPhone?
If your kid keeps an iPhone, you can benefit from Apple's very own app, Find My Friends to locate your kid. It sends you geofence-based notifications when they enter a no-go area.
For this, you will have to send an invitation to your kids through the find my friend app, and if they accept it, you can; you will be able to track their location. If your kid disables the location, you will not be able to know about their location.
But you need not worry as there is parental control available, which helps prevent them from disabling the location.
After accepting your invitation as a "follower," you will get notified whenever they enter or leave a specifically designated location. Geofencing iPhone is not difficult at all.
Unluckily you can set only one notification at a time. If you want to get many different notifications for the different locations, you can set recurring notifications. But this can only be set by the person whom you are tracking.
Part 3. Benefits of Geofencing for Kids
There are the following benefits of geofencing:
Teachers can keep an eye on kid's phones on campus
It enables the teachers to check what the kids are using on their mobile phones. But outside the boundaries of the school wall, they can't keep an eye on kids.
You can make a geofence that also goes beyond the school boundaries that works after the kids go outside the schools.
Parents can track their kids
You can't make your kids sit with you 24/7, but there is a way to keep an eye on them. This gives you a sense of safety. geofence tracks your kid's location, and it sends you notifications and alerts when your kids go to some dangerous area.
Locate missed devices
When someone loses his phone, there are two disadvantages: financial, privacy, and security concerns. The risk of loss and stealing is more from a kid than an adult, and this is because kids are not that responsible. Geofence enables you to track the location of your kid's lost mobile.
Part 4. Conclusion
For parents, it's important to know about kids' real-time location just for their safety. Kids are not that mature; they don't know which place is not safe for them; they just go to different places for fun.
It's a parent's duty to keep an eye on their activity, and they should know which places their kids are visiting nowadays. Various apps and software are available that help to know the actual location of kids, but KidsGuard is an amazing app that helps you to know the actual location of your kids or partner.
The geofencing feature of KidsGuard app makes it easier to know about the real-time location of kids; you can also check when and where they visited, etc.