Question:
Is there any way to see deleted WhatsApp messages on iPhone?
We can't deny the fact that WhatsApp has become one of the most used social media applications in the world. People love it due to its speedy communication and lightweight factor. Well, iPhone equally supports WhatsApp and if you're interested in how to see someone deleted WhatsApp messages on iPhone, fortunately, you've landed on the right post.
In this article, we will dive deeper into an effective solution and some common ways. Check it out!
Way 1. Only Effective to Read WhatsApp Deleted Messages on iPhone
If you want to know how to see deleted WhatsApp messages on iPhone, the best way is to use a WhatsApp tracker app. While there are multiple those apps online, none is as secure and effective as KidsGuard Pro.
KidsGuard Pro for iOS is a well-known brand name in the market. The app has a huge user base from 190+ countries. It is often reviewed online on major media outlets such as AlternativeTo, TECH TIMES, NewsBeezer, etc.

This app comes with 20+ exceptional features that no other software occupies, which makes it more reliable and beloved WhatsApp messages monitoring software.
Access deleted messages: KidsGuard Pro has the ability to access deleted messages either they were sent from someone to the target or target sent to someone and then deleted. Whatever the situation is, it can track all those messages.
Check group WhatsApp messages: Besides individual chats, KidsGuard has aptness to look into the group WhatsApp messages. And you can check each group member's activities.
Access media files: Aside from textual messages, it has the propensity to fetch all the deleted media files including photos, videos, and voice messages.
Get contact details: Wan to know who is chatting with your target? This program allows you to see contact names, portraits, date and time.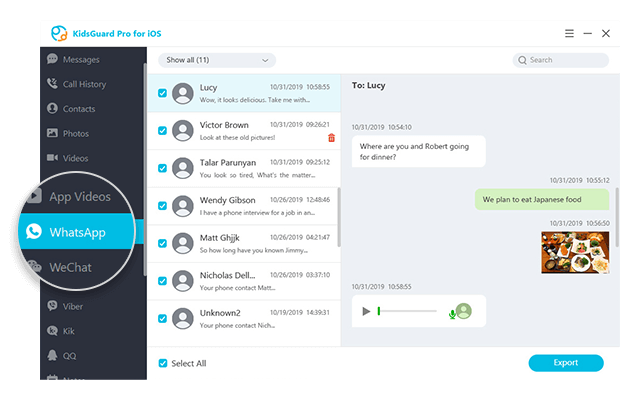 How to Read Deleted WhatsApp Messages on iPhone with KidsGuard Pro
Ease of use:
Using this software is also simple and does not require installation on the target phone. You can simply download the app onto target computer and install the same. This will give you access to a control panel as well as request details of the phone you wish to access.
Step 1: Use your valid email address while signing up and then get an iOS license.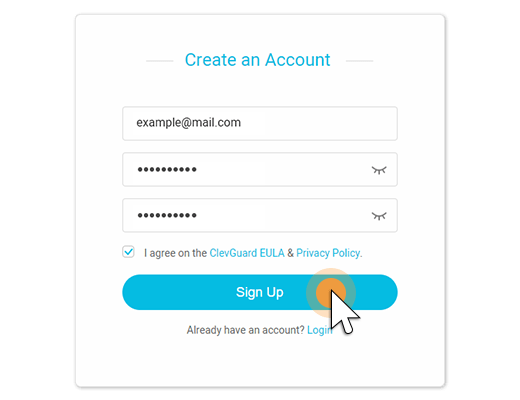 Step 2: Download and install the application on the computer/laptop. It is advised that try to install the application on the target computer to get timely updates.

Step 3: After the login, KidsGuard pro will start uploading the backed up data by itself. From here, you are supposed to choose the target device. Then, you would be able to capture all the activities performed on that target phone.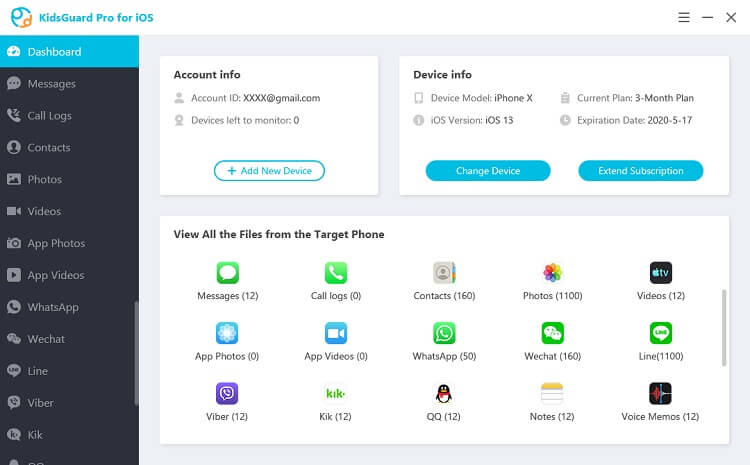 I am sure you have learned how to see WhatsApp deleted messages on iPhone using KidsGuard Pro, best of all you don't have to jailbreak the device for the app to function. It is noted that KidsGuard Pro not only track WhatsApp messages, but also text messages, browser history, call logs and other social media apps like LINE, WeChat, Viber, Kik, QQ.
Other than KidsGuard Pro, here are some methods that people use to see deleted messages on WhatsApp, though, I would like to inform all that they may be not working as effective or legit as you think.
Way 2. Use Keylogger Software
Requirement: Jailbreak the iPhone
The keylogger software works by detecting individual key press on an iPhone so that it can monitor what you're doing on the phone. It must be mentioned that Apple company values private information and data a lot and this kind of apps are not permitted by Apple.
If you still want to install keylogger on iPhone, jailbreak is a must. However, your device will become prone to so many threats. Since the whole purpose of Jailbreaking is to have File-System Access. Many malicious apps/tweaks can inject any unwanted malware, spyware or adware, which you clearly don't want. So you should think twice before act.
Way 3. Check WhatsApp Notification Log (Not Working Anymore)
Requirement: Only available for Android phone running Android 6 or higher version.
The Notification log is another way used to see the WhatsApp deleted messages on Android phones. Though WhatsApp has fixed this flaw afterward and this method doesn't work anymore. Here are a few steps to see WhatsApp deleted messages if you are still willing to know how this method works.
Step 1. Press and hold your Android phone screen from anywhere on the home screen.
Step 2. A few options would appear on your screen. From those options, open the "widgets" option and then tap on the "settings" option.
Step 3. Click on settings to further explore it and you would be able to see the "notification log" option. Tap to open it. You can use these new settings to see the deleted messages on your notification tray, but they will be disappeared as soon as you click on them to view in the chat.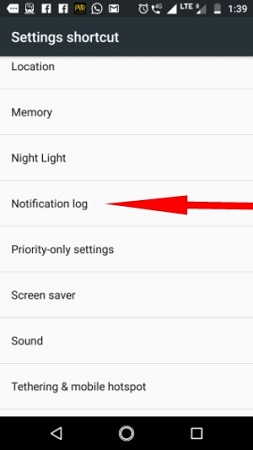 Way 4. Restore WhatsApp Chat Backup
Requirement: Only available for Android.
You may know that Android users are at ease when it comes to how to read deleted messages. The reason is, all the chats are automatically backed up every night at 2 am, though, you can set a custom time for it.
So, if you come to know that you've accidentally removed some important chats from your Android or wonder how to read a deleted WhatsApp message someone sent you in iPhone, follow the steps to get them back.
Step 1. Uninstall WhatsApp and install it again from Google Play Store.
Step 2. Enter your mobile number or someone else's and agree to Terms and Conditions to proceed.
Step 3. You can choose to restore messages from a backup. Then you can see deleted WhatsApp messages again.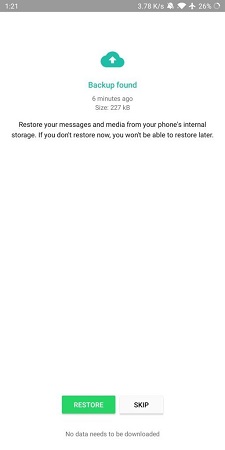 The bad new is that, unlike Android users, there is no such way for iPhone users to get their deleted WhatsApp messages back. So, this method doesn't work for iPhone users and they need to look for some other professional tools like KidsGuard Pro to see WhatsApp deleted messages on iPhone.
Conclusion
Now we have taken you through all the ways on how to see deleted messages on WhatsApp iPhone, and the only effective way is to use KidsGuard Pro WhatsApp message tracker as it is effective, reliable and reputable with amazing reviews. It also provides a free demo to try all the features first.