Nowadays, people are likely to chat with friends via video but not only by phone calls. One of the key reasons is that mobile applications like WhatsApp represent a considerable improvement over earlier chat systems. Meanwhile, having all of your media files stored on the cloud is undoubtedly quite beneficial. In this manner, your media files will be safeguarded even if your phone is stolen or damaged. To ensure that the user always has access to his complete WhatsApp history, transfers should ideally be routine and automated.

Thus, 'How to backup photos on WhatsApp' and 'How to backup videos from WhatsApp' is what most WhatsApp users are concerned about. In this article, we will show how to sync WhatsApp photos to google drive or in other words, restore WhatsApp photos without backup.
Part 1. Does WhatsApp Google Drive Backup include Photos?
The answer is No. Since 2020, Google Photos has no longer backed up WhatsApp pictures because some people can use Google Drive backup to hack WhatsApp. The goal of these modifications was to conserve internet resources from other users who share your WhatsApp videos and photos.
Moreover, Google took this action to reduce the amount of traffic on the cloud because this function also used a lot of bandwidth and memory on devices.
Part 2. How to Backup WhatsApp Photo from Your Phone with Google?
If you still want to back up WhatsApp photos to Google Drive, there are 3 simple ways for you to learn. No complex skills for backup WhatsApp photos to Google Drive. You just need to adjust some steps for different OS - Android and iOS.
Method 1. How do I back up my WhatsApp photos to Google Drive?
Launch WhatsApp on your phone.
Tap More options, you can find it in the right upper corner which shows as three dots.
Select Settings > Chats > Chats backup > Backup to Google Drive.
Choose a backup frequency.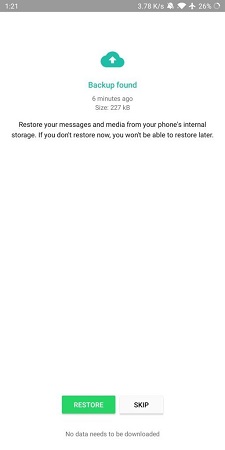 In this way, you could back up WhatsApp messages, including media messages to Google Drive. But as you have chosen Frequency, there is a risk of missing some WhatsApp photos. To solve the problem of backing up WhatsApp photos to Google perfectly, there another way, that is, back up your WhatsApp photo to Google photo. Then, we will illustrate the solution step-by-step and classify them by 2 different and common OS.
Method 2. Sync WhatsApp Photos to Google Photos on Android
Since Android is the operating system that Google built its mobile devices, moving photographs from Android is simple. You can trace this theory by checking Android's Help Apple#GetTheMessage on Twitter.
The way to turn on automatic synchronization between the Google Photos account and the WhatsApp image folder. You will then need to make some adjustments.
Find the settings menu in your Google Photo app, open it, choose the Device folder, and then choose WhatsApp.
By dragging the slider button next to the "Backup & Sync" option on this page, you may enable it.
You may make sure that images are saved to the cloud as soon as you get them on your phone by toggling this slider, making them accessible whenever you need them.
Method 3. Backup WhatsApp Photo to Google Photos on iPhone.
This method is not work if you want to transfer WhatsApp photos to Google Photo on iOS. Instead, you can back up and restore your WhatsApp chat history with iCloud.
Back up WhatsApp Photos to iCloud:
Open WhatsApp on your iPhone.
Toggle on the WhatsApp Setting option.
Choose Chats > Chats Backup > Backup Now.
Tap Automatic backup.
NOTE:
By selecting Auto Backup and a backup frequency, you may enable automatic, scheduled backups.
Tips: Where Are WhatsApp Images Stored in Google Drive?
The WhatsApp backup file may be found in Google Drive's Backups folder after backups have been configured. If you ever reinstall WhatsApp, the app can detect this backup automatically during setup, so you don't need to actively do anything with it.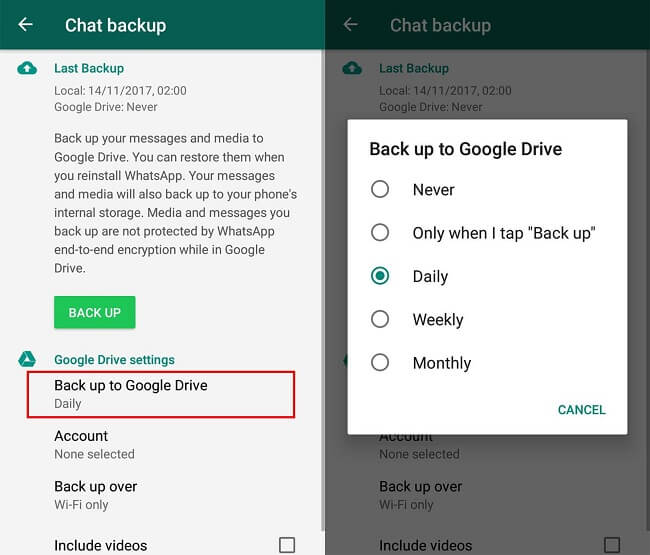 Part 3. Why my WhatsApp Photos Are Not Showing in Google Photos?
Sometimes, you will find the WhatsApp photos are not showing in your Google Photos Gallery even though you have turned on that photo. If you have a .nomedia file in the WhatsApp media folder, this can occur. Any folder with a .nomedia file won't have its contents appear in other programs. You can delete the .nomedia file by tapping Media > WhatsApp Photos.
There is another effective way to back up all WhatsApp photos or even recover deleted WhatsApp photos without backup. No rocket science hidden behind, follow our steps to view and save all WhatsApp photos.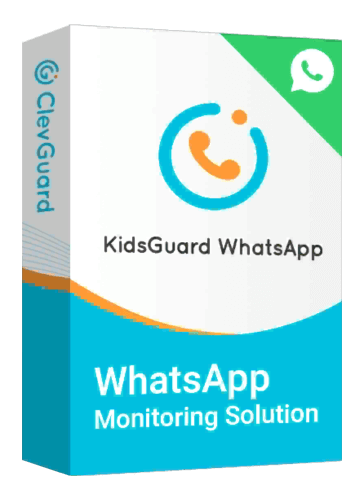 An Array of KidsGuard for WhatsApp
Back up all WhatsApp photos, even recover deleted WhatsApp photos.
View WhatsApp photos on the Web, and you can download them on your PC to reduce memory usage on your phone.
Recover old WhatsApp photos on your phone.
Moreover, you can back up 10+ WhatsApp data in one app, for instance, WhatsApp chats, statuses, calls, video calls, voice messages, and so on. All WhatsApp data can be exported to your phone.
NOTE:
For now, KidsGuard for WhatsApp can only be available for Android 6.0- Android 13.
Extra Tip: How to Recover WhatsApp Photos on Android?
First of all, you need to get a plan for WhatsApp by clicking the button below. KidsGuard for WhatsApp is dedicated to the WhatsApp app, so its features are more comprehensive than any other similar apps in the market. Without further ado, let's see how to recover WhatsApp photos with KidsGuard for WhatsApp!
Step 1. After purchasing KidsGuard for WhatsApp (Click the button above), you'll see this program on the 'My Product' page. Click or tap Setup Guide then.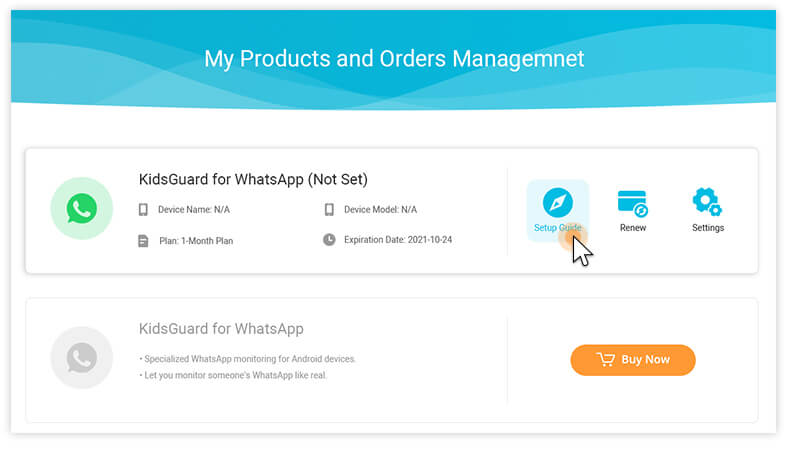 Step 2. Install KidsGuard for WhatsApp on your or someone's phone. This app can monitor any WhatsApp account without the permission of the owner, the only thing you need to do is to install the program on the target's phone from www.installapk.net. Slide to install KidsGuard for WhatsApp.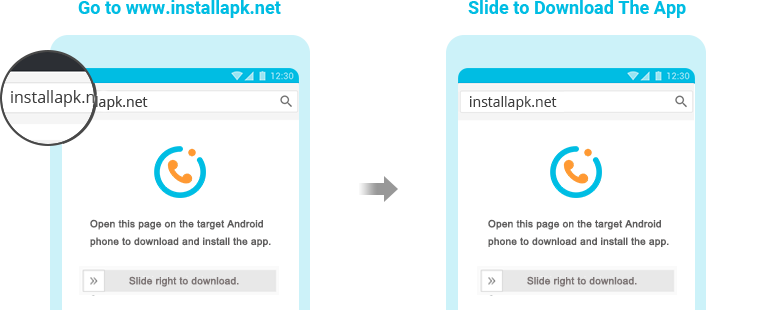 Step 3. The next step is to set configurations and hide this app by following the onscreen guide on the target's phone. It only takes 3 minutes.

Step 4. If you activate KidsGuard for WhatsApp successfully, then go to the 'My Product' page and tap the 'Dashboard' option.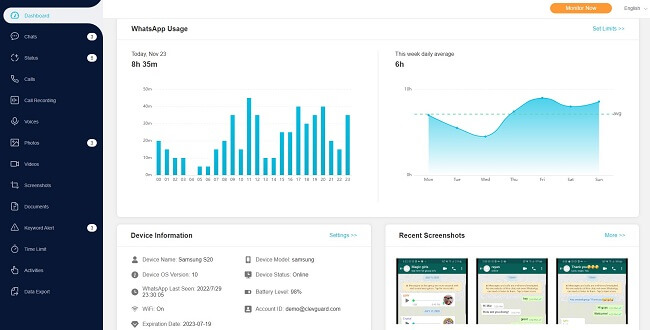 Step 5. Open your dashboard. Go to the side panel to explore more features. From that panel, open the 'Photos' option. You will see various WhatsApp photos stored on your Android device.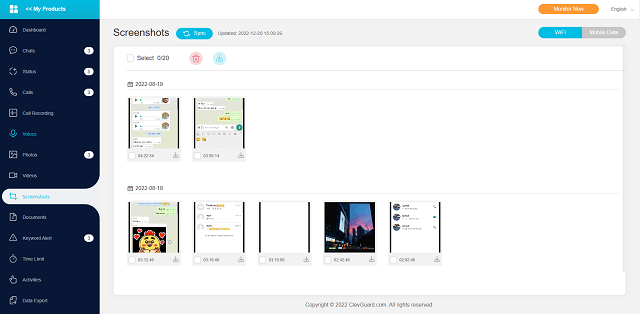 Part 4. Conclusion
How to back up or sync WhatsApp photos with Google Photos is described in this blog. The technique is quite simple and useful if you want to secure your priceless WhatsApp images.
Additionally, KidsGuard for WhatsApp would be the best application to use if you wanted to recover WhatsApp photos, or even WhatsApp chats that were stored in Google Drive on your Android phone.