Do you want to check your partner's phone and confirm their love promise? Their added behavior may give you bad feelings and make you insecure about the relationship. As for me, most of the time, it is the reason.
Are there tools to help check their phone discreetly and, if possible, monitor secretly?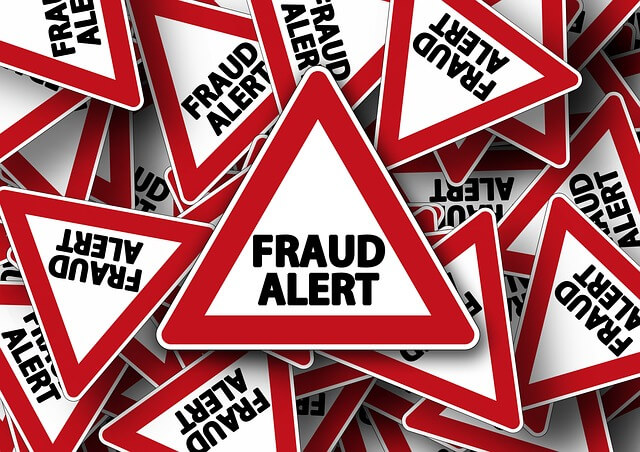 In this article, we will illustrate 4 ways to monitor someone's WhatsApp and see their WhatsApp photos secretly. With different customer's needs, you can find demanded ways and easily navigate to the solution in the table of content below.
Part 1. How to See WhatsApp Photos on Android?
Hack someone's WhatsApp looks like difficult work, but you can quickly see someone's WhatsApp photos with App. KidsGuard for WhatsApp is an App that specializes in monitor and tracking WhatsApp data. No need to root. It can be used and installed.
Other free but riskier methods exist to get what you want. You can trace WhatsApp chat history by accessing the target's Google Drive or checking the target's phone as soon as possible.
All methods need preparation. The following guide shows you how to do and what you should notice, ranked by risk.
1. Use KidsGuard for WhatsApp [Low Risk]
KidsGuard for WhatsApp is a third-party app that can monitor, track, and hack WhatsApp discreetly without a WhatsApp account.
It is a dedicated WhatsApp monitoring app that can monitor the chats, calls, images, and videos in someone's WhatsApp. Though it can run stealthily without rooting a phone, KidsGuard for WhatsApp only supports Android 6.0-Android 13.
Remotely monitoring WhatsApp data is a critical feature of KidsGuard for WhatsApp. Only if the one uses WhatsApp, KidsGuard for WhatsApp can catch information like chat texts, images, voice, documents, etc. Then transfer them to monitoring devices. You can also export cheating evidence from KidsGuard for WhatsApp because all monitoring data are supported to export to your smartphone or computer.
What you want to know is what KidsGuard for WhatsApp provides you.
Clear Monitoring Dashboard – Organized daily WhatsApp data. Users can monitor crucial WhatsApp data with just one glance.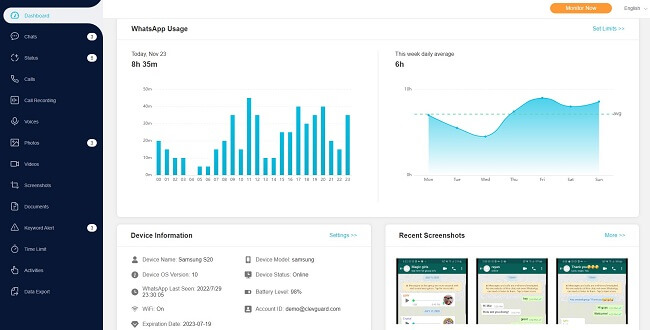 Monitor Multiple WhatsApp Images - Photos exchanged in WhatsApp chats or uploaded to Status can be easily viewed on the KidsGuard online dashboard. This feature allows you to check someone's WhatsApp photos remotely seamlessly.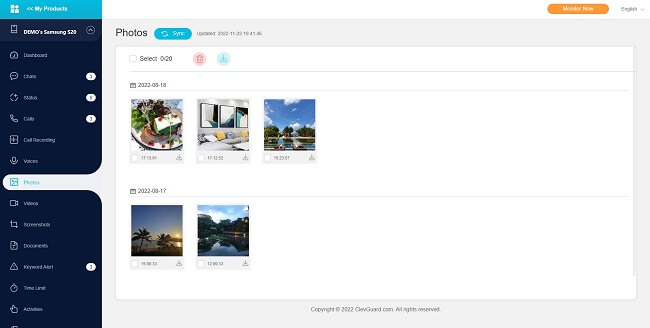 Read WhatsApp Messages - It's super easy to track WhatsApp messages someone has sent or received, like text/voice messages, emojis, photos, video previews, GIF previews, documents, etc. Even record deleted WhatsApp messages.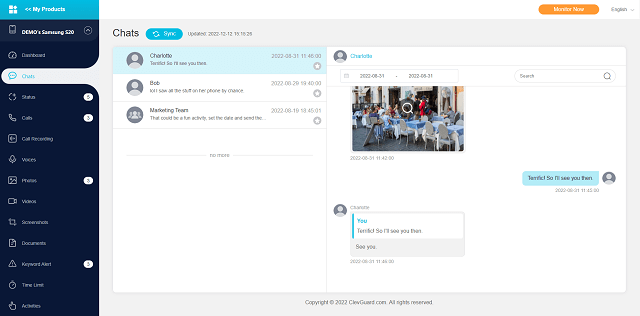 Record WhatsApp Calls – You can check who are the one your boyfriend had taken a call with. Even if it was a video or voice call, the duration and any missed calls were accurate. And you can export call logs. You can track all voice and video calls remotely. Using the playback features is an excellent way to find out what they have been doing recently.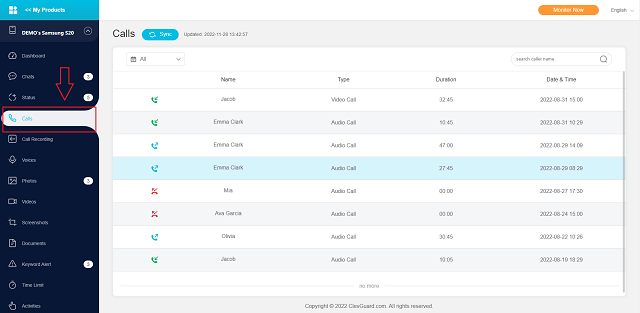 Customize Keyword Alert – You can set suspicious keywords like "drinks" or "girls". This App can detect words or calls on your target phone's WhatsApp. You will get alerts when they appear.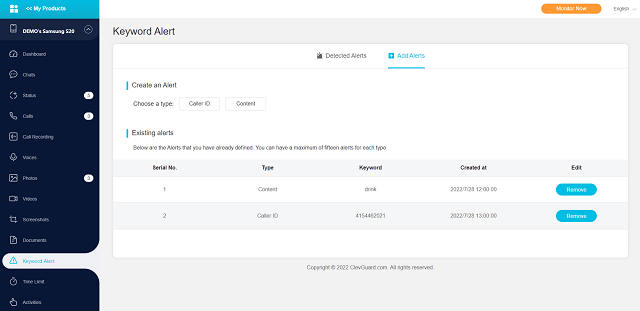 The only thing you need to do is download it on your phone once. Then you can monitor WhatsApp like you use WhatsApp on your devices remotely and sync. Click the Monitor Now button below or view the demo first, then get your plan and go to www.installapk.com to start your monitor.
Related Article: Full Guide on install KidsGuard for WhatsApp
The risk is KidsGuard for WhatsApp cannot record any data if this third-party App is uninstalled or the target's phone is not connected to a network. Besides, you cannot get previous WhatsApp data before you install this App. It can only record the information after you install it on the target's phone.
2. Check Google Drive Backup [Medium Risk]
As Google Drive is widely used nowadays, you can also try accessing your boyfriend's Google Drive to check WhatsApp photos; when using Google Drive, all the messages are recorded on Google Drive. You can set up Google Drive backups on your boyfriend's phone with the following steps:
Step 1. Open WhatsApp.
Step 2. Tap More options > Settings > Chats > Chat backup > Back up to Google Drive.
Step 3. Select a backup frequency.
Step 4. Choose the Google account to which you want to save your conversation history. If you don't already have a Google account linked, hit Add account when prompted and input your login information.
Step 5. Tap Back up to choose the network you want to use for backups.
Although you can access Google Drive with another account from a PC or smartphone, verification is a problem. When you try to enter Google Drive through your boyfriend's account, a verification code will send to his phone. Besides, if his Google account doesn't trust your device, you will send a verification code to him every time you sign in.
3. Search Target's Phone Storage [High Risk]
Check your boyfriend's phone directly way. You can see what he wants you to see. As for suspicious messages? Maybe he has already deleted them!
Luckily, On Android, by default, WhatsApp saves every image you send and receive and puts them in a specific folder. Thus, you can delete an image from a WhatsApp chat but still find it on your phone in this folder.
Download a free file Android explorer app, such as Files by Google, then drill down to the following folder: Internal Memory > WhatsApp > Media > WhatsApp Images.
Here you'll see all the images which has been received in WhatsApp. A Sent folder inside this one contains pictures you've sent. Look through to see whether your missing WhatsApp photographs are there.
If you're looking for a media type other than photos, you'll also see WhatsApp Video and other folders here — be sure to look at them.
Part 2. See WhatsApp images by WhatsApp Web
Do you know WhatsApp web can leak information without a phone or WhatsApp account?
The operation is simple. You will automatically log out of WhatsApp Web after 30 minutes of inactivity. However, when you sign into WhatsApp Web, you can check a box under the QR code that says keep me signed in. Then you will stay connected as long as WhatsApp is connected to your boyfriend's phone.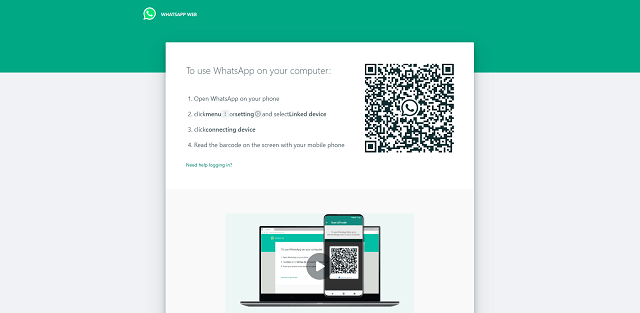 Alongside advantages, this method is not safe. Your boyfriend can detect this monitor way and unbind your device so that you can't sign in to his WhatsApp web account.
Part 3. Conclusion
WhatsApp contains secrets of ourselves. There are many ways to check your boyfriend's WhatsApp secretly. The most secure method is to take third-party apps like KidsGuard for WhatsApp to monitor. Once installed, you can discreetly monitor his WhatsApp account for a long time.
Monitoring someone's WhatsApp without them knowing can help you detect cheating before bad things happen, but it potentially impacts trust and love. Consider carefully before operation.