Are you wondering if Telegram is a safe app for your kid? Is there any security concern regarding Telegram that you should be aware of? Is there a need to set parental control on Telegram?
These are some common questions that arise in the minds of parents whose children regularly use Telegram app for instant messaging. We will do a thorough Telegram app review to highlight the points that parents should know about Telegram. We will also answer how safe Telegram app is for your kid and how to set parental control on Telegram.
What is Telegram?
Telegram is one of the most popular instant messaging apps with over 550 million monthly active users. Telegram is currently the best alternative to WhatsApp which is the most popular instant messaging app.
On Telegram, there are features of the voice call, video call, voice chat as well as secret chat, you can send instant messages to any Telegram user once you have their Telegram username. There is also an option to self-destruct messages secret chats after a certain duration. Besides, you can schedule messages and send silent messages.
Besides, you can also be part of Telegram groups to interact with one another and a member of Telegram channels where admins broadcast their messages for members.
In short, Telegram is a complete messaging app from all aspects.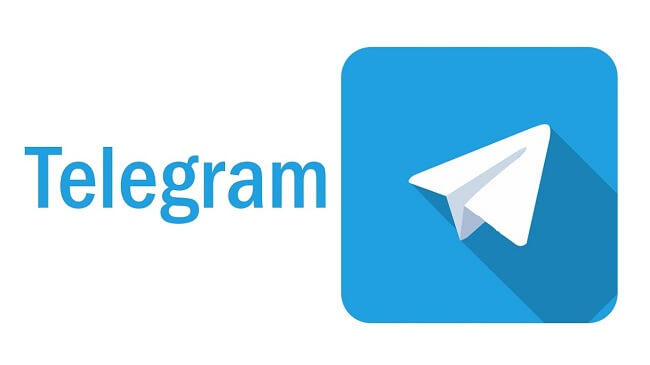 Why Should Parents Know about Telegram?
Telegram is widely used by kids and teens across the world, and there are certain safety and security concerns that parents should be aware of. This will help them to find out the answer to their question, "Is Telegram Safe?" Here are the negative aspects and impacts of Telegram app, especially on kids.
Exposure to Strangers:
Your kid can chat with anyone on Telegram by searching random usernames. Besides, he can use "People Nearby" feature to find Telegram users to chat with. This could be dangerous as your kid's location can be estimated by strangers.
Similarly, if your kid is part of any group, members can ping your kid and chat with him. The main risk in chatting with strangers is that some of them may have evil intentions. You kid can fall into their traps and start sharing things he should not.
Lack of Security:
Telegram does not encrypt regular chats. Only the Secret chats are end-to-end encrypted. This means anything shared in regular chats can get exposed to the public if there is any data breach incident. Therefore, there is unable to 100% confirm the Telegram security.
Besides, kids tend to share inappropriate photos and videos with self-destruct messages in secret chats. The person on the other side can take screenshots in airplane mode, and your kid will not get notifications. Then he could be blackmailed with such intimate photos and videos, and your kid's life can get distorted completely.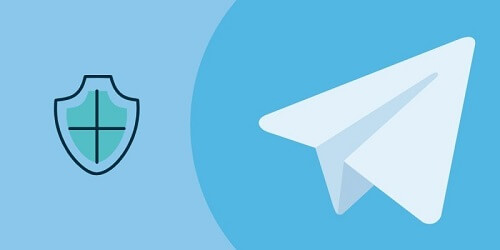 Scammers and Cyberbullying:
Telegram is dangerous for kids who are not under parental monitoring. This is because there are child predators active who win the trust of kids and convince them to share intimate photos and videos. Besides, there are scammers who can get your kid to download certain spyware apps that can steal personal as well as financial details easily.
Moreover, your kid could be a victim of cyberbullying in any group he is in, and he could be verbally abused by strangers, all of which can leave a negative impact on his soft mind.
Inappropriate Channels:
There is no dearth of adult channels on Telegram. These channels let users download inappropriate, mature, and adult content instantly such as an adult film. In fact, there are many who use Telegram to download movies illegally after Torrent is banned.
Therefore, your kid can come across disturbing videos that can distort their mindset and psychology completely. In fact, such inappropriate content is shared in several groups due to a lack of regulation.
Therefore, our Telegram review is slightly negative, especially for kids whose parents are not monitoring and controlling their kids' activities on Telegram app. Telegram itself is a great app, but there are users who are misusing the platform, and your kid could be a victim of their misuse.
Can I Set Parental Control on Telegram?
There is no built-in parental control option on Telegram. That is why you need an external app to monitor and control your kid's activities on Telegram app. We recommend KidsGuard Pro for Android as the best parental control app for Telegram. You get to see all the conversations in your kid's Telegram account remotely on your KidsGuard Pro Dashboard. This is how to make Telegram safe for your kid.
How to Set Parental Control on Telegram?
You need to follow these steps to install KidsGuard Pro for Android app on your kid's Android device and start exercising parental control on Telegram.
Step 1. Create An Account
Click the "Sign Up" button below to register an account for KidsGuard Pro for Android with your email address. Then choose a suitable plan to get started.
Step 2. Deploy KidsGuard Pro for Android on Your Kid's Device
After register an account, you need to download KidsGuard Pro for Android app on your kid's Android phone. The process is very simple, just follow the onscreen instruction, then you can finish the process within a few minutes.

Step 3. Start Monitoring Telegram
On your own(parent) device which could be a smartphone or a computer, go to your KidsGuard Pro account on KidsGuard Pro's web portal.
Go to Dashboard > Social Apps > Telegram and check out all the current and even deleted conversations along with media files exchanged.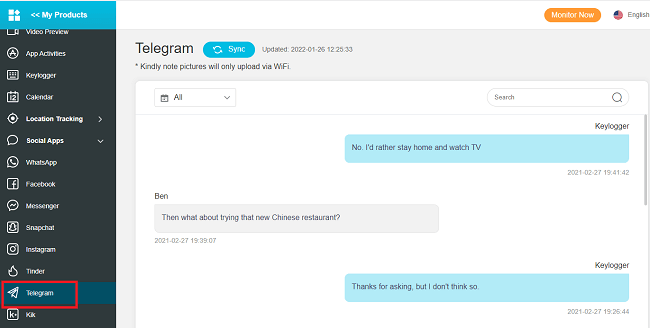 You can even check how long your kid has been using Telegram app from App Activities on your Dashboard.
How Can KidsGuard Pro for Android Do for You?
KidsGuard Pro for Android app provides complete protection to kids by letting their parents monitor every phone activity of their kids remotely. Here are the features of KidsGuard Pro for Android app that make it stand out in the crowd.
Social Media Monitoring

Apart from monitoring Telegram, you can check the social media conversations of your kid on various other social media and instant messaging apps. The list includes WhatsApp, Facebook, Instagram, Viber, Snapchat, Line, WeChat, and even Tinder. You can get to see even deleted messages along with media files.

Call Logs and Text Messages

You get to check your kid's call logs with full details to understand if he is keeping in contact with strangers or strangers are disturbing him. Similarly, you can monitor the text messages sent and received with sender name and number along with timestamps.

Browser History and App Activities

KidsGuard Pro Dashboard shows you the web browser history on your kid's device. Therefore, you can understand the websites he is visiting and the queries he is searching for. The syncing is done in real-time, and hence, you will get updated data all the time. Moreover, you can check how much time he is spending in which app, and you can take steps accordingly.

Photos and Videos

You can check the photos saved on your kid's phone gallery as well as preview the videos there. This includes all the photos and videos taken with phone camera as well as the ones that your kid has downloaded from the web and through various apps.

Track Location

You get to track your kid's location in real-time as well as check his location history with full details on the map. Besides, you can set a safe Geofence so that you can get real-time Geofence alerts when your kid leaves or enters the fence.

Record Call Conversations

You can even record call conversations of your kids in real-time and listen to the conversations when you have free time. Listening to call conversations can reveal your kid's state of mind, intentions, future plans, and much more. You can also find out if someone is disturbing, bullying, blackmailing, and likewise.

Live Screenshots and Photos

One of the best and unique features of KidsGuard Pro is that you can take live screenshots of your kid's phone from KidsGuard Pro Dashboard. This means you can see what exactly your kid is doing on his phone at any moment you want. Your kid will not even know about your secret monitoring. Similarly, you can take photos with your kid's phone camera from your KidsGuard Pro Dashboard any time you want.

KidsGuard Pro for Android
The Ultimate Android Monitoring App for You.
Sign up free
Conclusion
To sum up Telegram app review, the app is great in terms of features and functionalities. However, lack of encryption in normal chats, presence of child predators and scammers, as well as chances of coming across adult content, verbal abuse, bullying are high for kids. Therefore, we recommend KidsGuard Pro for Android app through which parents can monitor their kid's Telegram activities and take steps accordingly.