Question: What is the Band app?
Band is a group communication application through which you can engage with various groups of your choice. This app allows the user to share photos, video, stickers and audio clips in your groups.
This app has amazing feature of polling through the people do voting and know about people thoughts. The band app has option of calendar where users can add an event and get notification about the upcoming events.
In this Band app review, we will explains is Band App Safe for Kids or not?
Part 1. How Does Band App Work?
The band works in a simple way. When a user downloads an app from the Google Play Store, he can create and join various groups on the band app. The user can invite multiple people to these groups by sharing a band group URL on SMS, messenger app, or via email.
You can upload photos, watch photos, videos, but all of these are just for your own group. Different people can be the members of your group, and they can create other groups as well.
Various types of groups exist, such as sports teams, campus groups, faith groups, teams, friends, family, as well as multiple groups of gamers and fans. It is very famous in Korea and is used more than the Facebook application.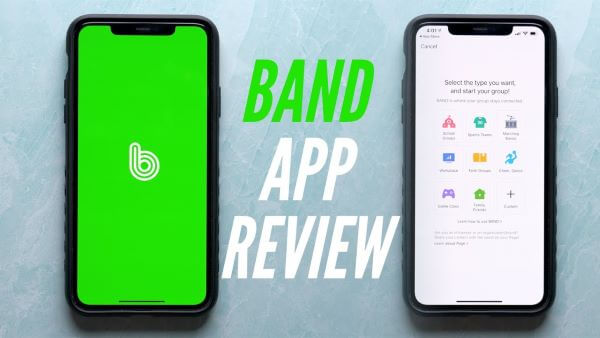 Part 2. What Is Band App Mainly Used For?
The major use of the band app is communication. You can create groups or spaces to talk to different people. Moreover, it is also used to facilitate communication between different users, such as professional teams, family friends, campus groups, sports teams, religious groups, etc.
This app has different niches, it can be highly professional or public. Bands are classified into three main categories: secret, closed, and public. You can not find a secret band by searching. You can only join if someone invites you to it.
In contrast, both non-members and members can access all content in public bands. You can search for it too. One of its main features is to share deadlines. You can also upload files and images. You can also do discussions and share other interactive content. It also enables you to share your videos and pictures in groups.
Part 3. User Comments for Band App
The rating of the band app is 3.8, and people have mixed reviews about the app. But the majority of people have positive reviews. According to users, the band app is easy to use, very interactive.
Users are happy because they can control various groups easily. Many users use the band app to communicate with teams and groups like sports groups, study groups, fan groups, etc. According to multiple users, they love the band app because of its calendar.
Few people's experiences with the band app aren't good. According to them, the band does not handle the voice files well.
Another issue the users are facing on the band app is useless notifications. Most users gave ratings below because they face problems while sending a message to any group.
Part 4. Is Band App Safe for Kids?
Band is not safe for kids unless they have a membership allowing interaction only with known individuals. Whether it is safe or not for kids depends on the bands in which your kids are participating.
Content, language, and behavior within a band entirely depend on people who are in the band and administrators. The administration can remove the inappropriate content and approve new members. Here are some risk.
Cyberbullying
As you know kids face too much cyberbullying on social apps. It is the same on the band app security. When kids share their own pictures and videos on public groups of bands, people start making fun of them or bully them without no reason.
Cyberbullying on a band can affect the mental health of your kid and lower the confidence level.
Inappropriate content
The band app doesn't have any content filtering or monitoring feature. Many people share in appropriate stuff like pornography videos and pictures to attract and the teenagers.
The sex predators usually use this trick they create private groups and invite teenagers and share adult stuff in these group.
Theft of personal data
When kids share personal photos and video people can not only see these photos and also can share these pictures with fake profiles.
Various cases have been reported that the scammers and fraud people are stealing pictures and videos of teenagers from a band app and reusing these pictures and videos on adult sites or dark sites.
Related Read: Is TikTok Safe for Kids - Parent's Guide to TikTok
Part 5. Parents Should Know - How to Protect Kids from The Risks of Band App?
As we know, the band app is not that safe for kids, so parents should protect their kids. Here are a few ways mentioned below which protect the kids.
Limit the use of the Band app with KidsGuard
The best way to limit the use of the band app is to use the KidsGuard app. The KidsGuard app has a fantastic feature named "app blocking feature." Through this feature, parents can set a time limit for the band app., like parents can allow the access of band apps to kids for a few hours.
Additionally, they can permanently block the band app from the kid's phone. For blocking apps, you just have to click block app, select an app, next select block mode, and limit the use of the band app.
How to set up KidsGuard parental control app?

Step 1.

Click download button below to download KidsGuard from Google Play Store or App Store, sign up an account after finish installation.
Step 2.
Login to your account and go to dashboard, click on
Bind Now
button, follow the setup instruction and send the Url to kid's phone.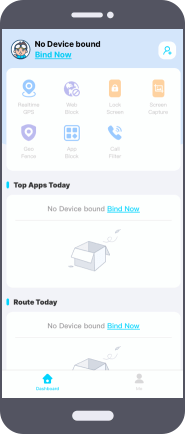 Step 3.
Open the Url in kid's phone to download and install KidsGuard Jr. After setting, you can start to manage kid's phone on your own device.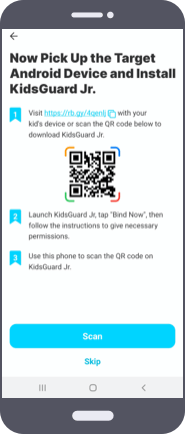 Talk to kids
There are many good points about the band app. But there are also various things which the parents shouldn't neglect. Parents should communicate with their kids about the bad side of the app too. This can help them to avoid these things.
You must guide your children on how to cope with harassment and bullying. Kids should not post their personal information like address, number, or specific location because it can put them in danger.
Moreover, you can also make them aware of the privacy setting. You can tell them that passwords are to protect them from strangers.
It is important to tell them not to be friends with unknown people on the band app. You should be polite and friendly when communicating with your kids.
Set a Band as a Kids Band
BAND has various customization options available through which admins can meet their communication needs.
The best way to save kids from the dark side of the band app is to be the admin of the group and change the group setting to "Kids Band" and then invite children to their customized band.
After the admin applies the setting, the Band will become a private group, and you will need admin approval to join it.so no stranger or sex predator can enter in this group.
Additionally, you can send membership questions, turn off chats between members so that only the admin can send messages.
Supervise child's BAND Activities
The most effective way to keep your kid safe is to be a supervisor on a band app. You can supervise your children's activities on BAND by turning on the supervision feature.
In this way, parents can monitor all the bands their children have joined. Parents can turn off the search and discovery feature to save your kid.
Moreover, Children under 13 years of age are prohibited from searching or joining any private group.
Part 6. FAQs about Band App?
Q1. How much does the Band app cost?
Band is a free application. It has no membership fees and no hidden charges. You just need to sign up with your email address, Facebook account, or your phone number. You can enjoy its features free of cost.
Q2. How to use Band app?
Go to Google Play Store > download band app > create account > enter email address or sign up with Facebook> add date of birth birth > select gender > now put your working phone number> you will receive verification notification> your account is created successfully.
Q3. What age is suitable for using the Band app?
The band is allowed for teens more than 13 Years. It is not considered safe for kids. Kids using this app may suffer abuse, sexual harassment, cyberbullying, and access to harmful content.
Part 7. Final Words
The band app is an amazing app for communication. This app has multiple features like group creation, polling, video and photos sharing, and calendar. The best thing about the band app is that this app is free to download and all the features are free.
This app is useful for educational, internment and official purposes. But this app is not safe for teenagers. If your kid is using a band app then download the KidsGuard to manage the activity of kids on the band app.