Kaspersky, a leading antivirus company known for making the world's best and secure antivirus software for different internet-enabled devices. If you're a regular user of Antivirus, you probably already know about Kaspersky.
Recently, Kaspersky has launched its all-new program suite, known as "Kaspersky Safe Kids." It's a parental control app. If you are looking for apps to monitor your child's phone, we're here for you! In this article, we've done an ultimate unbiased Kaspersky Safe Kids reviews.
So let's get into it!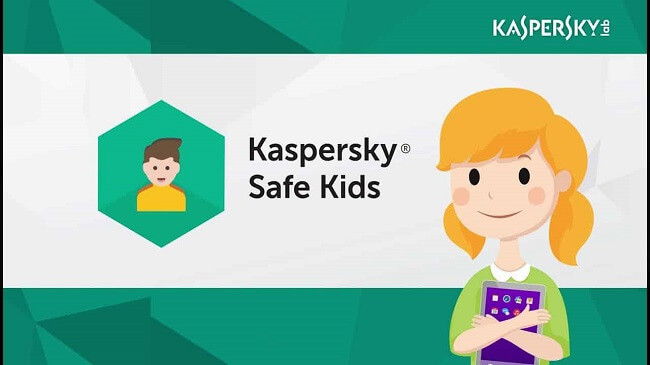 What is Kaspersky Safe Kids?
So basically, Kaspersky Safe Kids is a very straightforward so-called "security parental control apps for cell phones." The app is designed specifically for parents to let them monitor their kid's smartphones remotely from any device in real-time. The main idea of this app was to allow the parents to track, manage and monitor their kid's smartphone activities through any device.
So that parents can be assured that their kids are in a safe area and everything is fine with them. But unfortunately, it doesn't stand to what Kaspersky has mentioned about the "Safe Kids" service.
What Can You Do with Kaspersky Safe Kids?
Kaspersky's main intention was to create an application or service that lets parents or guardians track their kids remotely from any device. As a result, they developed a software service known as "Kaspersky Safe Service," from which you can monitor all the basic things you can expect from a monitoring service.
Key Features of Kaspersky Safe Kids
It's no wonder Kaspersky Safe Kids is a good monitoring service if you want to keep an eye on your kids' smartphone activities remotely through any device. We know Kaspersky Safe Kids doesn't provide advanced monitoring features, but still, it's good to go if you're looking for an essential monitoring service. For your ease, below, we've mentioned some of the most highlighted key features of Kaspersky Safe Kids:
1. App Management
The app management feature allows you to have a complete vision of the apps installed on your kid's smartphone. The main intention of providing this feature was to give the parents a comprehensive eye on what kind of apps their kids use and every detailed insight. App management feature lets you monitor the total operating time of each app, activities performed, how many times opened, and many other valuable data regarding every app installed on a kid's smartphone.
2. Content Filtering
The content filtering system allows you to easily filter out and block all the unnecessary content such as 18+ posts, adult advertisements and spam posts from your kid's social media account. However, it only works with some specified apps. Currently, the service only supports apps such as YouTube, Facebook, Instagram Reel, etc.
3. Social Media Monitoring
The social media monitoring feature is one of the most valuable features of Kaspersky Safe Kids. This feature lets you monitor all the social media apps such as Facebook, YouTube, Twitter, WhatsApp and Instagram. The feature allows you to read all the incoming and outgoing messages and other essential activities as well.
4. Time Management
The time management feature isn't handy, but it'll display every activity that your kids have performed in a given time. For example, the app will show your kid's activities in that timeline upon selecting a desired time.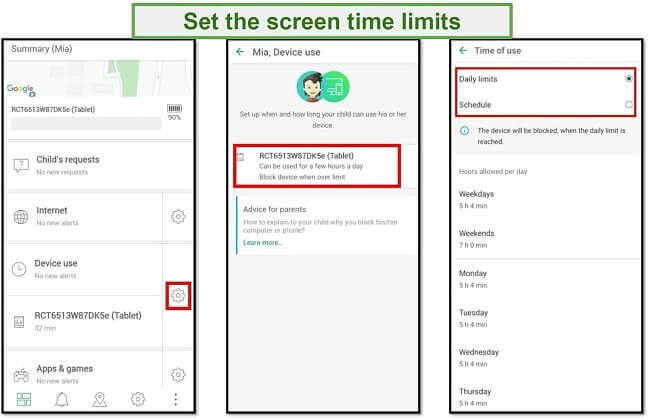 5. Location Tracking
Of course, you can't call an application monitoring service if they don't offer a location tracking feature. Location tracking is one of the essential features of a monitoring service. Luckily, Kaspersky Safe Kids also comes with a location tracking feature that allows you to monitor the pin-exact location of your kid's smartphone in real-time.
6. YouTube History Search
YouTube search history is essential if you want to keep an eye on your kid's online streaming activities. The feature will allow you to easily view all the recent videos that your kid has watched in real-time.
7. Device Management
The device management feature allows you to track all the statistics of your smartphone easily. It includes the battery, storage, RAM, total app sizes, file manager, and much other information related to your kid's smartphone.
8. Real-Time Alerts
Kaspersky Safe Kids offers real-time alerts. By customizing them in settings, you'll get real-time notification alerts on your phone if the service detects something, and you need to get notified about it.
Pros and Cons of Kaspersky Safe Kids
Nothing in this world is ideal nor perfect. Like everything in this world, Kaspersky Safe Kids also consists of pros and cons that no reviewer mentions. But, being unbiased, below, we've mentioned the pros and cons of Kaspersky Safe Kids according to our vision.
Pros

Authentic and 100% Trustable
Lightweight and easy to use
Real-time notification alert
Block 18+ YouTube ads
Cons

The user will be aware that you're monitoring their device
No advanced features, only essential services
It doesn't support viewing the gallery (the essential thing)
Price and Compatibility of Kaspersky Safe Kids?
Kaspersky Safe Kids will cost you about 15$ and is supported in iOS, Android OS, Windows OS, and Mac OS as well. Moreover, Kaspersky is offering a 7-days free trial for a limited time on the Safe Kids product. So you can try out the premium version for 7-days for free. However, it does provide a free version where you don't need to pay any money to Kaspersky Safe Kids.
Although the free version is quite useful, to be honest, the free version provides soo much restriction, even restricted to essential features. On a personal note, we suggest trying a 7-days trial version, and then if you like Kaspersky Safe Kids, you can purchase the product subscription to use it.
Lastly, in price, Kaspersky Safe Kids is one of the most affordable monitoring services you can get on the internet. Because other monitoring services will cost you on average at least 20-25$. So, on a price section, it's a perfect monitoring solution.
How to Get Kaspersky Safe Kids?
To get Kaspersky Safe Kids, you can follow the steps mentioned below in the section:
First of all, visit Kaspersky official website.
Choose your subscription plan and subscribe to Kaspersky Safe Kids.
Create your login and password details.
Install the Kaspersky Safe Kids in your kid's phone, which you want to track.
Set-up the application.
Visit the Kaspersky Safe Kids admin panel on any device.
Login to your account, and now you can monitor that device remotely from any device through Kaspersky Safe Kids.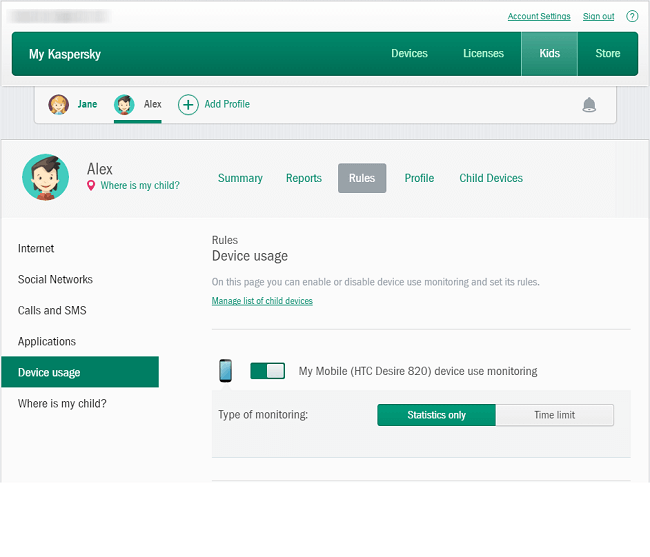 How to Stop Kaspersky Safe Kids
Now, if you want to disable and uninstall Kaspersky Safe Kids from a kid's device, note that you can't do it like other apps. Because it comes with an uninstall protection so that your kid can't uninstall it without your permission.
Below are the steps to uninstall it:
Open the app, and toggle off the Real-time Protection.
Enter your account login and password for confirmation.
Select the period of disability or disable it permanently.
Now, the service has stopped on the kid's phone, and you can now uninstall it.
Genuine Reviews from the Parents
Now, here comes the most awaited part, the review section. After digging deep into different review sites, we've collected some most highlighted pros and cons and summarized them for you below:
The app is offered and managed by Kaspersky Inc. It means it's 100% trustable and an authentic service by the world's leading antivirus company. Therefore, if you're searching for a genuine and trusted monitoring service, this one is best for you.
Although this app is genuine and authentic, note that it doesn't offer very advanced features. You don't get even some basic features that many other 3rd party monitoring services are offering.
There's no support for offline sync. Unlike other monitoring services, Kaspersky Safe Kids doesn't support offline sync that records all the activities and uploads it on the server when the internet reconnects with the device. Therefore, you only get those smartphone activities that are performed in the presence of the internet.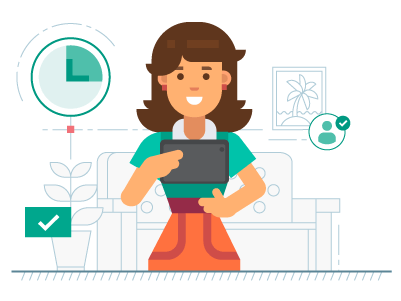 Kaspersky Safe Kids vs. KidsGuard Pro: Which One is Worth Buying?
What is KidsGuard Pro
KidsGuard Pro is one of the best and leading monitoring and spyware services for Android - KidsGuard Pro for Android and iOS - KidsGuard Pro for iOS. If you're a regular user of any monitoring service, then you probably already have heard of KidsGuard Pro.
First of all, the features and benefits that KidsGuard Pro offers, Kaspersky Safe Kids, aren't close. Not just basic features, KidsGuard Pro, offers all those advanced features that no other spyware service is offering yet till now. Moreover, KidsGuard Pro works in a complete stealth mode, so the target or your kid will never know that you're monitoring their smartphone.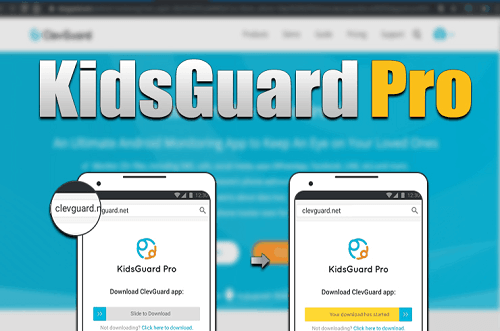 Kaspersky Safe Kids and KidsGuard Pro: Which One is Better?
Below we've mentioned some of the most highlighted features that KidsGuard Pro offers, but Kaspersky isn't even close to it:
Social Media Messages
The most highlighted difference between Kaspersky Safe Kids and KidsGuard Pro is the social media messages tracker. Kaspersky Safe Kids only allow you to track the usage time and how many times the user has opened the application. On the other side, KidsGuard Pro will enable you to track every activity that a user has performed in the social media application. KidsGuard Pro shows incoming and outgoing messages, voice messages, call logs, and media of that social media.
Offline Sync
Another difference is offline sync. Kaspersky can only collect the data when the device is connected with an active internet connection and doesn't work in offline mode. Whereas KidsGuard Pro even offers offline support. It means the KidsGuard Pro will still record all the activities and collect data even in offline mode and sync it with the cloud when the device connects to the internet.
Browser History
Browser history is the main highlighted difference between these services. Kaspersky doesn't support browser history monitoring. At the same time, KidsGuard Pro supports all the famous and common browsers such as Chrome, UC Browser, Samsung Internet, Opera, Min Browser, and many other default browsers of smartphones.
Conclusion
Today, with the increasing demand of smartphones among kids, it's important to keep an eye on your kid's smartphone. On the internet, there're many other monitoring services out there that allow you to remotely monitor your kid's smartphone. Kaspersky Safe Kids is one of them. That's why in this article, we've done an ultimate review on Kaspersky Safe Kids and proved to you why KidsGuard Pro is a better option over Kaspersky Safe Kids.