Today, the internet is loaded with hundreds of different monitor services. All of them are great in their place. Similarly, a spyware named "Spyera" has been launched in the market. The primary purpose of this service is to give you the ability to track a phone without a sim card on Android and iOS, and track PC running on Windows and MacBook as well. However, besides what developers say, do you think it's worth buying? Of course, the manufacturer will never mention the drawbacks or negative points of their product. That's why in this article, we're going to do an honest and unbiased Spyera reviews. So let's get into it: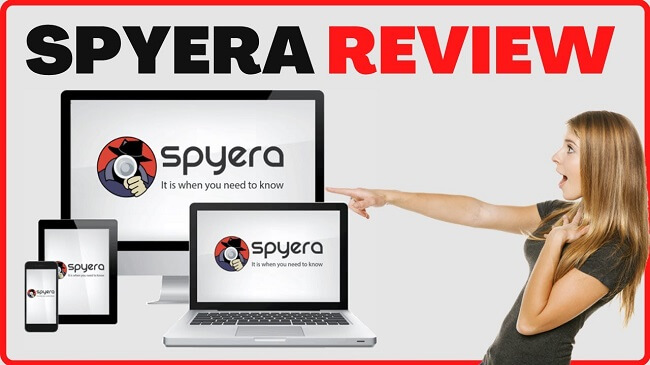 What is Spyera?
Spyera is a monitoring service that enables you to keep an eye on your loved ones by monitoring their phone remotely. The app works as spyware and keeps track of all the target's activities on their phone. It covers the activities such as tracking location, checking IM messages, monitoring social media activities, SMS, calls, viewing browsing histories, and much more.
It works on cloud processing, meaning to say all your data will be processed through and stored in the cloud server. However, on a personal note, you should not break someone's privacy by monitoring their phone until it's a real need. But, if you really need to monitor anyone's phone, Spyera might be a considerable choice.
Moreover, the service works in stealth mode. Once installed on the device, the app will uninstall itself from the app launcher and work in the background. So no one can find out that Spyera is working on your target's phone.
How Does Spyera Work?
Spyera's processing is based on cloud processing, and cloud storage means that every activity and processing is stored on Spyera's cloud server. To start monitoring your target's phone, you need to install the tracking app or exe. file to monitor a PC. In Android or iOS, you need to log in to your Spyera account and enable all the requested permissions that the app will ask.
We'll highly suggest enabling all the requested permissions to keep the service working correctly. Once you set it up, the app will hide from the launcher and rename itself as "System Service," so no one will know if it's a system application or spyware working in the background. On the other side, all you need to do in Windows or Mac OS cases is to log in on the monitoring app, and you're ready to go!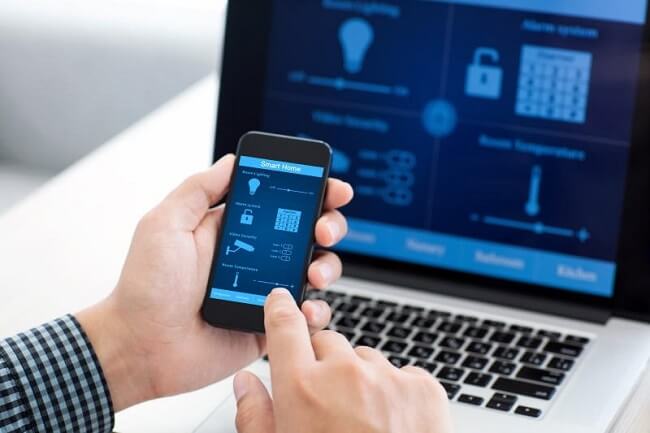 Compatibility of Spyera
Spyera is a cross-platform spyware service that supports the majority of the world's most popular and widely used operating systems. Currently, the service supports about four operating systems. We're pretty sure 99% of people will run this spyware on any of the following OS:
Android:
Android OS needs no introduction. We're 77% sure that you'll use Spyera for Android if you want to monitor a phone. Luckily, the Spyera is supported on all Android versions up to Android 11 (the latest one). All you've to do is download, install the APK, and set up the monitoring app on the target's phone.
iOS:
iOS is known for its strict security. But don't worry, Spyera also covers iOS, and you'll get all the spying features like Android OS. However, Spyera didn't mention the minimum version of supported iOS. But according to the website, Spyera is supported on the latest version of iOS (iOS 14).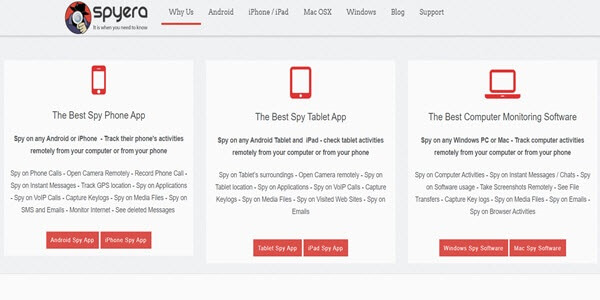 MacOS:
Spyera is supported on the macOS versions: macOS Sierra / High Sierra,macOS El Capitan,macOS Yosemite,macOS Mavericks,macOS Mojave,macOS Catalina,macOS Big Sur
Windows:
We know 88% of people who need to monitor someone else's PC might need Spyera for Windows OS. Since Mac is not the choice of everyone, that's why 88% of people use Windows OS on their PC. However, currently, Spyera is available on Windows 7, 8, and 10 only.
Do I Need Jailbreak or Root My Phone Device?
Android Device:
No, you don't need to root your phone to use this service. Because Android has the policy to let any 3rd party service monitor and control the device remotely. Spyera uses this policy to monitor all the activities of the target's phone bremotely without letting them know.
Whereas you root your device if you want to use a service that is against or not supported by Android. But since Spyera complies with all Android policies, there's no need to root the phone. However, you will have to enable all the permissions that the monitoring app will ask for the first time you install.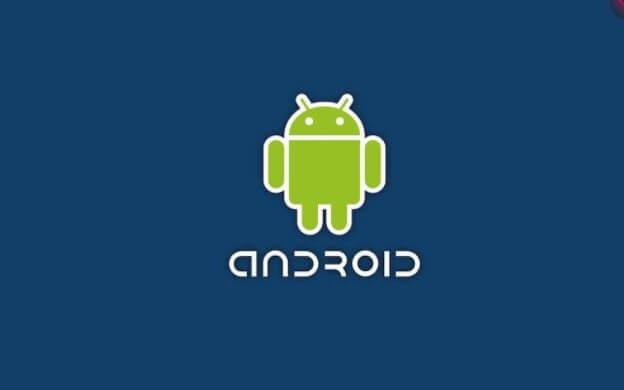 iOS Device:
The same case is with iOS. This operating system is known for its security. That's why iOS allows some trusted services to let them monitor and track the iPhone activities remotely. So users can know what their loved ones are doing on their iPhones.
This iOS policy is beneficial if you want to track your kids, your spouse, or any of your loved one's phones. Spyera uses this policy of iOS and to monitor iOS devices. Since this spying service is not against iOS policies, that's why you can spy on iPhone without jailbreak.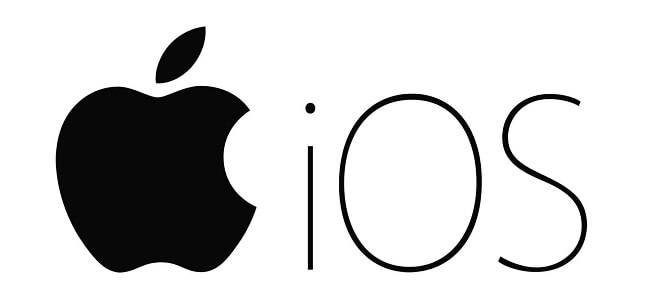 How to Install Spyera?
The installation process of Spyera is straightforward. All you've to do is make sure you have the target's phone to install the monitoring app on their phone. Next, you need to download the tracking app and install it on the target's phone. However, note that you must have to enable all the permissions that Spyera's tracking app will need, such as GPS, contacts, permit apps over the other apps, SMS, contacts, etc.
Otherwise, the service will not work correctly. However, after enabling and setting up, the app hides from the launcher. It renames itself as "System Application" so no one can notice that Spyera is running and spying on the respected phone. Spyera also offers accidental uninstall protection, so unauthorized users can't uninstall the Spyera tracking app from the victim's phone.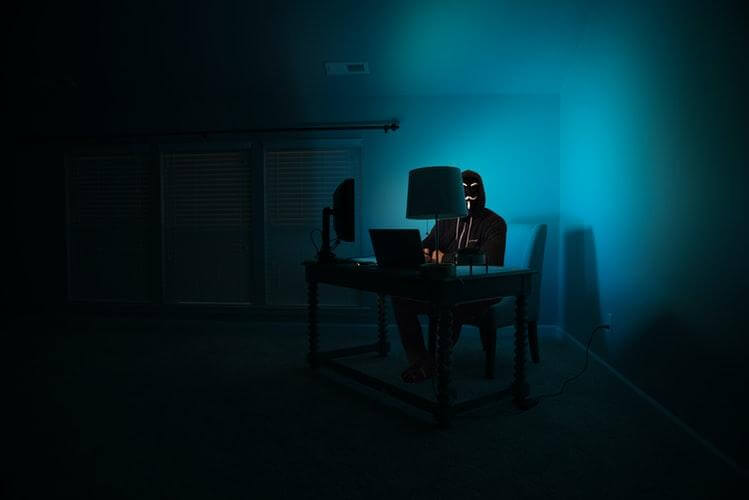 Features of Spyera?
Spyera is an all-in monitoring service that offers a complete spying tool that you can expect from actual premium spyware. For your ease, we've dug deep into the features that Spyera is offering and makes a list of the features that Spyera offers:
Live Call Recording: Spyera offers a live video recording feature. From here, you can easily record all the incoming and outgoing calls made from your target's phone. However, this feature may not work if another call recorder is functioning on the target's phone. Other than that, you can easily install and listen to the phone calls of your target!
Video Recording: Not every spyware offers this feature. It allows you to remotely record the videos from the target's phone through the front or back camera. However, due to Android and iOS policy, you can't access and record the videos remotely if another application is already using the camera.
Multimedia Files: You can easily see all the multi-media content from the target's phone. Such as images, videos, and audio recordings of your target's phone.
Targeted Calls Alert: This feature is extremely useful if you've doubts about your partner or you want to protect your kid from suspicious callers. With Targeted Call Alerts, you can add anyone's phone number. If a call is made or received on your target's phone from your added list, you'll get a notification. In this way, you'll instantly know if that person is calling or your target is calling to that number without needing to scan the whole call log.
Text Messages: Spyera allows you to easily track and monitor all the incoming and outgoing SMS on the target's phone. So whether you're a parent or spouse, you'll know what your kid or partner is doing on SMS with others.
Location Tracking: The location tracking feature lets you track your kid's location in real-time. However, the GPS must be enabled on the target's phone so that the service can track the real-time pin location of your target.
Browsing History: We know browsing history monitoring is also essential monitoring if you want to make your kid secure from suspicious and dangerous websites. Moreover, if you're a spouse, you can check the browsing history of your partner's phone to clear up any doubts.
Record Skype Calls: Spyera even offers you to record the VoIP calls of Skype so that you can listen to the phone calls of your kids on Skype. However, it doesn't support the video calls, you can only record and listen to the audio calls of Skype currently. The best thing is that all your calls will be stored in the cloud storage of Spyera.
Social Media Tracking: Social media tracking allows you to keep an eye on the activities of your target on their social media accounts. Spyera can track images, videos, and audio on the social media apps of your target's phone.
Keylogger: Keylogger is a handy feature if you want to know what your kid or partner does on their phone. All you've to do is to specify any word that you want to track. After then, Spyera will notify you if the target has used and types that keyword on their phone. That way, you'll know if your child or spouse is doing something wrong on their phone.
Pros & Cons of Spyera
Every system, product, and service in this world has some drawbacks with benefits. The same rule applies to Spyera. That's why to keep this review honest and unbiased, below we've mentioned some of the most highlighted pros as well as most highlighter cons of Spyera:
Pros
Change Application Settings Remotely
Syncing in Stealth Mode
Real-time Data Updates
Instant Email and SMS Alerts
Cross-platform support
Cons
High-pricing
Bugs
No Geo-fence feature
Only ten days money back guarantee
How Much Does Spyera Cost?
Phone:
The most expensive package of Spyera named "phone" will cost you $89. You can monitor only one iPhone or Android phone + unlimited cloud storage and free updates in this package.
Tablet:
The tablet feature will cost you $69. It allows you to monitor any iPad or Android tablet, + unlimited storage and free updates. However, you can monitor only one tablet at a time.
Computer:
The cheapest package "COMPUTER" package will cost you about $49 in which you can monitor any Windows or macOS running PC. It also includes unlimited storage + free updates.
All in One:
The all-in-one package includes one phone + 1 tablet and 1 PC monitoring and will cost you $479. On a personal note, we don't think it's worth buying!
Note: Keylogger feature is included in every package!

FAQ about Spyera:
Q1. Is Spyera Legit?
We know breaking someone's privacy by monitoring their phone isn't a legal or moral thing. However, if you monitor someone else's phone for a good reason, e.g., monitoring a kid's phone to protect them from wrong activities is a legal activity. It all depends on how and why you use Spyera. Spying on anyone's phone without a good intention isn't a legal thing in any way.
Q2. Can I View Someone's Phone Without Touching It?
Yes, of course, Spyera is based on cloud processing and lets you monitor anyone's phone remotely without letting them know! However, you should not monitor someone's phone until it's necessary.
Q3. Can Spyera Be Detected?
We know you might have heard that Spyera can't be detected on their official website and many other 3rd party reviews. But that's not the case. Spyera is detectable on the phone. However, it is only possible through cutting-edge anti-spyware applications. For example, ClevGuard anti-spyware application can easily detect the Spyera or other spyware and notify the target. Therefore, it can be detected via professional tools. But generally, the target phone owners are unaware of being installed monitor app on their phone because Spyera runs in stealth mode.
Q4. How Can I Uninstall Spyera?
There are two ways from which you can uninstall the Spyera tracking app from the target's phone. First of all, you can uninstall the tracking app through your account dashboard. Secondly, any anti-spyware app can forcibly uninstall the Spyera from the targeted phone.
Spyera verse KidsGuard Pro: Which is the Better One for You?
Now here comes the intermission! If you are a regular spyware user or searching for spyware services, you might have heard about KidsGuard Pro. KidsGuard Pro supports for Android devices - KidsGuard Pro for Android< and iOS devices - KidsGuard Pro for iOS. This service is a highly used monitoring service and covers most of the market of monitoring< services. It's all due to the features, pricing, stability, and security that KidsGuard Pro offers.
Moreover, KidsGuard Pro is much older than Spyera and offers many advantages even cost lower price than Spyera.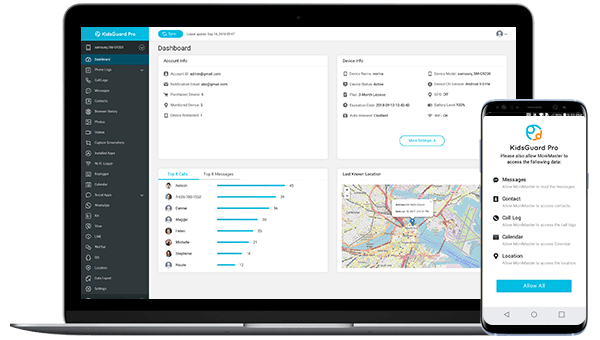 Prove that KidsGuard Pro is a Better Choice than Spyera.
If we talk about the features, Spyera only offers real-time location detection. In contrast, KidsGuard Pro also offers geofencing and real-time SMS and Email alerts if your target crosses the fence.
Moreover, Spyera only supports the tracking of Whatsapp, Facebook, Viber, Hike and Kik monitoring. In contrast, KidsGuard Pro supports the monitoring of every social media app supported by Spyera + 12 additional social media services such as Tinder, QQ and many more.
Lastly, KidsGuard Pro comes with much lower pricing than Spyera. Spyera will cost you $89 for monitoring one phone. Whereas KidsGuard Pro will cost you $24 to $30 per month that is a lot much cheaper than Spyera.
Conclusion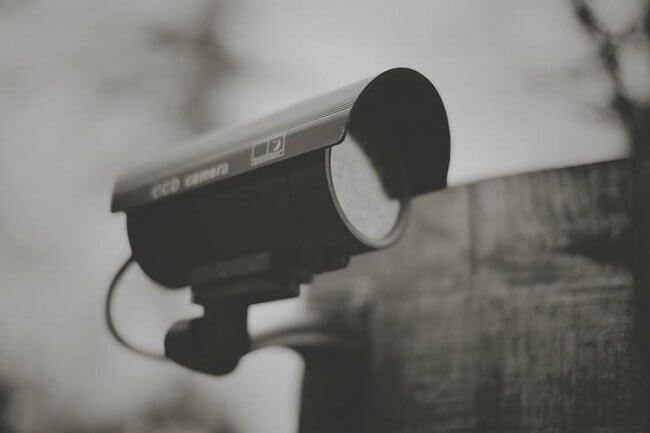 If you want to monitor someone's device without letting them know, the Spyera might be a good choice. However, besides its advantages, Spyera does have some drawbacks and limitations that may not be worth the price they are charging.
Moreover, it's no wonder that Spyera is one of the most costly monitor services as compared to any other spyware service on the internet. However, its competitor KidsGuard Pro might be an ideal alternative if you want a worth buying service. That's why in this article we're written an ultimate guide on everything you need to know about Spyera and proved to you why KidsGuard Pro is better than Spyera.
You may also be interested in:
By Megan Evans
Posted on Jul 01, 2021 ( Updated: Jul 01, 2021 )
A certified content marketing specialist with great passion for Internet and online safety. She is bent on educating the audience about cyber safety tips and tricks.