The recent update in the privacy policy of WhatsApp has moved a large chunk of users to its rival messenger Telegram. However, there are still users that arises the concerns of "Is Telegram safe?"
Telegram has over 500 million users but that does not necessarily mean the app can be trusted blindly. That is why we will review "Telegram app is safe or not".
More importantly, we will also state the methods on how to keep your Telegram safe.
Part 1: Is Telegram Safe to Use?
Even though Telegram is trusted by millions of users, there are several risks associated with Telegram app. Here are some of the major concerns that will help you understand how safe is Telegram.

Telegram Can Be Hacked
No app is safe from hackers and Telegram is no exception. Telegram is an open-source application and this helps hackers to understand how user data is transmitted and gathered.
Accordingly, they are designing their attacks to collect user data. Besides, hackers deploy spyware that secretly collect users' credentials from their phones by staying hidden and transmit them to hacker's server.
Lack of End-To-End Encryption
Telegram's secret chat is only possible between two users. Secret chat is nothing but end-to-end encryption whereby only the users will know about the messages. Even the app will not know what they are messaging.
However, this end-to-end encryption is not possible in group chats and naturally, such chats become vulnerable to stealing.
Telegram Collects Your Data
The privacy policy of Telegram openly states that the app collects metadata of the users. These metadata include your device, IP address, username changes, and much more.
The drawback is that Telegram does not encrypt this metadata and hackers can track back to the user from this metadata. Telegram also does not specify what they do with your metadata.
Therefore, it is safe to say that the Telegram app is not at all safe as compared to its peers like WhatsApp and Signal. There are many loopholes and vulnerabilities that the Telegram app needs to address going forward.
Part 2: How to Keep Your Telegram Safe?
There are major privacy and security concerns regarding Telegram app. However, if your friends, clients, customers, and acquaintances are already on Telegram, you have to use the app.
Here are the steps you need to take to ensure safety while using Telegram app.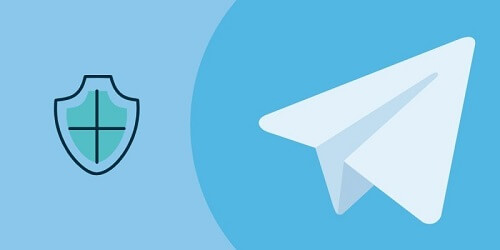 1. Protect Your Telegram in Real-Time
Hackers are highly active on Telegram and they deploy spyware to collect users' credentials. ClevGuard Anti-Spyware app is the best third-party app to keep your Telegram safe. Here are all the features ClevGuard that ensure complete safety.
Real-Time Telegram and Phone Protection:
ClevGuard protects your phone from spyware 24/7 with real-time protection. As soon as it detects any spyware, malicious files which are bad for your Telegram account and phone, it alerts you to take prompt action to delete them with a single tap.
Check and Remove Spyware Completely:
ClevGuard scans your phone thoroughly and detects all the spyware apps and malicious files already present on your phone. It lists all the security issues that might be harmful to your Telegram and phone, and then you can remove spyware and malicious files radically and instantly.
Check Email Breach:
With ClevGuard, you can use the function of checking email breach to see if your email address and password were exposed in any major data breach incident with complete details.
If they were exposed, all the online accounts linked with the email address could be vulnerable. Therefore, ClevGuard also suggests steps to tighten the security of your email address immediately.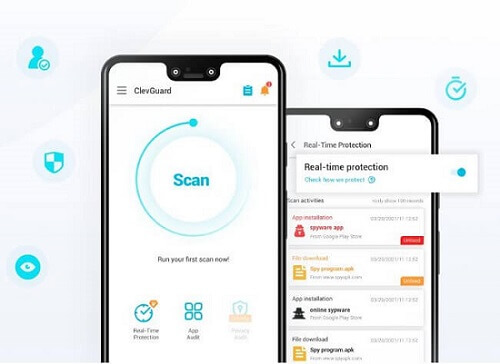 Phone Microphone and Camera Protection:
ClevGuard Anti-Spyware app instantly detects if any app activates your phone camera or microphone to let hackers monitor your phone activities such as listening to your Telegram conversation and take pictures of your physical movement.
It sends you a notification so that you can take prompt action and eliminate the app instantly.
Junk Files Clear:
Junk files unnecessarily block space on your phone storage. These files also contain metadata that can make your phone or app account like Telegram account vulnerable to hacking attempts.
ClevGuard app lets you clean your phone off these junk files selectively as well as entirely.
How to SafeGuard Your Telegram with ClevGuard?
Here are the steps install ClevGuard Anti-Spyware app and start protecting your Telegram account's privacy.
Step 1. Install ClevGuard on Your Phone
For your ease, just click "Google Play" button below to download and install ClevGuard in a few seconds.
Step 2. Detect Any Threat for Your Telegram and Phone
After finishing the installation, open the ClevGuard. Tap on "Scan" button on the screen, and then ClevGuard will scan all your phone files to detect if there is any threat to your Telegram and phone.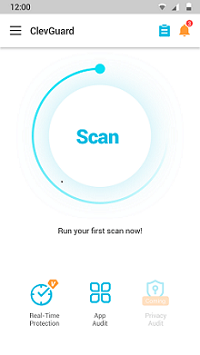 Step 3. Start Protecting Your Telegram and Phone Privacy
After scanning is over, you can check the scanning report to see the threats to your Telegram and phone, and then you can tap on "Resolve All" button to solve all the listed issues instantly.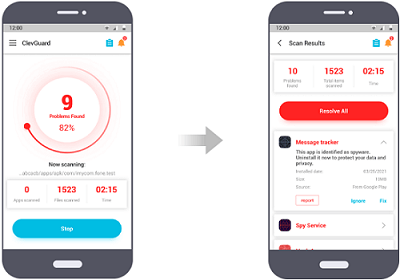 2. Enable Two-Step Verification to SafeGuard Your Telegram
Even though we have a negative outlook on how safe is Telegram, there are certain security features available on the app you need to use immediately.
Therefore, you should enable two-step verification instantly to block hackers from your phone and get access to your Telegram account even when they your account credentials. Here are the steps to enable two-step verification.
Step 1: Open Telegram app and sign into your account.
Step 2: Tap on three-dash icon at the top-right corner.
Step 3: Tap on Settings option and go to Privacy and Security.
Step 4: Tap on Two-Step Verification option.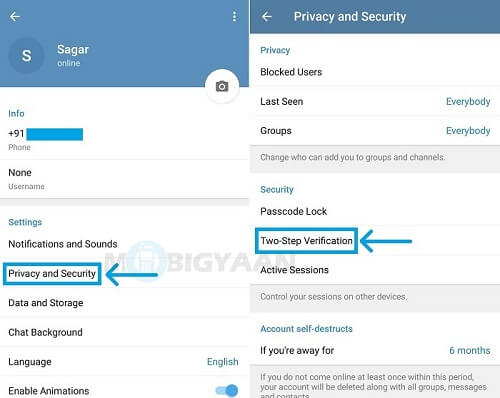 Step 5: Tap on Set Password and set a very strong password.
Step 6: Re-enter for confirmation and create a hint to remember the password.
Step 7: Thereafter, you have to enter your email address and tap on Green Check icon.
Step 8: Open your email app and open the confirmation email and tap on the confirmation link.
3. Terminate All Active Sessions
There are some in-app steps you can take to secure it to a greater extent. If someone else has signed into your Telegram account secretly, this session must be visible under Active Sessions option. There is an option on Telegram to terminate all the active sessions on your account except yours. You should do it immediately after enabling two-step verification.
Let's check out the steps below:
Step 1: Open Telegram app and sign into your account.
Step 2: Tap on three-dash icon at the top-right corner.
Step 3: Tap on Settings option and then tap on Active Sessions.
Step 4: Tap on Terminate All Other Sessions option. You can also tap on sessions one by one and terminate them.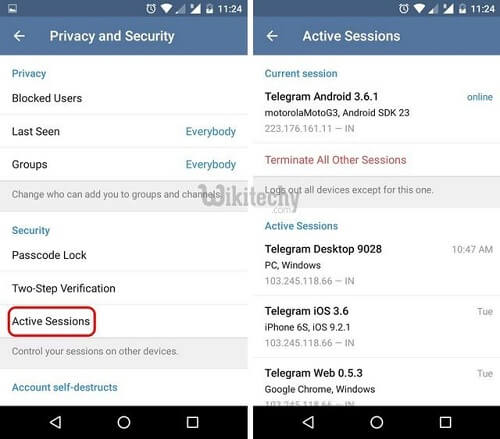 4. Start Using Telegram Secret Chat
Is telegram encrypted? Yes, but the encryption is only available for the Secret Chat option. This means that the end-to-end encryption is not enabled by default for all chats, and it is also not available for group chats.
Therefore, except Secret Chat, all chats are visible to the Telegram app, and they are stored in the Telegram server, which can be breached by hackers. To enable the Secret Chat option for any contact so that your conversation with that person gets end-to-end encryption, take the following steps.
Step 1: Open Telegram append sign into your account.
Step 2: Open any contact from the contact list on the app to start a conversation.
Step 3: Tap on the Contact's profile picture.
Step 4: Tap on the three-dot icon at the top-right corner.
Step 5: Tap on Start Secret Chat option.
Step 6: Tap on Start button for confirmation.
Part 3: Should I Move to Use Other Messaging Apps?
After finding the answer to the question 'Is Telegram app safe?', you might be disappointed with Telegram app. From the privacy point of view, the app falls below its rival apps - WhatsApp and Signal.
However, there is a bigger privacy concern with WhatsApp after it revealed its latest privacy policy. On the other hand, Signal is best the app from a privacy perspective, but it is not that popular yet, and you may be lonely there.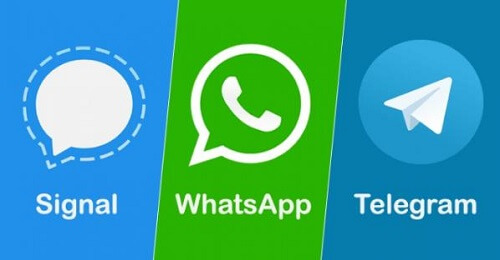 On the contrary, there are certain unique features on Telegram that make it perfect for professional messaging. That is why you may have to stick to Telegram app.
Besides, there is no other messaging app that can assure complete safety. Therefore, you may over to other messaging apps if you want. If you stick to Telegram, take the necessary steps like activating two-factor authentication, monitoring active sessions, and starting Secret Chat for one-to-one conversations.
Conclusion
Hopefully, you now have a reasonable answer to the question 'Is Telegram safe to use?' You should protect your own privacy and ensure that no spyware is spying on your phone activities to get online account credentials.
That is why we recommend you install ClevGuard Anti-Spyware and turn on real-time protection for complete safety.