What is Pumpic mobile monitoring? Probably you have heard someone say that they use Pumpic mobile monitoring to keep an eye on their kids. What this means is simply that the individual uses a mobile application known as Pumpic to monitor their kids.
However, Pumpic is a good monitoring app for parents to Protect kids from potentially dangerous situations? Here we have made a full Pumpic review, so you can understand if it is your best choice.
What is Pumpic?
Pumpic is a parental control application used on both iOS and Android phones. With this application, you can monitor your child's activities on their phone and keep track of their movements. This is important to make sure that you know what your kids are up to, who they interact with and what content they consume online. Knowing this will help you provide better parental guidance. However, in 2018, Pumpic is acquired by Webwatcher, if you want to know more about the new owner. You can check our Webwatcher app view.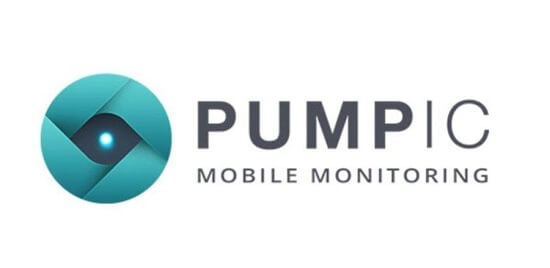 What Does Pumpic Offer?
Pumpic is designed to help parents monitor a wide range of activities that their kids engage in on their mobile phones. It is thus built with many features that make monitoring someone easy. Some of the key features to expect from the Pumpic app include:
SMS & iMessages
Using your Pumpic app you can search, access, and read all the text messages on your kid's device. This is important given the popularity of text messages in today's world. You want to know what your child talks about in text messages.
Photo Gallery
You can use the Pumpic application to access your child's photo gallery. This is important if you want to know what your child has been up to. Teenagers today love photos so much and if they have been making trouble you are bound to pick it up here.
GPS Location
This is one of the most important features of parental control applications. It helps you know where your kids have been. This is important so that you can advise the child accordingly if they go to dangerous places.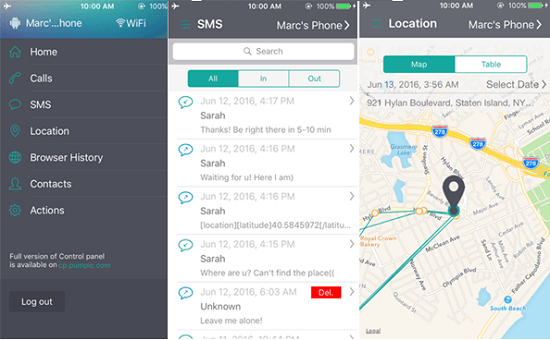 Call Logs
Do You want to know whom your kids have been talking to? Simply access and check the child's call logs. This will let you know all the phone numbers that have been in contact with your kids and the frequency of each caller.
Website History
The internet is full of many evils. Young kids should not visit websites with adult content or those run by extremist organizations. The only way to protect your child from dangers on the internet is to keep an eye on their browser history and advise them accordingly. The Pumpic app helps you do just that.
Social Media Apps
Today every teenager is on social media. With 13 years as the threshold for joining most social media sites, you cannot keep your kid off such platforms. The best you can do is monitor them using apps such as Pumpic to make sure they don't get into any trouble.
Pros & Cons of Pumpic
Pros

Comes with many good features
It is simple and easy to use
Is fast and perfect for real-time monitoring
Cons

Does not record calls
Can't monitor deleted files except for text messages
Some clients report the app failing to work
It has some bugs that block it on some devices
How Does Pumpic Work?
Using Pumpic is easy. All you have to do is download the app and install it on the target device and you can monitor remotely. To do this, follow these steps:
Step 1: Pick a Subscription Plan
Visit the Pumpic official website and create an account. Then pick a subscription plan and follow the onscreen steps to complete the registration Process.
Step 2: Install and Set up the Application
Download and install the Pumpic app on the target Android. For the iOS version download and installed it on a computer and then link the iCloud for scanning. Once done installing set up the app so that you can monitor exactly what you want.
Step 3: Start Monitoring
To monitor the individual using the target phone simply log into your Pumpic account and access all the activities you are monitoring on the control panel.
How Much Does Pumpic Cost?
Before Pumpic is acquired by Webwatcher, it is quite affordable. It costs $6.99 per month and $63.99 per year. However, now, it costs $39.95 per month and $129.95 per year, which is not price-friendly for users like before.
Best Alternative Apps of Pumpic - KidsGuard Pro
If you are looking for a better and more advanced alternative to Pumpic then you should consider using KidsGuard Pro. This powerful application comes in two versions; one for Android and the other for iOS. It is easy to use and comes with many features that make using it easy, fast and more convenient.
Key Features of KidsGuard Pro
Monitor Social Apps:
If you are monitoring your kids you want to know what they post on social media, whom they chat with and what they share. Using KidsGuard Pro you can access your child's Facebook, Instagram, Snapchat, WhatsApp, Kik, Line, Viber and WeChat among many other social media platforms without being found out.
Read Messages:
This KidsGuard Pro feature lets you access all text messages on a target device and read them as though they were sent on your phone. Furthermore, you can retrieve and access the deleted messages too.
Track Calls:
You can use this feature to find check the call logs on the target devices. Collect the name and number of the caller, check the call time and the duration of every call on the device. You can also access deleted call log history.
Call Recording:
If there is a certain call that you want to invest get further then you can use the call recording feature to record phone calls on the target device. You can then remotely access these call recordings for you to listen in and know what the people involved were talking about.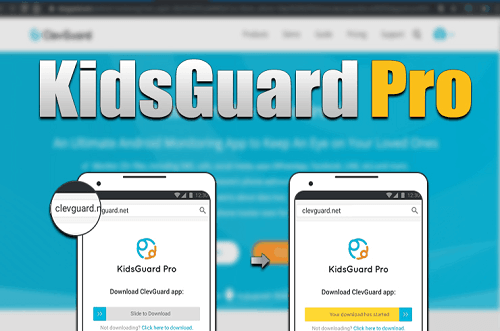 Location Tracking:
If you want to know where someone visited or if you want to find a mission phone then this is the feature to use. With this feature, KidsGuard Pro lets access to someone's location history to know where the individual has been. You also use it to Geofence a particular location to know when the person leaves.
Check Media Files:
You can use this feature to access media files such as videos, photos and audio files stored on your target phone. You can even import them for later viewing on your won device.
Take remote photos and Screenshots:
You can use this feature to remotely take photos and screenshots on the target device. Using this feature the camera works in stealth mode making sure that no one notices.
Safari History & Bookmarks:
If you want to know what the person is the plan you should use this feature. It will help you check their bookmarks and safari history so that you are in the know of what they have planned.
Final Words
Keeping an eye on your loved ones using their smartphone is not something new. Many people use the Pumpic application for this. It is a simple and easy-to-use application that makes the Process easy. However, if you want an advanced tool to track someone's every move using their phone remotely consider usingKidsGuard Pro. This is a powerful tool with many awesome features that ensure that you have full access to someone's phone remotely.