Keeping an eye on your kids at all times is one of the most reassuring experiences any parent wants. For this reason, you need a powerful app that will help you track your kid's location, their communication with friends and strangers, and their activities on the internet. This way you will be able to guarantee their safety.
However, finding the best app may not be easy. To help you let's look at some popular parental control apps reviews: Bark vs Qustodio.
Overview of Qustodio & Bark
To make the right decision on the best parental control application to have you need to get as much information about the app as possible. Here let's consider an overview of our two apps:
1. Qustodio
Qustodio parental control was first launched in Spain however its many great features and ease of use have made it popular among parents across Europe and the United States. Today the app is used by more than 4 million parents across the world.
Qustodio parental control app is also used by some schools as well as some businesses to monitor children under their care. With this app, users can track the location of children, their online actives and their daily communication.
This way it becomes easy to protect the children from the many dangers online and places they may choose to visit. With such as app the users can rest easy knowing that they know where their children are at all times.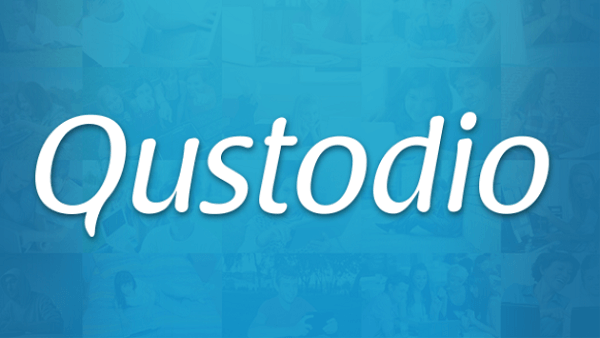 2. Bark
The Bark Parental control app was built by Bark Technologies Inc. and launched in 2015. It is designed to help parents monitor their kids so that they can advise the kids and offer the best protection from potential criminals on the internet.
The app is easy to use and comes with many great features. This has made it popular among parents and now is used by over 6 million parents across the United States.
The Bark Parental control application has also been recognized by many organizations for its innovative ways of helping parents keep an eye on their kids. For example, the app has received the National Parenting Product Awards (NAPPA) and the Mom's Choice Awards.

Key Features Comparison: Bark and Qustodio
To choose between these two applications let's compare their features:
Screen Time Control:
The bark parental control app offers you a wide range of screen control functions. It lets you schedule time for different functions such as free time, school time and homework time among others for your child. This allows you easily plan your child's program.
This then allows for blocking on the phone so that the user can concentrate on the task at hand.  Qustodio also offers several screen time management control options. It offers a higher level of control than what Bark offers.
Web Filtering:
With Web filtering Both Qustodio and Bark, parental control apps offer you the ability to block and control the websites your child visits. This makes sure that you can easily limit your child access to the website you consider to have inappropriate content for your child's age.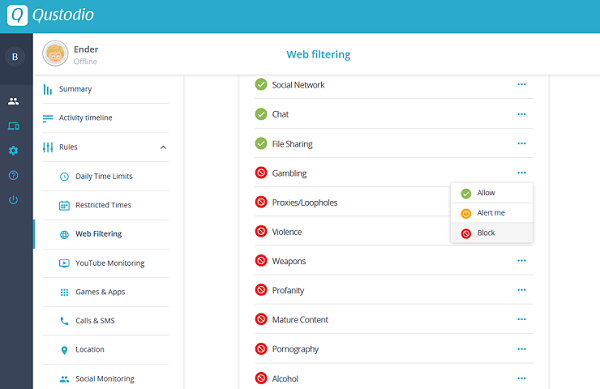 Location Tracking:
Both Bark and Qustodio parental control applications offer some forms of location tracking. Qustodio allows you to get updates on your child's location in real-time and also access the historical data on where your child has been to when needed.
The Bark app on the other hand does not offer real-time phone location and makes it easy for your child to block location. This way you may never know the places the child visits.
Geofencing:
People use Geofencing to define a geographical location where their child will feel safe. Qustodio makes it easy to geofence so that you get a real-time alert when your child leaves the safe area. Unfortunately, Bark parental control app does not have this feature.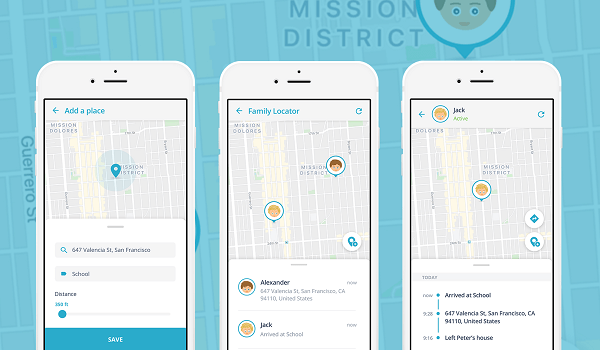 Call and Text Monitoring:
You also want to be able to know who your child communicates with frequently. Bark Parental control application helps you monitor all text messages and calls to the phone you are tacking.
Qustodio on the other hand offers everything that Bark offers but goes a step further by giving you the ability to block or intercept incoming calls if you feel the caller could want to mislead your child.
Social Media Monitoring:
As a parent, you want to know what your child is up to on social media. Both Qustodio and Bark parental control apps offer this functionality. The Bark app makes sure that you can monitor your child on all types of social media including the niche ones such as Lipsi, VSCO, and LiveMe, etc.
Qustodio on the other hand only sticks to the popular social media channels but gives you more functionalities such as the ability to lock into your child's account and see private posts.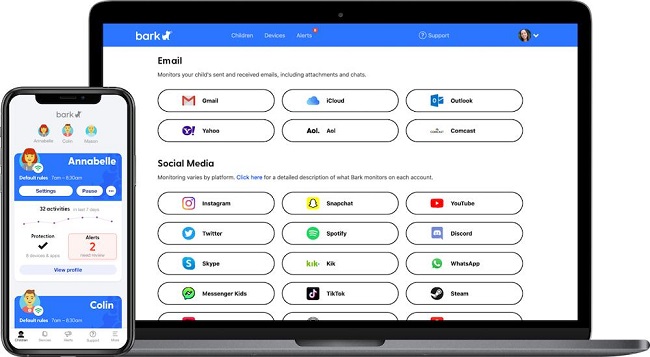 Remote Control:
Teens today are very smart and you need some ability to remotely control their phones if you want to successfully monitor them. Unfortunately, both Bark and Qustodio do not have these features.
Ease of Use:
Both Qustodio and Bark are designed to be easy to use. For this reason, you do not need any technical knowledge to use either of the two apps.
Price Comparison: How Much Do Bark and Qustodio Cost?
Both Qustodio parental control application and Bark Parental Control application are not entirely free. You have to pay to use either of them. The following are the plans for each:
Bark:
Bark offers two main plans. The Jr plan is the cheaper of the two and goes for only $49 per year. However, it only offers basic features such as screen time monitoring, location check-in, and web filtering.
The premium version goes for $99 and offers all the advanced features that the app has. You also get a 7 day free trial period.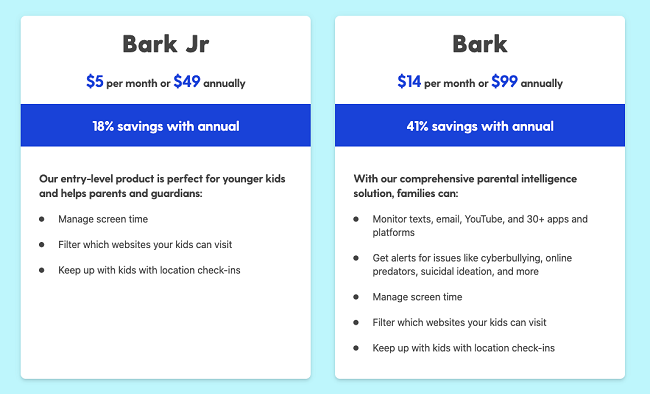 Qustodio:
Qustodio offers a free version for anyone not ready to make a purchase however, the free version has only the basic features such as screen time monitoring and web filtering which makes it less useful.
There are three pain plans you can opt for: the $55 per year plan which supports up to 5 devices, $97 per year plan which supports up to 10 devices and if you are at a larger family, you can consider the 15-device plan that costs $138 per year.

Pros & Cons of Qustodio & Bark
Both Qustodio and Bark apps come with some advantages and disadvantages. The main pros and cons for each include:
Qustodio:
Pros

Complete access to your child's social media accounts and contact information
Advanced real-time location tracking and geofencing
Has a free version for anyone without the money to make a subscription
Many advanced features for the paid versions
Cons

Does not give access to many niches and less popular social media apps
Requires manual perusing to detect harmful content
Does not offer remote control
Bark:
Pros

Automatic detection of harmful content for kids
Monitors many social media platforms including niche social media apps and websites
Comes with many great features for monitoring a child
Supports many devices and is easy to set up
Cons

Does not support geofencing and does not offer real-time location tracking
Does not give you full access to your child's social media
Cannot intercept calls
Is There a Third Parental Control Choice for Kids?
If you feel like the two applications above are not ideal for you and you want a parental control with a more full feature and undetectable one, then I will recommend KidsGuard Pro.
This is an advanced child control application that gives full access to your child's phone remotely. This way you have more options when monitoring your child than what most parental control applications offer.
It is easy to use, 100% undetectable and comes with many advanced features such as real-time location tracking, geofencing, phone recording, text and media files access, and social media monitoring among many others.
What are the Advantages of KidsGuard Pro to Protect Your Kids?
Full Protection for Kids

KidsGuard Pro supports Android - KidsGuard Pro for Android and iOS devices - KidsGuard Pro for iOS. With KidsGuard Pro you have access to everything your child does on his or her phone. Also, it has features that Qustodio and Bark do not, such as geofencing, remote control and more. This means that you are in a better position to fully protect your child at any time.

Remotely Control Kid's Device

KidsGuard pro works remotely on your phone. This means that you can remotely access anything on the phone you are tracking and even remotely perform some other functions such as taking screen shorts.

Set Geofence for Kids

If you live close to a neighborhood you feel is not safe for your kids you can use the KidsGuard Pro app to geofence their location so that you get a real-time alert when they cross into the unsafe region.

Run in Stealth Mode

The KidsGuard Pro works 100% in stealth mode. This means that you can easily keep an eye on your kids using this app without them detecting what you are doing.

Affordable Price with Full Function

It is affordable especially considering all the advanced features it offers. This means that you get more value for your money.

Easy Installation

KidsGuard Pro is designed to be easy to use. Anyone can register an account, download and use it.

Real-Time Data Sync

It offers real-time data syncing. This means that you can access any information in real-time.
Conclusion
As a parent, it is your role to ensure that you keep an eye on your child. The best way to do this is to ensure that you use the best parental control app. Bark and Qustodio are some of the most popular parental control applications in the world.
However, the best parental control application you can use is the KidsGuard pro app. It comes with many advanced child monitoring features and is very easy to use.