WebWatcher is one of the popular phone monitoring apps which proves to be very beneficial for those parents who want to keep a watch on their kids activities and keep them safe in this fast-paced and extremely vulnerable online world. All you have to do is create an account and then use it to discreetly monitor your kid's activities on their phone through a secure online medium.
All the necessary data is recorded on the target device and the entire report is sent to your online account which can be accessed from any device with a stable internet connection. You can access the entire recorded data or you can just view the highlights which are generally marked under the risky behaviour to take necessary actions.
WebWatcher helps the parents by letting them be more responsible in this digital era and keep their children safe from dangers like cyber bullying, online predators, sexting, suicidal tendencies, drug or alcohol abuse or any other kind of inappropriate scenario. Read about what is WebWatcher, what are its features and other details here.
Part 1: WebWatcher Reviews: Features, Pros, Cons and Pricing
Although this app is among the most downloaded parental control apps, is it really worth it? Find out more about how does WebWatcher work and should you really be downloading it by reading on!
Features of WebWatcher App:
1. Compatibility
WebWatcher app is compatible with almost all the Android phones and tablets, iPhone, iPad, Mac systems and Windows PCs and laptops.

2. Text Message Monitoring
You can view and monitor all the text messages which have been either sent or received by your child on their device.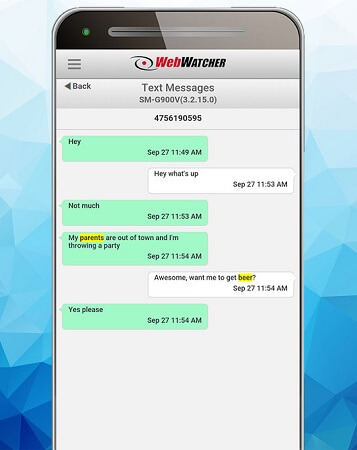 3. Browser History Access
The internet holds a lot of content online and accidentally coming across an inappropriate site is more common than you think. With this app, you can keep a check on the sites which your child visits and if in case you see anything inappropriate you can immediately put a stop to that.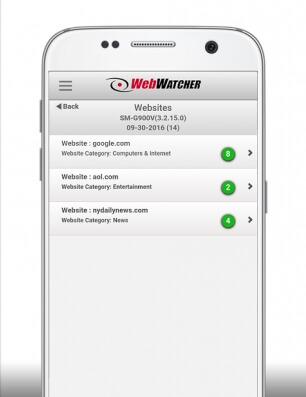 4. Location Tracking
Parents constantly worry about where their child is at all times. This worry increases when their kid does not respond to their messages or calls. You can forget fretting about the whereabouts of your child through this app as it gives a detailed history of all the places your child has visited.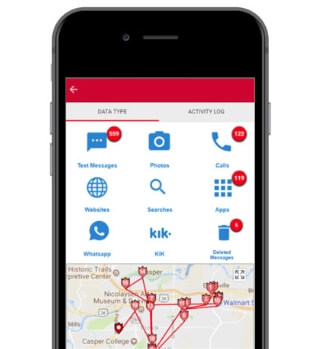 5. Social Media Monitoring
Many popular social media sites like Kik, Tinder, WhatsApp and Viber are accessed by several teenagers and some younger kids as well. It is very important to keep a check on the activities on all these sites as they are major source of a lot of unwanted scenarios. WebWatcher helps the parents by letting them read all the incoming messages on these sites so that they can prevent any dangerous predator from contacting their child. Through this feature they can also know if in case any kind of unsuitable content is sent or circulated.
6. App Monitoring
There are new apps being uploaded everyday on Play Store as well as App Store. Some of these are very useful for your kids but some of them may be highly inappropriate. This app has the unique feature of letting the parents know whenever any kind of app gets installed on the target device.
7. Access to Call Details
The entire call log on the target phone containing all the information related to incoming call, outgoing calls and missed calls can be viewed by the parents.
8. Stored Data Monitoring
Any photo which is stored on the target phone can also be accessed by parents through the WebWatcher app.
Pros of WebWatcher App
When used for Windows PC it records almost all the activities on PC.

Works in full stealth mode.

All the data can be accessed online remotely with any device.

Gives out instant email warnings.

Allows discreet sifting of web content.

You do not need to jailbreak the target device for use.
Cons of WebWatcher App
When compared to the other available parental control apps, this one is not very intuitive to use.

There have been several WebWatcher complaints which highlight the fact that some of the features offered by this app are pretty clumsy.

It is a bit tricky to install on the target device.

Some security features may have to be disabled including some of the antivirus programs.

The premium version of this app is pretty expensive.

When it gets detected by any antivirus program on the target phone, it gets removed easily.

It makes the target phone lag in functionality upon installation.
Pricing:
This app is priced at $59.95/3 months and $129.95/12 months.
Part 2: WebWatcher VS KidsGuard Pro: What is the Best Parental Control App for Android
KidsGuard Pro is an excellent alternative for WebWatcher app and this can be easily seen by the comparison table below.
| Feature | Webwatcher App | Kidsguard Pro App | Winner |
| --- | --- | --- | --- |
| Social Media Monitoring | Supports monitoring of Instagram, Facebook Messenger, WhatsApp, Kik, Viber, Snapchat and Tinder | Supports monitoring of WhatsApp, Kik, Viber, Line, WeChat and QQ | Webwatcher |
| Location Tracking | Provides location history | Provides location history, real-time location with GPS and Wi-fi logger | KidsGuard Pro |
| Files Monitoring | Supports monitoring of SMS, Browser History, Photos and Call Logs | Supports monitoring of SMS, Browser History, Photos and Call Logs, Contacts, Notes, Calendar and so much more | KidsGuard Pro |
| Compatibility | Compatible with Android devices, iOS devices, Windows and Mac systems | Compatible with Android phones and tablets | Webwatcher |
| Other Additional Features | - | Has the keylogger features and also supports instant screenshot on the target phone | KidsGuard Pro |
| Pricing | $10.83/month for 1 year | $8.32/month for 1 year | KidsGuard Pro |
As you can clearly see from the features listed above, KidsGuard Pro should be the much preferred option for Android over WebWatcher parental monitoring app. KidsGuard Pro has several advanced features at an affordable price which set it apart from the rest of the parental control apps when it comes to Android. This app is highly recommended and it comes with a three day trial as well.