OurPact is counted among the top parental control apps. It is one of those apps which you can use to keep a track of all your family members. You no more would have to fret about where they are at all times. Through this app you can know your family's whereabouts with just a click. This app allows all parents to monitor, control and guard their children's activity on their phones.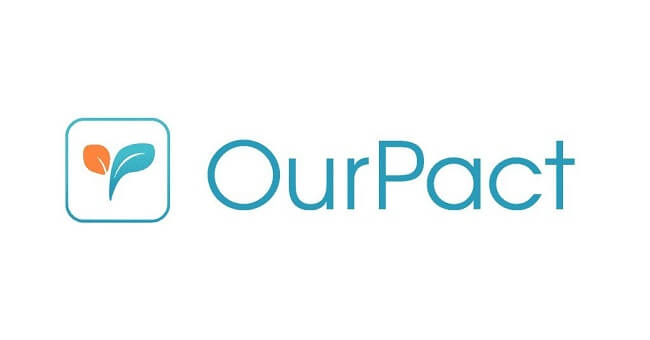 It has been featured in several popular portals like Forbes, The New York Times and in many others. A certain number of users have been satisfied with the features of this app. But is it really worth the hype?
Find out more about OurPact parental control app, its features and functions by reading further.
Main Features of OurPact App
This app comes with an extensive list of features not just for your children but also for your entire family. Some of the main features are listed below.
Features of the OurPact Free Version
1. Screen Time Scheduling
Putting screen time restrictions would make your child lead a healthy and wholesome life. You can set the screen time restrictions on the usage of phone by your child, by which they won't spend too much time on their phones and get addicted to it. You can even set separate restrictions for different apps.
Your child will also have more time to indulge in other useful activities like doing their homework, studying, helping out in housework etc. Through screen time scheduling they would even sleep at the right time.
2. Manual Blocking & Granting
You can manually block or grant your child's access to internet at any time remotely. If in case your child is at school or any other important event, you would want them to concentrate on that rather than access the internet. This feature also helps you out when you are not at home and you want to restrict the internet usage by your child.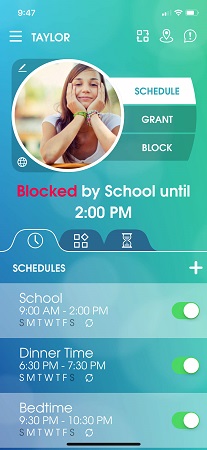 Features of the OurPact Premium Version
Apart from the features mentioned above, the Premium version of this app has several other interesting and useful features as well.
1. Multiple Device Management
With the help of OurPact, you wouldn't have to worry if you have to manage more than one device at a time. You can easily manage upto 20 devices with the Premium version of this app. You can customize the management preferences separately for each of the devices which you want to monitor. This proves to be very useful when your child is using more than one device. With this feature, managing several devices of the entire family becomes very simple.
2. Set App Rules
With this feature you can manage the usage of several apps by your child on their phones. You can block some specific apps or you can set and customize the rules for different apps. Not all the apps are useful, the educational apps can be used by your child at any time but the other social media apps and the gaming apps do need restriction which is possible through OurPact.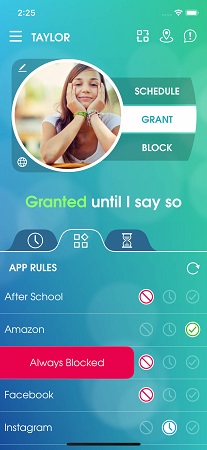 3. Family Locator
This is excellent for keeping tab on your child's safety at all times. When it comes to the other family members, you would not have to spend hours explaining each other your exact location. With this app, you can easily get the location of any family member. This feature proves useful even when you or any of your family members lose their device or when their device gets stolen.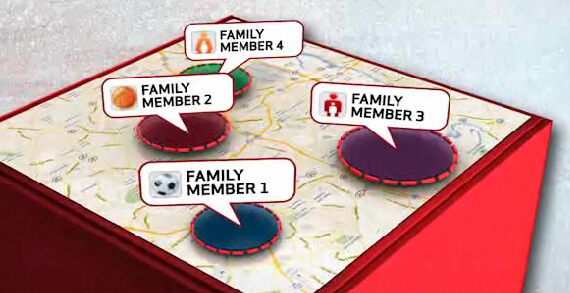 4. Geo-fencing Places
You can easily create geo-fences around locations specified by you. This way, you can get alerted as soon as your child crosses this boundary. You can immediately reach them to avoid them going to any place which may be potentially dangerous for them. You would also get alerted when your kids leave or reach a specific location.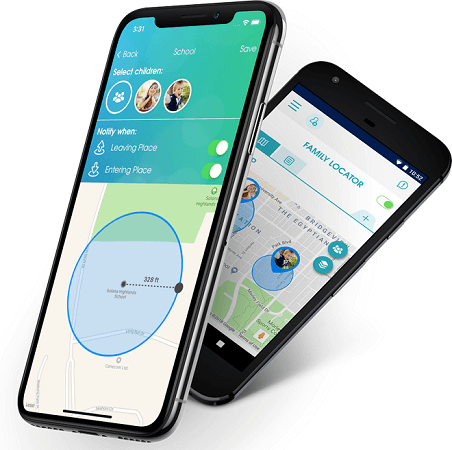 5. Text Blocking
You can keep a check on all the incoming as well as the outgoing text messages on your child's phone. You can limit the messaging access of your child through this feature so that the constant incoming texts don't cause a distraction to your child while they are doing something important like studying, homework or any other such activities.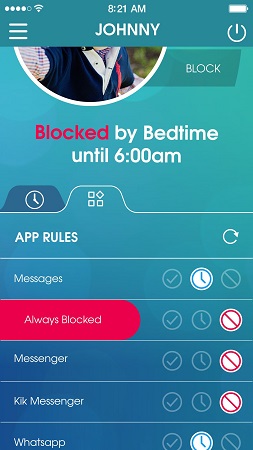 Reasons for Choosing OurPact Parental Control App
These positive OurPact reviews are why this app is so popular among several users.
Reason 1. When compared to the prices of the other available parental control apps, the price of OurPact app is very affordable.
In the free version, you can access the basic features of the app like 1 scheduling, 5 blocking and granting and you can manage one device.
In the premium version which costs $6.99 per month, you can access all the premium features which are mentioned above.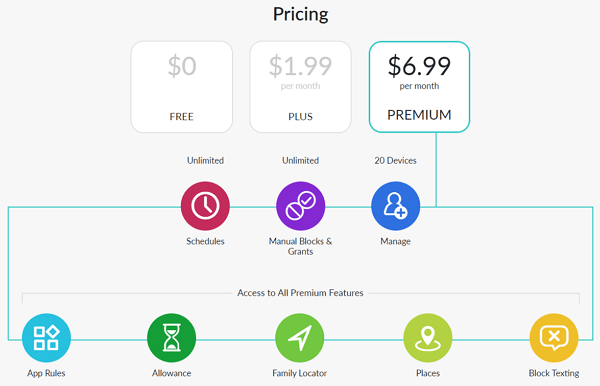 Reason 2. The setup of this app is pretty simple, all you have to do is enter a few details and create an account on their website. Once you do that, the app will guide you through the next procedures which follow. After this, you would be provided with a link using which you can install this app on your child's device. This makes the app very easy to setup and use.
Reason 3. All the schedules like bedtime, dinner time, study time etc, can be customised as per the target device according to your own convenience. This goes a long way in helping the kids put away their phones during the set screen times.
Reason 4. Even when the phone is not restricted for use through the screen time restriction feature, you can still restrict access to the apps. This way for a certain time interval set by you, your kid won't be able to use the apps on their phone.
Reasons for Not Choosing OurPact Parental Control App
There are some of the features of OurPact that we didn't like. They are detailed as follows:
Reason 1. Whenever you block the target device, any app downloaded from Play Store would automatically get blocked. Even the web browsers get blocked. You cannot take screenshots on the target phone nor can you download or install anything from the Play store or App store. It would have been a lot better if the parent could block only certain chosen apps and rather than blocking all of them together. If this was the case then some useful apps like the educational ones could still be used by our child.

Reason 2. When the target phone is blocked, all the apps disappear from the phone. When the block is removed, all the apps reappear on the screen. The problem is that when the apps reappear, they are arranged in alphabetical order. This can be a little frustrating for many kids as they would have taken some time to arrange the apps on their phones according to their own convenience.
Reason 3. Even though OurPact for Android works pretty well, there have been several complaints featured in the OurPact app reviews on many sites regarding the iOS version of this app. Several users have paid for the premium subscription and later found out that the app does not work on the iOS devices and crashes at times.
Reason 4. There is a technical snag in this app which makes it possible for the kids to go online and disable the app on their phone which negates the whole purpose of OurPact being a parental control app.
Reason 5. This app has reportedly suddenly crashes at times and even when it is showing that the target phone is blocked, all the apps and other functions can be easily accessed by your kid. Some of the features only work initially and then stop functioning entirely.
Reason 6. The technical support team of OurPact is not that helpful. Certain queries and technical glitches remain unsolved even after being reported by many users over time.

Are There Any OurPact Alternative Apps for Parental Control?
Even though OurPact sure does have some interesting features, it lacks in its performance in several areas as stated above. You can overcome the limitations of this app by opting for a better OurPact App alternative - KidsGuard Pro.
This is an excellent app which is highly recommended by several satisfied users. The Android compatible version of this app is available for download and it is packed with exciting parental control features which are sure to leave you impressed.
Stellar Features of KidsGuard Pro
Location Tracking: Real time location tracking and geo-fencing feature to know the whereabouts of your child any time and keep them away from danger.
Keystrokes: Keylogging feature which lets you know in case your child is trying to access any inappropriate site on their phone's browser or if they are chatting with some predator.
Data Tracking: You would have access to all the stored information on the target phone including messages, audio and video files, calendar, notes etc.
Social Media Monitoring: Your kid's activity on the popular social media platforms like WhatsApp, Viber, and Kik etc can also be kept a check on.
Call Tracking: The incoming and outgoing calls as well as the contact list on your child's phone can be seen by you.
Screenshots: You can take an instant screenshot of your child's phone as well.
Phone Screen Recorder: You can record phone screen automatically at anytime & anywhere you want to know kids' phone actvities without them knowing.
Video App Monitoring: You can check what they watch and search for on YouTube and TikTok. What's more, keywords tracking is supported. It will match the words you input and give you the instant alert everytime children input it.
Messages: All messages sent, received and even deleted can be seen by KidsGuard Pro to know whom and what they are texting.
It also features a dashboard which is very easy to use and makes remote monitoring possible.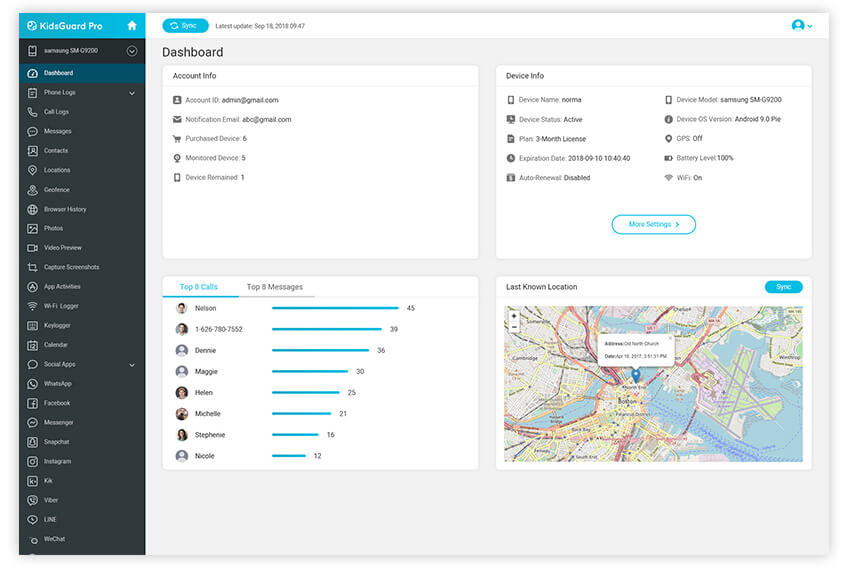 Conclusion
OurPact app is surely a good tool to monitor your child's activity on several separate devices. However, it comes with its own set of limitations. Even though KidsGuard Pro is slightly pricey, it sure does overcome all the limitations of OurPact app which makes it a better choice when you are thinking of purchasing a parental control tool. With such advanced features, KidsGuard Pro must be your first choice for monitoring your child's activities on their phones to keep them safe and away from danger.