Question: What is Skout?
Skout is a location-based social network that facilitates communication between users nearby using GPS and enables users to chat with strangers. Additionally, the app also allows users to share photos and videos.
Skout offers various ways to meet new people. One of the features that make this app a "rising star" among its competitors is called Skout Shake.
With it, you get to talk to anyone else who happens to be shaking their phone as well at the same time.
The Main Features of Skout App
The app has tons of features, such as sharing photos, sending messages, and virtual gifts. It also offers "Shake to Chat"; a feature that enables users to connect live by simply shaking their phones. Probably it is the most outstanding feature.
The "Feature Me" service makes it possible for potential matches to showcase your profile to millions of men and women within their international community.
Further, this app offers typical online dating features like swiping and messaging. Online dating is a big hit, yet not everyone feels at home in the Skout dating pool.
If you aren't experiencing the results you'd like to get with this particular site, then perhaps you should consider checking out alternative sites.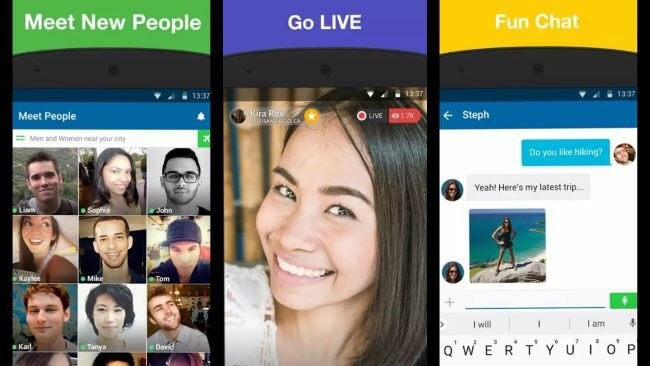 Is the Skout App Safe for Kids?
Skout app is not safe for kids. It has some potential dangers which are discussed below.
Connects with strangers
The Skout app is dangerous for kids as it connects with strangers and it may connect your child to people with who they wouldn't have come into a social circle within the real world.
You might not know the real facts about the connected people - such as where they are in their life, hobbies, and interests. The details of some people might be false.
It removes anonymity and connects the users with strange people. It may bring cyber issues in the near future. You don't know who you are talking to in real life so this might be harmful when your kid gets into a conversation with a stranger. Anonymous users can threaten your children during chats at the end.
Cyberbullying
The Skout app also leads to teen cyberbullying. By simply lending your ear, this app can bring together people of all age groups and offers them a common ground to communicate with one another freely.
Because everyone has access to the internet nowadays, we all must learn about those who are different from us not just for our interests but also for their well-being's sake.
When children communicate with their elders, they remain unaware of the words used negatively from the other person which can result in cyberbullying.
Inappropriate content
When speaking to a stranger, it is important to remember that they may not be who they say they are. They may pretend to be someone they are not and try to trick your child into engaging in inappropriate conversations.
Your child could easily get caught in the trap by believing this person is someone they actually trust and therefore end up giving away information that could be dangerous or harmful such as their location or contact details.
If the stranger is a sexual predator then he/she might send inappropriate messages to your child during the chat. He/she might even message pornographic images and videos to convince your son or daughter to meet him/her for an online liaison Or possibly do much worse!
It's alarming how easily children can be exploited in this way - which is why we advise parents never to allow them to be on social media as much as we can help it.
Related Read: Parent Guide: Is Tinder Really Safe for Teens?
How to make sure your child is safe?
To keep you away from these hazards of social media applications, follow the below ways when your kid creates an account on social media.
Pre-talk with kids
As a concerned parent, it is your responsibility to educate your child about the possible dangers associated with electronic networking.
When you first notice that your teen or pre-teen is becoming more interested in developing relationships through chat sites and smartphone apps, talk to them about how this could lead them into negative situations.
Make sure to emphasize the threats compiled in the Skout app article that we have provided above so that they recognize why these social networks should not be taken lightly.
Instead of ordering them not to use any of these platforms, explain to your kid or teen how dangerous they truly are and bring up positive examples as to why they're better off without something like Skout installed on their phone.
Perhaps by explaining how something like this can lead you into recurring online payments, a loss of patience combating immature people online, and increased exposure to viruses.
Using Parental control apps
There are many parental control programs available for keeping mobile phones in check. Many features ensure the safety of your kids on this internet platform.
You have to analyze the effectiveness, reliability, and efficiency of a system to discover which is most suitable.
Most professionals recommend KidsGuard, as a useful program designed with built-in technology to effectively monitor, protect, and be alerted as soon as something unexpected happens online.
Here are some prominent features of the KidsGuard parental control app at a glance.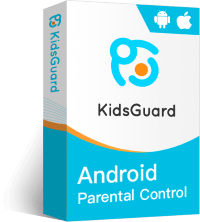 Features of KidsGuard Parental Control App
Block inappropriate games, websites to create a safe online environment
Capture kids' devices screen to know what they are doing
Track kids in real time and view their location history
Filter Calls to protect kids away from being harassed by scams
Receive detailed daily, weekly, and monthly reports of your child's online activity
How to use KidsGuard to Block inappropriate app?
Step 1.
Click Download button below to download and install KidsGuard from Google Play Store or App Store. And then sign up an account for usage.
Step 2.
Login to your account and go to the page of dashboard. Click
Bind Now
button, copy the Url in the setup guide and send it to your kid's phone.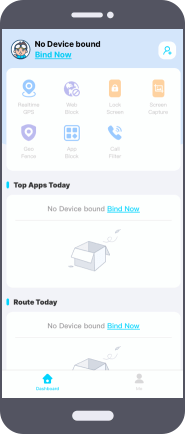 Step 3.
Open the Url in kid's device to finish installing KidsGuard Jr. After binding, you canstart to manage your kid's phone on your own device, you can choose the feature of block inappropriate app on dashboard.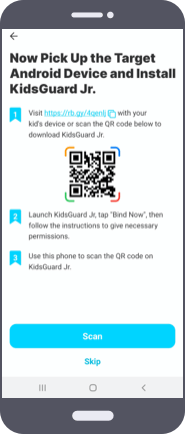 FAQs about Skout
Q1. How Does the Skout App Work?
Skout uses open-source location-based technologies on the GPS grid that cell phones use to help users see who is around them throughout the day.
Q2. Is Skout dating free?
The basic version of the Skout app is free, but the Scout+ version for the iPhone costs $3.99 with an in-app purchase of $2.99 that eliminates banner ads and frees up more space on your phone memory.
Q3. How Old Do Children Have to Be for Skout?
Skout's Terms of Service state that the app is only for those who have reached their 13th year. Skout's Terms of Service has to keep track of users' ages and just recently updated its terms to now reflect you must be at least 18 years old to use this service.
Q4. Who is Skout for and not for?
The official age limit to use the Skout app is 18 but there is no proper measure to verify the age of the users during the signup process. Therefore, it is not safe for kids while older and mentally mature people can use it.
Conclusion
Finally, to end our discussion, the KidsGuard parental control app is a perfect way to keep your kids safe 24/7 around the clock. You can see what your kids do on their devices so you can keep them safe from dangers and threats like Meeting Apps like Skout that offer potential partners that are inappropriate or dangerous for your child.
Using the KidsGuard software will ensure that you are aware of all online activity preventing your child from visiting risky dating sites while they remain safely under parental supervision.