Parents have been depending on parental control tools to protect their kids from inappropriate content like pornography, violence, drugs, gambling, etc. So, many developers have started creating their own parental controls tools and Verizon isn't too far behind them. Verizon also has a parental control app by the name Smart Family.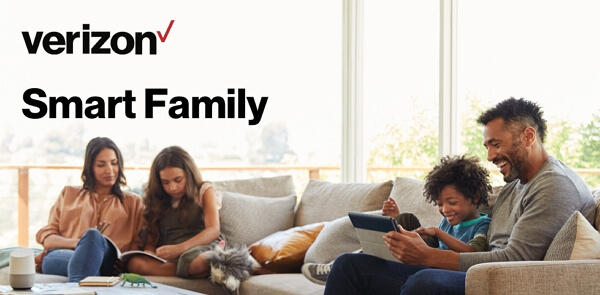 Though previously the Verizon parental controls were known as Verizon FamilyBase, it was later upgraded with new features and renamed. If you want to know more about Verizon parental controls i.e. Smart Family, then follow this article.
Part 1: Everything You Need to Know about Verizon Smart Family
Verizon Smart Family is a line of parental control tools for Verizon customers. Verizon parental controls allow parents to ensure that their kids aren't viewing any type inappropriate content on their smartphones. With the use of content filtering, parents can find who they contact with call and text monitoring, track their location with real-time location tracking and much more. It supports both iOS and Android devices. Verizon users that have up to 10 lines or less will be able to use Verizon Smart Family parental controls starting at a $4.99/month plan. This allows all features except location tracking and alerts. There is also a $9.99/month plan that includes all features including location tracking and alerts.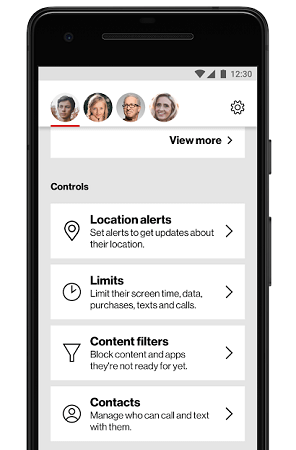 Features of Verizon Smart Family
Block access to inappropriate websites and apps including social media, instant messaging, gaming, etc.

You can also block internet, calls, and text for a specified time, at any time, from anywhere. Verizon Wireless parental controls helps in blocking internet access over both Wireless and Cellular network.

Verizon parental control apps allow you to block unwanted contacts on the child's device. Moreover, you can also monitor their phone call history and text messages.

Premium plan users can use location tracking to track their child's real-time location. You can also set geo-fences to get alerts when they leave or arrive at a destination like home or school.
Customer reviews
These are some of the customer reviews on Google Play Store about Verizon Smart Family


And like the above reviews, there are many more available on Google Play or other review sites. As you can see, the call and text logs feature works but the logs are delivered behind the time that they were made or sent and the location services are totally sporadic and technically non-usable. So, Verizon needs to spend some time fixing this app so that everything works the way that they are supposed to do.
Price:
Base Subscription: - $4.99/month.

Premium Subscription with location tracking and alerts: - $9.99/month
Devices supported:
Android smartphones with Android 5.0 or up.

iOS devices with iOS 10.0 or up.
Google Play Rating:
Currently it has 3.7 stars out of 5
Part 2: How to Setup Verizon Smart Family
Step 1: First, download and install the Smart Family app on the parent device.
Step 2: Launch the app upon installation and sign in with your Verizon account, user ID or mobile number.
Step 3: Subscribe to Verizon Smart Family base or premium plan according to your requirement and complete the setup process.
Step 4: Then, download the Verizon Smart Family Companion app on the child device from
Step 5: Start the app and pair it with the Smart Family parent app and begin monitoring.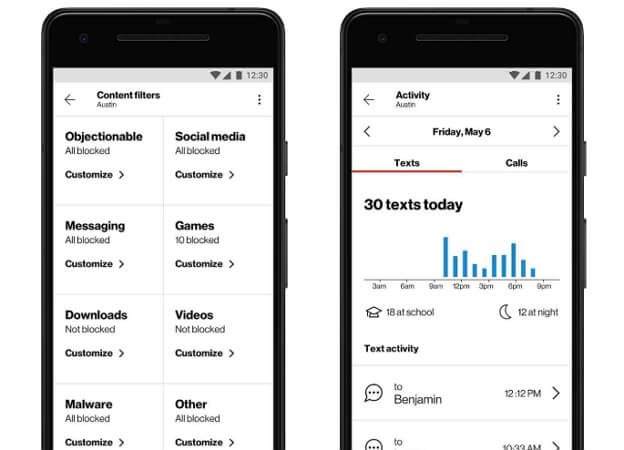 Part 3: Limitations of Verizon Smart Family:
1. Verizon Smart Family only supports 4G LTE and 3G smartphones. Tablets are not supported.
2. Devices that use simple IP or Static IP are not supported.
3. Location tracking and the alert feature are only available to premium users which cost $9.99/month.
4. Verizon Customers that have more than 10 lines, business, and prepaid accounts aren't eligible for this service.
5. Only those child lines can only be added to your Verizon smart family account that is already members of your Verizon Wireless plan.
Part 4: How to Set Parental Controls for Non-Verizon Users
As has been discussed earlier, Verizon parental controls can only be used if you are a Verizon wireless customer with 10 or lesser lines. A customer that have more than 10 lines or if you are the another network user, then you could not use Verizon Smart Family. Moreover, it doesn't support monitoring tablets. So, if you are looking for a parental control tool that offers better features and isn't network dependent, then try KidsGuard Pro. It is one of the best alternatives to Verizon parental controls apps and allows users to track their kid's device activities.
Features
KidsGuard Pro
Verizon Smart Family
Location Tracking
Yes
Yes(only for premium users)
Track browser history
Yes
No(only blocks websites)
Monitor calls and Text
Yes
Yes
Capture screenshot
Yes
No
Tracking notes, calendar, photos and  video
Yes
No
Track App activities
Yes
No (can only block apps)
Social messaging tracking
Yes
No
Compatibility
Only smartphones
Only smartphones
OS supported
Android 4.0 and above
Android 5.0 and above
iOS 10.0 and above
Price
$29.95/month
$49.95/3 months
$99.95/year
Base plan - $4.99/month
Premium plan - $9.99/month($119.88/yearly)
As you can see from the above comparison, KidsGuard Pro is a better parental control tool for monitoring your child's device activity and can be used by anyone, regardless of their network operator. Though it is slightly priced more than even the premium plan of Verizon Smart Family for monthly and quarterly plan, but when it comes to the yearly plan, it is slightly cheaper than Verizon Smart Family Premium which would cost over $119.88 for a year. So, if you want to buy a parental control tool to monitor your kids, then KidsGuard Pro should be the obvious choice. It is also available for a 3 day free trial in case you want to try all its features for free!