Sometimes it might be necessary to monitor someone's phones to keep an eye on their activities. To ensure your children's safety, it is necessary to keep an eye on their activities to know if they are in any danger.
Another reason might be to catch a cheating spouse red-handed or to monitor your employees during office hours.
Whatever the reason might be, tracking someone's phone might be a difficult thing, apps like Hoverwatch does this seamlessly.
Unlike other Hoverwatch reviews, this article dives into detail to evaluate the pros and cons of this tracker. Moreover, this article recommends a similar monitoring product with a better user experience to you.
1. Hoverwatch App Reviews
Hoverwatch is a remote mobile tracking app that collects data in the form of screenshots. It can be used to monitor activities of a partner mobile, including call recordings, call history, SMS history, camera, audio, location, Facebook, WhatsApp, Instagram, Skype, SnapChat, Telegram, calendars, contacts, and others.
The way it works is based on screenshots. It displays screenshots of the apps you want to track by taking screenshots of the apps and displaying them in the Hoverwatch Dashboard. This is a unique method of tracking activities that isn't done by many apps in the same genre. It can also take selfies of the person that unlocks the phone and record every calls made on the device.
1.1 The Pros and Cons of Hoverwatch
Like every app, it has its pros and cons.
Pros

Can record phone calls
Can take selfies of users unlocking the phone
Can track sim card change
Can display current location of the device and previous locations
The Hoverwatch app icon can be hidden, making it undetectable
It doesn't require rooting
Cons

Not compatible with iPhone. For iPhone users, you can try KidsGuard Pro
It shows screenshots instead of the real content
Keylogger and geo-fencing features not available yet
1.2 How to Install Hoverwatch?
Installing Hoverwatch has two different parts.
Part 1: Creating a Hoverwatch account and setting up your account
Step 1: Open the official Hoverwatch website and click on the Sign Up free option at the top. This will take you to the Sign Up page.

Step 2: Once you are in the Sign Up page, enter your Email, set a password, click on the checkbox to agree to their Terms of Service and Privacy Policy, and click on the Sign up free button.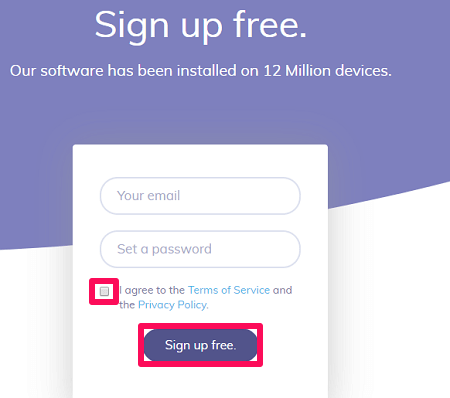 Step 3: Choose a plan that suits your needs and make the payment. You can also choose a 3-day trial to check if the app meets your needs.
Part 2: Setting up the target phone
Step 1: You'll get a link to download the Hoverwatch app in your account. Paste the link in your phone's browser and install the app.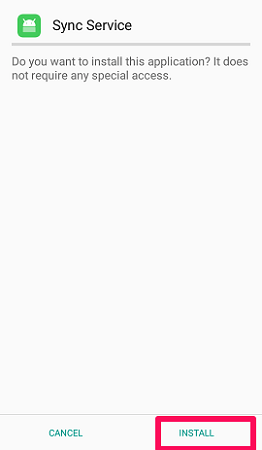 Step 2: After you've installed the app on the target device, open the app. The app will ask you which device you want to track. Choose between My kid's device, Employee device and My own device, and also check the option Hide Hoverwatch icon if you want to hide the Hoverwatch app icon.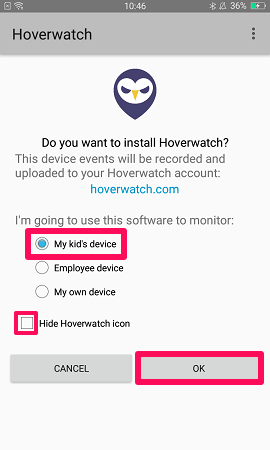 Step 3: In the next page, agree on the Legal Terms by checking the option, I have read and understood the terms and clicking on I Accept.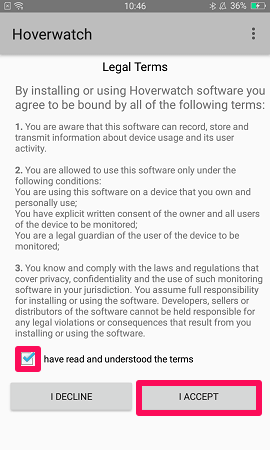 Step 4: In the next page, select the logs that you want to monitor. You can also modify them in the future in the app dashboard. Click on OK when done.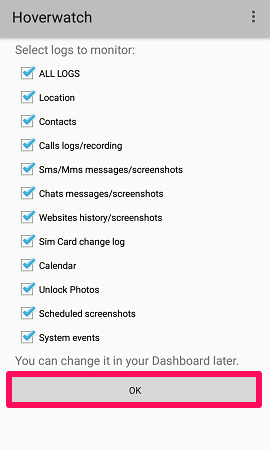 Step 5: Log in to your Hoverwatch account using your Email and password and click on Activate.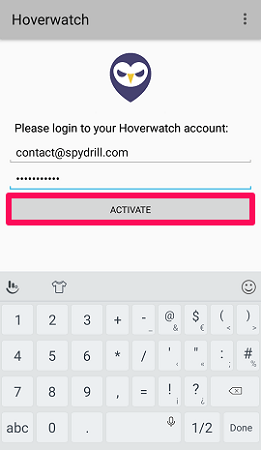 Step 6: Finally, tap on Allow to give the app the few necessary permission required, and you can begin monitoring the device.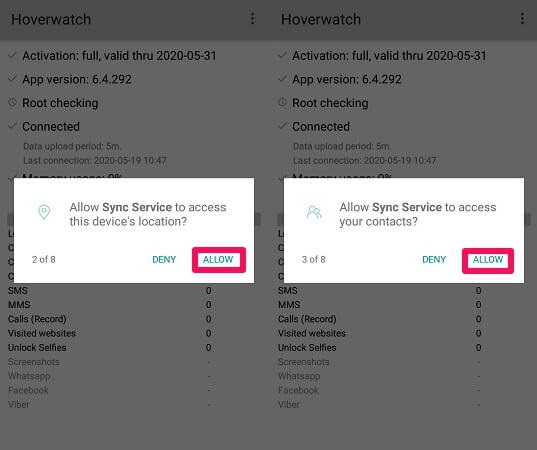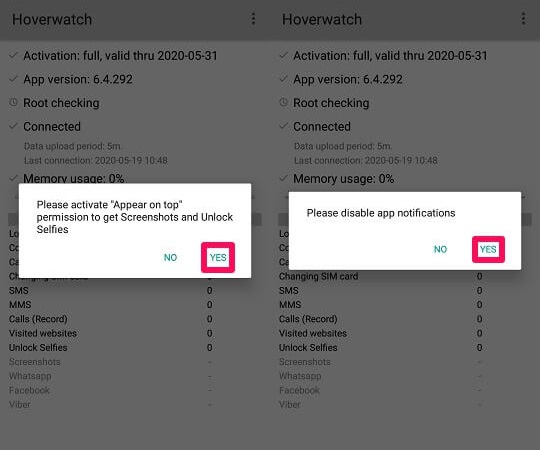 1.3 How to Use Hoverwatch?
If you have gone through the steps to install Hoverwatch successfully, you can start using the app.
To start using, go to the Hoverwatch login page by clicking on the Log in option on top of the official Hoverwatch website. This will take you to your account dashboard. Start by clicking on an added device. If no device is added, click on Add Device on the left to add a device to begin tracking.
Click on the Locations tab at the top, and you will be able to view the target's location at that moment. Refresh the page to get a more accurate data. You can also view past locations by adjusting the slider at the bottom.
Click on the Calendar tab to view the calendar data of the target device. You can view if the target has added any event on the calendar.
Click on the Contacts tab to check the contacts saved in the target device. The contacts deleted recently will be marked as "deleted" in the dashboard.
Under the Reports tab, you can check the recent activities that the target device has done in the form of screenshots. For example, if the target has accessed WhatsApp recently, the app will take a screenshot of every page opened and display it under this tab with the date and time.
You can also view the front camera view when the phone has been unlocked under the Unlock Selfie heading.
1.4 How to Uninstall Hoverwatch?
As the app icon is hidden on Android, there might be a question on how to remove Hoverwatch from your phone. To uninstall the app, follow the following steps.
Step 1: Open the app on your device
Step 2: Go to the Menu by clicking on the three dots at the top right.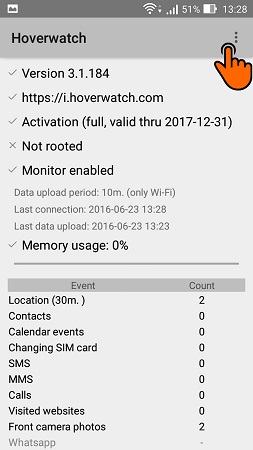 Step 3: Click on Uninstall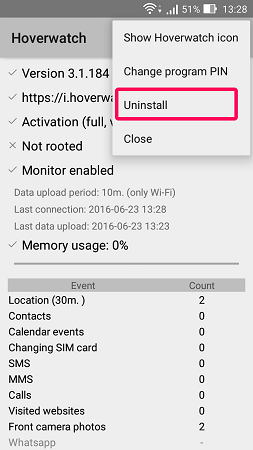 Step 4: Click on Yes, when the app asks, "Do you want to uninstall Monitor?" The app will be successfully deleted from your device.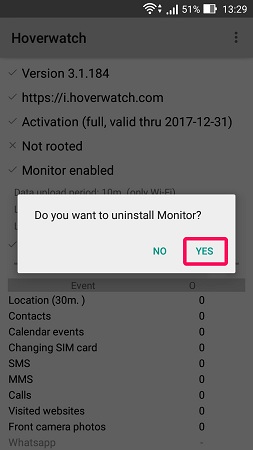 2. A Better Alternative Monitoring App: KidsGuard Pro
Like Hoverwatch, KidsGuard Pro is also a phone tracking app that can monitor a mobile phone remotely from a PC. It can track phone files like photos, videos, audios, and other documents; and social apps like Facebook, WhatsApp, Instagram, SnapChat, Viber, WeChat, Tinder, and many more.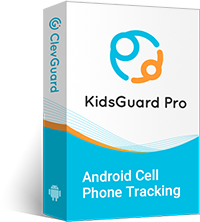 KidsGuard Pro for Android Features
Track cell phone location in real time and view location history
Check all incoming and outgoing calls & SMS
Spy on social media apps like WhatsApp, Instagram, Snapchat, Facebook, Viber, WeChat and more
Remotely access the files on the target phone, like contacts, photos, call logs, etc.
NOTE:
This app can do everything that one might need to track one's activities. Moreover, it even can set up geofencing and keylogging that Hoverwatch doesn't have. Also, unlike Hoverwatch, KidsGuard Pro is available for iOS devices too.
How to use KidsGuard Pro for Android Monitoring App?
Step 1.
Click
Monitor Now
button below and skip to KidsGuard Pro's website, Use a valid email address to sign up an account.
Step 2.
Log into your account and pick a suitable plan that fits your needs. Then go to
My Products
page and click
Setup Guide
button in the product's box. Follow the instruction to download and install KidsGuard Pro. This step only needs to take 5 minutes.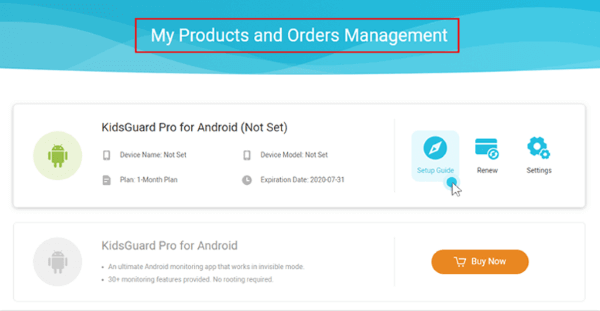 Step 3.

After finish installation and setting, you can start to monitor target phone's activity on your dashboard.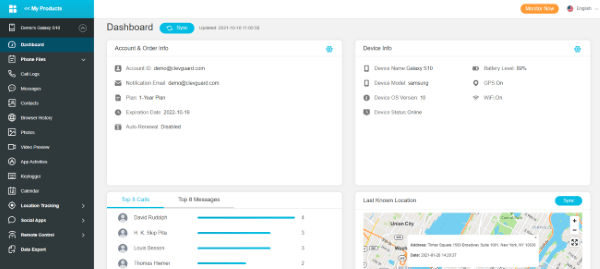 3. FAQs Related To Hoverwatch and KidsGuard Pro
Question 1: Is Hoverwatch or KidsGuard Pro available for free?
Neither Hoverwatch nor KidsGuard Pro is available for free. However, Hoverwatch has a 3-day free trial to test if the product suits your needs, and KidsGuard Pro has a free demo with most of the features available for an unlimited period of time.
Also, a 3-month plan for Hoverwatch costs $59.95, and KidsGuard Pro for Android costs $49.95 for the same 3-month duration, which is quite reasonable.
Question 2: Is Hoverwatch or KidsGuard Pro detectable?
Hoverwatch has an option to choose to show or hide the app icon. KidsGuard Pro, on the other hand, is totally undetectable from the moment of the installation.
Question 3: Does Hoverwatch and KidsGuard Pro require rooting?
No, both the apps do not require your device to be rooted.
Question 4: Which one is better to choose to balance Hoverwatch against KidsGuard Pro?
Comparing all the features, pros and cons, pricing, and other aspects, it is evident that KidsGuard Pro is a better choice in case of remote mobile tracking than Hoverwatch in all respects.
Summary
Monitoring your children, employee, or anyone else can sometimes be quite crucial, and thus, the app you're using in that respect must be capable enough to suit all your needs. KidsGuard Pro does a better job in this field with respect to Hoverwatch, keeping all the features and aspects in mind, and will be a wise choice for everyone.