Advances in technology have led to some interesting apps, for example, SMS Peeper. This is a message spy app which allows viewing the text messages of any phone number without having access to the target device. In this article, we will do an in-depth review on SMS Peeper to see does it really work like advertised. We will also compare it to a great text message spying app called KidsGuard Pro. Find more details in the following part.
What Is SMS Peeper
SMS peeper is a service that you can use to monitor someone else's text messages. It can track both incoming and outgoing text messages all without the other person's knowledge. You can use SMS peeper without having to download the app on the target device. It was one of the earliest tracking solutions to be introduced in the market.
This app will present 100 records of text messages, 50 of them are outgoing and the other 50 are incoming. Along with the text messages, you can check the phone number of senders or recipients. In the following part, we are going to be looking at SMS Peeper reviews, how it works as well as its pros and cons.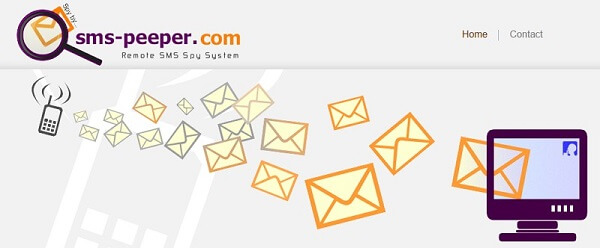 How Does SMS Peeper Work
To use SMS peeper, you just need to know the target phone number and follow the steps below. It will access the SMS database archive and present the found results one by one.
Step 1. Visit the SMS Peeper website and enter the country, phone number that you want to track and your email address. Once you click "Get Messages" the service will start to populate all messages on that phone number.
Step 2. Then, you will be able to see up to 100 messages (50 incoming and 50 outgoing). To read a message, just click on "Show Messages".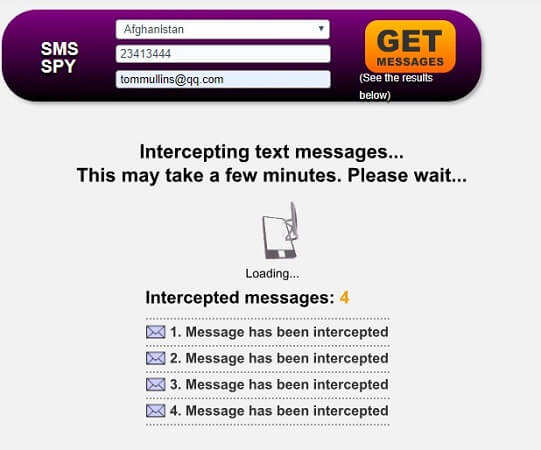 Step 3. You will then be required to enter a code. Click on "Download code" and follow the steps below to get the activation code:
Click the "Download Code" on the left. You will be redirected to the page with the code (tinyfileshost.com)

Click the "Download File" black button.

Choose from a list one offer/survey and fill it in with your valid information. Downloading a file with the code will start automatically after completing the offer/survey.

Enter downloaded CODE in the box on the left and click on "Show messages".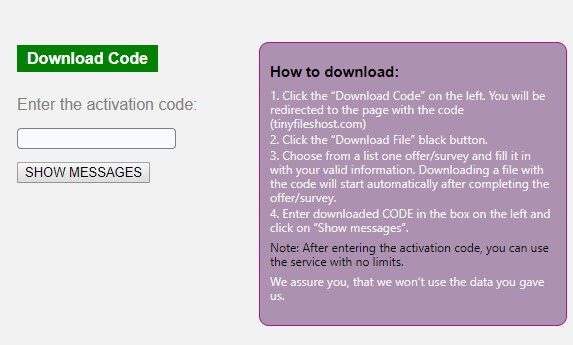 Step 4. Once you've entered the code you should be able to see the message including the name of the sender or recipient and the date and time the message was sent.
Reasons to Choose SMS Peeper
As a successful text monitor app, SMS Peeper is popular for some reasons:
The steps are quite easy to follow. You don't have to install the app on the target device or touch it in order to intercept text messages.

It's free to use. You just need to complete a few surveys to get the final results.

You don't have to register any accounts.

The messages spying technology is hardly to be discovered.
Reasons to Avoid SMS Peeper
However, SMS Peeper will work very well to populate the messages from the provided phone number until you need to enter the code to read the messages. This is where most users have been stuck, for lack of a better word. Most users report that when they click on "Download Code" instead of getting the code, they are expected to take surveys or download other programs. Some people even say that after downloading the programs, taking the surveys or purchasing something, the code they got didn't work.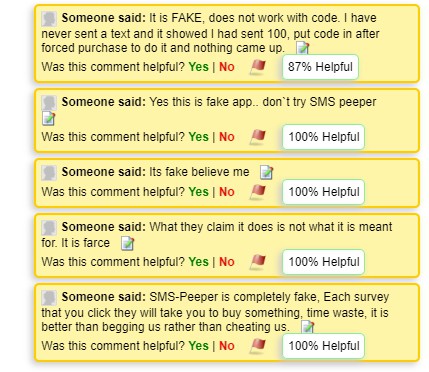 Also, you will be required to fill your name and email address to complete the survey, which means your personal information may be exposed. After testing SMS Peeper, we have received a few spam emails. And we have also encountered database errors, which showed a blank screen without generating any results.
Except all the mentioned drawbacks, SMS Peeper only works to spy on text messages. If you need to spy on other data such as contacts, call history, social app chat history, location and more, then KidsGuard Pro is the best option.
Find out the Best SMS Peeper Alternative
If you are looking for a better way to track someone else's SMS, a method that will not require you to jump through numerous hoops to get the messages, you should consider KidsGuard Pro. This program is designed to be the ultimate monitoring tool, working behind the scenes on the device to provide you with as much information about the device as you need. To use it, you will have to install the app on the target device which should be easy enough if you know the person. Once the app is installed, you can monitor the text messages as well other data remotely.
Amazing Features of KidsGuard Pro
It can be used to monitor more than 25 different types of data including calls, SMS, social media, GPS and more.

It can also be used to track the real-time location of the target device remotely.

It is 100% safe to use and it will not affect the data on your device.

It works in stealth mode and will not let the target user knowing you are spying on their cell phones.

It supports all versions of Android OS and iOS. You don't have to root or jailbreak the device to use it.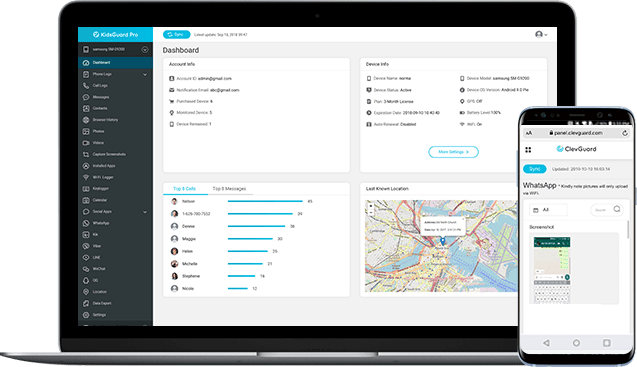 Why is KidsGuard Pro Better
Here we've prepared a comparison table between SMS peeper and KidsGuard Pro. This will help you better understand why KidsGuard Pro is the best choice for cell phone monitoring.
| Android Features | SMS Peeper | KidsGuard Pro |
| --- | --- | --- |
| Secret text messages spying | | |
| How many messages can be viewed | The latest 100 records | Unlimited |
| Name of the contact person | | |
| Message delivery time | | |
| Call history | | |
| Contact list | | |
| GPS location | | |
| Social media messages monitoring | | |
| Access to the media files | | |
| Browser history | | |
| Success rate | | |
| Real-time data syncing | Easy | Easy |
| Success rate | 20% | 95% |
How to Spy on Text Messages without Knowing
Here's a complete guide to help you use KidsGuard Pro correctly. Kindly note that the text messages sying feature only works for Android devices.
Before you begin
You must have physical access of the device whose data you wish to track for 5 minutes
How to use KidsGuard Pro
Step 1: The first step in this process is to create a KidsGuard Pro account from which you can control everything else. To do this, click on the "Sign Up" button. Provide a valid email address and any other information required to create the account. At the same time, you will need to purchase a premium plan to access all the program's features.
Step 2: Now open any browser on the target device and go to www.clevguard.net to download the KidsGuard Pro assistant. After that, launch the app and complete the basic user information. Then follow the on-screen setup wizard to provide the app with all the permissions it needs on the device.

Step 3: Now go back to KidsGuard Pro official website and connect the target device. You will see the different types of data on the left side of the panel. Click on "Messages" see the messages on that device. To see the details on any particular message, simply click on it to expand it and you'll see the message itself as well as the time and date it was sent.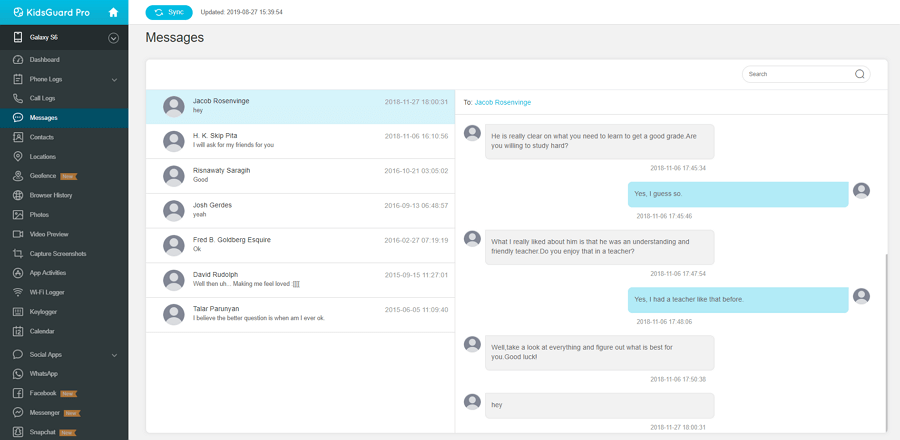 Verdict
From the above SMS Peeper reviews we can draw such a conclusion: It is a great app to check someone's text messages, but it also has certain limitations. You cannot use it for more spying other than SMS. For this reason, KidsGuard Pro is recommended.