A chores app is basically a platform that includes many tasks to be performed throughout the day. As soon as the tasks are completed your kids can be rewarded with points or money. It makes finishing up the tasks and chores a fun-filled activity for kids. Children would love some motivation to involve in some daily tasks and the chores apps available online can go a long way in helping you achieve this. Here is a list of the 10 best chores app that you can go for.
1. OurHome App
Price: Free
Compatibility: iOS and Android
Ease of Use:
Feature Richness:
This is one of the best chores app this year which makes managing your home easier. Kids are generally motivated by rewards and this app offers exactly that. Whenever your kids efficiently finish up tasks like their homework or household work, it rewards them. This basically instills a sense of responsibility in your child which goes a long way in helping them in the future.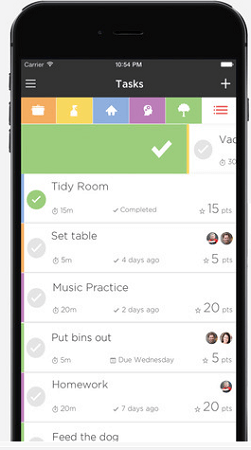 Features of OurHome App:
Provide incentives to motivate kids.

Set goals and let kids know what they're working towards.

Stay in sync with the apps calendar.

Sync with unlimited devices.

Simplifies shopping by allowing you to create an easy shopping list.

Set reminders and also send messages.

Colorful and vibrant user interface.
2. Homey App
Price: Free for 3 accounts and $4.99 per month for more accounts
Compatibility: iOS and Android
Ease of Use:
Feature Richness:
Through Homey App, your kids can learn about the importance of money. This app features a set of functions through which you can set up the daily chores for your kid. Upon completing these tasks and chores, your kid can get rewarded with money. By working towards a goal and finishing it, it gives a sense of accomplishment to your kid which drives them to finish more tasks and involve themselves more in taking up the responsibility at home.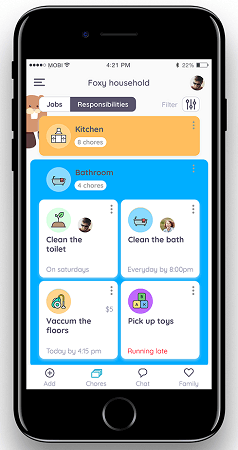 Features of Homey App:
Effective way to show kids how money is earned in real life.

Set daily, weekly, monthly or one time chores as family affair.

The main functions are kept hidden from your kids.

Take pictures of tasks to keep track of the work.

Parents can customize the settings of the app.

The main functions are kept hidden from your kids.

Set optional rewards for family members to choose from.
3. Chore Pad HD App
Price: $4.99
Compatibility: iOS
Ease of Use:
Feature Richness:
This housework app gives one of the best chore chart experiences to you and your kids. The developers of this app have taken many suggestions from teachers as well as parents to devise an effective application to help you in making your kids complete their chores. This app makes finishing up of the chores fun and engaging for your kids.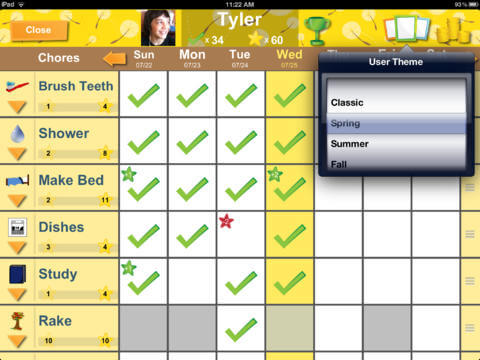 Features of Chore Pad HD App:
Has a Parent Mode which keeps the essential management features hidden to the kids.

Earn stars after completing the chores and uses those stars to get rewards.

Your kid's star totals and progress for the week will be shown on the start screen.

Different themes for the chore chart.

Trophies for achieving the completion of tasks.

Star modifier when the chore is completed well in advance.
4. Allowance & Chores Bot
Price: $2.99
Compatibility: iOS and Android
Ease of Use:
Feature Richness:
With this chores app for teenagers you can set up tasks, chores and goals for your kids and once they reach their goals, you can reward them with real money or by virtual rewards like simoleons, stars and smileys. The kids can check their total money in the app which they earned. This acts a motivation for the kids to learn more about the importance of money. It gives a virtual idea about how the real world functions.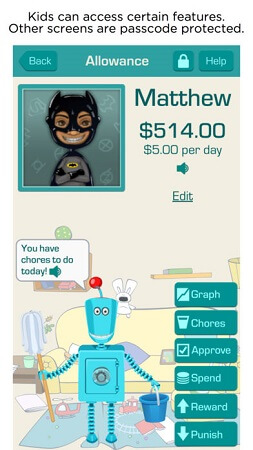 Features of Allowance & Chores Bot:
Automatic sync of data with devices.

Multiple chores and allowances can be managed.

You can set up daily, monthly or weekly allowances.

Keep a track of how your child is spending their allowance.

Regular reminders feature is provided.
5. iRewardChart
Price: Free for basic version and $3.99 for Pro version
Compatibility: iOS and Android
Ease of Use:
Feature Richness:
Kids tend to procrastinate work as they are at an age where they are not much aware about the importance of time and responsibility. So iRewardChart will help you to track kids' chores and teach them how to take up responsibility and finish up tasks and chores on time. They ultimately would gain a lot in the long run.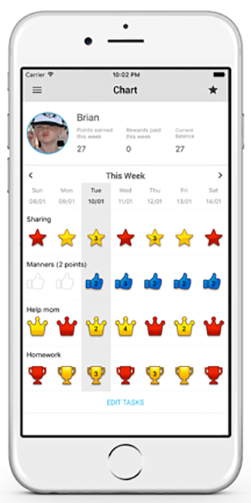 Features of iRewardChart:
Parents can customize the tasks for their kids.

Parents can also customize rewards, like money, ice cream, etc.

The free version supports four tasks per week for one child.

The user interface is colorful and vibrant with interactive sounds.

Keep a local backup of all the tasks and rewards for you.
6. iAllowance (Chores Allowances)
Price:  $2.99
Compatibility: iOS
Ease of Use:
Feature Richness:
This app makes the empowerment of your kids possible. This is a fun application which makes your child aware about the things to do on a daily and weekly basis. This application constantly reminds your kids to finish their day to day work on time which ultimately leads to your kids becoming more responsible towards their tasks.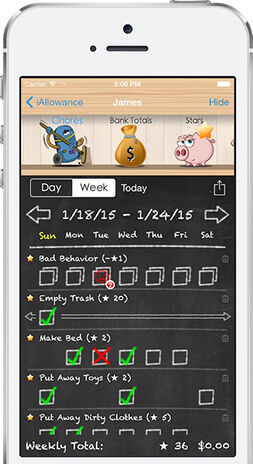 Features of iAllowance (Chores Allowances):
Automatic and instant sync of the process of each task.

Parents can choose "cash in" when kids finish up the tasks.

Parents can manage their own finances with the help of the built-in parental controls.

Automatically create local backups of the data from the app.
7. S'moresUp App
Price: $4.99
Compatibility: iOS and Android
Ease of Use:
Feature Richness:
You no more need to write down the tasks for your kids and put it up on the fridge. All you need is this excellent application which can effectively help you in making your kids take up the responsibility of finishing up some of the chores in the household. This family chore app is very easy to use and makes the household chores management very simple.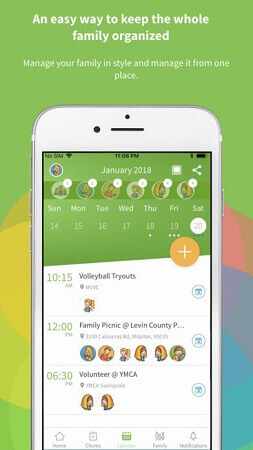 Features of S'moresUp App:
Allow parents to set up chores, tasks and allowance for their kids.

Get an individual calendar including all the assigned tasks for everyone when using this app.

Schedule family events and even playdates easily.

Parent community feature is available for communicating with other parents.
8. HomeRoutines App
Price: $4.99
Compatibility: iOS
Ease of Use:
Feature Richness:
This is an application which helps you in setting up a routine for your child. You can create a list of jobs for them which have to be done on a daily basis so that it ultimately becomes a routine. This application would remind your kid at the time when the chore or task has to be done and then gives a star on completing the task.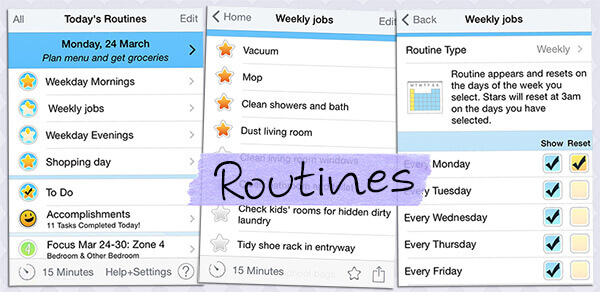 Features of HomeRoutines App:
Golden star on completion of task which get reset the next day.

A built-in timer to encourage your kids to finish up the tasks as soon as possible.

A to-do list for recording all the tasks that can be done once.

The checklist will reset itself each day.
9. ChoreMonster App
Price: Free
Compatibility: iOS
Ease of Use:
Feature Richness:
Several satisfied users find this household chores app to be very effective as it makes the task of finishing up chores fun and interesting for the kids. As and when your child finishes up the assigned chore or task, they get rewarded. This is what makes the kids get hooked on to contributing their bit in the house.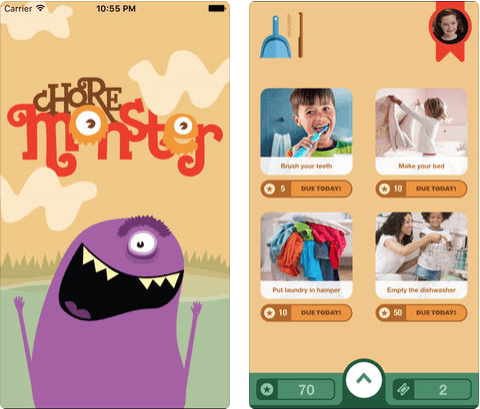 Features of ChoreMonster App:
Earn points after finishing up a task.

The rewards are not in the form of money but in the form of exciting activities like ice cream, an hour of playing video games etc.

Parents get the full control on managing the tasks and the rewards.
10. Chore Check App
Price: Free for basic services and $9 per month for upgraded services
Compatibility: iOS phones and tablets
Ease of Use:
Feature Richness:
Chore check offers an ideal platform to encourage your kids to do more and involve themselves more in the household activities. Through this app your kids can finish up chores and earn incentives along the way. This app is great to teach your kids the value of sharing responsibilities in a family.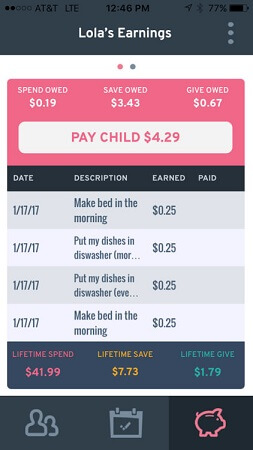 Features of Chore Check App:
The whole family can be included to use this chores app.

Chores can be created and scheduled for each kids.

Once the chores are completed, kids and parents can decide how the allowances are allocated to the categories: Spend, Save, and Give.
Want to Monitor Kids' Chores App Use? Just Install A Parental Control App!
With your kids accessing the chores app constantly on their phones, it is inevitable that they might spend too much time on their phones. The virtual world is filled with many exciting and interesting apps. Your kids might even get distracted by the other applications in their phones which can ultimately delay their chore completion. This would deter them from finishing up their jobs and that would ultimately make the chores app useless. Actually,you can monitor your kid's phone activities to check if they are using these chroes apps and finishing up their tasks. To do this, you will definitely need a parental control app.
In case, you are wondering which one to go for, KidsGuard Pro is an efficient parental control app which works very well in supporting optimum usage of cell phones and apps. It has an extensive list of features which help in efficiently controlling the activity of your child on their cell phone to ensure that they are spending their time in the right direction. You can check out more details of its powerful parental control features below.
How Do KidsGuard Pro Function on Monitoring Your Kid's Phone:
Check all the app activities, including chores apps, on your kid's phone.

Monitor popular social media apps from kid's phone to check if they get distracted by the these apps.

Track every site that your kids browsed on the web.

Get access to contacts, text messages, photos, videos and other phone files.

Take an instant screenshot on the target phone remotely to view its current screen activity.

Track the real time location of your kid through the GPS feature.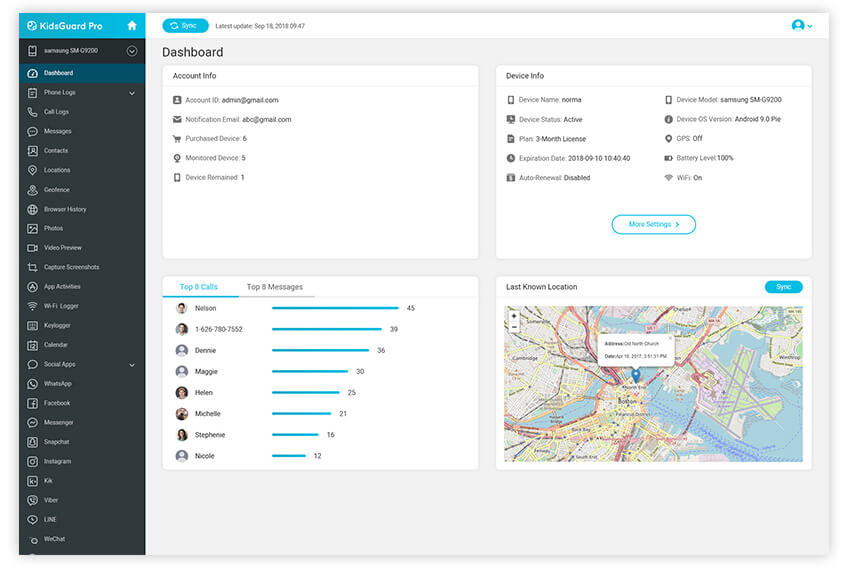 Why KidsGuard Pro Is A Perfect Parental Control App:
No rooting:  No need to root the target device for using this app.
Easy to install and setup:  It takes around 5 mins to finish the installation and setup.
Works in stealth mode:  The app icon will disappear on your kids' device, making them hard to find and delete it.
Real-time data syncing:  Real-time and steady data syncing can help you keep track of your kid's online activities.
Online dashboard monitoring:  All the phone activities can be monitored remotely via KidsGuard Pro's online dashboard.
You can easily install this on your kid's phone and keep an eye on their activity on their cell phones. We would recommend you to try this product's free demo no cost after which you can decide to purchase the full version of this application based on your experience.