UPDATE
FoneMoniter spy app is no longer available now. You can try KidsGuard Pro instead.
FoneMonitor is gaining popularity among device monitoring applications. The app provides a wide range of features including location tracking and device monitoring for both iOS and Android devices. However, we also heard a lot of voices complaining that the application is difficult to use, and most of the features are not as effective as it is advertised. So before you make the final decision to buy FoneMonitor, you really should read this unbiased FoneMonitor reviews and check if it is worth the money. We will also introduce the best FoneMonitor alternative app to cover your mobile phone monitoring need.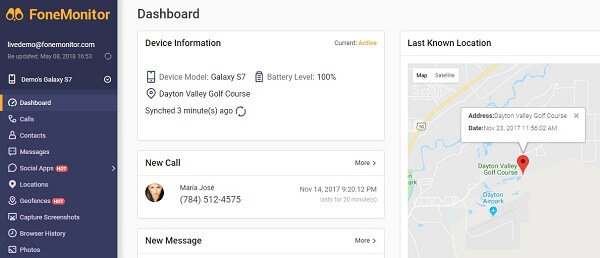 Why Users Want FoneMonitor Alternative
Although FoneMonitor is a very well-known name among monitoring applications and even considered one of the best in the field, some users seem to have a different opinion about the famed app. We tested this app ourselves and also checked the real users' reviews on Trustpilot, and finally concluded some reasons why people are looking for Fonemonitor alternative solution.
First, let's look at the features and the advantages of FoneMonitor:
It compatible with both Android and iOS. But some features for Android device need rooting and the features for iOS devices are very limited.

It offers different versions for different needs.

It works in a stealth mode. Once the service is activated, the app icon will be deleted automatically. It will work in stealth mode.

It has online dashboard to view data.

It support multiple files view.
This software meets the requirements of other similar apps, but as we mentioned above, after our tests and user's experience, this tool still has many shortcomings which will be explained in the following sections.
1. Fonemonitor is no longer available
Fonemonitor was a great app but unfortunately, it is no longer available. When we tried to visit Fonemonitor website, we have received a notice of under maintenance. Besides, you will not be able to install Fonemonitor app on the official Google Store or Apple Store. Considering of this, we suggest that it is better to find an alternative like KidsGuard Pro. In a detailed comparison of both apps below it is clear that how KidsGuard Pro is a better tracking app.
2. Rooting the Android device is required
Although, FoneMonitor advertises that rooting or the device is not required on their official website. The claim is completely false, if you use the app on an unrooted Android device, then all the advanced function won't work. Basically, the app is worthless on an unrooted device, you won't get any messages from social media. Also, in order to access all the features, you can try to root the device but it is a very risky procedure which inevitably damages your device or the core programming itself.
3. Many features are not working as it advertises
The official website of FoneMonitor advertises that the app provides several features for Android devices, as well as iOS devices. Effective features like calls logs, GPS location, capture screenshots, popular social media apps monitoring and more. However, we have tested the app and the results were very disappointing. The screenshot and keylogger features on Android doesn't work at all. It has been loading without any progress.
And in terms of iOS version, we are sorry to say this but it is completely a scam. The data you will be monitoring is solely dependent on the data backups. If they are up to date, you will be able to get current information; otherwise the procedure is completely hopeless. You will be able to view a very little amount of data. Also, you need to know the Apple ID & password and make sure the Two-factor authentication is disabled on the target device, otherwise this app is useless.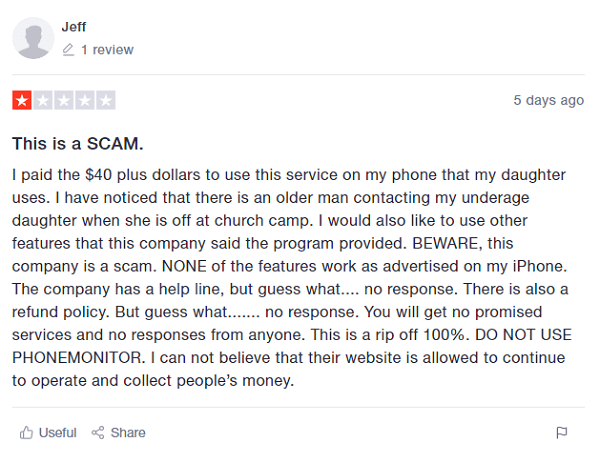 4. Unable to sync data
It is confirmed by several users that the app doesn't work properly. After being used for a few days or immediately after the purchase, social media stops uploading data, so it is the same with media files. Whatever you may try, the issue doesn't get fixed. Moreover, the location is not updated in real time.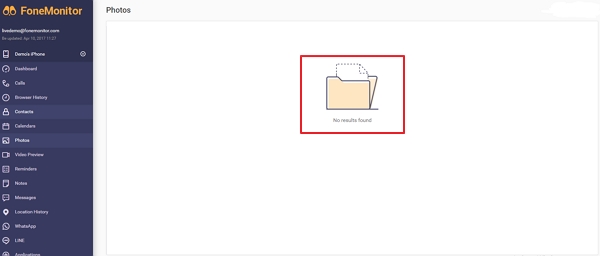 5. Slow customer service
24/7 Customer Service is available is written on the official FoneMonitor website. But it is a false claim as users have complained that they weren't able to connect to customer service for days or unable to connect at all.
6. False money-back guarantee
The Fonemonitor price is on the higher place. But users were very unhappy with the app's performance, the false advertisement ruined everything for them and but some even went as far as rooting the device. Also, results were still not satisfying. One of the biggest disappointments was the advertised 7-day money-back guarantee. Users have claimed that they never got their money back.
Although FoneMonitor free app is great or advertises as one of the best in the field, the shortcomings cannot be overlooked. So, if you are in need of a suitable alternative of FoneMonitor, read the rest of the article.
The Best FoneMonitor Alternative App for Cell Phone Monitoring
Quite recently, KidsGuard Pro was introduced to the world and it has certainly grown to become one of the best apps for monitoring both Android and iOS devices. And the app lives up to its reputation! Depending on its follower base the app works really well and comes with a wide range of monitoring features. The overall operational procedure is simple and offers an attractive user-interface. The app also does not require rooting for installation, even the iOS version is jailbreaking free and no app needed on target device. So, the question is, what sets it apart from FoneMonitor app? Well, we compared the following points, have a good look:
Fonemonitor
KidsGuard Pro
Features
25+ features provided, but most of them will work on a rooted device.
30+ powerful monitoring features. Truly works without rooting/jailbreaking.
Price
There are 2 editions available, the Premium Edition will cost $29.99 per month and the Ultimate Edition will cost $39.99 per month.
You will be billed $29.95 per month but if you take the one year plan, it would be cheaper, only $8.32 per month.
Only one edition for all the premium features.
Ease of Use
The installation of FoneMonitor is really complicated, and the company didn't make it easy for the users.
Some configuration steps need be finished manually.
The entire procedure of download and installation takes only 5 minutes to complete. All the permission access can be finished automatically.
Compatibility
Supports both Android and iOS
Supports both Android and iOS
User Feedback
It is hard to find positive user reviews.
Although fairly new in the market, still KidsGuard Pro has quickly gained thousands of users.
Refund Policy
7-day refund policy, terms & conditions apply.
30-day money-back guarantee if you are not satisfied.
Customer Support
24*7 customer support but users have a different opinion on the matter.
24*7 customer support. Both email and live chat supported.
Reliability
Responses are fairly negative, does not get recommended quite often.
Very reliable, pretty much recommended by most of the popular tech sites like AlternativeTo, NewsBeezer, etc
Overall rating

You might be wondering what KidsGuard Pro exactly does and how one can make use of it or the qualities of features it contains, fret not! We are going to jot down all nitty-gritty of this app in the following part. You don't have to worry if the person to be monitored uses Android or an iPhone. KidsGuard Pro is fully compatible with both the devices. For your convenience, just quickly choose the ones you want to monitor to get the things cleared about anything.
What Can KidsGuard Pro Do on Android
With the help of this program, you are able to monitor the devices of the others in real-time. Let's explore more about it.
It can monitor each incoming/outgoing message of target phone.

The popular messenger apps like Facebook, Snapchat, WhatsApp, Line can be easily tracked.

It can even record live phone calls and get call logs.

It can track real-time location and set geofence, so that whenever your loved one crosses that area, you will be notified.

It can take screenshot of target device when it is being used.

It can track browsing history and even incognito ones.

You are able to check media files like photos, videos, contacts, and more.
How to Get and Use KidsGuard Pro on Android Phone
Being the best Fone Monitor alternative, KidsGuard Pro provides some of the most outstanding features along with an incredible operational procedure that lets you monitor an Android device with ease.
As mentioned earlier, the operation is as simple as it can be. Once you have installed the program on the target device you are free to monitor the device from its web-portal. So, let's have a look at the not so complicated user-guide of KidsGuard Pro:
Step 1. First, you need to register an account with KidsGuard Pro. You need to use your proper email ID and complete the registration in order to get the purchase the Premium plan.
Step 2. Later, access the target device and download the app from the browser. Then, it is time for the installation. Tap on the downloaded APK file to launch the installation and follow the on-screen instructions to complete the configuration. After that, the app icon will be disappeared from the screen.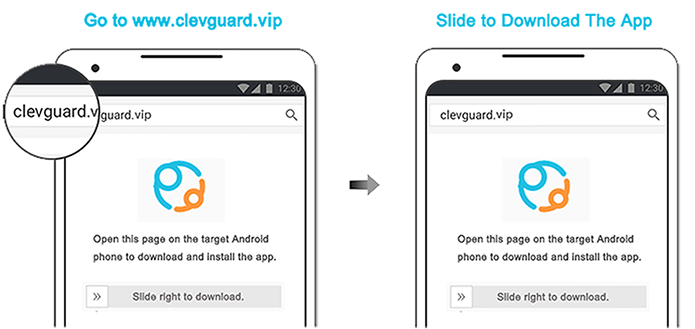 Step 3. After the setup is complete, leave the target device. Sign in to your KidsGuard Pro account on its website, here you will be able to check all the collected data and device activity.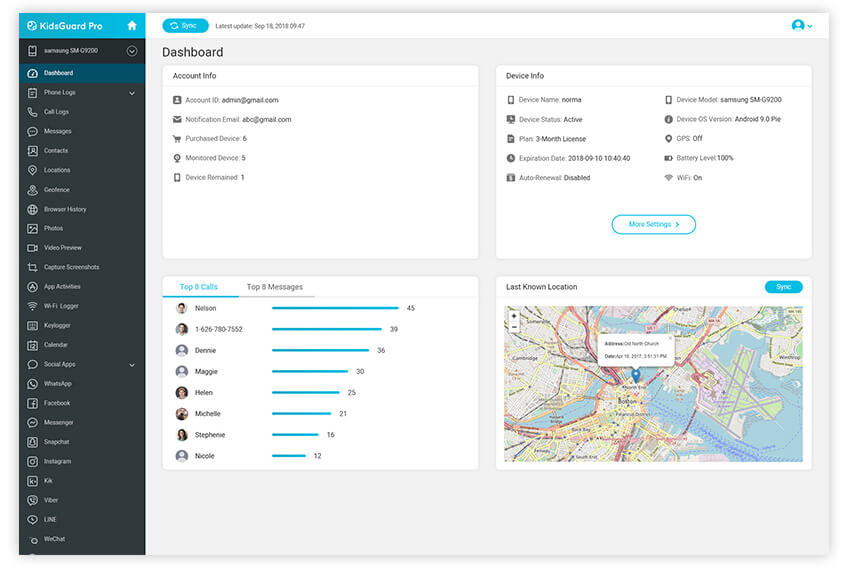 What Can KidsGuard Pro Do on iPhone
Here are the key features of KidsGuard Pro for iPhone. Have a look!
It can effortlessly track messages sent or received, even deleted.

It can monitor WhatsApp, WeChat, LINE, Viber,QQ and Kik chat history.

It can track all incoming and outgoing calls including the names, timestamps and call duration.

It can check Safari history and bookmarks to learn what the target user has been visited.

It can check any type of multimedia files stored on the target iPhone, including photos, videos or voice memos.

It can access Reminders, Calendars, Notes on the monitored iPhone or iPad.
How to Get and Use KidsGuard Pro on iPhone
You do not need to physically install the KidsGuard Pro app on an iPhone to monitor it. Here is how to make KidsGuard Pro work.
Step 1. You need to register an account with KidsGuard Pro as well. Then buy a premium plan to access all its features.
Step 2. Then, access the target computer and download KidsGuard Pro app with the browser from the website provided in the below photo. Open the downloaded file to complete the setup according to the on-screen guide.

Step 3. Then our program will automatically scan the existing iTunes backups details on the computer. Select and confirm the target iOS device. Finally, you can check all the backup data of target iPhone.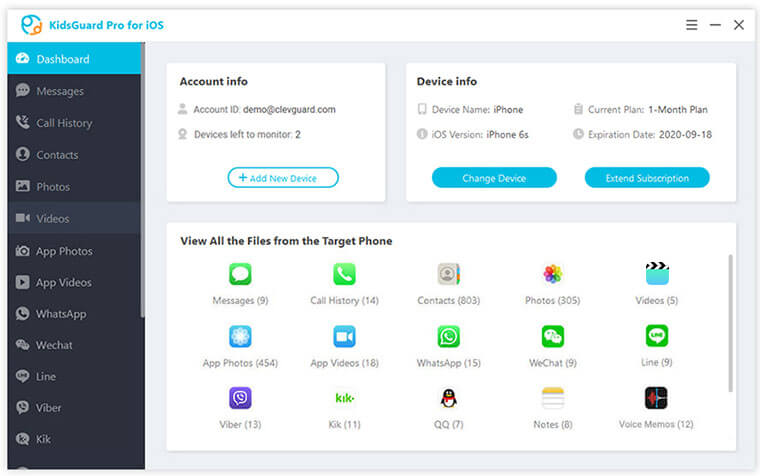 Summary
Although, FoneMonitor is considered one of the potent applications for device monitoring, there are a number of users who have something else to say about the famed app. Considering that it is not available anymore, KidsGuard Pro is by far the best alternative of FoneMonitor.