Question: What is Bark App?
Bark is a child monitoring app that parents can monitor social media usage, texts, emails, and Google search on your child's mobile devices. Bark was designed to enhance your children's online safety.
It examines symptoms of cyberbullying, drug use, suicidal thoughts and inappropriate sexual content. Parents will receive a text message if their child is being cyber-bullied or receiving sexting via email, text, or direct messaging. Also, parents will be warned if their child is looking at the Internet based on searches and messages.
In this Bark parental control reviews, we will discuss the detailed information of this app, let's read!
What Functions Does Bark Offer?
At a glance, Bark app is an easy-to-use application that comes with many parental tools that allow you to understand how your child is developing in a virtual scenario.
Bark is a longtime favorite service for many parents, especially social media monitoring. You can monitor the activity of your children on their devices.
Bark comes with several features of interest where families find solutions to their concerns.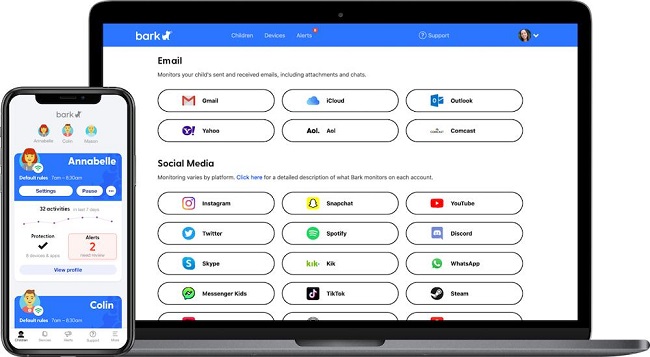 Monitoring: One of the characteristics that make Bark widely popular among parents is its wide oversight capabilities. Bark parental control app lets you monitor your children's conversations online.
This phone monitoring app is also useful for monitoring WhatsApp, iMessage, Facebook Messenger, and text. Bark seeks out cyberbullying, sexual content, depression, violence, insults, and other inappropriate online behavior.
Parents' Forum: Bark comes with an active parent forum that uses content-control software to monitor and protect children. This forum allows parents to discuss common parenting issues and keep up to date with new slag or inappropriate websites.
The great thing about this forum is that it is organized according to the age of your children to ensure that you get advice.
Blocking and Filtering: Bark app for kids offers a screen management feature that lets you control how your kids use the Internet and when they use it.
The blocking and filtering function comes under this feature. This function allows you to block any app or website that you do not want your children to access.
In addition, you can completely block your child's Internet connection on both Wi-Fi and cellular networks.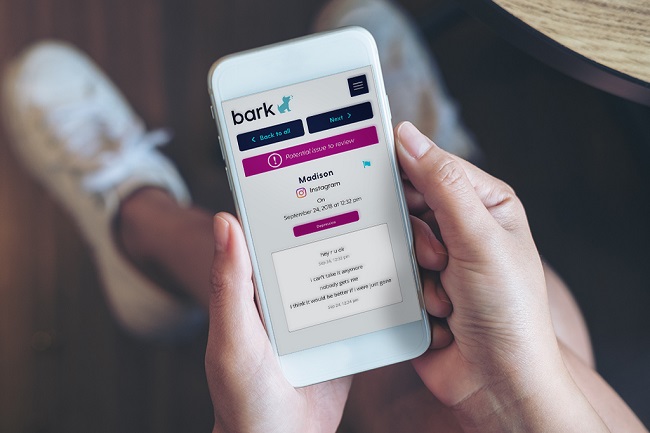 Bark Screen Time Monitoring: One of the most important tools for parental control is the ability to set clear rules about how much screen time children have and what they are allowed to do while your child spends time online.
Bark's screen time management feature allows parents to manage screen time, set time for the Internet, bedtime for the week before school, and even on weekends when more screen time may be allowed.
Check-Ins: One of the most recent updates to the app includes the Check-In feature, which lets you check when your child is not nearby.
With the app, you can ask your child (whose device is connected to your account) to check-in. Bark then informs them and asks for an answer.
Email Monitoring: Sometimes, your children may try to hide inappropriate interactions by communicating via email instead. This is where Bark Software comes in handy for email monitoring.
Barak not only monitors social media but also e-mail activity. This feature allows the app to scan through emails and Google Docs and alerts you to suspicious or disturbing activity.
Related Read: How to Check Boyfriend's Text Messages for Free Without His Phone?
Pros and Cons of Bark
Bark's innovative technique of monitoring children's online activities has both advantages and disadvantages. Here are its pros and cons of Bark app, which can help you directly have a better understanding of this app:
Pros

Almost every social media app can be monitored by Bark. Parents can also receive alerts when they download new apps to their child's device.
Parents can filter content and apply time limits.
Parents can block devices from accessing their network or block Internet connections on certain devices.
The screenshot capture feature gives parents the ability to monitor their child by looking at screenshots of their activity, as opposed to text statistics.
Parents can choose to filter out specific content that is not appropriate and schedule access times for each child. Instant Block makes it easy for parents to "pause" access to the Internet whenever they want.
Cons

Bark may interfere with other parental control software. Some parents have reported receiving alerts when they were not needed.
Clean Router does not offer unique user settings if parents have children with different monitoring needs and restrictions.
It doesn't offer full location services
Some users have reported that the device will go offline by accident, the device offers little control to the user, and your home configure doesn't have many options for configuring it.
How Does Bark Work?
Parental control with Bark has never been easier - it's not easy to use it for your child's Internet safety and potential. Bark offers a look at several social media sites. This includes 30 platforms and searches for malicious content.
Bark uses highly reliable security and algorithms that will detect and alert you to potential suicidal thoughts or online threats. You will receive text alerts or emails if you notice any irregularities in the app. You won't have to search every text or post your child during screen time. Once you are aware of your child's online activity, it is not always easy to talk to them about potential risks. However, our skillful recommendations will be helpful during these times.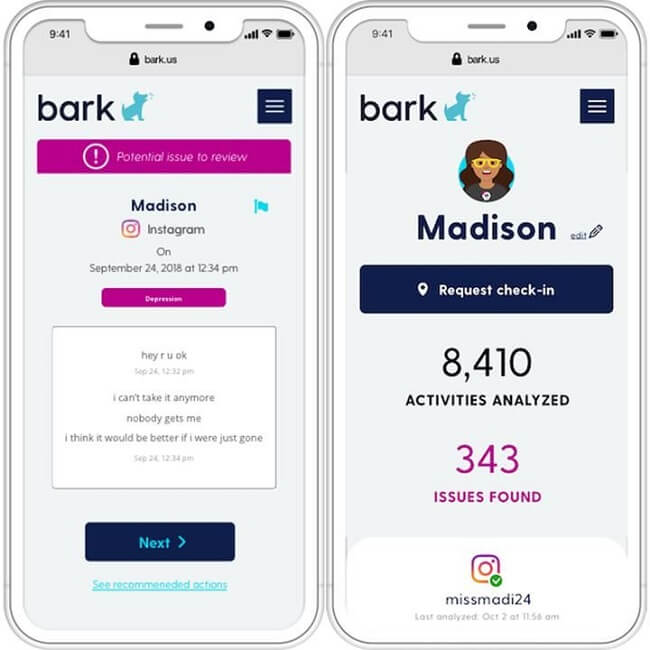 How Much Does Bark Cost?
Bark offers two subscription plans: Bark Jr. and Bark Premium. Two subscriptions offer different services. There is no free version of the app, but there is a seven-day Bark-free trial for the premium plan.
Bark Premium: Adolescent parents may be more interested in advanced subscription models. This plan starts with $14 per month and $99 for one year with this you can monitors texts, 30+ apps, alerts, emails, allows for filtering and blocking websites, and enables screen time management.
Bark Jr: As an entry-level product, Bark Jr. is best suited for young children. It provides management of screen time, filtering which websites your kids can visit, and keep up with kids with location check-ins. This plan starts with $5 for one month and $49 for a year.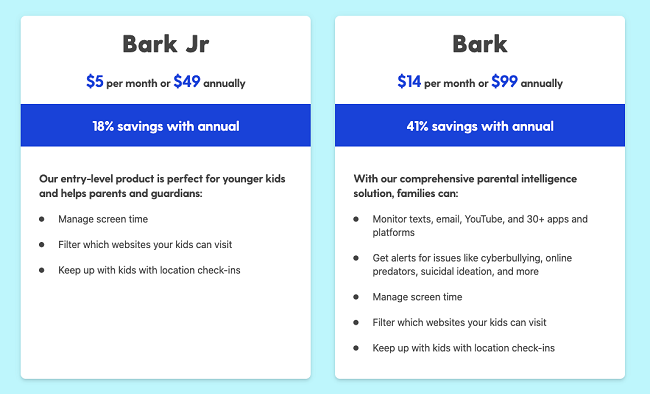 Bark vs KidsGuard Pro: Which Parental Control is better?
There is no doubt that Bark app is quickly becoming one of the most popular parental control apps. However, how does it compare to one of the other top parental control apps, KidsGuard Pro, in the markets? Let's have a look:
1. Location Monitoring
By using KidsGuard Pro, you can take advantage of built-in GPS or Wi-Fi location tracking technology to track real-time locations. You can also set up a Geo-fence and receive alerts when your child enters or exits virtual boundaries.
But on the other hand, by using Bark app you cannot trace the Wi-Fi location or GPS.
2. Files Viewing
KidsGuard Pro has the features to get access to contacts, call logs, text, photos, videos, browser history, and more. It is a record of everything on the desired device. When necessary, you also have the opportunity to export and save this data for future use.
But in Bark app, you cannot get the data of the contact list but can trace text calls, and browsers history. And you have no opportunity to export and save data for future use.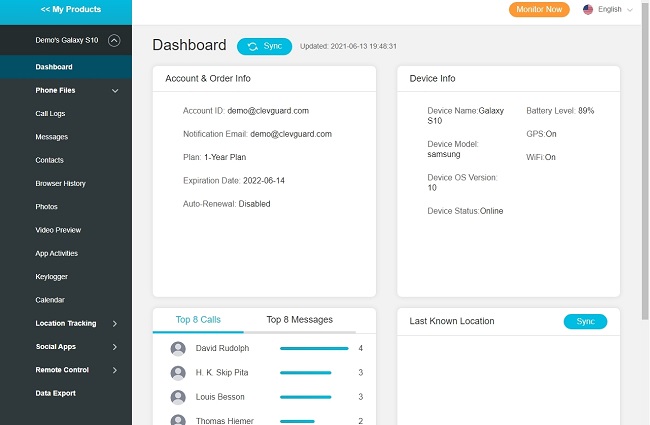 3. Monitoring Remotely
KidsGuard Pro has remote control features. Using the remote control function, you can perform stealth mode in every mode of operation. For example; Record phone calls, take secret pictures or get screenshots on an Android phone.
But in Bark app, there is no feature like a remote control to record the calls.
4. Privacy Protection
KidsGuard Pro protects your privacy and secures your data and it is 100% virus-free.
Bark app did not provide and any guarantee to protect your privacy and data
5. Multiple Languages Supports
KidsGuard Pro provides more supported data types for monitoring to satisfy your requirements and it supports multiple languages to cover different users. Bark app provides less language to cover the users.
How to set up KidsGuard Pro?
Step 1.
Click
Monitor Now
button below and skip to KidsGuard Pro's website, Use a valid email address to sign up an account.
Step 2.
Log into your account and pick a suitable plan that fits your needs. Then go to
My Products
page and click
Setup Guide
button in the product's box. Follow the instruction to download and install KidsGuard Pro. This step only needs to take 5 minutes.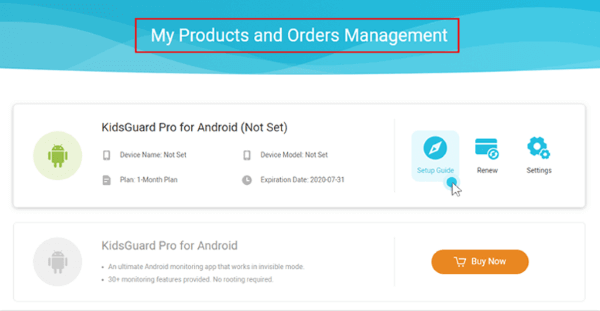 Step 3.

After finish installation and setting, you can start to monitor target phone's activity on your dashboard.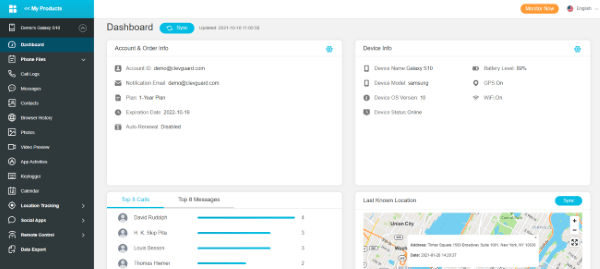 Conclusion
This Bark parental control review let us know it is definitely a great parental control app, but like with any other software, it has its ups and downs. If you are a parent looking for a way to get more advanced services, viewing your child's activities on Internet, calls, texts, locations, etc., and knowing your child better,KidsGuard Pro might be a great and more suitable option for you. In addition to alerts and other monitoring activities,KidsGuard Pro offers excellent customer support that is trained to respond effectively to all questions and concerns.