As the world has moved towards technological advances, time blocking has become essential for most of us.
It can help us achieve more of our goals. Time blocking is the practice of scheduling time for specific activities, whether it is for work or leisure, etc.
This blog will look at the 5 most popular time blocking apps and show how they can help you become more productive.
5 Best Time Blocking Apps
1. Todoist
The first thing you should consider when you need to take care of a lot of tasks is to look for time blocking planner.
One great choice is the Todoist, Todoist is a to-do list tool that will help you get your life in order.
With Todoist, you can organize what you need to get done according to dates and times, set productivity goals, and get regular reports on how well you're doing.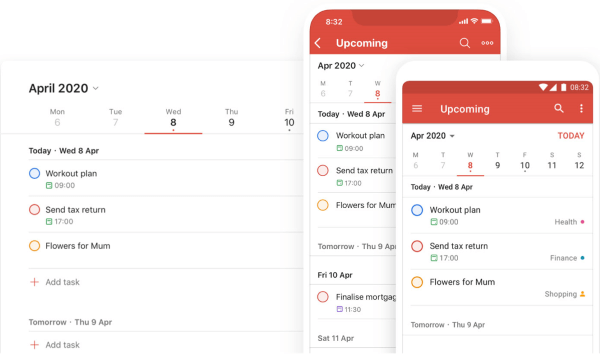 Main features
Get a clear and concise overview of the things you're working on and never let anything slip through the cracks.
It also helps you sync up all your devices, share projects with other team members and keep them updated, set task reminders by groups or individuals.
It allows you to change the appearance of the app so it fits your needs and style perfectly.
Break down large tasks into a checklist.
Pricing
Todoist offers a free version with limited features.
Pricing starts at $3.00 per month. Some paid user features include offline access to tasks and notes, time tracking, unlimited files attachment, it is a time blocking app for iPhone and Android.
2. TimeBloc
TimeBloc is one of the best blocks apps out there. Unfortunately, it's only available on the mobile app store at present.
But it has everything you need to streamline your calendar blocking experience.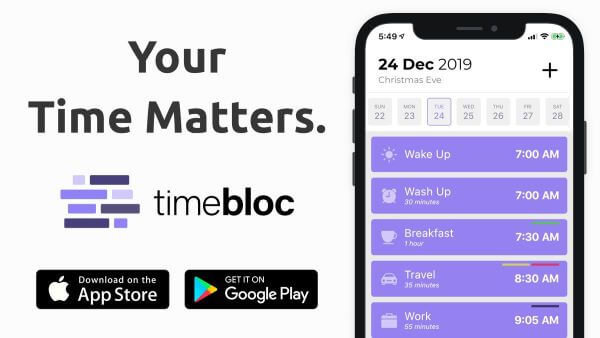 Main features
TimeBloc will give you the ability to manage your calendar in an efficient and tidy manner.
What sets TimeBloc apart from other apps on the market is that instead of requiring constant attention with alerts, popups or alarms it lets you set up recurring blocks to achieve even more peace of mind for any situation that may arise.
Icons and colored tags make it easy to distinguish events in this app.
Pricing
Free version
TimeBloc offers a free version with limited features.
TimeBloc Premium
The price starts at $19.90 per month. Premium users can view statistics in each category.
These figures will indicate the average time spent in different categories such as work, study, and leisure.
3. Google Calendar
Google Calendar is a popular day planner being used by many people. It all begins with specifying the color of your agenda, adding icons to display important events on the calendar.
It includes different views so you can see what's happening at any given time.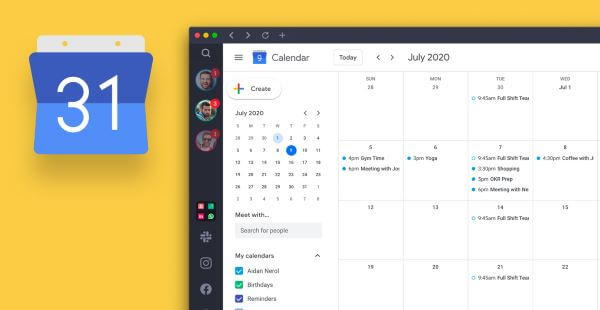 Main Features
Google Calendar is a powerful solution that allows businesses to manage time more efficiently by keeping track of events.
Not only does it feature a calendar view, but a checklist as well.
The tool is extremely easy to use and very simple for project teams who plan on scheduling more than a couple of meetings in a week.
It has several features which allow your business to seamlessly schedule more meetings without any inconveniences.
This will allow your whole team to organize meetings and prioritize more effectively.
Also, one can create calendars to book either meeting rooms or other shared resources!
Pricing
It is free.
4. Any. Do
If you'd like a calendar that doubles as a to-do list then Any.do is the app for you!
It lets you assign times for specific tasks which in turn tailor the schedule to your needs and preferences, making it much more efficient to use than most other calendars.
You can also make notes in Any.do to keep track of things you need to buy, create grocery lists, set reminders, and plan out your day in advance. Any.do is also available for teams!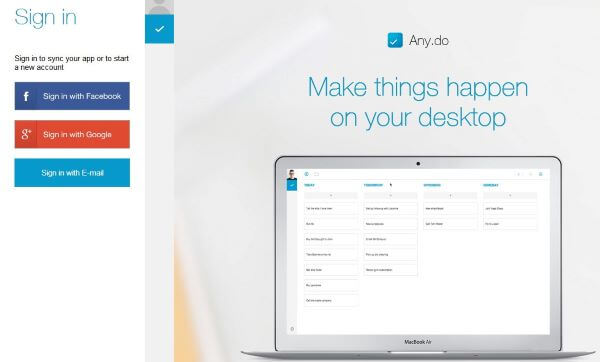 Main features
There are different tabs that each serve unique purposes like a daily planner, a grocery list for shopping for things you need at the store plus reminders, and a to-do list.
There's also a calendar that has timed lists so you can include specific time limits for completing specific tasks.
It is available for all platforms i.e android, ios, and desktop.
Pricing
It is $4.49 per month.
5. Plan
Plan is a new way to approach your task management.
It's both a to-do list and a calendar, so it blends both work and personal commitments so you can more easily keep a hold on the details that keep you moving forward!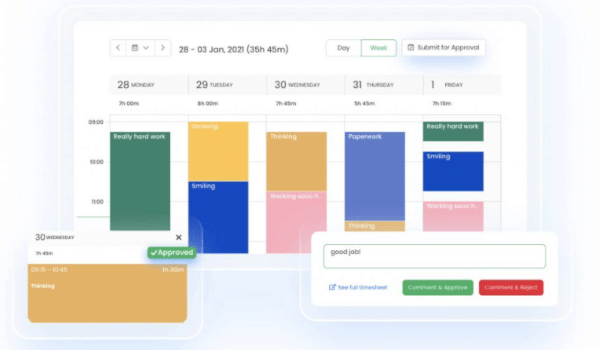 Main features
Plan is a to-do list, calendar, and project management system rolled into one.
Plan allows you to quickly schedule time for various tasks by dragging and dropping them onto your daily calendar once they're grouped in their respective project.
Plan seamlessly integrates with your Google or Outlook Calendar.
Pricing
Plan offers a free version with limited features.
Premium pricing starts at $5.00 per month.
What Makes a Good Time Blocking App?
Time blocking apps make the time management process a whole lot easier as they're built especially for scheduled task completion.
The best to-do list apps should include the following:
The best Time Blocking apps bring together our daily schedule, future appointments, and tasks so we always know what we should be working on next.
It is ideal if you can simply drag and drop tasks from wherever they are into a suitable slot on your schedule to plan what you will do day by day.
Whether it's project management software or an email inbox, the best time blocking apps allow you to connect with apps in real-time to ensure everything is in sync.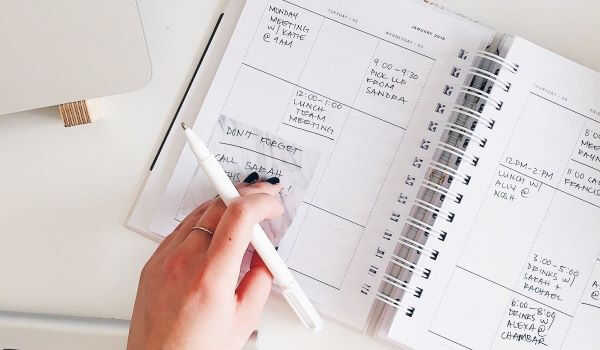 Why is Time Blocking So Important?
It's a great way to organize your schedule by setting aside specific time slots for specific activities so you can plan accordingly.
Time blocking app free is a useful tool when one finds himself spending too much time struggling with all of his competing tasks.
There seems to be little that's more demanding than an endeavor that requires you to complete several ongoing projects at once whilst also being asked to tend to ongoing responsibilities.
Time-blocking helps by ensuring our calendars don't get clogged up in a matter of days and this allows us the opportunity to focus more on the things we strive for in life without any unexpected distractions taking place.
Related Read: How to Block Websites on A Chromebook? [4 Effective Ways]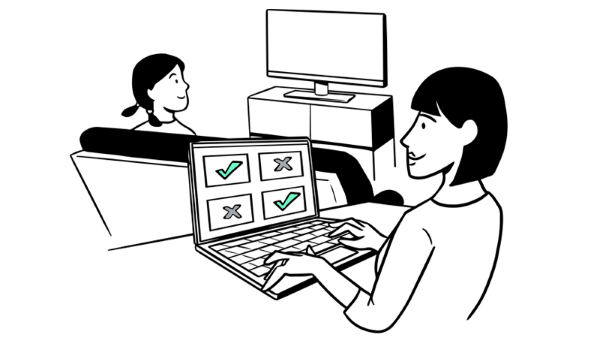 How to Limit Your Child's Phone Screen Time?
As parents it's our responsibility first and foremost to ensure that our children are safe should they wander around the house or play outside. But other than that - we should be able to let them enjoy their childhood as much as possible!
This protects your kids from online threats like predators, abusive relatives, strangers, etc.
By protecting your kid's playtime on iPad, iPhone & iPod touch you are allowing them to grow up healthy and make friends with kids of all ages without worrying about what may happen to them.
Limit child's screen time with KidsGuard parental control app
KidsGuard is helpful when it comes to parental controls. This app not only lets you set time limits on kid's phone, but it also allows you to filter websites, block apps, and get reports from their period usage.
This app is designed to protect your kids from any harm that can occur due to using a cellphone. You can have the most accessibility on your kids' gadget.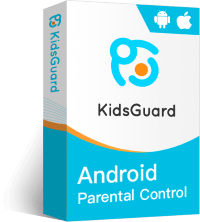 Features of KidsGuard Parental Control App
Limit kids' phone screen time to help them stay focus
Block inappropriate games, websites to create a safe online environment
Capture kids' devices screen to know what they are doing
Track kids in real time and view their location history
Filter Calls to protect kids away from being harassed by scams
Receive detailed daily, weekly, and monthly reports of your child's online activity
How to use KidsGuard to Limit Kid's Phone Screen?
Step 1. Click "Google Play" or "App Store" download button below to download and install KidsGuard, and then sign up an account for usage.
Step 2. Login to your account and go to the page of dashboard. Click Bind Now button, copy the Url in the setup guide and send it to your kid's phone.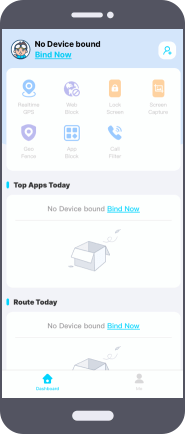 Step 3. Open the Url in kid's device to finish installing KidsGuard Jr. After binding, you can start to manage your kid's phone on your own device and limit the phone screen.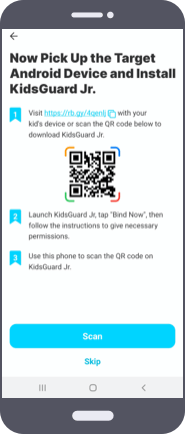 Summary
Time blocking is a way to make sure that you are focused on the most important tasks in your business. It is a simple way to make sure that you are making the most of your time.
Time blocking isn't just for business owners and entrepreneurs but is beneficial to everyone. It is a simple productivity practice that has been scientifically proven to increase productivity by 15%.
In this blog, we look at the 5 best time blocking apps available. These apps work on all platforms and help you to schedule your tasks and schedule your day.