Education is steadily moving from the physical world to the online world. Starting from online classes to educational videos, kids have to be in the online world for the most part of the day. The online world for kids begins with search engines, and that is where kids-friendly search engines come into the scene.
Parents are always concerned that when their kid searches for something online, they should not come across search results and web content that is not appropriate for their age. Without proper parental control, the online world is a dangerous place to be in. Here is the list of the top 10 best kid-friendly search engines to choose from.
Table of Contents
Top 10 Search Engines for Kids
We have handpicked the top 10 safe search engines for kids. Each of these search engines is tailor-made for kids of different age groups. They have unique features and selection methods to show search results with no links to websites that are not for kids.
Let us check them out one by one and understand why you should choose them.
1. Kiddle
Developed by Google, Kiddle is a customized search engine for kids. It has useful options and features such as kid-oriented results, modified privacy settings, big thumbnails, and large fonts. It features a similar interface as Google and works by providing different search options. With added safe search filters, it is ideal for kids, educators, and parents.
Children can learn useful things as it has come up with Wikipedia's kid version called "Kpedia" and "Kimages" for searching images. There are options for learning and searching facts, reading news, and watching safe videos. Even while looking for words, the search engine gives definitions for improving vocabulary for kids. It is undoubted the best kids search engine on this list.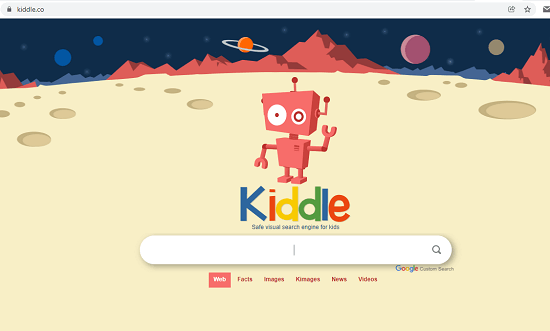 2. Google Safe Search
Google Safe Search blocks inappropriate content when you search for anything on Google. It works great for parents and network administrators, and you can even turn it off when required. It filters out the search result and blocks harmful content like violent and pornographic websites, images, and videos. It is not a separate search engine but a restricted version of Google itself.
Launched in 2009, it is often used in schools and homes. The reason for its popularity is that people do not want to move away from Google but only want to filter out results for kids. You can switch from Google Safe Search to Google regular version instantly, and therefore, it is suitable for devices that multiple people use from time to time.

3. DuckDuckGo
DuckDuckGo has many useful features that make it perfect for kids as well as adults. The general-purpose search engine will not share personal information and search records with third-party companies. It does not even use cookies to collect information. Apart from protecting user privacy, DuckDuckGo is safe for kids as it lets parents block inappropriate content springing up in search results.
The feature of Rhymes can be great for a budding poet. There are many other features like changing cases, password generator, anagram solver, and character count. All these features make it great not just for a student but also for a professional. It is the safest and most secure search engine in the online world, even though it is not a tailor-made search engine for kids.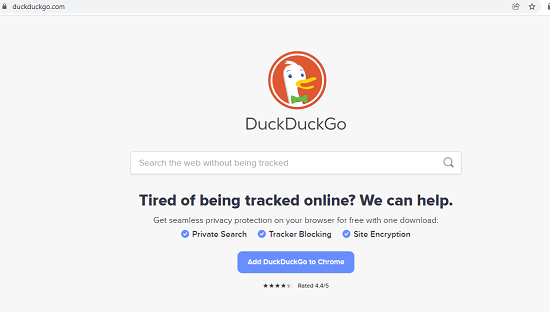 4. KidRex
This is another search engine that is powered by Google. This means the search results will come from Google but the inappropriate ones will be filtered out. It is better than Google Safe Search as the filters are turned on automatically. You can allow your child to browse the internet safely without any constant supervision.
It features a Tyrannosaurus Rex that looks very appealing to your young kid. There is also a custom-search option that you can add to get the latest and preferred content. The straightforward navigation system makes it easy to use. The interface is similar to Google but looks very basic. Hence, it is more suitable for kids below 5 years of age.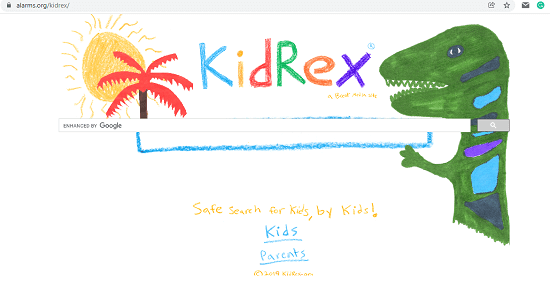 5. Wacky Safe
Designed for kids, Wacky Safe can block harmful websites from appearing on search results. It is highly responsive and comes with different options for a wide range of searches. There is also the feature of searching through voice. You can check maps and safe games as well as videos.
The clever search engine is easy to use and covers a range of topics such as Wiki and WackyLearn. Therefore, you don't have to navigate to multiple websites as you get a lot of things to learn WackyLearn. It makes sure that your kids stay safe from coming across inappropriate content or images. It is clearly one of the best kid-friendly search engines.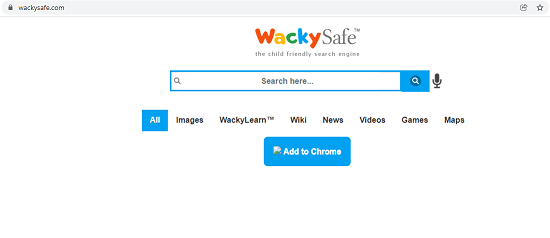 6. Kidtopia
With Kidtopia, your child can explore student-friendly sites only. It has exciting topics and activities for kids to stay engaged and learn things. It is great for developing the critical skills of your young one. Kidtopia has a clean and secure environment so that your kids can explore safe content.
With Kidtopia, there will be fun learning on science, social studies, arts, languages, people, maths, technology, and all such useful topics. Even the content is highly colorful that can be very engaging for children. The search engine is powered by Google, and your little one can directly explore by selecting from different topics.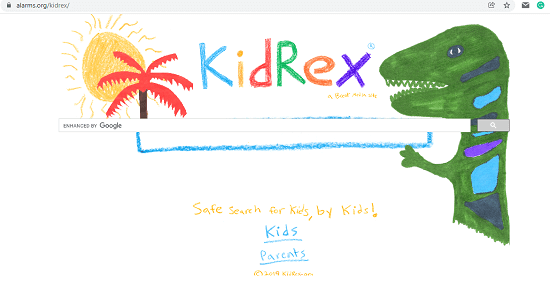 7. KidInfo
KidInfo is the perfect learning platform for your child. More than a search engine, it is a directory having a collection of pre-scanned websites for kids of different age groups. The detailed and structured indexing will allow users to look at a particular subject document, type, and title. It offers information on different subjects ranging from languages, history, and math.
Additionally, there is also a homework hub that can be great for teachers and parents. KidInfo has downloadable educational videos and presentations. There is also a section where kids can have access to coloring pages, games, and songs. It is one of the best search engines in terms of learning with proper segregation of age groups.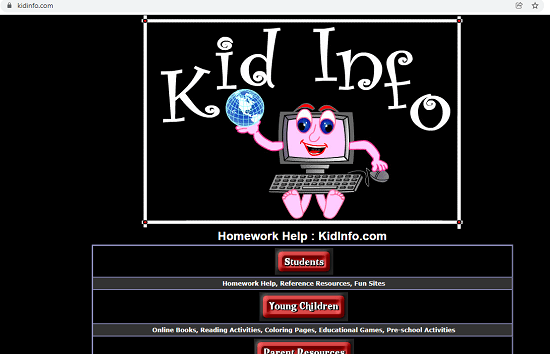 8. FactMonster
Launched in 2008, FactMonster works by providing content and search results from websites selected by experts. Hence, FactMonster can provide reliable and trusted information for learning and problem-solving.
The search engine has a broad range of content like encyclopedias, educational games, homework centers, thesis, atlas, and dictionaries. There are even essential reference materials and fun facts that can be great for kids.
What makes this search engine reliable is that it comes with kidSAFE and COPPA certification. FactMonster is definitely a safe place for your kids to explore and indulge in childhood learning. It covers a wide range of topics and is easy to read and understand. It is clearly a very safe and educational kids search engine.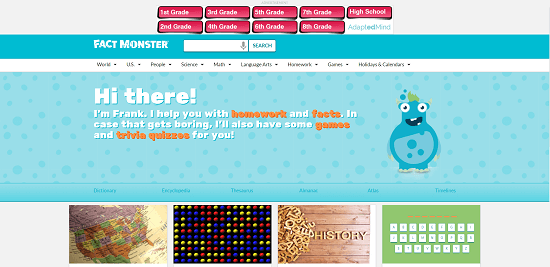 9. SweetSearch
To offer credible but safe search results, SweetSearch shows results from 35,000 pre-screened websites. The search engine is accurate in its filtering and it shows proper age-appropriate results for kids. The searching platform has a kid-friendly interface and children can have access to daily collections of news and curated useful articles.
SweetSearch is widely used in many schools and colleges. Another great advantage is that it shows the results like Google and hence, the transition is seamless. Even the results are reviewed by librarians, teacher consultants, and research experts. There are various useful features including bookmarks, bullet points, and adding widgets. It is a kid-safe search engine suitable for students.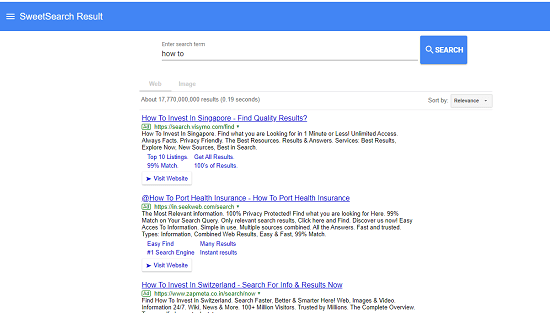 10. KidzSearch
KidzSearch is a search engine that is widely used in schools. It comes with strict filtering so that there can be safe web and image search results. It has several restrictive features like finding safe online games, kid-friendly online music, and selected learning videos. There is also a moderated question and forum "KidzTalk" which discusses news and encyclopedia if your kid is interested.
The search engine removes inappropriate content and blocks sexual keywords. It can even hide images that are inappropriate for young ones. KidzSearch is definitely a safe search engine with inbuilt protection. Since the settings are inbuilt, your kid cannot change them by any chance.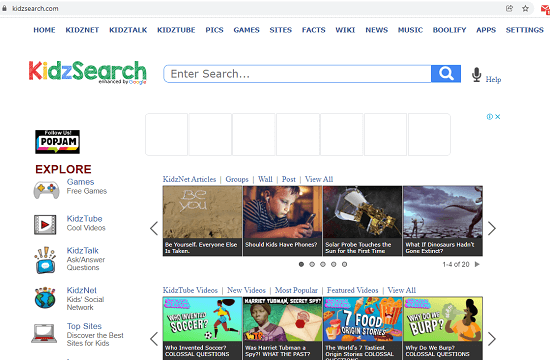 Are Kid Friendly Search Engines Enough To Protect Kids Online?
Even though a safe browser for kids with a kid-friendly search engine is a necessity when you are allowing your kid to be online regularly, it is not enough. This is because these search engines are not always accurate in filtering the search results.
Besides, your kid can open any inappropriate website by directly typing its URL on the web browser. Hence, there is a need for parental control and monitoring and we recommend the KidsGuard Parental Control app for complete protection.
A Comprehensive Way to Keep Kids Safe Online
Here are all the features of KidsGuard that are useful in restricting online activities and providing complete protection from all perspectives.
Filter Inappropriate Webs:
You can block websites automatically based on the web filters available. For example, if you turn on the adult filter, all the websites with adult content will be blocked automatically, and your kid cannot access them from the web browser. Besides, you can block any website explicitly by mentioning its URL separately.
Block Apps:
You can check the usage of any installed app and restrict the access time of individual apps as per your preference. You can even block certain apps so that your kid cannot install and use them.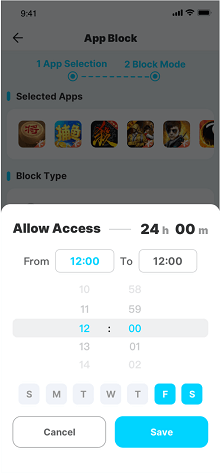 Filter Unknown Calls:
It is quite possible for your kid to share his number with a stranger on social media apps, and that stranger starts to call and harass your kid. That is why KidsGuard allows you to control which contacts can call up your kid and thereby, blocking all calls from anyone other than the allowed contacts.
Capture & Lock Screen:
KidsGuard lets you check what your kid is doing on his Android device by allowing you to take instant screenshots in real-time. You can even lock the screen so that your kid cannot use the device and focus on studying.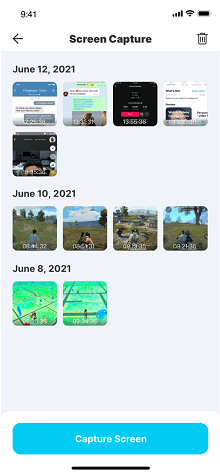 Track Real-Time Location:
You can even track the live location of your kid when you are away. This is useful when your kid goes out alone or with friends and you want to make sure he is not going where he is not supposed to. You can even check the location history to understand his whereabouts in the recent past.
Set Geofence:
To make things even easier, KidsGuard allows you to set a safe virtual boundary called Geofence. Once your kid crosses that Geofence, you will get instant alerts, and you can start monitoring his live location thereafter to ensure safety and reach out when required.
Activity Report:
KidsGuard generates activity reports of your kid's phone activities on a daily, weekly, and monthly basis. After going through the reports, you can decide to take parental control steps and measure progress on a short to long-term basis.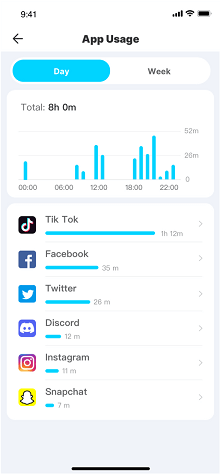 SafeGuard Your Kids in 4 Steps with KidsGuard
Here are the steps you have to follow to install KidsGuard app and start controlling child's device from your device.
Step 1. Click the buttons below to install KidsGuard app on parent's device from Play Store(Android) or App Store(iOS).
Step 2. Launch the app and create an account and log into the account.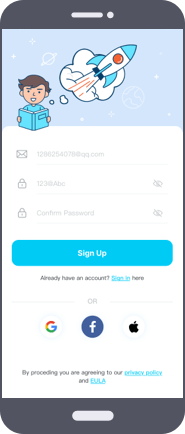 Step 3. Follow the instructions on parent's device, and then install KidsGuard app on kid's device
Note: for now, the app supports only Android device on the kid's side.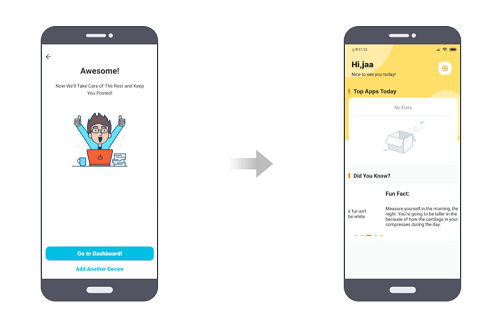 Step 4. On your (parent) device, you must see your child's device name. You can start monitoring and controlling your kid's phone activities remotely.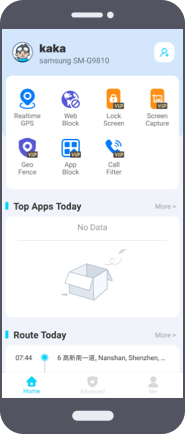 Conclusion
From our list of the top 10 best search engines for kids, you can choose any kid-safe search engine as per your presence. The bad news is that they are not enough for complete online protection for your kid. You have to exercise parental control to restrict web activities and monitor online activities for further steps. That is why we recommend KidsGuard Parental Control app for complete protection.