Are you wasting too much time on social media apps? Cannot restrict your or your family member's time on social media apps? Are you looking for a legitimate way to limit social media usage and improve your lifestyle? You need a third-party app to limit social media time forcefully before it becomes a habit.
You can set a certain access time for each installed social media app, and the target person cannot access the social media apps beyond that access time. This will help to get rid of any addiction to social media and get more time for important works and life as a whole. Here is the list of the best apps to limit social media with their features, pros, and cons for your consideration.
Table of Contents
Top 8 Apps to Limit Social Media Time
There are various legitimate apps available online that can limit your social media usage. Different apps have different additional features for exercising various controls on the target phone. Here is the list of top 8 best apps to limit access time on social media apps.
1. KidsGuard
KidsGuard is the best app to limit social media usage. This is because it is a complete parental control app in terms of features and functionalities. It is suitable when you want to restrict access time on social media apps as well as any other installed app on your kid's or any family member's device.
Key Features
Limit access time on any installed app.
Block websites by turning on content filters.
Block websites by mentioning their URLs.
Allow calls from selected contacts only.
Block any app to prevent installation and usage.
Track live location of the target person.
Check location history and set Geofence.
Capture live screenshots and lock devices remotely.
Check out activity reports daily, weekly, and monthly.
Pros

Allows limiting as well as blocking social media apps.
Allows block social media websites.
Real-time tracking and remote control options.
Activity report to check progress on social media app usage.
Intuitive user interface and easy installation.
Cons

Does not have iOS version for kid's device for now.
How to Use KidsGuard to Limit Social Media?
Here are the steps on how to limit time on social media apps usage on your family member's device remotely from your device.
Step 1. Click the buttons below to install KidsGuard app on your device.
Step 2. Launch the app, create an account and sign into the account.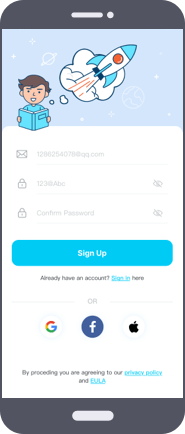 Step 3. Install KidsGuard app on your kid's or family member's device(Android only). Log into your account and follow on-screen instructions to set it up perfectly.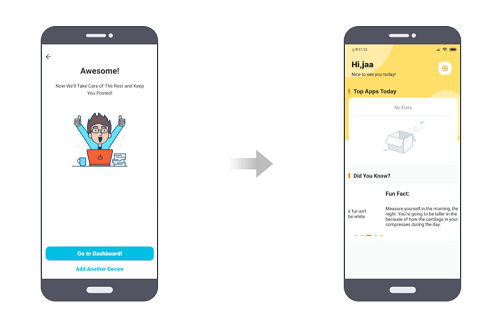 Step 4. On your device, you will see your kid's device name. From Dashboard, go to App Block option. You can limit access to social media apps already installed or you can block social media apps.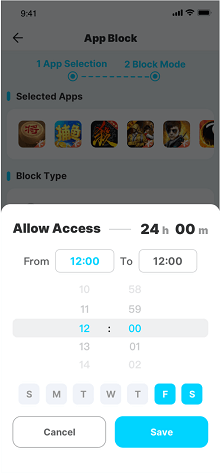 2. Quality Time
Quality Time shows you app usage in a proper timeline for understanding your pattern of regular usage of social media apps. You can understand your digital habits and take action accordingly. The app is available for Android users only.
Key Features:
Social media time tracker and blocker.
Real-time report of app and phone usage.
Reject calls and auto-reply text messages.
Block notifications and view timeline activities.
Set personalized alerts.
Pros

Comprehensive stats with the timeline.
Schedule breaks and alerts.
Set auto-reply text messages when busy.
Cons

Users have reported certain glitches.
Takes unnecessary permissions for usage.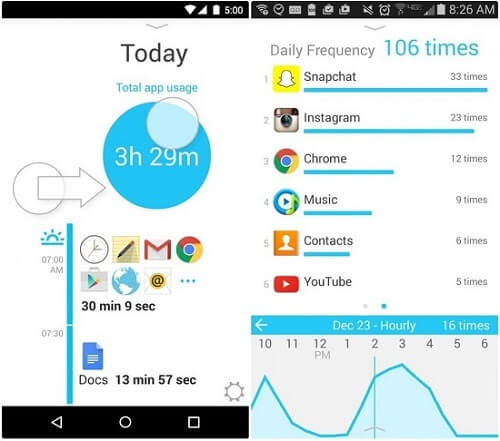 3. Stay Focused
Stay Focused is one of the most widely used apps on how to limit time on social media apps and help you stay focused. It tracks social media app usage and lets you restrict usage based on the stats.
The blocking of apps can be done on various parameters to suit your work style. The app aims to enhance your productivity level. Stay Focused app is only available for Android users.
Key Features:
Limit social media usage to a fixed time in a day.
Limit app usage to certain hours in a day.
Set limits on the number of launches to any app.
Instantly block selected apps for certain time.
Creating multiple modes and setting restrictions.
Pros

Multiple configurations to moderate app usage.
Dedicated app locker to kill addiction instantly.
Multiple modes to activate as per workload.
Cons

Most useful features are available in the premium version.
Free version has ads and the pricing is rather steep.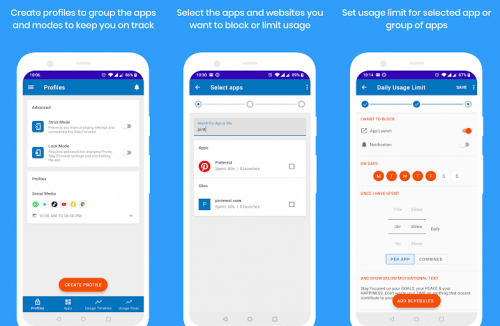 4. AppDetox
AppDetox is a very basic app to limit social media time as well as phone usage. You get to set rules for the usage of specific apps as per your requirements. You can even block notifications to stay focused on the work at hand. The app is available for Android users only.
Key Features:
Set own rules for apps and notifications.
Personal locker for blocking selected apps.
Reminder to take breaks in between work.
Feature of real-time phone usage tracking.
Pros

Customization of settings for specific apps.
Block notifications and set reminders.
Keep track of violations of settings.
Cons

Very limited features with unimpressive user interface.
Lot of permissions are required for proper functioning.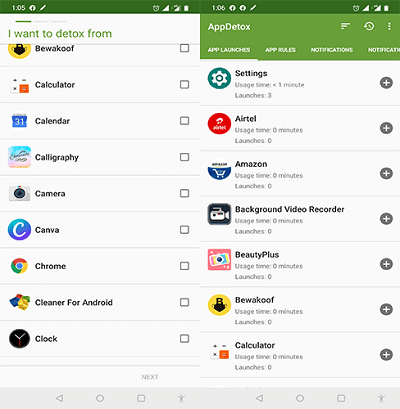 5. Space
Space app is available for Android, iOS, and even on Chrome browser. The app got featured on Play Store in the essential app category. Apart from the basic limiting and blocking features, there is an 8-day course that you can take to detox from digital space. Check out all the key features of Space which is formerly known as BreakFree.
Key Features:
App and notification blocking and screen dimming.
Comprehensive graphs for checking the statistics.
Compare your phone usage with your friends.
Customization options for setting goals.
Important tips and motivational quotes.
Pros

8-day course for digital detox habits.
Setting goals helps in tracking progress.
Intuitive user interface for swift usage.
Cons

It consumes more memory than most apps.
Frequently crashes in old smartphones.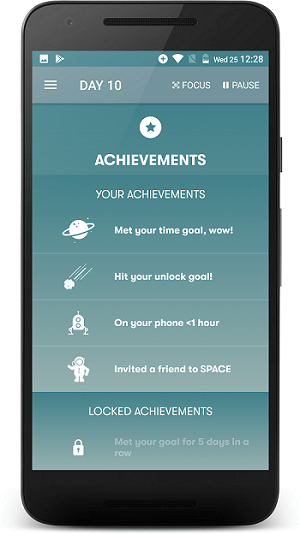 8. OffTime
Designed for digital detoxification, OffTime is all about disconnecting from addictive apps as well as phone usage as a whole. Apart from the regular control features, there is a unique event feature for family members and friends to go for digital detox together. The app has a free as well as a pro version. It is available for both Android and iOS users.
Key Features:
Set a daily usage time limit for specific apps.
Schedule blocking of apps and calls.
Take part in events for a social digital detox.
Check daily statistics and compare them.
Strict mode to not break the settings.
Pros

Set limits as well as schedule timings.
Social events and call blocking.
Multiple profile creation for customization.
Cons

Free version has very limited features.
Frequent updates could be annoying.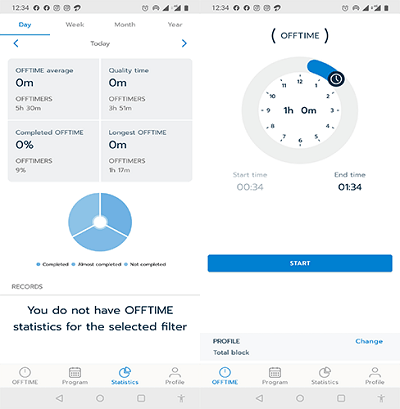 7. AppBlock
Instead of restricting the access time of social media apps and websites, if you want to block them temporarily so that you cannot access them, AppBlock is perfect for you. You can achieve digital detox from social media with AppBlock. AppBlock is available for both Android and iOS.
Key Features:
Quick blocking of social media apps with one tap.
Block websites as well as notifications.
Block based on time and location.
Strict mode to prevent making changes to settings.
Parental control to limit screen time.
Pros

Temporary blocking of apps and websites.
Strict mode is convenient to maintain settings.
Time and location based blocking are useful.
Cons

Limited parental control options.
Limited features on the iOS app.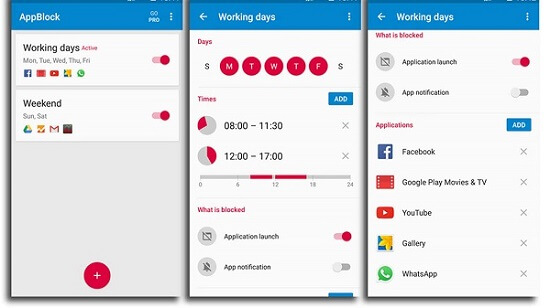 8. FocusMe
FocusMe app is primarily designed to bring your focus back to your work and kill all the distractions. You can limit social media apps and websites in terms of access time on a daily basis. However, if you want, you can block them as well. It is a great app to improve your productivity level.
Key Features:
Block social media websites, the web browser and even the internet.
Limit social media apps and games.
Limit the number of emails you open daily.
Set reminders to take regular breaks.
Check activity and usage on different apps.
Pros

Schedule timer to remind about breaks.
Proper planning options for better execution.
Enough statistics to understand progress.
Cons

Limited features to track and control.

Extra Useful Tips to Limit Social Media Usage
Apart from using a third-party app, here are some useful tips to enhance self-awareness and limit social media usage.
1. Understand The Plot
First of all, you should understand that you have reached the stage of addiction to social media. You need to understand that these social media companies have built the apps in such a way that users get addicted to them. They spend millions of dollars to understand how the human mind works when they are using social media apps and what could be done to keep the human attention intact for a longer period of time.
Once you understand your addiction and realize that you are getting trapped, you will definitely want to get out of it and consciously limit your usage.
2. Build Self-awareness
You need to make yourself or your family member realize the negative effects of social media usage. You have to give examples and even show documentaries and articles that prove your claim.
In fact, you can experiment by devoting the regular social media usage time to something productive and see the changes yourself.
Once a person starts to realize how social media is negatively impacting their real life, he starts to distance himself from social media by force.
Instead of social media usage, you should shift focus to learning things that are useful in your life, and naturally, your focus will shift from useless social media stuff to useful learning videos and hobbies.
3. Do a Digital Detox
If nothing works out for you and your mind is constantly taking you back to social media platforms, you have to go for a digital detox. You can go on a trip, and you should not renew your mobile data pack. You can even make a plan not to touch the phone except for making calls.
This will make you realize that you have ample time to do several useful stuff including spending quality time with family members, making useful and creative videos, and whatnot. A digital detox can be an eye-opener for you if you are addicted to social media and regret wasting your time.
Conclusion
There is no doubt that social media is extremely addictive and you can end up spending all your valuable time of the day scrolling through social media apps and websites. If you are unable to limit social media usage yourself, you have to use a social media timer app to limit the access time to social media apps and websites. We recommend KidsGuard as the best app to limit social media usage.