Question: Can you put parental controls on a tablet?
Yes!
Now kids are so much aware of the technology that they can now easily access the Internet on their Android tablet and there is no doubt that the Internet is full of predators and scammers and can attack your kids in different ways.
Tablets are preferred for kids to watch cartoons, help them with their studies and play games online. But most kids are getting game addiction.
In this article, we will discuss 3 ways to set parental controls on Android tablets.
Dangers That Kid May Face on Tablets
Scrolling down social media app, watching newspapers and news channels we usually go through a large number of criminal news the videos. If we study them deeply, we will realize that anywhere in that case the internet and mobile devices are involved to carry out such crimes.
Research reveals that crime rate has increased by the massive use of internet and mobile devices. The victims are always those who are innocent and can't understand what is going to happen with them and they are trapped in someone's plan in such a way that they could never think of.
Kids while playing online games with strangers, can get trapped and be misused as they want.
They can get addicted to adult content.
Providing personal details on any fake page can let them in a serious loss.
Watching action movies and making online friends on tablets, can also get involved in any criminal activity.
How to Make a Tablet Child Friendly?
Really conscious to know how to put parental controls on tablet? Ok, without wasting your time anymore we will take you to the next step where you will get the best ways to put parental controls on tablets.
Way 1. Set Parental control with KidsGuard
As, I already told I will save your time, so here is the thing that will let you set the best parental controls on your kid's Tablets. After knowing its features, you will find no need to search out anything else and you can download it right now to start monitoring your kid's tablet. Let's review its important features:
Web Filter and App Block
KidsGuard blocking feature helps you block the application you don't want to child to play on his tablet and additionally you can also block the websites that you consider are not suitable for him.
Real Time GPS location
KidsGuard solves your very first problem towards your kids to know where your children are. You can find your kid's location any time you think about him. In this way you can also realize if your child is trying to be over clever and instead of school he is going somewhere else with friends. This also enables you to find your child if he is lost.
Call Filter
This interesting feature of KidsGuard will enable you to filter contacts on your kid's tablet. Only those number will be able to call on your kid's phone that you allow.
How to set up KidsGuard parental control app?
Step 1.
Click
Get it on Google Play Store
button below to download and install KidsGuard. And then sign up an account.
Step 2.
Login to your account and go to dashboard. Click on
Bind Now
button, copy the Url in setup instruction and send it to kid's tablet.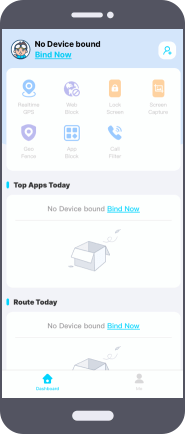 Step 3.
Open the Url in kid's Android device to download and install KidsGuard Jr. After setting, you can start to manage your kid's device on your own phone.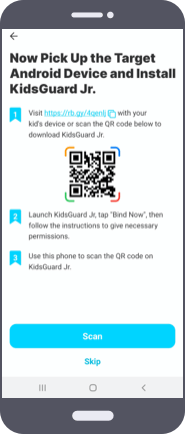 Way 2. Using Google Family Link for child's tablet
Another way to set parental control on kid's tablet is using the simple Google Family Link. Google Family Link helps you see the screen time your children had spent using their Android devices.
It recommends good applications for your kids. Using Google Family link you can see your kid's current location. This is used by a number of people but I would not recommend it you because it has very limited features.
If you just want to have a very minor eye on your kid's activities then you can use it. But if you want to know everything about what your children do on their devices then this is not the thing you are looking for.
Way 3. Setting kid's mode on child's tablet
Another simple and easy way for setting parental controls on tablet is by setting kid's mode on your kid's tablet. Kid's mode on tablets allows parents to add specific apps that they want their kids to access.
Parents can add maximum of 30 applications in that list. There are some applications that are by default allowed to be accessed by kids on tablets even when kid's mode is activated.
Those applications are Kids Drawing, Kids music, Kids camera, Kids photo gallery etc. Parents can set screen time limit for their kids on their tablets. Parents can set daily time limit for tablet usage.
Which One is the Best Choice?
We have discussed three ways to develop child tablet parental control. These ways are described in detail that how they can help parents to set parental controls on kid's tablets.
So, finally what we can decide is that KidsGuard is preferably the best solution for this. Yet, it is paid but I think the worth of money is nothing than our kid's future and life. It is not just because we are saying this.
You can compare KidsGuard's features and also what features other ways are providing. I am damn sure your results will be same as mine. The most beautiful thing is that KidsGuard is the only platform that enables us such a number of amazing features just in a single application.
If you will search these features you will have to download a number of applications. KidsGuard's GPS location feature, activity report, call filter and many other features proved it to be the best choice for setting parental controls on our kid's tablets.
Extra tips: How to Put Parental Controls on iPad?
Monitor child's iPad activities with KidsGuard Pro for iOS
iPad users are getting bored because they are not getting the answer for their iPad? So, no need to worry because we have a similar option for you to set parental controls on your kid's iPad.
Parents can set parental controls on their kid's iPad using KidsGuard pro for iOS. Its features a quite similar to KidsGuard with still have a lot of difference especially in its working process.
KidsGuard Pro for iOS is a PC based software and it can only be used on a computer. It allows parents to watch kid's activities on iPad and many other features like the KidsGuard provides for the Tablet users.
Final Thoughts
In this article we have discussed in details that how can we set parental controls on our kid's tablets as they are very innocent and can't choose between rights and wrong themselves so it's the parents who are responsible for this task.
Parents are facilitated with several parental control ways to keep an eye on kid's activities and restrict them also. The best method we have got from this article is the KidsGuard application that has agreed us to accept it as the best choice by its outstanding and unique features. It's my suggestion to all my readers to quickly download this application and enjoy its features and yes it is user-friendly too.