Questions:
Have you found that your phone battery is running out too fast?
Do you feel frustrated by charging your phone so frequently?
Have you ever felt desperate to find your phone turned off automatically when you need to deal with something important with it?
When you are facing any of these problems above, you may realize that your phone battery's standby time is too short. So how to extend the phone battery standby time, well, battery optimization is a good idea!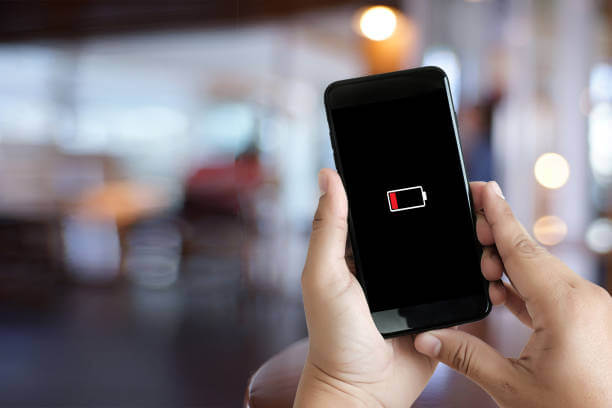 Firstly, you can know the main structure of this article from the following catalogue:
What Factors will Affect Battery Standby Time?
While finding a solution to a problem, first you need to understand the causes of the problem. So let's see the factors that are affecting the phone battery standby time.
Related Read: Speed up your Android Phone
Battery lifespan Affects the Battery Standby Time - As we know, a phone battery will be naturally degraded by 20% after roughly 400 cycles, that is to say, the phone battery can hold just 80% of the initial energy and will continue to deteriorate with subsequent charge cycles.
Some Environments Increase the Battery Consumption - In locations with poor or overlapping signals or under intense sunshine or other light sources, the consumption of battery rises. Besides, extreme heat or chill temperature can also cause damage to the battery.
Battery Consumes Slower or Sooner under Different Usage Patterns - Battery stand-by duration can be affected due to the screen brightness, screen timeout, running applications' quantities of at the same time, and so on. Simply speaking, if you want to extend the standby time of your phone battery, you need to put down the screen brightness, shorten the screen timeout, and avoid operating many Apps meanwhile.
Except irresistible factors such as the battery itself life and the surrounding environment, in order to extend the phone battery standby time, we can opt for battery optimization to avoid the extremely power-hungry usages patterns and to make the phone battery at a more scientific power consumption status.
Battery Optimization Makes Your Phone Battery's Standby Time Longer
1. What is Battery Optimization?
The measures users can take to increase the battery standby time (which means the phone battery can maintain longer using time after charging) is called the battery optimization. In case you feel that your Android phone battery needs to be optimized, continue reading and you will find your way.
2. How to Realize Android Battery Optimization?
Tip 1:
Avoid Frequent Rounds of Charging unless It is Needed.
Too frequent charging of a battery can harm the battery, reduce its performance, decrease its life cycle and standby time and even possibly lead to fire.
Tip 2:
Turn Down Screen Brightness and Adjust Screen Timeout.
Brighter the phone screen is, more quickly the battery consumes. And the long screen timeout can also shorten the battery standby time. Therefore, turning down the screen brightness level and choose a shorter can help your battery consume more slowly.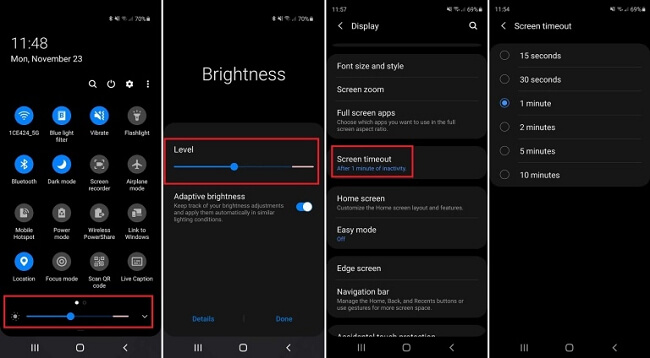 Tip 3:
Select the Dark Mode.
If you use an OLED or AMOLED screen mode, you can conserve energy if you choose a dark theme for your phone. For setting up the Dark theme, you can go to Settings > Display > Dark Mode Settings > Apply to Wallpaper, or you can go to drop down on the home screen and select the Dark Mode option.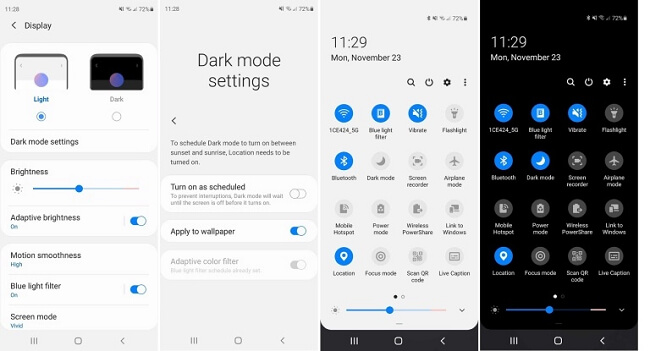 As we know, many people use iPhones, do you know how to optimize your iPhone battery?
3. Good Ways of iPhone Battery Optimization
You may modify the iPhone settings to reduce the battery consumption so as to reach the aim to solve the problem how to optimize iPhone battery.
Method 1: Enable Low Power Mode.

Low Power Mode is one of the most powerful battery low drain weapons. Your phone will only execute the most important tasks and disable background activities such as downloads and mail fetching, with this Low Power Mode enabled. Well, you can easily find the Low Power Mode switch on Battery Settings.

Method 2: Screen Brightness Adjustment.

Just enter the Settings, and choose Display & Highlights, then brightness may be adjusted manually by using the slider bar, or you can go to Settings > Accessibility > Display & Type Size > Auto Highlights and activate it.

Method 3: Turn Off Live Location Services.

Apple enables you to personalize the usage of location data for most apps: Never, or always use the app. For example, you can turn off the live location services to make Google Maps program, a location tracker app, only offer the location service when you are using it, rather than drain battery in the background.

All you need to do is to go to Settings > Privacy > turn off Location Services.

Method 4: Use Airplane Mode

You can put your smartphone into Airplane Mode when you are really in a power lacking. Under Airplane Mode, all wireless functions of your phone will be disabled, which means that you can't receive calls and messages, however, you may still connect WLAN if it is necessary. And you can find the Airplane Mode on the dropped down home screen of iPhone soon.

Method 5. Disable Siri Regular Proposals

Siri, your digital assistant, will make regular proposals on the basis of your activities. That's fantastic, but in the background, your helper does a certain amount of effort to get the battery drained.

Just go to Set, choose Siri & Search by navigating, then you may disable the Siri regular proposals function.

Method 6. Stop the Auto Updating of Applications and Operating Systems

Your device will automatically support app updates by default, which means your phone will install them in the background when an app update comes. Although some upgrades can assist applications to operate more quickly and smoothly, the automatic updating also needs the battery energy supporting, which will affect the battery standby time.

Therefore, turn off Auto Updating in Settings > App Store > App Updates
What if your family such as kids and the old don't know how to optimize the phone battery by themselves. Here are 2 choices for you, one is to teach them the operations after reading the battery optimizing guide above, or directly optimize the phone battery for them when their battery is in unscientific consumption condition.
Here comes a question, how to know family's phone battery status in real time? After all, you can't company them day and night. Well, KidsGuard Pro for Android can answer this question.
How to Optimize Battery with KidsGuard Pro for Android?
What is KidsGuard Pro for Android?
KidsGuard Pro for Android, one of top 10 Apps to monitor child's phone, is a monitoring application for Android, which is supported on a large number of Android phones running Android version 4.0 or higher.
Although users cannot directly optimize the battery with KidsGuard Pro for Android, once they find the phone battery level runs too quickly by the battery level indicated on the monitoring panel, they are able to instantly take some effective ways such as the methods mentioned in this article, to make the the phone battery at the optima battery status.
How to Use KidsGuard Pro for Android?
Step 1. Sign up and choose a Plan

Click the following "Monitor Now" button to create/sign up with a valid email address for your KidsGuard Pro account. Then choose a premium plan to enjoy all advanced monitoring functions. The plans can be selected as appropriate.

Step 2. Download and Setup KidsGuard Pro for Android

You will go to the My Products and Order Management page when you have successfully purchased our service. Next, you should select Setup Guide and carefully follow the directions to download and finish some essential setups on the target Android device.

Step 3. Verify Setup and Begin Monitor

Log into your KidsGuard Pro account to enter the "My Products" page again, you will see the "Verify Setup" button, click it to make sure KidsGuard Pro for Android has been successfully installed and configured on your target phone.

After that, you will see the "Dashboard" button, click it and you can be able to enter the monitoring page, the device name and relevant information will be shown on this page and you can also see the real-time battery level of the target phone.
KidsGuard Pro for Android really helps you to track the battery level and the functions the target phone is running under which can help you to identify the causes of battery running too fast and you can fix it quickly with the battery optimization methods in this article.
NOTE:
What if the person you love uses an iPhone?
Simple! Try KidsGuard Pro for iOS, and the battery status will be shown in front of your screen in real time.
One more thing, keep scientific phone using habits can help you protect the phone battery and extend the battery standby time. Here are some tips.
Daily Using Suggestions to Protect Phone Battery
Lower the volume of the media Apps, which can consume less energy.
Use the web at a good signal spot. You know that using the internet with the poor signal stresses the battery.
Open the new task screen periodically and remove unwanted background applications, which helps to increase the battery standby time.
Reboot your phone once a week and remove the collected dump data on the background apps.
Update to the newest version of your phone system, which is better for the power usage optimization, system stability, and eventually reduce the energy consumption.
Enable power saving mode or ultra-saving power mode to increase standby time if necessary.
Conclusion
You must have known how to make your phone battery standby time longer by some specific battery optimzation setting methods, after reading the ways and tips concluded in this article.
One important thing you should never forget if you also want to help your family to optimize their phone batteries, is that to use a monitoring App to observe their phone battery level in real time first, and then you can do the battery optimization setting operations on their mobile phones.
Without a monitoring App, you won't know even if your family are in trouble with the too short phone standby time, and will never be able to help them slove the battery optimizzation problem in time.
Only by combining the monitoring Apps and good battery optimzation methods, can you make your phone and even your family's battery consumption healthier and the battery standby time longer than usual. KidsGuard Pro for Andorid is absolutely such a good monitoring App, you can try it by clicking the following "Monitor Now" button and know how helpful it is!