Are you eagerly awaiting the latest iOS update for your Apple device? The release of iOS 17 is just around the corner, bringing a host of new features, improved performance, and enhanced security. In this article, we'll delve into the details of the upcoming iOS 17 release, its expected release date, beta testing opportunities, exciting features to look forward to, customization options like iOS 17 wallpapers, installation of the beta profile, and the list of devices compatible with iOS 17. Let's dive in!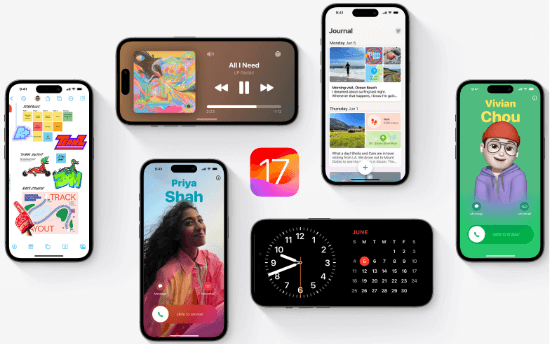 Part 1. iOS 17 Release Date - When Does iOS 17 Come Out?
As Apple enthusiasts eagerly anticipate iOS 17, one question looms large: when will it be released? While Apple has not officially announced the release date, there are speculations and rumors circulating within the tech community. Based on past release patterns, it's likely that iOS 17 will be unveiled during Apple's annual Worldwide Developers Conference (WWDC). Apple typically holds WWDC in June, making it an exciting time for iOS enthusiasts. Stay tuned for more updates as we draw closer to the event.
Part 2. Exciting New iOS 17 Features
The highly anticipated release of iOS 17 has Apple enthusiasts buzzing with excitement. Packed with a plethora of new features and improvements, iOS 17 promises to elevate the user experience to new heights. From a redesigned home screen to enhanced privacy and security measures, iOS 17 has a lot to offer. Let's delve into the details of the most exciting features that this latest version of Apple's operating system brings to the table.
Redesigned Home Screen
One of the most noticeable changes in iOS 17 is the redesigned home screen. Apple has introduced a fresh and modern look that provides users with a more intuitive and personalized experience. Widgets have been redesigned to offer more information at a glance, and the App Library has undergone improvements for easier app navigation and organization.
Enhanced Privacy and Security Features
Privacy has always been a top priority for Apple, and iOS 17 takes it a step further. The new release introduces enhanced privacy features, giving users more control over their data. It includes features like app tracking transparency, which allows users to choose whether apps can track their activity across other apps and websites. Additionally, iOS 17 includes improved security measures to protect user information from potential threats.
Improved Siri Functionality
Siri, Apple's virtual assistant, has received significant updates in iOS 17. With improved natural language processing and advanced on-device speech recognition, Siri becomes even more powerful and efficient. Users can expect faster and more accurate responses to their queries, making Siri an invaluable companion in their day-to-day activities.
Advanced Multitasking Options
iOS 17 brings a range of advanced multitasking options to enhance productivity. With the new Split View feature, users can work with multiple apps simultaneously, improving efficiency and multitasking capabilities. Slide Over has also been refined, allowing users to quickly access and switch between their most frequently used apps.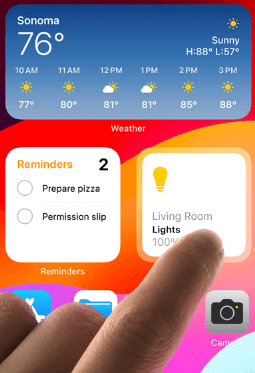 Updated Camera and Photo Features
Apple has always been at the forefront of smartphone photography, and iOS 17 further elevates the camera and photo capabilities. The new release introduces exciting camera features, including improved low-light performance and enhanced image stabilization. Additionally, the Photos app has been enhanced with powerful editing tools, making it easier than ever to create stunning visuals.
New Messaging and Communication Enhancements
Messaging and communication have been given a boost in iOS 17. Users can now enjoy new features in iMessage, including message reactions, mentions, and a more immersive FaceTime experience. These additions make staying connected with friends and family more engaging and fun.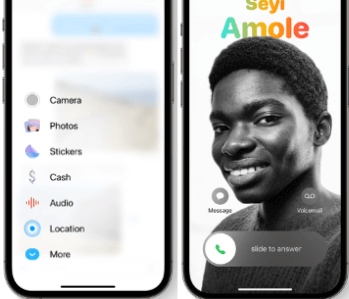 Improved Battery Life and Performance
Apple continues its commitment to optimizing battery life and device performance with iOS 17. The new release includes under-the-hood improvements that result in increased efficiency and longer battery life. Users can enjoy more time between charges and a smoother overall experience on their iOS devices.
Additional Exciting Features
In addition to the major features mentioned above, iOS 17 comes with a host of additional exciting features. These include an updated Maps app with improved navigation and transit information, a revamped Weather app for more accurate forecasts, and expanded compatibility with third-party accessories and devices.
Part 3. iOS 17 Wallpaper Customization
iOS 17 allows users to personalize their device's wallpaper like never before. With a wide array of stunning wallpapers to choose from, users can easily customize their home screen and lock screen to reflect their unique style and preferences. Whether it's breathtaking landscapes, vibrant abstract designs, or captivating artwork, iOS 17 provides an extensive collection to suit every taste.
Part 4. iOS 17 Supported Devices List
To fully enjoy the features and benefits of iOS 17, it's essential to know which devices are compatible with the new release. Here is a list of the supported devices for iOS 17:
iPhone 14
iPhone 14 Plus
iPhone 14 Pro
iPhone 14 Pro Max
iPhone 13
iPhone 13 mini
iPhone 13 Pro
iPhone 13 Pro Max
iPhone 12
iPhone 12 mini
iPhone 12 Pro
iPhone 12 Pro Max
iPhone 11
iPhone 11 Pro
iPhone 11 Pro Max
iPhone XS
iPhone XS Max
iPhone XR
iPhone SE (2nd generation or later)
Please note that this list is not exhaustive, and Apple may provide further updates regarding device compatibility.
Bonus: How to Fake Location on iOS 17 with ClevGo
Are you curious about how to fake your location on iOS 17? Look no further, we will introduce you to a fantastic tool called ClevGo that allows you to easily fake your location on your iOS device. Whether you want to protect your privacy, access location-restricted content, or play location-based games with a little twist, ClevGo has got you covered.
With its user-friendly interface and seamless integration with iOS 17, the location spoof program provides a simple and effective solution for changing your location. So, let's dive in and discover how you can fake your location on iOS 17 using ClevGo.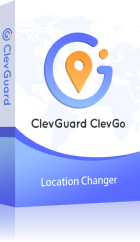 Features of iOS 17 Location Faker
Fake GPS location on both Android and iOS.
Provides joystick mode for Pokemon Go players.
You can create customized route and speed with realistic mode.
Free Trial provided. No need to rooting or jailbreak.
Download for WindowsDownload for Mac
Step 1. Download ClevGo on computer, then click Get Started.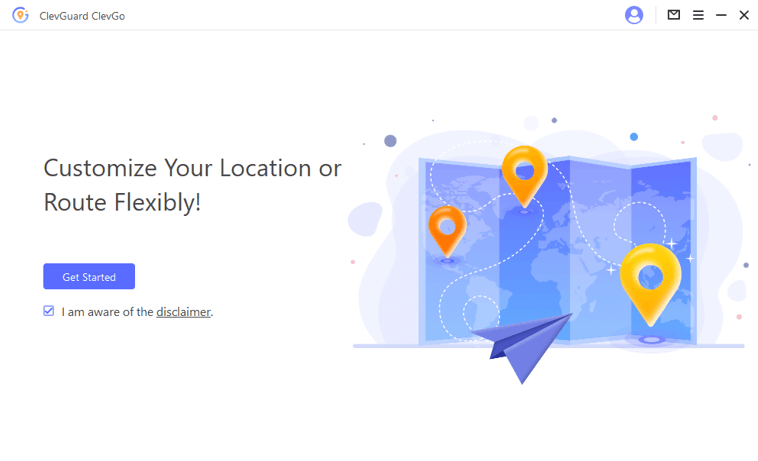 Step 2. Connect your devices, and the program will automatically recognize your phone info.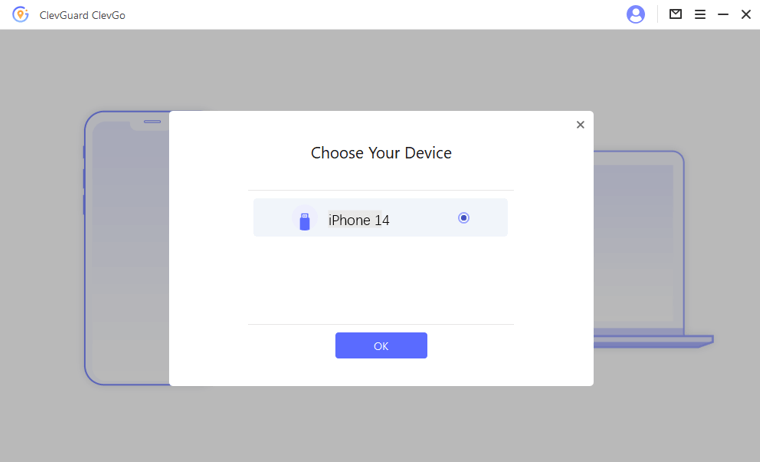 Step 3. Choose Teleport Mode. Enter any location you want to fake on the search bar.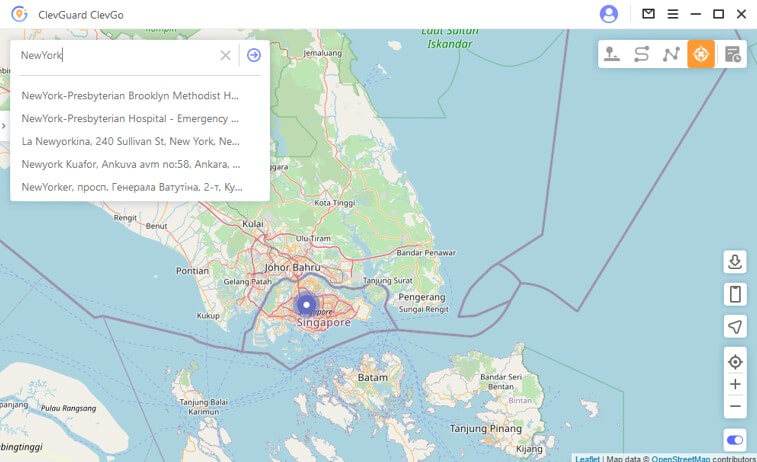 Step 4. Click Move, your location will be changed within seconds.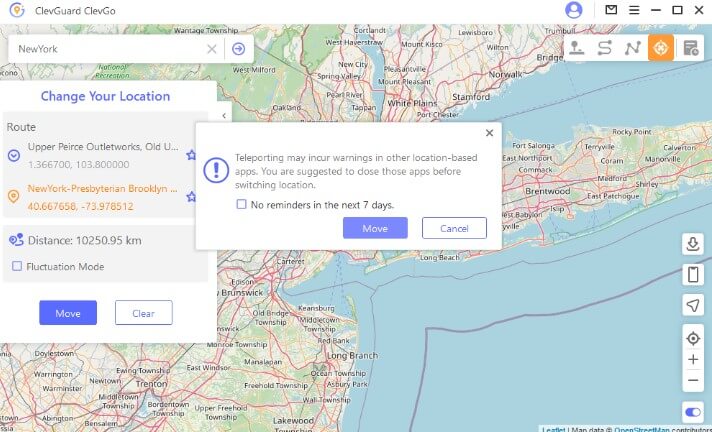 FAQs: More About iOS 17 and iOS 17 Beta
1. Can I install iOS 17 on my older iPhone?
While iOS 17 is compatible with a range of devices, it may not be available for older iPhone models. It's recommended to refer to the supported devices list provided by Apple to check if your iPhone is eligible for the update.
2. When can I download the iOS 17 beta?
The iOS 17 beta is typically made available to registered developers and public beta testers ahead of the official release. Apple official has released its iOS 17 beta version.
3. How can I customize the iOS 17 wallpaper?
To customize the wallpaper on iOS 17, simply go to the Settings app, tap on Wallpaper, and choose either the Home Screen or Lock Screen option. From there, you can select from the preloaded wallpapers or choose your own photo.
4. What privacy features does iOS 17 offer?
iOS 17 introduces enhanced privacy features, including app tracking transparency and improved security measures. App tracking transparency allows users to control which apps can track their activity, while improved security measures protect user information from potential threats.
Conclusion
With its exciting features, enhanced privacy measures, and improved performance, iOS 17 is set to impress Apple users around the world. The redesigned home screen, advanced multitasking options, and updated camera and photo features are just a glimpse of what iOS 17 has to offer. Additionally, the ability to customize wallpapers and the extensive list of supported devices make this release even more appealing. Get ready to take your iOS experience to new heights with iOS 17!
Download for WindowsDownload for Mac