In today's world, every parent has to give their kids a smartphone as online education has become a regular norm. Owing to the lack of self-consciousness and immaturity, kids tend to misuse their smartphones. In fact, kids get addicted to smartphones scrolling through social media, checking out videos, and playing video games.
If your kid has a Samsung smartphone, you have to regularly check Samsung screen time and restrict the total screen time so that their kids do not waste their valuable time.
In this article, we will illustrate how to check screen time on Samsung. Additionally, we will provide you a way to check all phone activities of your kid's phone remotely on your device.
How to See Screen Time on Samsung?
Screen time is the amount of time that the user uses his smartphone daily. Unlike other smartphones, you do not have to install a third-party app to check screen time Samsung. There is an inbuilt option available to check the overall screen time as well as the screen time of specific apps. Here are the steps on how to see screen time on Samsung.
Step 1: Open Settings app on your Samsung phone.
Step 2: Go to Digital Wellbeing & Parental Controls option.
Step 3: You will see two options – Digital Wellbeing and Parental Controls separately. You have to select Digital Wellbeing.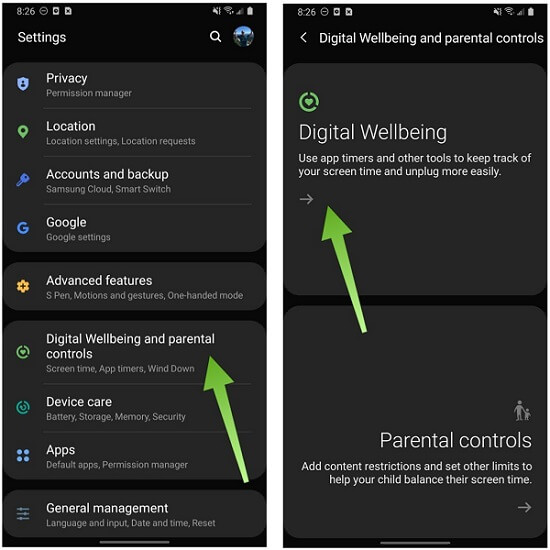 Step 4: The screen will show Samsung screen time for the day and you will also see the comparison of today's screen time so far with that of yesterday.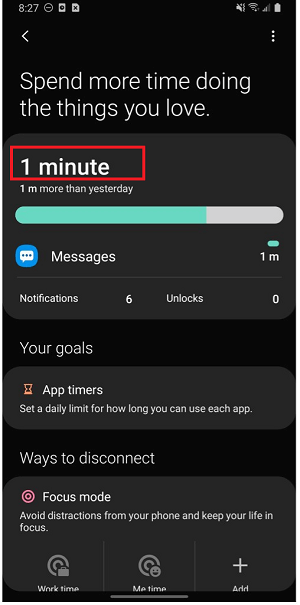 How to Manage Kids' Screen Time on Samsung Devices?
If you are regularly checking the screen time of your kid's Samsung device and you are not noticing any improvement, you have to intervene and limit your kid's screen time on Samsung device. We recommend the following two important measures to ensure digital wellbeing of your kid.
1. Set Parental Controls
You have to impose certain parental controls to ensure that your kid is not misusing his Samsung device. Samsung comes with Parental Controls option which basically suggests you use Google Family Link app.
If your kid is below 13, you have to create a Google account through Family Link app and control his Samsung device which is signed in through your kid's Google account. You can set limit on the screen time, check app activities, manage the apps, as well as lock his Samsung device remotely from your device through Family Link app.
However, the features of Google Family Link app are limited, and it is not valid if your kid has an independent Google account. That is why we recommend KidsGuard Pro for Android parental control app through you can block inappropriate websites and app, limit screen time for apps, capture live screenshots, lock the device, get activity report daily, and much more.

KidsGuard Pro for Android
The Ultimate Android Monitoring App for You.
Sign up free
2. Divide Scree Time Properly
When you set a screen time, your kid could be using the phone continuously till the screen time ends. This is bad because they could be wasting their morning routine, study time, and even bedtime.
Besides, watching the phone screen for hours is harmful to the eyes as well as for the body due to lack of physical movement. That is why Samsung comes with a Focus Mode where you can allocate time for Study, Work, Bedtime, and add such customized options. Here are the steps to divide screen time properly.
Step 1: Step 1: Open Settings app on your Samsung phone.
Step 2: Go to Digital Wellbeing & Parental Controls option.
Step 3: Go To Digital Wellbeing and you will find the heading "Focus Time".
Step 4: Tap on the available option such as Work Time, Me Time or tap on Add option to add any customized option.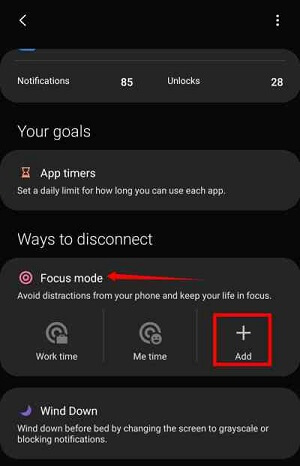 Why People Need to Check or Manage Screen Time on Samsung or Android?
There is no doubt that we are totally dependent on smartphones these days. However, you should check and manage your screen time so that you are not overusing and misusing the device. This is applicable for self as well as for family members and kids. Here are all the reasons why you should manage screen time on Samsung or Android smartphone for you or for someone close to you.
Addiction:
People are getting addicted to their smartphones thanks to social media apps, video games, and entertainment apps. Naturally, this addiction is affecting their physical lives such as work time, relationships and family time, as well as bedtime. To get rid of smartphone addiction, one has to limit the screen time and start bringing the screen time down regularly.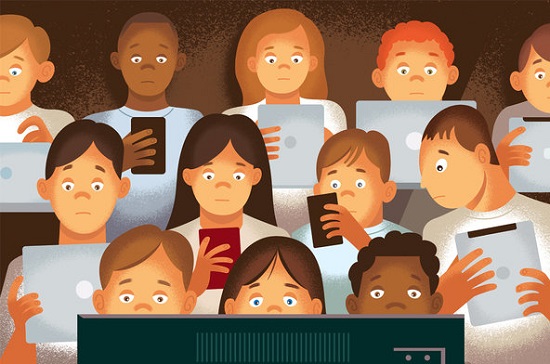 Inappropriate Content:
If you have given a smartphone to your kid for online classes and educational purposes, you do not want him to come across inappropriate content on the internet. He has more chances of coming across them when he spends more time on his smartphone.
That is why limiting screen time for the smartphone as well as certain apps that prevent your kid from accessing and wasting time on the internet.
Health Issue:
When you use your smartphone more than recommended screen time, your health gets affected adversely. This is due to a lack of physical activity while using the phone as well as your eyes getting exposed to the harmful rays coming from the phone's screen.
Starting from eye issues to obesity, excessive screen time can lead to serious health issues. That is why you need to check and manage screen time on Samsung or Android smartphones.
Bonus: How to Check All Phone Activities on Samsung?
Limiting screen time is not enough when you give your kid a smartphone. This is because he can waste the allotted screen time on social media apps, video games, as well as going through inappropriate video content.
Besides, he can contact strangers who could turn out to be child predators. That is why you need to check all of his phone activities on the Samsung smartphone. We recommend KidsGuard Pro for Android for complete parental monitoring from parents' devices.
How KidsGuard Pro for Android Can Help Kid's Phone Activities?
Here are all the features of KidsGuard Pro for Android that can help you monitor your kid's activities and take appropriate steps as and when required.
Social Media Activities

You can check all the conversations your kid is having on different social media apps. You can conclude if he is regularly chatting with strangers and if someone is trapping him. You can even check the deleted messages as well as media files exchanged.

Browser History

You get to check everything your kid browsers on the internet starting from the websites he has visited the searches he has made. You can understand if he is opening mature content as well as his state of mind from his searches.

Calls and Messages

KidsGuard Pro for Android lets you check all the call logs and read text messages on your kid's phone from KidsGuard Pro Dashboard. You can see all the incoming, outgoing, and missed calls with caller or receiver details, call type, call duration, and even date and time. Similarly, you get to see all the text messages sent and received on your kid's phone from KidsGuard Pro Dashboard.

Record Call

You can even record all the phone conversations in real-time so that you can listen to every conversation and understand what your kid is up to. You can also find out if someone is trapping him and take steps accordingly.

App Activities

You get to check the screen time of all the installed apps on a regular basis. You can also check how many times your kid opened the installed apps. Besides, you can find out the apps he has installed recently.

Remote Control

The best feature of KidsGuard Pro for Android is that you can capture live screenshots of your kid's phone. Therefore, you can find out what your kid is doing at any moment. Similarly, you can take photos remotely with your kid's phone camera to find out the surrounding.

Photos and Videos

KidsGuard Pro Dashboard is where you can find all the photos on your kid's phone gallery. These photos are taken by phone camera as well as those that your kid has downloaded from the internet. Besides, the photos from the apps such as social media apps are also there. Moreover, you get to see the preview of the videos on your kid's phone.

Track Location

You can also track your kid's live location as well as location history. Besides, you can set Geofence so that you get instant alerts whenever your kid crosses the safety fence.
See Kid's Phone Activities in 3 Steps
Here are the steps on how to check your kid's phone activities with KidsGuard Pro.
Step 1. Create a KidsGuard Pro Account
Click the "Monitor Now" button below to create an account for KidsGuard Pro and choose  a suitable plan based on your needs.
Step 2. Install KidsGuard Pro for Android app on Your Kid's Samsung Phone
On your kid's smartphone, open the web browser and visit www.clevguard.net. Download the APK file of the app and install the app from the APK file. And then follow the onscreen instruction to set up KidsGuard Pro for Android on your kid's phone.

Step 3. Start Checking All Phone Activities
On your (parent) device which could be a computer or a smartphone, log into your KidsGuard Pro from the web portal.
Go to Dashboard and you will see your child's device appear. From Dashboard, you get to check all his phone activities and the syncing is done in almost real-time so that you get all the updated data.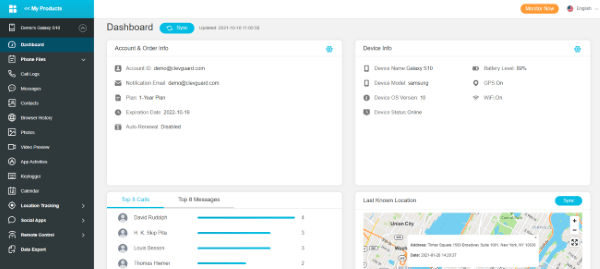 Conclusion
We have stated how to check screen time on Samsung smartphones. You can also set a screen time limit on installed apps and set focus mode for distraction-free work time. But when your kid has a smartphone, limiting screen time on Samsung is not enough. You have to monitor all the phone activities and intervene when required. That is why we recommend KidsGuard Pro for Android app for complete remote parental monitoring.