In today's world, technology has made a variety of things possible, like third-party surveillance of your computer without your permission. Not cool, right? Such a scenario is now feasible due to the advent of spyware, which has resulted in vulnerability, identity theft, and fraud. What can you do, however, to maintain your privacy and security?
In this article, we will learn more about what is spyware, what is anti-spyware and discuss how to protect your privacy. Let's get it started!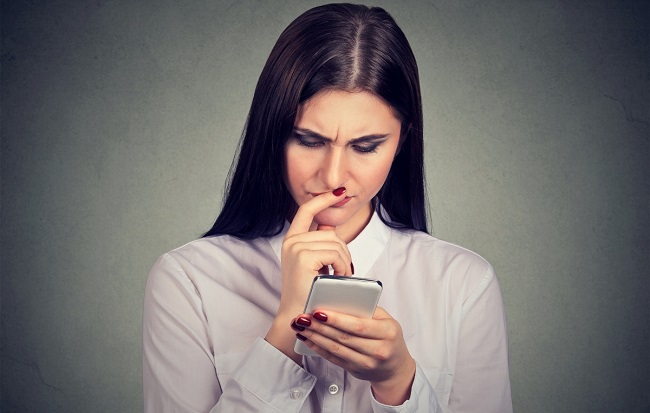 What is Spyware?
Spyware is a type of malicious software that collects and sends data and information from your phone device to a third-party device without your permission. It keeps track of your everyday activities or steals data from your device, resulting in identity theft or fraud.
The person who interested in monitoring your device installs the spyware app on your phone without you knowing about it. The user on the other end has control over the malicious app on your phone which he or she can use it to monitor your online activities, phone calls, messages, photo, emails, and more. In other words, spyware makes you lose your privacy.
What is Anti-Spyware?
When you feel that your privacy is leaked, but not quite sure. For this condition, it's time for anti-spyware coming on the stage. However, what is anti-spyware? Anti-spyware software is spyware security software, as the name implies. It's made to find, delete, and avoid spyware and adware infections on your device. Spyware removers, spyware cleaners, and spyware detectors are all terms used to describe anti-spyware programs. Using anti-spyware, it's a great way to protect your phone privacy.
How Does Anti-Spyware Work?
Spyware, in general, is a program that runs in the background as soon as the device is turned on. Its installation will chew up RAM and CPU resources, as well as potentially generate an infinite stream of pop-up advertisements, slowing down the web browser to the point where it is rendered worthless.
However, anti-spyware scans all your third-party apps and files, and compares the contents of your device with the directory of known spyware files. Notifies users of the presence of spyware and offers the option of uninstalling the offending files. Also, provides real-time protection for user's device.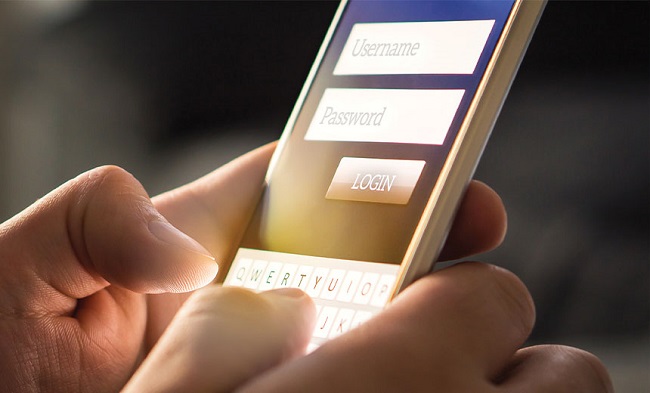 Why Do We Need Anti-Spyware?
There are several programs on the internet that can pose a threat to our system. The main reason for using anti-spyware is because threats are everywhere.
They might be virus-infected files you copied, hacked websites you visited or virus-infected email attachments you opened, trojan horse-infected applications you installed, and so on.
If your phone gets infected with malware, you may lose vital files, personal information, and other data.
What is the Importance of Anti-Spyware?
1. SafeGuard Phone on All Fronts:
Anti-spyware finds hidden spy apps on your Android phone and removes spy apps installed on your device without your knowledge. It safeguards your device on all fronts against any spyware program that may constitute a significant threat to your phone and identity.
2. Maintain Strong Security:
One of the most evident of all benefits is the ability to maintain a strong security presence against any malware that may attempt to infiltrate your smartphone device.
3. Protect Phone at Real-Time:
Another evident advantage of powerful anti-spyware software for your phone is that it protects your machine against spyware. It also offers real-time scanning, which runs in the background and keeps an eye on the back of your android device for any malware infiltration.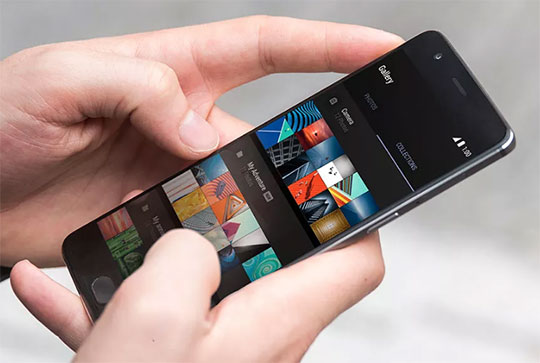 How to Remove Spyware With ClevGuard?
ClevGuard is an anti-spyware app that helps protect your android device from any malicious spyware intended to intrigue your privacy. It's compatible with android devices, and it's simple to install and operate without any huddles.
To remove any spyware app on your smartphone device, all you need to do is installing ClevGuard on your phone and scan, which allows the app to detect and remove malicious spyware from your phone.
Next, we will walk you through ClevGuard, a highly vetted anti-spyware designed to stop any spyware. Plus, why it's a more reliable solution when compared to other anti-spyware apps out there.
1. Why Choose ClevGuard?
ClevGuard is a fantastic app that you definitely don't want to lose. It is a powerful anti-spyware app that can come in handy for people who want to get rid of spyware apps monitoring their device and activity.
ClevGuard can be used by anyone interested in getting rid of the monitoring spyware app easily. Another edge advantage of ClevGuard over other antispyware app is its unique features and ease of use. Plus, unlike other highly-priced anti-spyware apps, ClevGuard offers a free scan and paid plans that are relatively more budget-friendly so that you can explore its full features. Now, if you want an anti-spyware app that offers more for less, take it from us when we say you can't go wrong with ClevGuard.
(1) Quick Scan all Apps
With the advanced technology, ClevGuard provides scan of all apps in a quick way to see if there is any spyware app on your android device.
(2) Real-Time Protection
ClevGuard prevents the installation of spyware by blocking user access to data considered malicious. It keeps an eye on the system at all times for any potential dangers. Once detected, the anti-spyware program prevents the activation of potential hazards and posts an alert, often recommending actions for the user to take.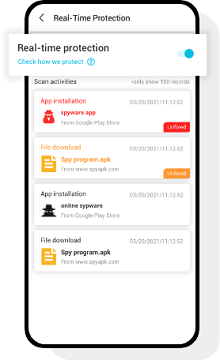 (3) Completely Remove Spy Apps
ClevGuard is designed to completely remove all spyware apps, unlike most anti-spyware designed to detect just some spyware apps, leaving your device at risk to others. With ClevGuard, what you get is an all-in-one solution.
(4) Give Whitelist and Blacklist of Apps
Often, harmless apps are misinterpreted for spyware. As an excellent anti-spyware, ClevGuard will issue a warning and identify whether or not the situation is dangerous. Also, it will give a whitelist and blacklist of your apps after the scanning procedure is completed. If you trust or not trust some apps, you can either ban or whitelist the apps.
(5) App Audit
ClevGuard provides an efficient app audit that helps to view third-party applications and system applications to obtain records. With ClevGuard, you get to protect the android device because it's integrated with disable/enable app permissions.
2. How to Remove Spyware within 3 Steps
Step 1: Download and Install ClevGuard Anti-Spyware
The first step to protecting your android device is to go to the Google Play Store, download and install ClevGuard on your phone.
Step 2: Scan and Detect Spyware on Your Phone
Open the ClevGuard anti-spyware you've installed and then click on "scan" to detect any spyware installed on your device.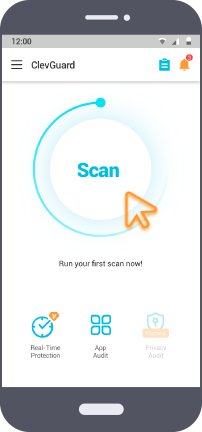 Step 3: Remove All Spywares
After scanning, check the result and then remove all spywares that ClevGuard has detected on your phone by clicking on "fix."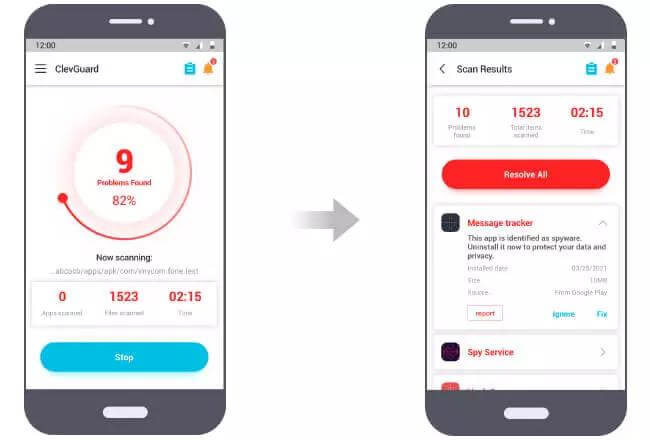 Conclusion
Overall, spyware apps are malicious apps designed to intrigue your privacy and even steal your data and information. But with powerful anti-spyware like ClevGuard, you can easily detect and completely remove them to ensure your privacy and security. To get started with protecting your privacy, all you need to do is head on to Google Play and download ClevGuard anti-spyware on your smartphone. Let's protect your personal information from today!