Question:
Can I turn off the phone's location information and still use the phone availably?
When you search for this answer, you probably had trouble in location services. That's ok, I understand.
Much of the privacy on our mobile phones has to do with location systems. It can be a good choice to protect your privacy and save your phone's battery by closing the location. This article will tell you four ways that how to turn off location on iphone.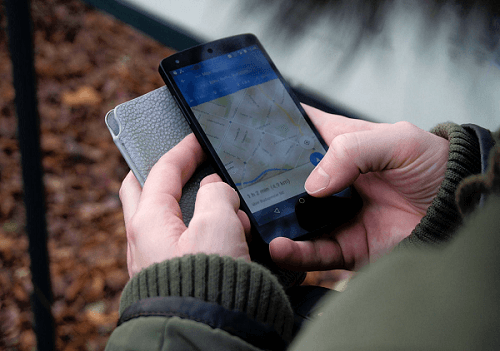 How Can I Turn off the Location on The iPhone?
Here are 4 methods to help you turn off the location service on your iPhone.
Way1: Turn off Location Service.
Turn off location service on your iPhone is a basic option to close your location.
Go to Settings.
Open Privacy.
Then find the tap Location Services and turn it off is done.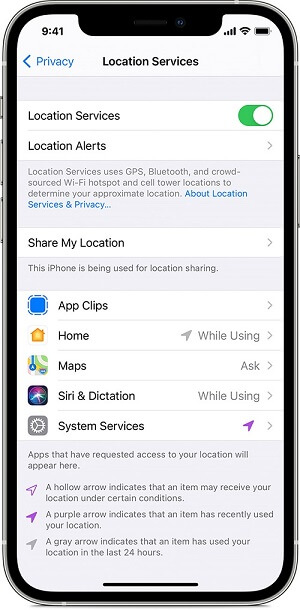 NOTE:
This operation means that you have turned off all location services on your phone, and no software can track your latest location information.
Way2: Change Specific Location
Sometimes you just want to turn off location services in some certain apps, and don't want to disable it at all. Along with this option, you can turn off specific apps location as you like.
Go to Settings.
Open Privacy.
Open Location Services.
Select a precise app, then turn its location off.
Way3: Turn off Location on Find My iPhone
Turn off location on Find My iPhone means that you won't be share your iPhone location with friends and family, and they will not notice you stopped sharing your location.
Open the Settings app.
Tap [your name] Find My.
Tap Find My [Device], then tap to turn it off.
Enter your Apple ID password.
Tap Turn Off.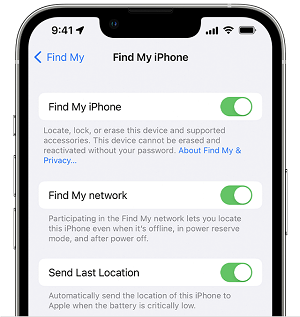 Find My iPhone is a tool in iOS that help you find your lost or stolen mobile phone. Turning it off in finding my iPhone can ensure the privacy of your mobile phone would not be leaked.
Way4: Turn on Airplane Mode
Turning off airplane mode will not only close the location on your iPhone but your phone's internet service.
Open Control Center on your iPhone.
Tap the Airplane Mode button.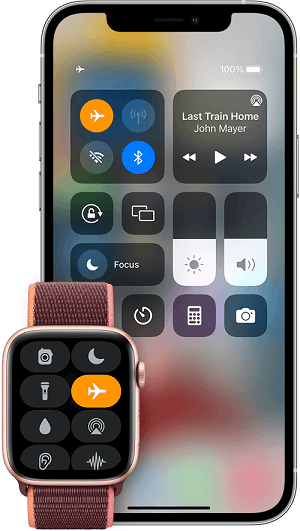 Or you can also go to Settings and select Airplane Mode to turn it off.
This will be the fastest way when your phone battery is at risk or you want to turn off location services immediately.
Part 2: Can I Track Someone's Location if They Are Turned off on iPhone?
Sorry, I'm afraid the answer is no. No tools can track the information of the mobile phone in real-time when the mobile phone's location or network services is turned off. Because any tracking software needs Wi-Fi and GPS to locate the target's cell phone. Only in this way can we know the location and information of the mobile phone in real-time.
But fortunately, if you use KidsGuard Pro for iOS, you can know all of their locations before the location service is turned off. KidsGuard Pro for iOS is a parental tracking app that specializes in monitoring and tracking someone's mobile phone.
In fact, you don't just need to track a location service, you can use kidsGuard Pro to monitor contacts, phone calls, photos, messages, iCloud drive and more.
Why Did You Choose KidsGuard Pro for iOS for Location Tracking
It is currently the most powerful APP on the market. If you are a parent, you can know if your child has gone to a dangerous place. If you have a partner, it is also possible to know if your partner is cheating on you online.
Monitor 30+ social apps: Like WhatsApp, Facebook, Tinder, Ins, Snapchat and more.
100% undetectable: Completely invisible on the target phone.
Surroundings records: Listen to phone surroundings without knowing.
Phone call tracker: See who called them, what the number is, and how long they've talked.
Website viewer: Search Safari history on iPhone and see what the target user is interested in.
Keylogger analysis: Track the words they usually talked.
KidsGurad Pro for iOS uses artificial intelligence to record every details on your kids iPhone and you will have a certain idea on what your children usually interested on their iPhone.
To find out more features on KidsGuard Pro for iOS, you can try the free demo.
How to Use KidsGuard Pro for iOS to Track Someone's Locations If They is Turned off?
Step1: Select your plan and get an account.
There are different purchase plans here, choose the one that suits you best.
Step2:Download and set up.
Download and install the program onto the target computer from the given website: https://www.useapp.net

You can download the app on your wins or mac to monitor the target's iPhone.

Select 2 options to back up and analyze the target device to get iPhone data monitored.
Options 1 is to connect the device to computer with USB and start scanning the data currently.
Options 2 is to connect the device and get data over Wi-Fi.
Setp3: Protect and monitor remotely
After the installation is completed on the target phone, you can track location on the website Dashboard.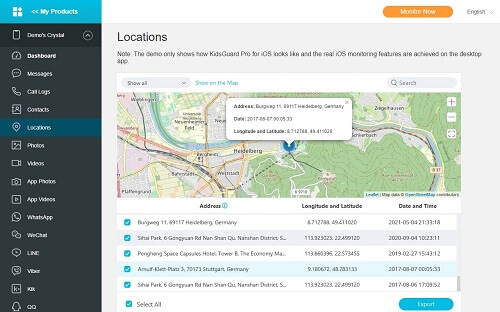 If you can see the official guide to help you successfully set up the app.
Part 3: Hot FAQS You Should Know about Location on iPhone?
1. How does the iPhone location work?
Location Services on iPhone works depending on GPS and Bluetooth (where they're available). At the same time, with crowd-sourced Wi-Fi hotspots and cellular towers to determine the rough location of your device. If you turn off the location services on Settings, your iPhone won't get your location.
2. How can I check someone's location on iPhone without them knowing?
The best way is to use third-party monitoring software. Since it is very safe to use them, the concealment is so powerful that no one will notice that you are using them to check someone's location. Here are the top monitoring apps on the market.
KidsGuard Pro
Scalefusion
Qustodio
FlexiSPY
FamiSafe
It's really useful and effective to track someone's location on an iPhone without them knowing.
3. Can a person see when you check their location on iPhone?
The answer is no. When you are using Find My Friends on iPhone to share location with friends, the other person doesn't know you or their friends have looked them up. They don't get any alert only if you request to send the location to them.
4. Can I turn off the location on my iPhone without notifying?
Certainly. You can open Settings>Privacy>Location Services. Then turn it off.
Final words
If you want to know more about tracking services on mobile phones, you can read this article. Using KidsGurad Pro is the best way to track someone's location, calls phone, messages, web history, and so on. This app is very effective in its incredible features and is highly recommended for mobile phone location tracking.