TikTok is a social entertainment application similar to Snapchat, Instagram, and Facebook. It is an app that offers a lot of advantages. The app allows you to post your selfies and vine-like short videos, which are free to publish. When used correctly, TikTok can be a great platform to showcase your talent, but what if you want to post that spectacular video without having it watermarked by TikTok? or maybe you have liked a video so much that you want it to save on your device but, you don't want a watermark on it. We know everyone faces this situation, and we are here to help you.
This article will show you different ways to save TikTok videos without watermarks.
Part 1: How to Download a TikTok Video?
TikTok, as the most popular social media for teens now, is often used to share funny videos with one another. And sometimes you have to download the video. Downloading a TikTok video is a piece of cake. You can easily download the videos by following the steps mentioned-below. Make sure you follow them carefully and with attention.
First of all, open your TikTok app.
Scroll or search the video you want to save. You will find an arrow option on the bottom right of your screen, click on it.

After clicking on that arrow, it will show you various option.
Click on the Save option and your video will start downloading.
Part 2: How to save TikTok without Watermark?
Here are some ways you can follow to save TikTok without watermark. The ways and methods we are going to tell you here are proved and the best way to do so. So, stop wasting time and follow the instructions.
1. Save TikTok Videos as Live Photo without Watermark
It is simple to download TikTok videos to your phone as long as the video maker permits others to do so on TikTok. You can download a TikTok video as a Live Photo first, then convert it to a video without the watermark. Even though there will still be a minor watermark, you can easily cut it out. This is how:
Go to your TikTok app.
Locate the video you want to download by scrolling.
Click the Share button, which resembles an arrow pointing right at the bottom right of the page.
Choose the Live Photo option in the second row of icons by scrolling to the right.

After the download has completed, Go to the Camera Roll.
Go to the Live Photo you saved and tap the Share icon in the lower-left corner of the display.

Choose Save as Video by scrolling down.
And it's done.
Although a small watermark will still be visible at the bottom-right of the screen, you may quickly remove it by using the cropping tool in the Camera Roll.
2. Save TikTok Video without Watermark by Cropping
The most effective technique is to crop it out of the video. However, the aspect ratio of the video will alter as a result. It will leave a black gap around the content if you want to repost it on a platform that adheres to TikTok's video size requirements.
Additionally, cropping doesn't always work because you risk cropping other things out if there are any significant visual components close to the edges.
3. Save TikTok without Logo by Snaptik
Some third-party apps available are expressly made to download the TikTok videos without the watermark if changing a video yourself sounds like too much work. SnapTik is accessible via a web browse and a mobile app. You don't even need to install software on your computer or phone, making it a good choice. All you need is the link to your TikTok video.

Open the TikTok app and search for the video you want to download.
Click on the three dots and you will find an option of copy link. Click on it.
Now go to Google and search for Snaptik and open the website.
There you will see a bar, paste the link there.
To download the video to your devices, click download.
4. Save a TikTok Video without Watermark by SSSTikTok
You may download TikTok videos online without watermarks with the free alternative SSSTikTok. Your TikTok videos are saved in HD MP4 format for the highest quality. Read the instructions below to learn how to use SSSTikTok to save TikTok videos without a logo. It's easy; you must follow these three simple steps to download TikTok without the watermark.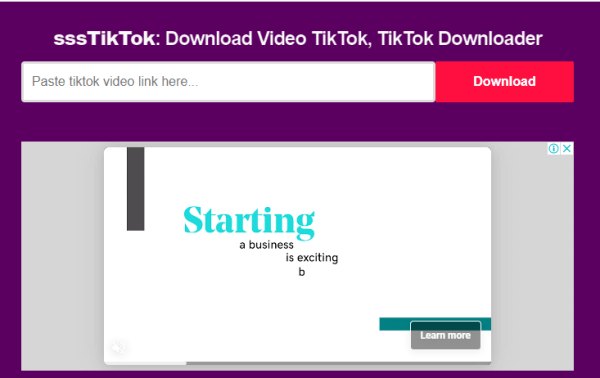 Open TikTok and search for the video you want to save and copy the link.
Go to your browser and search for SSSTikTok, and open the site.
A bar will appear in the middle of screen, paste the link there and click on download. And it's done.
5. Save TikToks without Logo by Inshot Video Editor
You can turn to third-party apps like InShot for assistance if none of the above methods are successful. We'll use the InShot video editor, which can be downloaded free from the Apple Store and Play Store, to show how to remove watermarks from a TikTok video.
Firstly, download the app and open it.
Tap the Video button.
To use the editor, tap the green button after choosing a video.

Choose the Crop tool from the menu in the editor.

To remove the watermark-containing regions, change the aspect by moving the scale. The proportion and add a watermark as seen in the picture below.

To make the adjustments, tap the tick.
Save the changes to end editing.
Set the FPS and resolution. To finish the procedure, tap Save.
Because it apparently throws off the perspective and emphasis of the video, cropping off watermarks is not the ideal way to remove them from TikTok videos.
Part 3: [Extra Tips] How to Check Your Child's TikTok History Remotely without Knowing?
Are you worried about what your child's watching on TikTok? If yes, then you're not alone. They say that your kids are growing up too fast and you need to keep up with them. The fact is, though, that you can't always be there to monitor what they're doing online. Parents may get an exhaustive list of all the videos their children have watched on TikTok.
Luckily, KidsGuard Pro for Android has been designed to help parents get a glimpse into their child's online activity without worrying about privacy issues or having someone else view their private information.
KidsGuard Pro for Android is the best solution for you. This app can monitor kids' activities on the internet, including their social media accounts, games, and other online activities. It can also lock down the device if the app finds inappropriate content to protect your kids from cyberbullying and other risks.
How to Use TikTok to Check Your Child's TikTok History?
Follow the given steps below to set this third-party tool:
Step 1. Sign up for KidsGuard Pro
Click Monitor Now below to sign up with an email and choose the appropriate plan for you.
Step 2. Download and Install the App
You have to follow the installation instructions by going to My Product and Orders Management on the website and clicking Setup Guide. In this part, You are required to have the target phone and go to www.clevguard.net to download the app.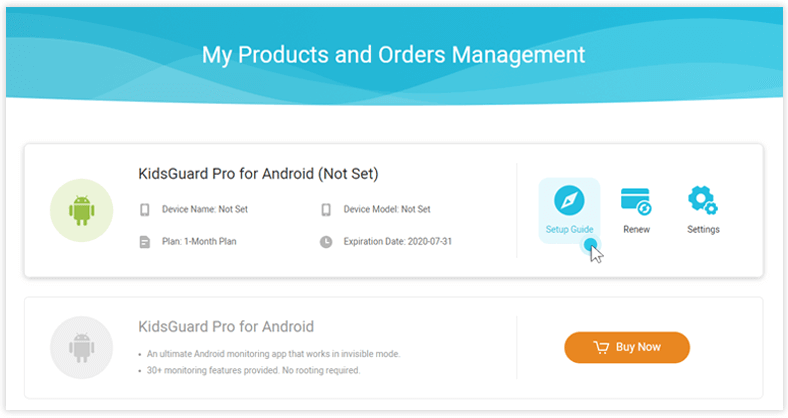 Step 3. Start Checking Your Child's TikTok History
After a successful installation, go into the dashboard of the official website to access the TikTok account by viewing what is being seen on their phone. At here, you are free to see what your child search and watch on TikTok. You are able to see your child's TikTok screen time including how many videos they have viewed.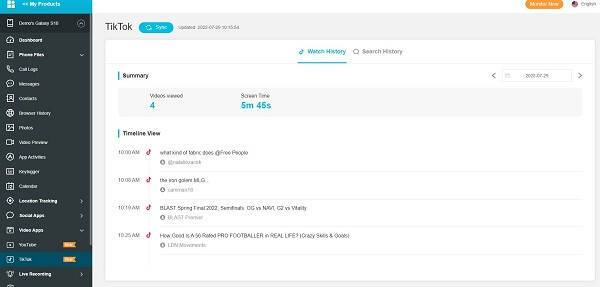 What Can KidsGuard Pro for Android Do?
Here are some other features of this amazing tool that can help you in the safety of your loved ones.
Live Location: It can tell you where your child is right now. It is yet another method that works well for finding your youngster while he is away from home.
View Phone Info: Viewing phone information, including pictures, messages, contacts, call logs, and you even view deleted browsing history. You could still see it on your dashboard if they delete anything.
Track Social Media Activities: You can keep an eye on your child's online activity not just on TikTok but also on other social media networks like YouTube, WhatsApp, Facebook, Messenger, Instagram, Tinder, and others. It was obvious who they were dating and what topics they were discussing.
Keep an Eye on Installed Apps: A list of all the installed applications is also available, which is helpful if you want to stop your youngster from using inappropriate or inappropriate apps.
Track Online Activities: You may use the app to see what your loved one is doing online. You may check the websites the device has visited and immediately block inappropriate ones.
FAQs about Saving TikTok Videos
In this part, we will answer some common questions asked by people regarding saving TikTok videos.
Q1. Where TikTok videos are saved?
Your video will be saved in the device's gallery after saved. Depending on your gallery app, the video may be saved in a different folder.
Q2. How to View Saved Video in TikTok?
If you go to the profile page, you will notice three icons following your profile information, with a lock icon on the right side. You need to click that icon to access your saved videos on TikTok.
Q3. Why can't i save a video from TikTok?
The TikTok app does not allow downloading of protected videos. This is due to video makers choosing to turn off that functionality for a particular video.
Conclusion
Now you know how to download the videos from TikTok without watermarks and get them saved on your devices. So, if you want to download any watermarked video on TikTok, follow the above methods, which will 100 percent work for you. If you have any questions, feel free to ask.