TikTok is one of the fastest growing and most popular social media apps among kids and adults. Like many other social media platforms, Tiktok filters out what you are allowed to watch. It does not let you see the content which is not based on your language and region. So, if you want to see content from a country other than your native, you need to change your location on TikTok.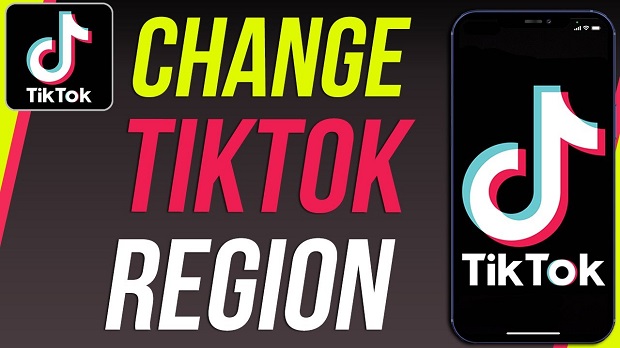 Have you ever wonder how to change your TikTok location on cell phone to unlock amazing features? Keep reading to find out!
Why You Need to Change Location on TikTok?
Even if TikTok is a global network It limits the access to what you see and who see you by your location. If you desire to have a look on how the people in different other countries use this platform. All you have to do is to change the location of your region. Let us find out how to change your location on TikTok. There are various methods to change the location or region on TikTok, Let us discuss all one by one in detail!
How to Change Your Location on TikTok?
Way 1: Use a VPN to Fake Your Location
Using a VPN on iPhone and Android devices to fake your region location on TikTok is a very helpful method. By using a VPN you can get other benefits as well. It helps you hide your information for example it hides your location region and interestingly you can hide your identity as well. It keeps your privacy protected and makes your account secure. Whenever you use any application it might be TikTok or any other when used online.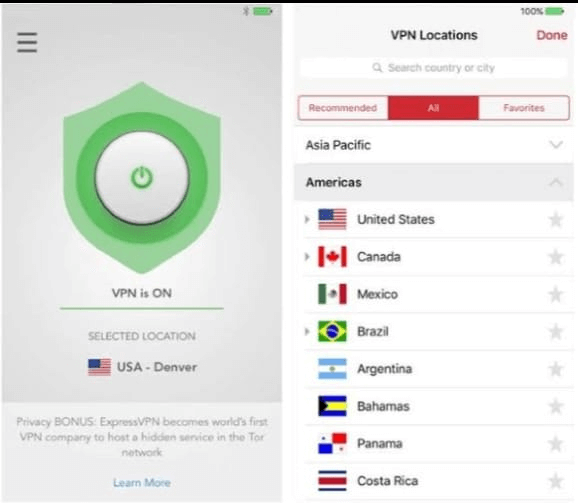 How to use VPN to change location?
Step 1. Install VPN
Step 2. Sign in to the account
Step 3. Tap on the Select Location option
Step 4. Choose the country of your choice
Step 5. Tap on Power option
Step 6. Open TikTok and view the content of your desired location
Way 2: Install SIM Card of Target Country
Mostly when someone desire to appear with a different identity other than his original identity on TikTok VPN is the best option. Apart from VPN confusion with TikTok this application utilize your SIM card's location code to make a decision what you are allowed to watch.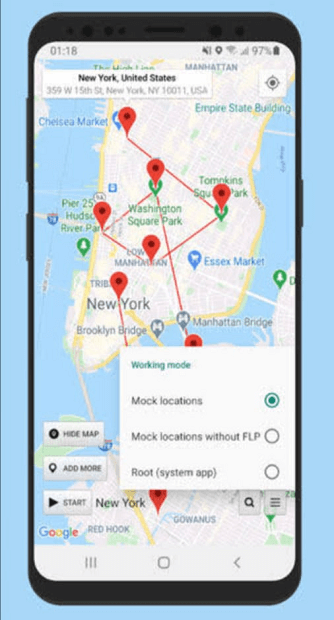 How to use SIM card to change location on TikTok?
Your location on TikTok can easily be changed by using the SIM card of another country. All you need to do is:
Step 1. Purchase a SIM card from the country you desire for your location.
Step 2. Insert it in your phone and activate it.
Step 3. The only requirement is you must have a dual SIM phone for the whole process.
Related Read: 3 Ways to Track a SIM Card and Monitor SIM Activities[100% Work!]
Way 3: Change or Add Another Language on TikTok
You can easily change the region or or location on TikTok. TikTok will not allow you watch the content other than you selected language that you select in the Tik Tok application.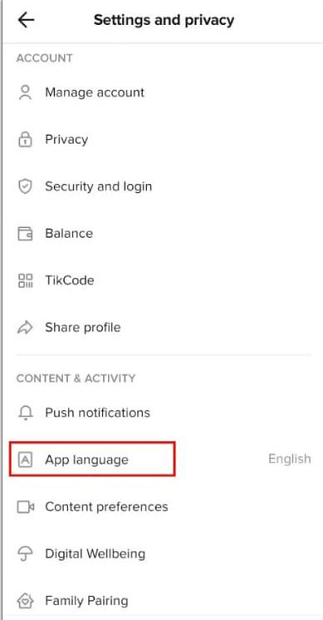 Methods to add location of your choice:
Step 1. Open the application and hit on Me option present on lower right to corner.
Step 2. Tap on three dot menu icon present on upper right corner.
Step 3. Tap on Content Preference in account section.
Step 4. Add language of location you want to see the content of.
An amazing feature is that you do not need to select the only one language.
Rather you can select the more option than one language and you will b able to watch content of your desire.
Way 4: Follow the Content Creators of Target Country
TikTok recommends you the content based on the type of content you watch frequently and it also depends on the creators you follow.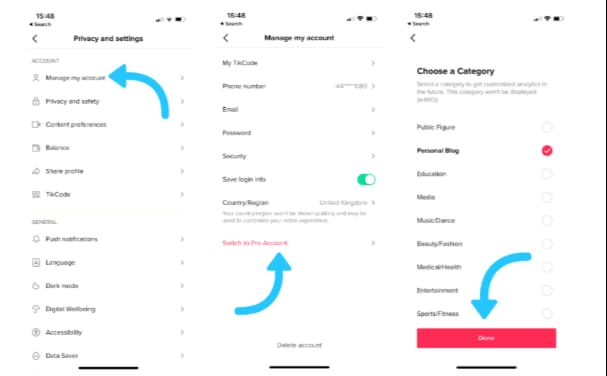 So, it is the time you need to interact with the people in different regions.
The search option is not available from TikTok website but it available on application.
Just click on Search option search the creator you want to follow and tap on Follow option and follow the creators from the region you want to watch content of.
Way 5: Search for Contents of Target Country
Tik Tok surprisingly allows you to see the content based on your watch list. So it is the time for you to change the content you are watching regularly on Tiktok. Keep watching the content from region you wish for your Tik Tok application to show you. And Tiktok will show you the content of the region you desire.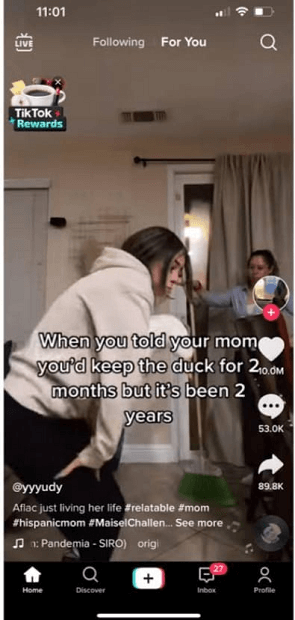 How to Know What Someone Else is Watching on Tiktok?
Install a TikTok Spy App - KidsGuard Pro for Android
If you want to know what someone else is watching on TikTok, you can take help from KidsGuard Pro for Android. It can assist you to keep an eye on what someone is watching on TikTok and other social media platforms. In this way you can monitor the social activities of your kid or anyone you love. This enables you to keep your loved ones safe from exposure to harmful content on TikTok.

How to Use KidsGuard Pro for Android for TikTok Monitoring
Step 1. To do so, you need to visit KidsGuard Pro official website to create an account with your email id. Here click on the Monitor Now option given below.
Step 2. Once you have signed up, go to the My Products and Orders Management page and click Setup Guide and follow the on-screen instructions.(The process won't spend you more than 5 minuets.)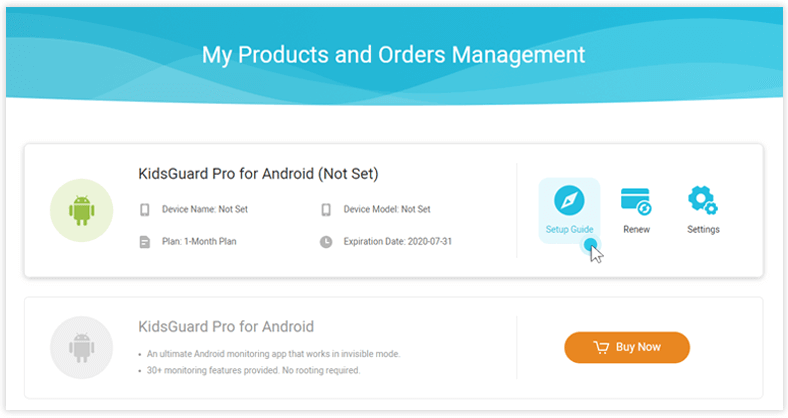 Step 3. Log in your account on our website and click Dashboard to check all the activities on the target device.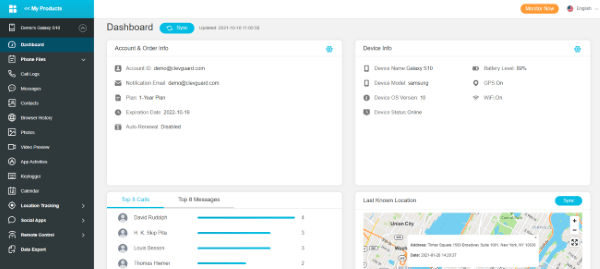 What can KidsGuard Pro for Android do to monitor TikTok?
This TikTok spy app is an interesting application that monitors Android smartphone. This application is specifically designed to help parents to track down the social media activities of their children especially when TikTok isn't really safe for kids so parents need to be more careful for what they watch on it.
KidsGuard Pro for Android can track calls, view phone history and even track GPS location. It is an appealing app that can also link with tiktok to monitor the activities. This application is purposely designed for Android users to help parents to track down the tiktok activities of their children so that they cannot access that is not appropriate for children.
Features of KidsGuard Pro for Android
Monitor Social Media Apps: WhatsApp, Facebook, Messenger, Snapchat, Instagram, Tinder, Telegram, Line, andd Viber.

Capture Screenshots: Secretly captures the screenshots of the phone.

Take Secret Photos: Take secret photos by having the access to camera.

App Activities: Check all the data and activities of any app anytime.

Keylogger: Every keystroke will be monitored and snyc to the dashboard at the same time.
How Does TikTok Know Your Location?
You may fear that TikTok is a spyware because it knows your location. Tracking the location feature of TikTok is based on your SIM card your ID address and your GPS system. When you register on TikTok it asks you to add an authentic phone number which it verifies afterwards. By this method TikTok seeks to avoid the scam accounts along with fake identities. In addition to this some versions of TikTok allow the location to be tracked automatically when a location tag is added to any post. Now the question arises:
Does TikTok safety secure your safety as well?
The answer of this question is "No". When you allow TikTok to know your location it puts you at the risk of the getting hacked. Your personal information can easily be accessible and put you in danger in long term. In the privacy policy of TikTok it has clearly mentioned that TikTok can share your personal information with all the law enforcement agencies, all the public authorities and other organizations as well, if it is required for legal purpose.
So it means that TikTok can share your sensitive information with any commercial party and government. To avoid this, you must know how to turn the location of TikTok off.
Frequently Asked Questions about TikTok Location
Q1: How to turn off your location?
Go to the settings tap on permissions then move to location and turn it off. To disable geo tagging of pictures open the camera and tap on gear icon set the location to 'No'.
Q2: Does TikTok spy  you?
No, TikTok do not spy on you. Researchers of security who analyze the app and its data have clearly depicted that there is no chance TikTok to spy on you.
Q3: How do I stop TikTok tracking my location?
You can easily stop ticked off from tracking your location by turning your location off on TikTok and by denying its access to other apps.
Conclusion
Tiktok is the fastest growing social media platform in present era. It gives so many opportunities to the content creators to show their talent and art to the world without having a specific platform. But it does not allow you to get access to all the regions of world. It allows you a limited access to the audience. But there are options available to change the region, location and language on this application, which allow you to interact with the people throughout the word. Overall Tiktok is an incredibly amazing application which gave its users surprisingly interesting opportunities to show their abilities and talents to the world.