TikTok is a great source of entertainment for every age group. Currently, TikTok has 500 million users across the globe surprisingly engaging WhatsApp and Facebook 2 billion users. Regardless of its popularity, this app has faced some serious legislation. It is accused of being China's spyware.
In this article, we will look into the details regarding this accusation and we will discuss some techniques to be safe from any spyware.
Firstly, let's get known of the structure of this article:
Part 1: Is TikTok Really a Spy App?
To answer "is TikTok spyware?" is really controversial. The U.S. Secretary of State Mike Pompeo has criticized TikTok spy app that steals users' personal information. Likewise, Steve Huffman, Reddit's co-founder has also called TikTok a "fundamentally parasitic".
TikTok has denied the U.S. accusations of data mishandling and no evidence has proofed TikTok is spyware. So, there might be a political reason behind these accusations.
It is owned by China and installed in millions of cell phones in the US. Yes, it does collect users' data but in a much similar way as Facebook and other social media apps.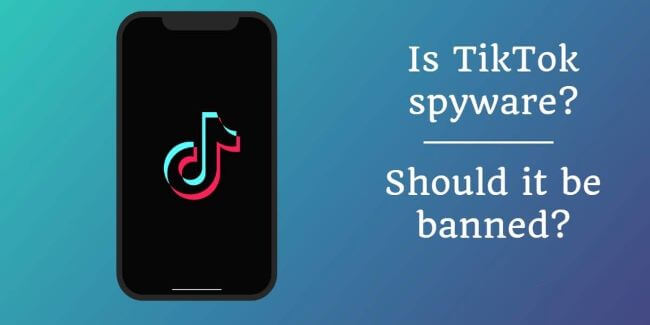 Click Here: Get ClevGuard Anti-spyware to Check Whether Spyware is in your Android Phone
Part 2: What are People Concerned about TikTok?
1. Does TikTok steal your information?
If we look at the privacy concern of the app, it does not require your other personal data except your name and email ID during sign-up. The security policy is much similar to that of WhatsApp, Facebook, and all popular social media apps.
TikTok affirms that user's security and privacy are their top priority. They are constantly refusing the legislation of data stealing and helping the communist party. However, there is always a threat to users' personal information as these apps are vulnerable to hackers.
Users' whereabouts, hotel check-in, current address, private photos, and videos can be stolen as these applications provide loopholes to hackers. Therefore, users are requested to keep their data safe while using social media apps.  
This App asks users to allow access to a phone camera and microphone. Users' contact lists also get upload to the app. Thus, TikTok is not spying on you through a camera but just like some other social media, it also gets access to your phone's gallery accessing photos and videos.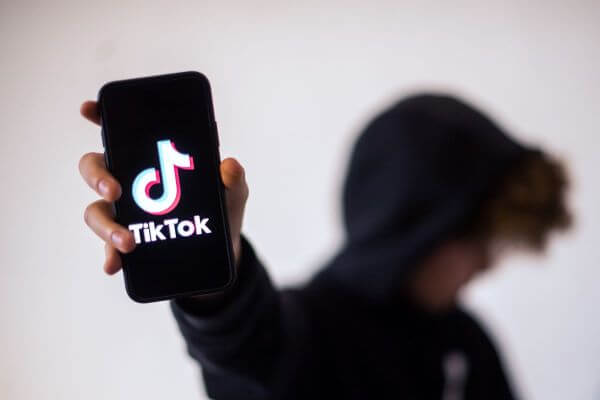 Part 3: Minimal Risks for TikTok Users
Although, there is no particular risk associated with TikTok. It is accused of collecting users' data and sharing it Chines Communist Party. However, there is no proof of this accusation.
The potential risks associated with using TikTok are giving up too much personal information, but this is not only related to TikTok as Facebook also collects data.  
Recently TikTok has been faced a lawsuit in the accusation of collecting and sharing biometric data from minors without their knowledge, according to router news, "ByteDance agreed to pay $92 million this year to settle a class-action lawsuit over data privacy claims in the US".
1. Be Ware of Data Mining
Like any other social media app, TikTok also collects its user's data. But the security concerned journalists have considered it extraordinary. Because according to them TikTok collects its users' private data, such as phone number, mail Id, username, gender, age, and location.
It also keeps a record of your content, messages, device detail (such as model number, etc.) and also can track your online activities. In this regard, we can say "TikTok spyware".
2. Manage TikTok's permissions
Like Every other wildly popular app on earth, TikTok also asks for your permission to get access to your phone. As this app is used for recording short video clips and lip-synching, it asks your permission to access the camera, microphone, your contact list, and your location.
To create content, camera and microphone access are mandatory. Also to share it with friends, your contact list is required to be on your followers' list. However, certain other things are not necessary for the app to access as they may lead to potential threats.
You can turn off some security regarding features that are set by default in the setting. For example, you can turn off the suggestion feature and your account won't be on the suggestion list for others to follow.  
Part 4: How to Protect Your Device from these Risks of TikTok?
Although this app is not spyware if you are concerned about your country's security or you are working in the military, it is better to not use the app. However, if you want to continue the app, you can minimize the potential risks by following our guidelines given below.
1. Manage App Permission of TikTok
To avoid these risks, you can keep your account private from the account menu. Also, TikTok provides a profile suggestion feature by default. You can turn off the feature of "Suggest your account to others" in your account settings.
Also in TikTok's settings, there is an option "Allow your videos to be downloaded" and to restrict. You can turn it off if you don't want others to interact with you.
Apart from TikTok inbuilt security features, you can install any third-party app to keep your data secure. ClevGuard is a spyware detector that is widely used among parents and company employees to ensure their data safety.
2. Run Clevguard Security App to Identify Whether TikTok is Spyware
Clevguard is an anti-spyware tool that protects your private data 24/7 on your Phone. If you suspect that TikTok is spyware, you can scan your mobile phone with ClevGuard, because it is the real-time spyware detector, which can inform you that any unknown application or an unauthorized application that can be a spyware.
It immediately eliminates malicious documents within a snap. It shields your phone against any spyware and prevents you from being monitored by others. It will work for you as a TikTok tracker app.
How to Use ClevGuard Security App?
Step 1. Install ClevGuard on Your Phone
Click "Get it on Google Play" button as below to finish installation.  
Step 2. Scan Your Phone
Open the ClevGuard Anti-Spyware, start scanning by clicking the "Scan" button. It will take few seconds to detect any malicious activity on your phone. Once the scanning is done, it will detect any spyware on your device and protect you from TikTok tracking.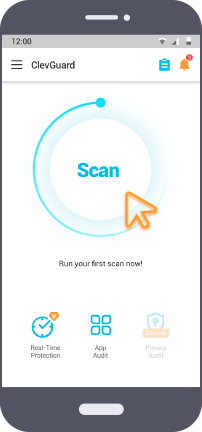 Step 3. Delete Spyware
Spyware can be deleted by your choice after the completion of the scanning process. Hence your stored data on a mobile device will be safe and secure. It will keep your data out of reach of any third-party app.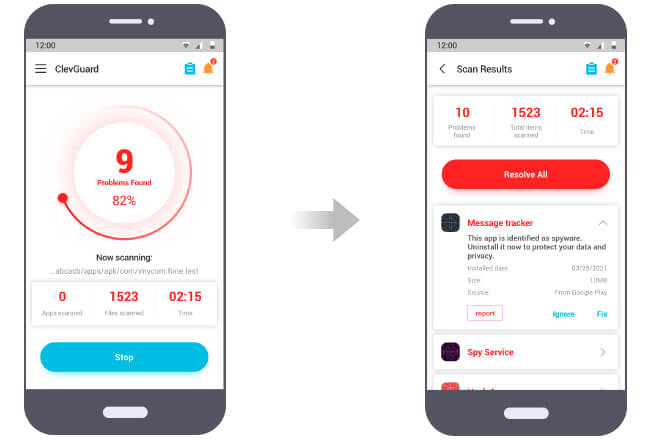 Attractive Features of ClevGuard
1. Check for Spyware on Your Phone

Clevguard is not only giving you access to your target device but also prevents your phone from being monitored. It will detect any spyware and will protect your confidential information.

In today's digital world, social media apps, online stores, and restaurants operate on users' email id. So email id is the loop-hole where hackers can break into your private data. They can take a loan by using your username.

This is where ClevGuard rescue you. You can just enter your email and ClevGuard will check if any accounts linked to your mail ID are compromised. Not only that, you will be able to see the website detail where your email was hacked along with its attack date.

After confirmation, if your e-mail is safe, you can still avail ClevGuard services 24/7 to secure your data.

3. Notify you when apps turn on microphone or camera without your consent

Another interesting feature of ClevGuard is that it will notify you when any other application opens your phone's microphone or camera. Certain apps spy on you by accessing your camera and microphone.

Thus, ClevGuard will keep you safe by notifying you the instant your camera or microphone opens whether it's with or without your knowledge. You can also view history logs or disable protection.
Part 5: Conclusion
Although, TikTok is a great source of entertainment it is a highly controversial app. We can't name it with spyware but it gets access to most of your private data. There is no evident proof of TikTok spying over users' data however it is accused of stealing information and giving it to China. If you are also using TikTok, but at the same worried about your data safety, no more worries. You can click the following "Google Play Store" button to download and install ClevGuard, which will provide 24 hours protection against any malicious app.