Question:Is your kid spending too much time on TikTok?
If yes, it is an alarming situation for you because TikTok is not kid's friendly app; it does not have a limited version like YouTube kids. But nowadays, kids are an addict to this app. according to the latest report of kids app usage and habits, kids spend an average of 85 minutes on TikTok daily. You can say this is the most popular app among teens; this app become the most used app after the covid-19 and lockdown because schools and colleges were closed, so kids join this app for entertainment, no doubt it is the best app for entertainment, but TikTok is not safe for kids.
What is TikTok?
TikTok is a social media app in which you can create a video of 15 seconds and share it with the audience. It has almost 300 monthly users. TikTok icon is a mixture of musical.ly and duyin logos. Until August 2018, musical.ly was a favourite app for 15-second video creation and sharing it with the audience. It had more than 100 million users. This app provided the audience with many music and dialogue options to do lip-syncing or make some entertaining and comic videos. This app has excellent fame and had some well-known creators with good content. The user also used to share these musical.ly videos on other social media apps like Instagram, Facebook, etc,which increased its fame even more. In 2018 this app was replaced with a new app known as TikTok. It's all users and content creators were also automatically shifted to TikTok.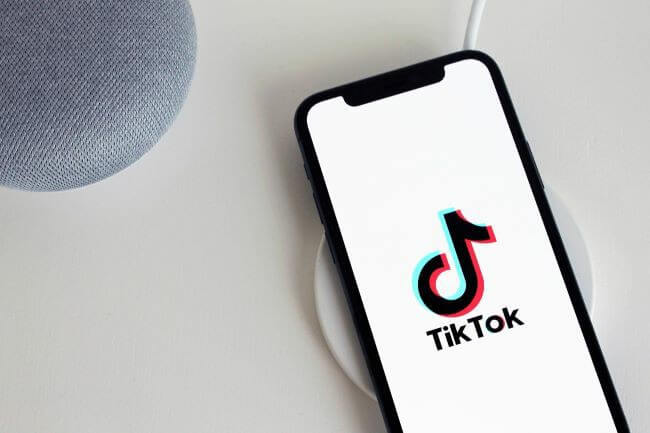 How does TikTok work?
Tiktok is available free on the google play store; download it directly from the google play store and sign up with an email address or phone number. A TikTok video can be a minimum of 3s and a maximum of 60s that loops when ended. There is a wide range of options for customizing these videos, like emojis, text, and some special effects. There are many effects like that of Instagram.
At the bottom, there is the option of sound. These sounds either can be from the library of some famous songs or the user-uploaded. The library contains songs by famous singers and the songs or voices recorded by simple people. When you open TikTok, some TikTok videos pop up and start playing. The TikTok algorithm recommends these TikTok videos. Swipe up to see the next TikTok. Additionally there are too much features for TikTok viewer. Swipe right to the account of the user who uploaded that TikTok.
Why Do Kids Love TikTok So Much?
Tiktok is a source of entertainment and fun. It becomes an addiction with time, but the primary reason for its fame and likeness is its variety of content. In these TikTok videos, you never know what's coming next, so it keeps you focused and curious. There are a lot of comic videos, but some are dancing videos, art, and ASMR. The majority of people download TikTok as fun but get addicted to it with time. Parents also often consider a question,"should kids have cell phones"? ,if you are a parent, and worry about how to protect your kids from cell phone,KidsGuard Pro is the best choice to use for monitor and control their activity.
What Are the Dangers of TikTok for Kids?
Is TikTok safe for kids? It has a potential lousy impact on kids' lives because people of different ages are on the TikTok app from other regions. Many frauds, scammers, sexual predators are using this app for targeting small kids. Different channels reported sexual harassment cases of TikTok. According to a report by BBC, they have found hundreds of sexually explicit comments on the TikTok account of small kids ages 8 to 10 years. Here are few dangers of TikTok for kids are mentioned below.
Become a victim of cyberbullying
It is a known fact that If you are a social media user, cyberbullying also goes hand in hand with this. Tiktok also has all these issues. Whether some TikTok followers share their harmful content or comments or bullying acts from your kid's friends, provide a space for Cyberbullying to take root. One of the significant kinds of cyberbullying that is occurring is body shaming. Tiktok stars have spoken about it, shared their personal experiences, and organized various campaigns to give awareness. This can Serve your younger generation, which could be mentally tortured.
Talk with strangers
There are more than 1.1 billion users of TikTok worldwide, so you can easily communicate with strangers. When people of age more than 16 years create TikTok accounts, their privacy is set to the public automatically. In contrast, the account created by kids of 13 to 15 years is private by default. So you can also end this limitation by putting the wrong date of birth while making an account. A public account means anyone on TikTok can watch your videos as well as your profile. It also permits you to suggest your account to other users. The users of TikTok can also comment on your photos.
View impropriate content on TikTok
In TikTok, there is two main feed section. First, is the following feed which shows the videos of users you follow only? While the second section is for you,which shows the TikTok suggested for you based on your activity or the type of content you like. But sometimes, the portion shows some inappropriate content related to sex or physical danger. The TikTok videos are not manually monitored so that some inappropriate content can show up on your kid's screen. It can be problematic for some users.
Does TikTok collect user data?
The main question concerned with any social media platform is how your data is being used. We think that these apps are free, but actually, this aren't.they are paid by advertisers to show up their ads in the opposing order to reach all the apps users require data about those people. TikTok collects your location, device type, etc. If you permit it, it can manage your exact place, contacts, and your activity. It can also access your private message within the app.
How to Make TikTok Safe for Kids?
Tiktok is very famous nowadays among children and teenagers; this feature allows parents to check their children about how they use this app. This platform is equally popular with children, so parents are very concerned about how to protect their children from this app. They might be misguided by some unsavoury characters and content that should not be watched before their children reach a certain age. So keep all this in mind.
Setting Family Pairing
TikTok introduced a fantastic feature called Family planning. In the previous version, parents could apply certain restrictions, but parents can do it from their phone in this new version, and it gives parents a more significant degree of control and satisfaction.
Step 1. Go to the Profile page,tap on the three dots at the top right corner. Now tap on "Digital Wellbeing" and then choose "Family Planning"option.
Step 2. Now Tiktok will ask you,"Who is using this TikTok account?" You will get two options, parent and Teen. Choose "Parent" and now note the QR code shown on your mobile screen.
Step 3. Then you are enabled to customize your children's Tiktok Settings for a very safe experience.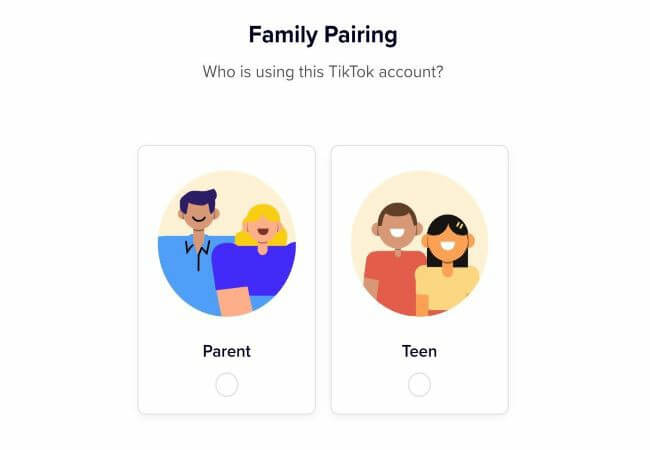 What Can You Do with the Family Pairing Feature?
The family pairing feature is impressive. You can control what your kid search n TikTok and what he can't,you can set screen time for a kid. In addition, it is offering to decide who can like or comment on your kid Tiktok video.
Limitation of Setting Family Pairing
There are a few limitations of the family pairing feature, and your kid can turn off the family paring option at any time.
Make Your Child's TikTok Account Private
Tiktok users can make their accounts private. You get the option to allow or deny your follow requests,and only your approved followers will be able to watch your posts. To make your account private, you need to follow these steps.
Step 1. Go to Profile Tab. Tap settings icon (Top right corner)"privacy safety" and turn on the private account option.
Step 2. Even if you make your account private, your username and bio will be visible to all the people using this app. You can also turn off the "Allow Others to Follow Me" option, and people won't be able to find you in your suggestions options.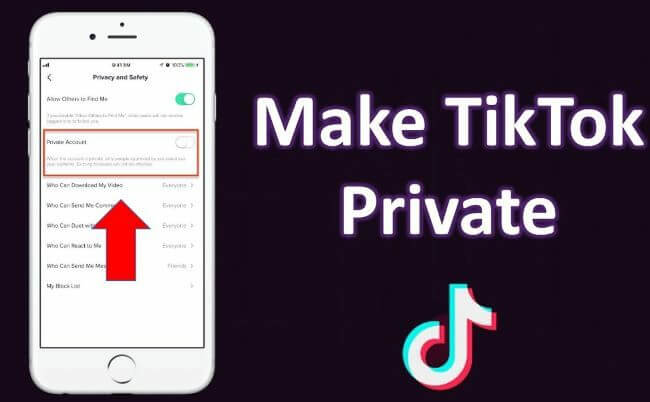 Benefits of Set Private Account
There are various benefits of keeping the TikTok account of your kid private such as:
It limited the exposure of your child online activity.
Keep the videos of kids safe.
It protects the child from cyberbullying.
Keep the kids safe from sexual harassment.
Protect them from interacting with strangers.
Protect the kids from online scammers, drug dealers, sexual predators.
Limitations of Private Account
The account can't grow faster.
Only people can like your videos, whom you added in account.
You cant become TikTok famous personality.
Activate Restricted Mode on TikTok
Tikktook introduced a restricted mode to control the activity of your child on TikTok. Here is a way to turn on restricted mode in Tiktok on iPhone and Android
Step 1. Install the TikTok app on your phone.Tap on "Me" from the bottom right.
Step 2. From a top-right tap on three horizontal dots Icon.
Step 3. Tap on the "Digital Well Being" option.
Step 4. Choose the Restricted Mode.
Step 5. Tap "Turn on Restricted Mode", and you are good to go now.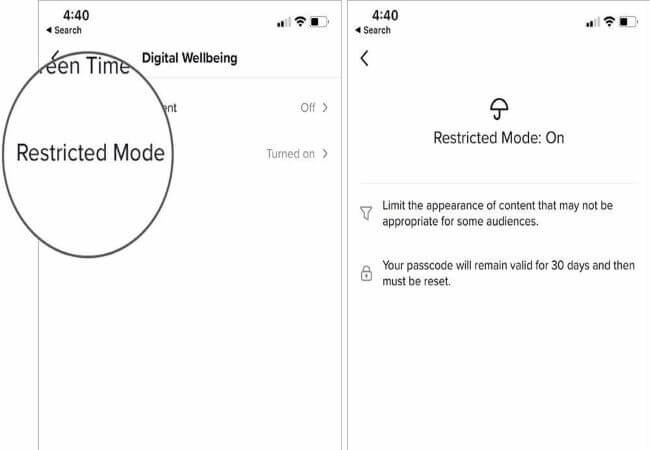 What Can You Do with Restricted Mode?
Tiktok restricted mode is fabulous for parents, with this mode, parents can control the screen time of kids on TikTok, parents can skip the content appropriate for kids.
Limitations of Restricted Modes
There are few limitations of restricted modes, such as kids can turn off restricted mode whenever they want to. Sometimes TikTok still show appropriate content in restricted mode.
Tip: A Helpful Method to Stop Internet Addiction of Kids
It is a fact that kids of the 21st century become addict to the internet, and that is not good for them. Because due to internet addiction, they become lazy due to less physically activity. So it is crucial to help your child for getting out of this addiction. Parental control app KidsGuard Pro plays an important role in this field.
Monitor Kids Mobile Activity with KidsGuard Pro
As you know internet not suitable for kids to play for long time,apps like FB, Instagram and TikTok are not suitable for kids, so parents should control their TikTok activity. There are different apps available for checking their online activity. If your kid is a TikTok addict, you can choose to use third-party apps to keep an eye on your kid. If you are concerned about your kid's activity on TikTok, you can download KidsGuard and purchase its substation,this app will help you monitor your kid's online mobile activity. What is KidsGuard Pro? It is an app that is specially designed for parents or guardians. This app records the screen of the targeted user and saves it in the dashboard; Parents can check these files at any time. So it is a helpful app for parents.
Parents Need to Know about TikTok
Q1. How to Report Inappropriate Content on the TikTok App?
To promote a safe and friendly environment, TikTok has a community guideline. To take action against the content which violate guideline, there are different policies. You can also report inappropriate adult TikTok content.
Blocking users: You can also block other users based on different reasons. The users you block will not be able to follow you, watch your view, like, or comment. You can block any user by following these steps. Tap on the profile of the user you want to block, tap on the right corner (setting icon) and tap "block".
Report a video: Open the video, then tap on the right arrow the share icon, then tap "report".
Report a comment:Tap on the comment you want to report,then choose "report".
Report a message:Open the conversation you want to block, tap on the icon present on the top right corner,and then tap the "report".
Report general issue: Tap Me option on the right top corner, then tap on the three dots present on the top area corner, then tap "report problem".
Q2. At What Age is TikTok Recommended for Kids?
This app contains some mature stuff and has privacy issues, so common sense suggests that the user should be 15+. The app allows 13+ people to create an account on it. Individuals who are less than 18 must take permission from parents or guardians.
Q3. Are Any Friendly Apps Like TikTok for Kids?
Tiktok is an app on which people create short beautiful videos and sharing them with the audience. it provides a good music library and good editing tools and filters. Here are other friendly apps like tiktok for kids such as triller, like, dubsmash etc.
Q4. How to Warn Your Kids about TikTok Dangerous?
It is challenging for parents to keep their children away from trending apps that are full of inappropriate and harmful content like TikTok. But experts suggest do an open chat with your kids about valuable and inappropriate content on these apps to protect your kids. According to expert's suggestion Use these apps with your kids and personally guide them about privacy, setting, and content; discusses with them what kind of content should be shared on TikTok and which should not. Additionally, tell them about the drawback of dangerous trending challenges.
Conclusion
Though TikTok is a source of entertainment, children shouldn't be allowed to use TikTok as it contains some mature stuff and divert their attention from studies and is unhealthy for their mental growth. If still, your kid is using TikTok, you should keep an eye on your kid. There are various apps that help you in monitoring, such as kids guard pro. The apps like KidsGuard Pro help you to stop your kids from viewing adult TikTok content. However, TikTok is good app for adults to kill their spare time.