TikTok is a fun and popular video-sharing app. It is one of the top social media apps that millions of users download on their phones daily. You can also use TikTok to make and share videos with your friends.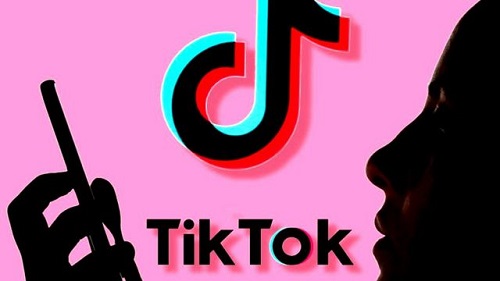 Profile view history in TikTok is something that everybody wants to know about. It's the default setting. But, how do you turn it on? If you use TikTok and want to know how to turn on Profile View history on TikTok, you have come to the right place. We will show you exactly how to do that.
Part 1: Can You See Who Viewed Your Profile View History?
The short answer is Yes. You can see who has looked at your TikTok profile. But not everyone.
TikTok used to include the profile views option. However, the developer disabled it around the middle of 2020. What's more, guess what? The feature has returned!
TikTok has verified that users may see who has seen their profile in the previous 30 days after several users claimed that the profile view history function is now visible on their dashboard.
This function is available for everyone, and you can easily turn it on.
Part 2: What is Profile View History on TikTok?
As a popular social media for teens especially, TikTok enabled a new feature called profile view history. It shows who has looked at your profile in the last 30 days. But there is also a catch: you can only see the views of users who have enabled profile view history in their setting, so if you want to know who's looking at your profile, you'll have to share your watching habits.
When someone looks at your profile, TikTok will send an alert to let you know that someone has looked at it. You may see a list of people who have viewed your profile in the notification tab. This is a fantastic function since it lets you see whether you are being watched.
Part 3: How to Turn on Profile View History on TikTok?
If you're one of the people who currently have this function, Follow the steps to turn on TikTok profile view history:
Tap Profile in the bottom right corner of your TikTok app.

To access your settings, tap the three-line menu symbol in the upper right corner.

Select Settings and Privacy.

Click on Privacy, then Profile views.

To turn on or off Profile view history, tap the toggle icon. Please keep in mind that the setting is turned off by default.
You can also use an alternative method. Follow the steps given below.
Click on Inbox at the bottom of your TikTok app.
Tap the message indicating your profile has been seen.
Tap the Settings icon in the top right corner of your Profile views page.
To switch on or off Profile view history, tap the toggle symbol.
Part 4: How to View Someone's TikTok Secretly with KidsGuard Pro for Android? [Bonus]
A remote monitoring app is required if you want to secretly inspect someone's TikTok search and watch history on your smartphone. We suggest installing a TikTok monitoring app - KidsGuard Pro for Android on the target user's Android phone for Android viewers. KidsGuard Pro for Android is a parental control app that lets you watch what your kids are doing on TikTok, the popular video-sharing app.
The software remains hidden so that the user is unaware of its presence. Following that, you may view his TikTok videos, search and watch history straight from your device without the target's knowledge. In reality, the tool is the solution to your inquiry about how to access deleted TikTok search history remotely.
TikTok Monitoring Features of KidsGuard Pro
Here are some key features of this app that will help you monitor TikTok.
TikTok Monitoring
KidsGuard Pro for Android is the best in its class, and it can be used to monitor TikTok on your kid's phone. You could see TikTok search history and watch history. This app has been designed keeping in mind the safety of your children, and you can rest assured that this app is safe.
Capture Screenshot
KidsGuard Pro for Android secretly captures screenshots after a short time. These screenshots will automatically save on your dashboard. When the person is using TikTok, you could screenshot to see who and what they are chatting about on TikTok.
Record Screen
You could also record screen of the target phone to check out what tehy have been doing while using TikTok.
How to Use KidsGuard Pro to View Someone's TikTok?
If you use KidsGuard Pro for Android to watch your children, then follow these instructions:
Step 1. Click Monitor Now and go to the official KidsGuard Pro for Android website to acquire your plan.
Step 2: Then, go to My Product and Orders Management on the website and click "Setup Guide" to follow the installation instructions. In this part, you first need to have the target phone, then open www.clevguard.net to download the app.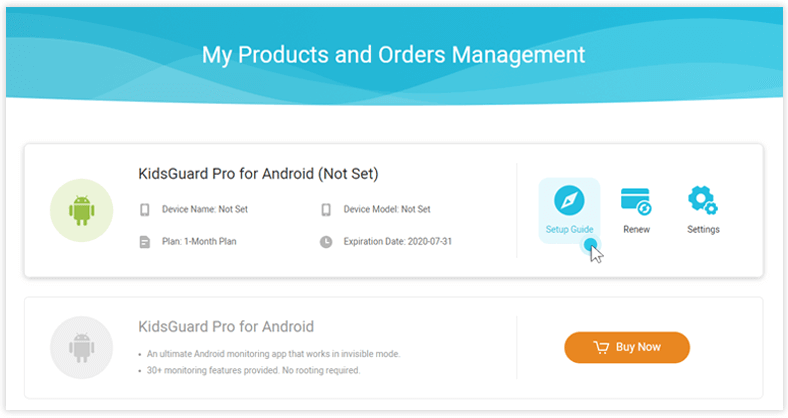 Step 3: Following a successful installation, sign in to the official website dashboard and access the TikTok account by watching what they view on their phone.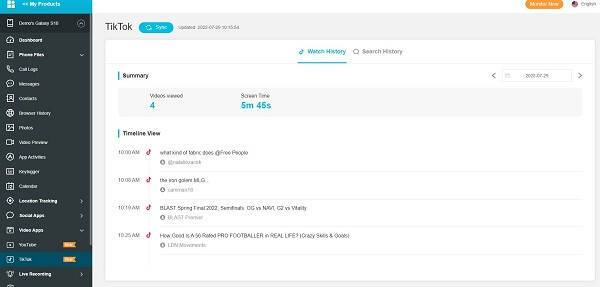 And it's done.
What Can KidsGuard Pro Also Do?
Here are some other features of KidsGuard Pro for Android.
It can provide you with your child's current location. It is another effective technique for locating your child when he is away from family.
You can monitor your child's activities not just on TikTok but also on other social media platforms such as WhatsApp, Facebook, Messenger, Instagram, Tinder, and others. You could tell who they were dating and what they were talking about.
It allows you to view phone files such as Photos, Messages, Contacts, Call Logs, and even browsing history. You may see it on your dashboard even if they erase anything.
The software allows you to simply view the target device's internet surfing activity. You may view the web pages that the device has visited and instantly ban those that are improper.
You can also get a list of all the apps loaded on the device, which is useful if you want to prevent your child from accessing improper or unsuitable apps.
Part 5: Why Can't I See Profile Views on TikTok?
There are several possible explanations for why you can't see who has visited your TikTok profile. Here are some of the most important.
You're not old enough: Profile views are only available to those over 16. You cannot activate the function if you are under the age of 18.
You have excessive followers: You may check your profile views if you have fewer than 5,000 followers. If you have more than 5,000, this feature is deactivated.
The functionality is not enabled: Not all users have it yet because TikTok Profile Views is a new feature. Anyone who does not have access to Analytics can view the information, although it is more limited.
Part 6: How to Fix Profile Views on TikTok Not Working?
Continue reading if you are eligible for the profile view option, but it does not appear on your account. We've provided some solutions to help you fix it.
Clear Cache Data:
The first thing you need to do is clear your cache data. Clearing an app's cache data resolves the majority of the issues that a user encounters with that app. Follow the given steps to do so.
On an Android smartphone, go to Settings.
Navigate to the Apps to get a list of all installed apps.
Locate and touch on the TikTok application from the list of apps to view the App Info.
You may also get the App Info from the main screen. To do so, hold down the TikTok app icon and select the information option.
Tap Clear Data on the App Info page.
Finally, click the Clear Cache button to remove the cache.
Restart your device after clearing the data.
Contact TikTok Support:
If it doesn't help, go to the support center of TikTok. Go to their official website and tell them that you are facing this issue. They will help you out. There are several methods to contact TikTok. You may report an issue using the app or through the TikTok feedback form.
Open TikTok and go to your profile.
Click on three lines present on the upper right corner.
Go to Settings and Privacy.
Look for the Report a problem.
After you've selected the proper help categories, press "Need more help?", describe your problem, and then hit "Report".
FAQs about TikTok Profile View History
Here are some frequently asked questions about the TikTok Profile view.
1. Will others know that I turned on "Profile views"?
No, but they will get a notification if you see or stalk their TikTok account.
2. Can you see how many times people view your profile?
You may enable Profile view history to discover which TikTok accounts have visited your profile. Only accounts that have enabled this feature and seen your profile during the last 30 days will display your profile view history.
3. Can I turn off Profile Views but still know who views my profile?
Only people with Profile Views enabled are shown in your list. That is, if you disable Profile Views, you will not be able to see who has visited your profile, but other users will not be able to know whether you have viewed their profiles.
Everything You Need to Know about Profile View History on TikTok
That's all for now. We have discuss everthing you need to know about TikTok profile view history, and now you also know how to turn on profile view history. If still, you can't see the profile views, you could just clear your cache data or do to TikTok Support for help. What's more, if you want to secretly monitor someone's TikTok without knowing, then KidsGuard Pro for Android is your best solution. It's easy to use and 100% undetectable.
If you have any questions or problems, leave a comment or contact us.