In 2014, Facebook acquired WhatsApp for the sum of $19 billion and this was the beginning of newer features on WhatsApp.
The messaging app introduced several exciting features for users including the 'delete message' feature which allowed users to delete already delivered messages on WhatsApp.
The delete feature is easily accessible on Android, iOS, and even web versions.
However, there are a few limitations to this feature. WhatsApp allows you to delete a message, but shows that 'this message was deleted in the inbox'.
In other words, the recipient will be aware of a deleted message but cannot get the contents of the message.
But what if you intend to see recalled messages on WhatsApp?
How to Recall a Sent Message on WhatsApp?
Deleting a WhatsApp message is quite easy to achieve.
Simply;
Press and hold on to the message you want to delete
Click on the delete icon at the top corner
A few options are displayed on the screen
Tap on the 'delete for everyone' option
In cases where the receiver is yet to see the message, it automatically deletes and displays 'this message was deleted' on the screen.
If you select the 'delete for me' option, then the message automatically deletes from your end, but the recipient will still see it.
Also, you can decide to delete more than one message per time. Simply select as many messages as you want by clicking on them. After this, you can click on the trash button and select your desired option.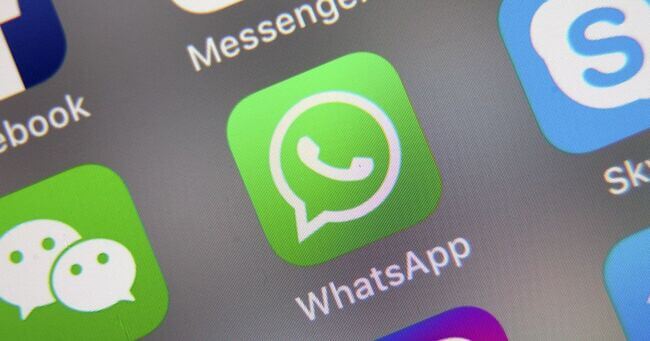 This delete feature is also accessible in group chats. Perhaps, you mistakenly sent the wrong message to the group, and you want to delete it as soon as possible.
Open the group chat and locate the message you intend to recall
Press and hold the chat and tap on the trash button
Three options will be displayed; tap on the 'delete for everyone option'
The message becomes deleted from the group chat
Is It Possible to See Recalled Messages on WhatsApp?
Yes, it is possible to see recalled messages on WhatsApp. Certain methods help you achieve this, and one of them is by using monitoring apps.
There are several reasons to want to see a recalled message on WhatsApp;
If you are suspecting your partner or spouse of cheating, you can as well start by spying on their WhatsApp. WhatsApp as a popular messaging app provides the best avenue for easy conversation between people. Accessing your partner's deleted messages could give you the lead you need or even confirm your suspicions.
In addition, if you have a teenager you might want to keep an eye on them. This includes checking through their social media accounts and messages. When you see their recalled chats and conversations with people, it lets you in on what they are up to and who they hang out with.
No doubt, there are several ways methods available online to read through already deleted messages, but most of them are very strenuous methods.
No worries! Here, we provide you with an easy, and effective method to see recalled and deleted messages on WhatsApp.
Use KidsGuard for WhatsApp
KidsGuard for WhatsApp is an efficient and effective method to see all recalled messages on WhatsApp. It allows you to access new and even old chats that have been previously deleted.
Accessing already deleted messages on WhatsApp is done remotely. This way, the user who deleted the message will not know if the message has been recalled.
Once KidsGuard for WhatsApp is installed on the target device, you get access to all the available monitoring features.
KidsGuard for WhatsApp works to gather data on every deleted WhatsApp message and get it ready for use. By logging into your KidsGuard account, you get to see all deleted messages from the online dashboard.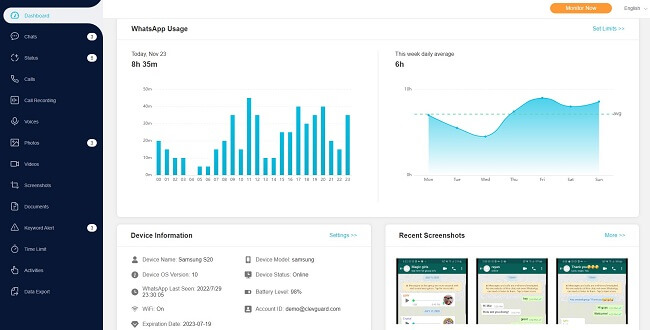 Features of KidsGuard for WhatsApp
1.See recalled and deleted messages. Here, you get to see all recalled and even deleted messages on WhatsApp. These include both old and new messages available on WhatsApp.
2.Listen to voice messages on WhatsApp. All deleted voice messages are easily accessible with KidsGuard. All you need to do is, install the app on your target device and select the particular voice message you intend to listen to.
3.View recalled voice, messages, pictures and videos. Perhaps, your kid deleted some set of pictures on WhatsApp for reasons best known to them. If your partner deleted some images and videos, you can view all of them with KidsGuard.
4.Check recalled documents. Most times, documents are exchanged through WhatsApp and may end up deleted. KidsGuard allows you aaccess to deleted messages that could be important and confidential.
How to See Recalled Messages on WhatsApp with KidsGuard for WhatsApp
Step 1. Have a KidsGuard account
Firstly, you are required to sign up for a free account on KidsGuard using a valid email address. Then, choose a purchase plan to unlock the product and all its monitoring features.
Step 2. Install the app on target device
Proceed to download and install KidsGuard on the target device and finish up on the setup instructions.

Step 3. Remotely monitor data
Access your target device's recalled messages and documents from the online dashboard.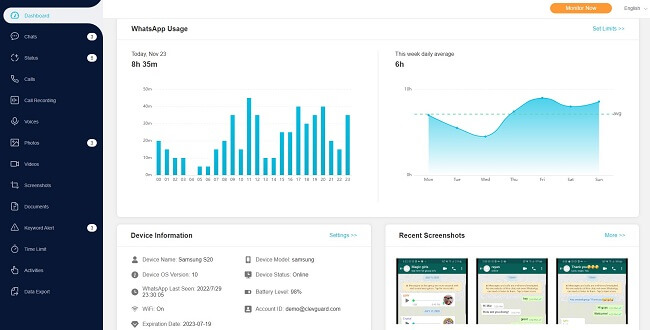 Use Notification History
The notification history app also allows you to see deleted messages and chats on WhatsApp.
It is available on most Android devices on the play store, and you simply have to download the app to get started.
The upside of this app is that users only get access to the first 100 words of the deleted message.
Steps to get started;
Step 1. Download the app from the play store
Navigate through your phone and click on the play store app to see the Notification History app.
If you can't find it on the listed apps, type in the name in the search box. Go ahead to download it on your mobile device
Step 2. Open the app
Click on the Notification History app and the "Allow" button to enable notifications.
Step 3. Start recording
The Notification History app starts working by recording the whole notification history available on the device.
Step 4. Select WhatsApp
Open WhatsApp from the Notification history app to access the notification history.
Step 5. Search for your target
Check out your target's message and open it to access the notifications.
Use MobileTrans
MobileTrans features a backup and restores feature for all messages on WhatsApp. With MobileTrans you retrieve deleted messages, documents, and images on WhatsApp.
To get started on MobileTrans, download the app, select a purchase plan, and started restoring deleted messages.
However, MobileTrans is only available on Android mobile devices.
Conclusion
With the introduction of new features on WhatsApp, users can now enjoy an interesting chatting experience. One of such features is the delete option which allows you to recall sent messages.
However, if your partner or kid deletes messages or documents from a WhatsApp chat, then you should use a monitoring app like the KidsGuard for WhatsApp.
KidsGuard works on both Android and iOS devices giving all users access to its unique monitoring features. It is both easy and supports a friendly user interface.
It gives you access to all data such as; messages, images, documents, and videos. KidsGuard is an effective monitoring tool and works remotely to give you access to all spying features available.