Is your kid a TikTok addict? TikTok was launched in 2017, and Tiktok videos are attracting a lot of audiences with snappy content. On Tiktok, people make 15-second lip sync and musical and comedy videos and watch all kinds of videos. It has short-form videos like a vine and a newsfeed similar to Instagram. That's why the new generation is continuously using this and has become almost TikTok addicts, which is not the right thing. Most parents are looking for an answer to how to block the TikTok app.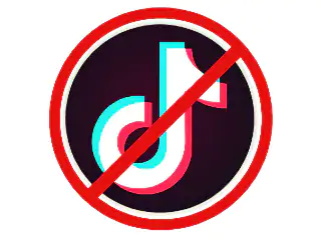 In this article we will guide you how to block TikTok app on a phone in 2022.
Why You Should Block TikTok?
Many people wonder is TikTok safe for kids. Unfortunately we're afraid not, because:
Inappropriate content
There are two main feed sections of the TikTok app. One is "following" and second is the default, "For you," which is a stream of videos like the explore page. On the "for you page" it shows all kinds of content without any filter such as adult videos clips, 18 plus jokes and dialogues, inappropriate music etc and this kind of content is not good for kids.
Steal data
Although all the apps somehow steal your privacy. TikTok is the worst of them all. Its privacy policy mentions that TikTok can collect the information you provide while composing, sending, or receiving messages. It keeps an eye on you. It can even see what you are typing.
It gets access to your mobile's model, screen resolution, current OS, phone number, location, email address, keystroke pattern, and contact list.
Online predators
Through TikTok, users can contact anyone in this whole world. Thus it is very dangerous, especially for kids. We all know TikTok now is most used by teens and early 20s. Your kids can talk to anybody through TikTok. Thus your kids can be in danger because there are so many sex predators. They use compliments and flattery language so kids feel special and fall prey to them. That's why if your kid is an TikTok user, block the TikTok app on their phones.
Negative impact on brain
TikTok becomes an addiction and imposes negative effects on mental health. TikTok can lead to anxiety and depression. It can also cause poor memory in teenagers. TikTok can also produce severe physical tics in teen girls.
On TikTok, there can be inappropriate and personal stuff. Sometimes there are some videos that can lead to self-harm or trigger violence. The depressed kids who use TikTok can have dismissive and sarcastic reactions. It can even encourage people to attempt suicide.
How to Block TikTok?
There are different methods to block TikTok app on Android, iPhone and router.
1. Block TikTok on Android
Go to the play store and download freedom and create account;
Now tap on a block list. Set a name your blocklist;
Click on Add blocklist. Now enter tiktok.com. tap on Add site, or you can also select TikTok from the list below;

Tap on the save button to save the block list;
Tap on the Start Session button to block the TikTok;

Now TikTok will not work on this device.
2. Block TikTok on iPhone
How to block TikTok on iPhone? iPhone users can  easily block TikTok application by following these steps.
Go to iPhone settings, click on General;
here you will see different options, scroll down and click on option Restriction and enable it;
now enter a passcode, go down and tap on installed apps option;
Here tap on the TikTok application and click on the Disable option;
now your kid can not access TikTok application on iPhone.
3. Block TikTok on the Router
To block the TikTok application on router, you have to follow these steps
first of all, you have to add the OpenDNS IP address in wifi router;

next, create an openDNS home account and login into your account;

configure routers IP address and next block TikTok domain name;
v16a.tiktokcdn.com
ib.tiktokv.com
v16m.tiktokcdn.com
api.tiktokv.com
p16-tiktokcdn-com.akamaized.net
API-h2.tiktokv.com
v19.tiktokcdn.com
api2.musical.ly
log.tiktokv.com
api2-16-h2.musical.ly
mon.musical.ly
log2.musical.ly
api2-21-h2.musical.ly
Enable stats and logs; 
 Now your TikTok is blocked.
How to Limit TikTok Screen Time for My Child? – KidsGuard
If your kid has become a TikTok addict and your intention is to keep him away from the TikTok app and set a limit screen time for this application, then you are lucky because the KidsGuard- a screen time app offers you to set a screen limit on the use of applications like TikTok, Instagram, telegram, etc. you can set a specific in which your kid can use TikTok, and after that specific time he/she will not be allowed to use TikTok.
1. How to Use KidsGuard to Limit TikTok Screen Time?
KidsGuard is a parental control application, and parents can easily install it to limit screen time and monitor all their online activities. The installation of KidsGuard is an effortless process; it will take less than 5 minutes for the complete installation process.
Follow these easy steps to install KidsGuard:
Step 1. Download KidsGuard on Parent's Phone
Go to the Play Store or App Store and install the KidsGuard application.
Step 2. Create an Account for KidsGuard
Create an account with your Email or directly sign up with Gmail, Facebook, or apple ID. And login into your account.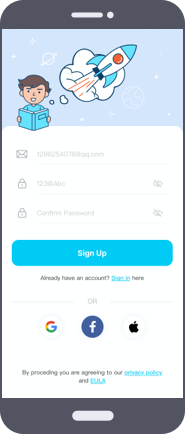 Step 3. Download KidsGuard Jr on Child's Phone
After creating an account, go to the app interface, click on the "Bind Now" option, and next click I'm ready option. Here you will see a link or a QR code, copy either of these to download KidsGuard Jr and install the application on the kid's device.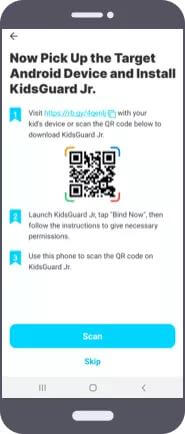 Step 4. Start Setting Screen Time on TikTok
After successful installation, go to the dashboard; add basic information about the kid like age, name, gender, etc. after this, Go to App Block and  choose TikTok. You could either block the entire app or just set the screen time limit.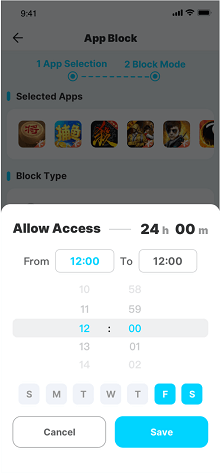 2. What Can You Do with KidsGuard?
Here are amazing features of KidsGuard:
Web Blocking: The KidsGuard app's amazing feature is web blocking, which allows the parents to block all inappropriate websites.
App Blocking: The app blocking feature allows you to block all unwanted apps on which your kids waste time. Like gaming apps and entertaining apps like TikTok etc.
Geo-fencing: This feature helps you to set no-go areas; you can set the location where you do want your kid to visit. This feature will inform you if your kid tries to go to that area.
Real Location History: This feature kids make the kids more secure when they go outside. The parents can easily know the real-time location of kids with this feature.
Browser History: Through this feature, parents can know all the online activities like what they searched, what they watched on the internet, etc.
[Bonus] How to Monitor My Child's TikTok History? - KidsGuard Pro for Android
The KidsGuard Pro for Android is a parental control app specially designed for parents to know kids' online activity. This application helps the parents to mitigate the potential risk of TikTok. Besides TikTok, This app could also monitor YouTube, Facebook, Instagram, Snapchat, Tinder, WhatsApp, Telegram,etc.
1. TikTok Monitoring Features
The KidsGuard pro for Android recently launched an amazing TikTok monitoring feature that tells the parents about the TikTok activity. This application provides a comprehensive report like what your kid has watched; it shows the title of the video and with the user name and time. Additionally, KidsGuard Pro for Android shows how many videos your kid viewed today and also shows the screen time of TikTok. Moreover, you can easily check what they search on the TikTok application, so you can get an idea of what kind of stuff your kid is searching on TikTok.
In this way, parents can easily hack TikTok account of their child and can take future steps.
2. How to Set Up Parental Control App on Your Child's Phone?
The KidsGuard pro for Android application is a highly efficient parental control application, and the best thing about it is it is easy to install on the phone. You don't have to install or download anything to use KidsGuard Pro for Android.
Here are some easy installation steps for you.
Step 1. Sign up for KidsGuard Pro Account
Sign up for KidsGuard Pro for Android with your verified email address, and purchase a premium package.
Step 2. Download KidsGuard Pro for Android
After purchasing a premium package, you will get a link to the download application on the targeted phone. Download and install the application on targeted device. Do setting according to instruction.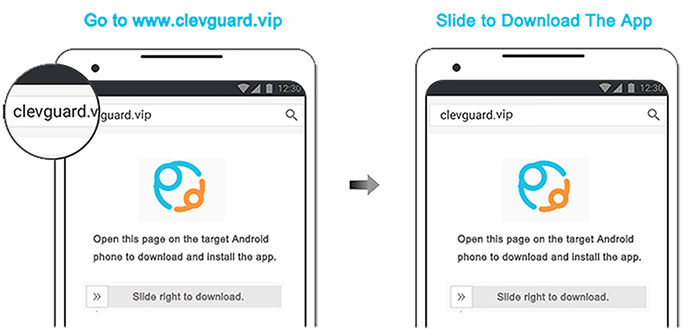 Step 3. Start Checking Your Child's TikTok History
After installation, go to the official website, log into your account, On the live dashboard, you will see the different options; tapping on the Video Apps > TikTok, you can check the TikTok search history and watch history.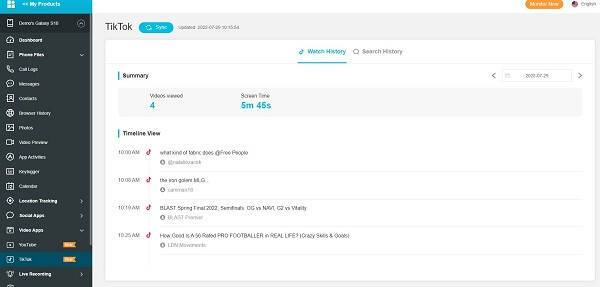 Does TikTok Have Parental Controls?
Yes, the TikTok application has inbuilt parental control feature. This amazing feature helps parents to control this application's usage in different ways. You can make changes in settings and save them with a passcode, and best thing is that kids can't change the settings. For example, as a parent, you can set time limit for screen, the maximum time limit is 2 hours, and the minimum time you can set is 40 minutes. After the allowed time, the kid will not be able to use it again in extra time.
Additionally, these parents are allowed to turn on the restricted mode on the kid's TikTok application, and this feature will filter the content and will not show any adult content to the kids.
FAQs about Blocking TikTok
1. How to block the TikTok from being downloaded?
If you don't let your kids download the TikTok app, you can block this specific application on the targeted device. You can get help from the KidsGuard application because it has the feature "app blocker" install this application on the device, add TikTok to the block list, and the app will be blocked, and your kids will not be able for download it.
2. Can I block TikTok on my wifi?
Yes, you can block TikTok on your wifi network router by blocking TikTok domains.
3. How to block TikTok on Chrome?
It is easy to block TikTok on chrome; here are steps:
You just have to download a chrome extension name "block Tiktok";
install it and add to extensions;
After installation, you can't use TikTok.
Conclusion
No doubt, TikTok is a fun application, and most of us enjoy TikTok videos, but it is not safe for kids under 13 because there is a lot of adult content, like videos, songs, dialogues, etc. the main corner for parents is that there are a lot of scammers and sex predators on TikTok application and kids are not safe here. But still, if your kid uses the TikTok application, and you can take some quick actions to keep him safe from TikTok hazards. Download KidsGuard to limit the screen time of kids and install KidsGuard Pro for Android to block and monitor kids' TikTok activity.