TikTok is among the most popular apps, especially among teens and youngsters. It allows users to create short-form videos and share them with the world. Although there are many TikTok accounts that people use, the fact that they can get banned has confused several people.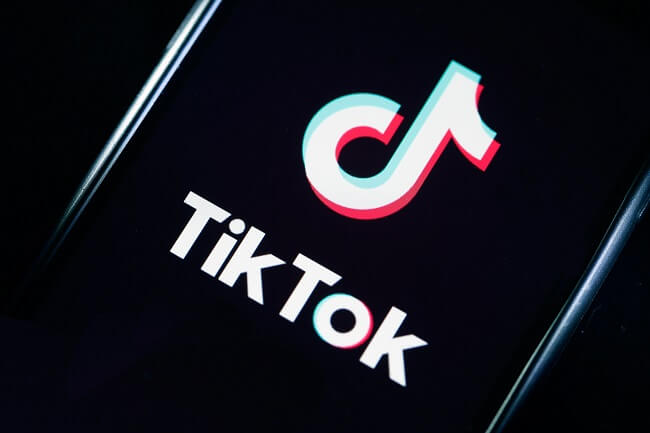 Getting your TikTok account unbanned is not a difficult task at all. As a user, it can be very frustrating when you want to share your creativity and passions but instead find that you cannot do so. There are many reasons an account gets temporarily locked; some are not easy to fix. But in this article, we will be discussing several ways that you can try to get your TikTok account unbanned without any technical knowledge.
Part 1: Reasons that Your TikTok Got Banned
If your TikTok account has been banned, you may be wondering why. Here are the most common reasons your TikTok account has been banned:
Illegal Activities:
One of the most commonalities for permanent account suspension is criminal activity. According to TikTok, unlawful activity accounted for more than 60% of all accounts terminated in 2021.
Violent Content:
Regarding publishing violent content, TikTok differs slightly from other social sites. Because the app has been banned in some countries due to its users posting violent content, it has grown more stringent against this infringement. The social media platform's technology is now capable of detecting violent material.
Self-Harm Activities:
Many individuals use TikTok to abuse and intimidate others. Bullying and harassment are often the results of irrational thinking. People on social media could bully others out of no reasons. TikTok has rigorous regulations against harassment, cyberbullying, or solicitation of self-harm. TikTok also invites users to report such issues to its 24-hour support team.
Underage Accounts:
TikTok, like other social media sites, prohibits minors from accessing the website since many behaviors on the internet are inappropriate for younger audiences. TikTok's Terms of Service state that users who join the platform must be at least 13 years old. Because the signup procedure was very simple, most underage users were readily authorized. TikTok has begun banning them when their true age is discovered. Although TikTok parental controls are available on this app, but the function is limited.
Part 2: Different Forms of Bans in TikTok
There are four types of Ban in TikTok, let's have a look at them.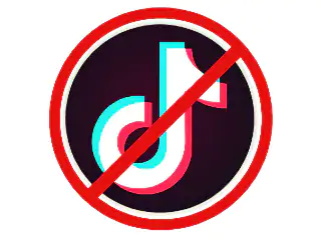 Shadow Ban:
This is one of the most prevalent methods TikTok restricts an account's availability. It limits your content's exposure and can occur if a user has flooded the apps with too many postings. Go to the analytics of your account and look for the source of the TikTok shadow ban. If the "For You" area has restricted viewing, your account may have been shadow banned. A shadow ban on TikTok usually lasts 14 days.
Banning from Commenting and Live Stream:
If you mentioned something inappropriately in a prior live stream or made an inappropriate comment, TikTok may suspend your account. The good news is that these constraints will not last long. You won't be able to comment or live broadcast for quite some time.
Temporary Ban:
If you commit a major violation of TikTok's policies, the platform may temporarily suspend your account. Open the app and go to your profile to see how TikTok can ban you. Your followers, following, and so on will be replaced with a "-" symbol, and you will receive notification that the account is presently suspended.
Permanent Ban:
It is TikTok's most severe ban since it will permanently ban your account. If you have repeatedly broken its standards and have been repeatedly reported by others, you may face a lifetime suspension. When you open TikTok and click on your profile, you will be informed that your account has been permanently banned.
Part 3: How to Unban Your TikTok Account?
Here are three ways which can help you to unban your TikTok account. Make sure you follow the instructions, otherwise, it won't work.
1. File an Appeal to Get TikTok Account Unbanned
You will be notified via your TikTok app when you are banned. If you believe you have done nothing wrong, you may file an appeal and be unbanned.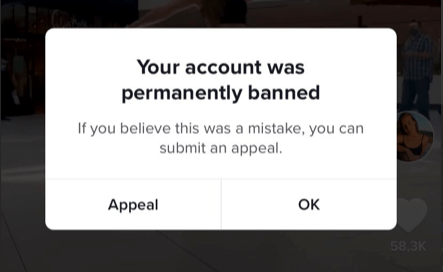 To appeal the ban, you must first:
Open the notification area of TikTok;
Click on Appeal;
Follow the on-screen directions.
It is one method of regaining access to your completely blocked TikTok account. You will have to wait for TikTok to assess and reply to your appeal. The prospects of regaining access to your account are small, but it's worth a shot.
2. Report a Problem on TikTok to Unban TikTok Account
You can contact TikTok's official customer care if your account is temporarily blocked. TikTok will send an email to the user if your account is temporarily blocked. In this instance, you may either wait 24-48 hours for your account to be restored or contact official customer service about the problem. If the above method doesn't work, the Report a Problem function on TikTok is a simple way to request that an account ban be removed. This is how it's done.
Follow the steps below to report a problem on TikTok.
Open your TikTok app and go to your Profile;
On the upper right corner, three dots are present. Click on them;

Scroll down, you will find an option of Report a Problem. Click on it;

Click on Account and Profile;
Choose Profile Page, then Other;
Tap Still have a problem? and explain why you believe your account was wrongly disabled. And please demonstrate before clicking Report to submit your appeal. Make careful to provide any information that might verify you did not violate its rules, such as your age.
After you file your appeal, you must wait a few hours for a response from them.
3. Send an Email to TikTok Official Support to Unban a TikTok Account
The last thing you should do is email an appeal to TikTok. Your account was suspended due to a violation of the Guidelines, per the legal guidelines. As a result, writing to TikTok's legal department is the best method to approach them. You can send messages to the following addresses:
creators@tiktok.com
info@tiktok.com
privacy@tiktok.com.
You may find various emails online, but the most successful in this situation is legal@tiktok.com.
Remember that you are asking them to restore your account to you in your appeal. Do not use derogatory language, display wrath, or use an impolite tone. Explain your full case to them, including why you believe it was unreasonable for you to be blocked. Persuade them to recover your account. But you can't email once and expect your account to be restored the next day. You must distinguish your appeal from the crowd of others. You have to write them every day, if not many times.
Part 4: TikTok Parental Controls: Use KidsGuard Pro for Android to Monitor Your Child's TikTok
If you want to keep an eye on your child's activity on TikTok and don't want to tell them that you are watching, you should use a third-party tool like KidsGuard Pro for Android. It's a great TikTok monitoring app to keep eye on TikTok activity of the targeted person. It's easy to use and you don't have to learn something. It works in stealth mode, so the target person won't know what going on. You cannot be present everywhere at all times. Thus keeping a watch on your loved ones will not be enough. As a result, monitoring your child or loved one's smartphone using KidsGuard Pro for Android is the greatest method to keep them safe from the threats of evil pursuits.
How to Use KidsGuard Pro for Android to Monitor Your Child's TikTok?
Follow the given steps to set up KidsGuard Pro for Android to monitor your child's TikTok.
Step 1. Go to KidsGuard Pro for Android's official website and sign up and choose the perfect subscription plan.
Step 2. Now, sign in to your account and navigate the My Products page. Click the Setup Guide button and follow the instructions to complete the download and installation of KidsGuard Pro on the target phone. This process should just take 5 minutes. After installation, the app's icon will vanish from the target phone's home screen, undetected!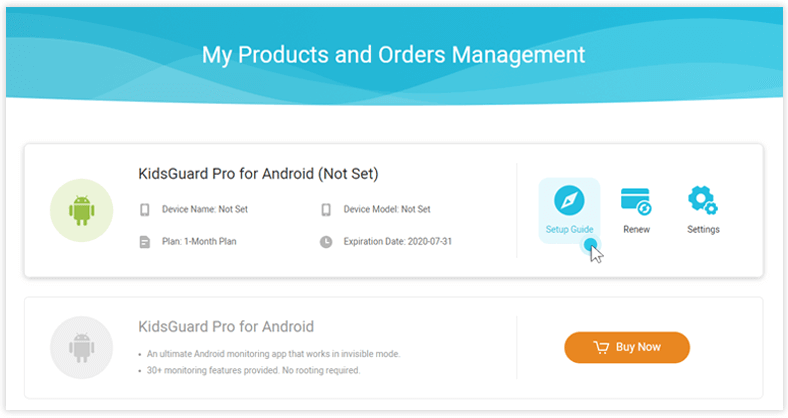 Step 3. From the KidsGuard Pro dashboard, you may now covertly view the target TikTok activities.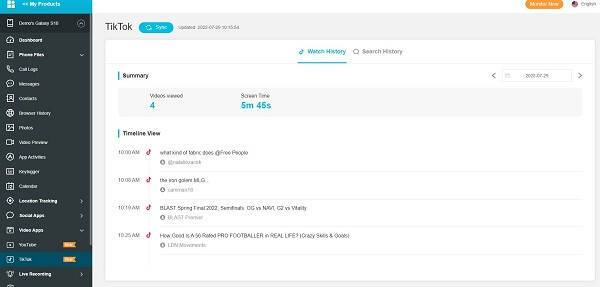 And it is done. See how easy it is.
What KidsGuard Pro for Android Can Do?
Here are some of the key features of KidsGuard Pro for Android, which will help you to track your kid's activities on TikTok.
Record screen: You can record screen of your kid's phone, if he is using TikTok and you want to record something, you can easily record it with the help of KidsGuard Pro for Android.
Screenshot: KidsGuard Pro for Android has a features of taking screenshot after a short time. If you kid is doing something improper on TikTok, you can see in the screenshots captured by this amazing tool. The screenshots are saved in your Dashboard.
Monitor TikTok: You can easily monitor their TikTok activities. You can see TikTok search history and watch history which type of content they are seeing, and etc.
FAQs about Getting Banned on TikTok
Here are some frequently asked questions people ask about ban of TikTok.
1. How to contact TikTok for a banned account?
You can contact TikTok support and request that your ban be lifted. You may either use the app or send an email.
2. What is shadow ban on TikTok?
The word "shadow ban" has been used a lot regarding TikTok, with most users referring to when a platform starts showing a creator's video to fewer viewers and their work quickly stops doing well.
3. How do I get my permanently banned TikTok account back?
TikTok has provided all of people the opportunity to communicate the facts. Share that you are not underage and have not violated any laws, and you may quickly restore your banned TikTok account by sharing it with TikTok's official customer service.
4. How long do TikTok bans last?
A temporary suspension for violating the community standards might last from one day to two weeks. After the suspension period passes, you can resume normal operations, but you must adhere to TikTok's regulations. There is, however, a permanent TikTok prohibition.
5. How to protect your TikTok account from being banned?
You can protect your account by not putting any wrong information and by not breaking the laws.
6. What to do if your TikTok account is permanently banned?
You can file an appeal against the TikTok ban. In this scenario, you must submit an appeal to TikTok, and the best email address to use is legal@tiktok.com.
Conclusion
Hopefully, you've learned at least something from this post. If you follow the instructions above and use common sense, there's a pretty good chance that you'll be able to get your account reinstated. Best of luck to you in getting unbanned!