TikTok addiction is becoming rampant among teens of today, a social media platform where teenagers makes 12 to 60 seconds videos. Teenagers are actively participating in trends and challenges that originate from TikTok to the extent, it is almost hard to keep track.
With its continuous scrolling and display of interesting videos, TikTok is never boring making one easily a TikTok addict. Once teens get addicted, it may lead to psychological issues like anxiety and depression.
In this article, we will be looking at how to stop TikTok addiction among teens.
How to Stop TikTok Addiction Among Teenagers?
Why is TikTok So Addictive?
There are a growing number of people, especially teenagers, is becoming TikTok addicts, who can spend hours and hours watching short TikTok videos on their phones. I believe many people would ask: Why is TikTok so addicting? What's its magic? Well, here are the major reasons that results in TikTok addiction:
1. Recommendation of Preferred Content
When people scroll and watch videos on TikTok, the TikTok algorithms track and monitor their viewing habits and then begin to show you videos that are personalized and specifically tailored to your desires. This is the formula used to keep teens addicted to TikTok.
2. High level of anxiety and low social interaction
Addiction to TikTok is heightened in teens with high levels of anxiety and low social interaction. This condition makes them feel awkward and restless in public places, and they try to compensate for their lack of proper social interaction by turning to watching videos on TikTok.
3. Fear of Missing Out (FOMO)
In our society today, the fear of missing out among teens is a major cause of TikTok addiction. Fear of missing out is the uneasiness teens feel when they have an intense desire to keep track of what others are doing or they feel not included from others.
KidsGuard Pro for Android is a parental control app which puts the parent directly in control of their kids, operating their devices. This is the best way to monitor your child's TikTok watch history and search history.
By using the KidsGuard Pro for Android, you can monitor what your kids are watching on TikTok, which will give you an idea of whether your child is becoming addicted to it or not. Also, TikTok isn't always safe for kids to use, so it is your duty to protect them from getting harm on it.
How to Use KidsGuard Pro for Android to Monitor TikTok?
Setting up the KidsGuard Pro for Android for your child's smartphone is a very easy process.
This set-up can be done in 3 easy process.
Step 1. Create Your Account for KidsGuard Pro.
Click on the Monitor Now now button to register for KidsGuard Pro account with your valid email address.
Step 2. Download the KidsGuard Pro App and Set It Up.
After purchasing our Android monitoring tool successfully, you will be directed to My products and Orders Management page. Next you click the Setup Guide button and follow the instructions.
NOTE:
In this part, first you have to physically get access of the target phone, and then open www.clevguard.net on the browser to download the app.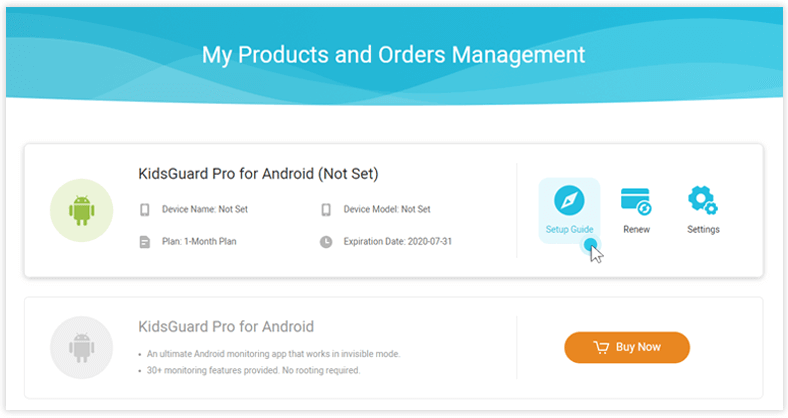 Step 3. Verify Your Setup and Start Monitoring From Your Account.
After installation,  log into your KidsGuard Pro account on our website. Click on the Dashboard to check all activities and data of the phone.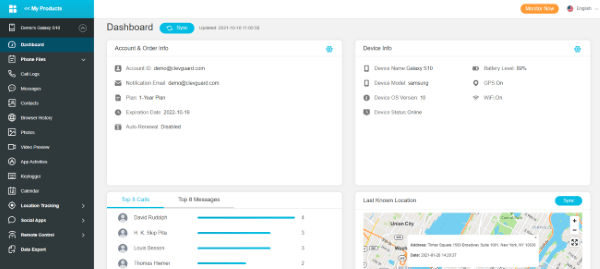 What Can You Do with KidsGuard Pro for Android to Monitor TikTok?
There are various features present on the KidsGuard Pro for Android to monitor and prevent your kids from becoming TikTok addicts.
The KidsGuard Pro for Android is recommended for monitoring TikTok because parents can remotely track the activity of their teenagers on TikTok. It allows the parent to monitor their child's activity on TikTok, read their chats on the app and it is also capable of capturing the real time screen of your child device and sync it automatically to you. This will prevent them from getting addicted to TikTok.
Other features of KidsGuard Pro for Android includes :
Capture Screenshots
Track location history and real-time location
Access to everything on the phone like messages, call logs, photos, videos,etc
Monitor social media apps like YouTube, WhatsApp, Snapchat, Facebook, Tinder,etc
Record screen and calls
How to Stop TikTok Addiction?
Here we introduce 3 ways to save teens from TikTok addiction. Let's check them out!
1. With a TikTok Screen Time App - KidsGuard
The best way to stop your teen from getting addicted to TikTok is to use KidsGuard.
The KidsGuard App allows parent to track the details of their teenagers TikTok usage and allows them to block or restrict their usage on the app. Parents will also receive detailed daily, weekly, and monthly report of their children activity on TikTok on their Dashboard. This will help to prevent TikTok Addiction in Teenagers. With KidsGuard, you can protect your kids from harmful TikTok content and limit screen time responsibly.
How to Use KidsGuard to Prevent TikTok Addiction?
Before we start you need to know the following:
You will have to create a valid account for KidsGuard.
You will need to install the KidsGuard app on the parent/kid devices.
No data will be deleted or erased when using the KidsGuard app on your phone.
Step 1. Install KidsGuard App on Parents Device
The KidsGuard app is downloaded from the play store and it is installed accordingly on the parents phone.
Step 2. Register and Log in to the Account to Download KidsGuard
Now you can login KidsGuard account, then go to the ME page and tap Bind Now. At this time, ann URL and a QR code will appear. You can either use your kid's phone to scan the QR code or just open the URL at your kid's device to install KidsGuard Jr.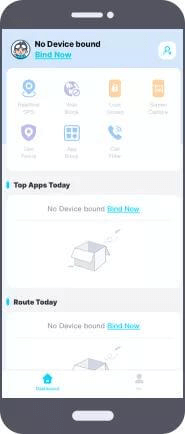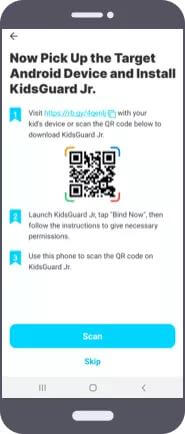 NOTE:
Presently, the KidsGuard App only supports Android devices on the kids side.
Step 3. Start Checking Your Kid's Phone Activities
Then you can start to set screen time, block apps on the dashboard to keep child safe online and prevent your child from becoming TikTok-addicted.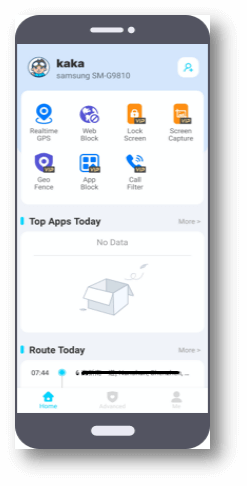 What Can You Do with KidsGuard to Limit TikTok Screen Time?
There are many features on the KidsGuard app which will help prevent kids from TikTok addiction.
The features of the app includes:
Block Websites: This app can be used to block any website which the parent notices has been a distraction to the kid. This will go a long way in actualising how not to be addicted to TikTok.
Block Apps: On the KidsGuard, parents have the ability to block the TikTok app which will prevent their kids from having access to the application or the application categories. Once it is detected by the parent that the child is spending too much time or watching inappropriate content on TikTok, they use the feature to block access to the application.
Set Geofence: This feature is important on how to not be addicted to TikTok because it tracks the child location with awareness to proximity to locations that may be of interest, maybe your children's friends.
Screen Time: It monitors the amount of screen time a child has used on TikTok. Recall that we have mentioned one of the signs of TikTok addiction is spending too much time on the app watching videos. Monitoring the amount of time a child has spent will give the parent an idea whether their children are becoming a TikTok addict.
2. Distract their attention from TikTok
Parents can give their kids assignments, chores and other activities to do so as to distract and prevent them from becoming a TikTok addict. When kids are occupied with other activities they will not have time to watch videos thereby preventing them for becoming addicted.
3. Unfollow content creators that they are interested in
One way to also stop them from being TikTok-addicted is to unfollow the content creators they are interested in on TikTok. This will make the videos displayed to be less interesting and boring. In this way, preventing them fro, becoming addicted to TikTok.
The Dangers of TikTok Addiction
Among the dangers of TikTok addiction are:
Cyberbully
Becoming addicted to TikTok will make teens look for new ways to make themselves happy on TikTok. It has been observed that teens are being bullied on TikTok. One of the benefits of the KidsGuard pro is to prevent cyberbullying from TikTok addiction to occur.
Toxic Content
Loads of content are uploaded on TikTok each day; when a teenager becomes a TikTok addict, they are constantly being exposed to content either good or bad. This is why it is imperative for parents to prevent their children from being addicted to TikTok.
Unhealthy Competition
One of the dangers of becoming TikTok addicted is that teens begin to compete among themselves for likes and followers. This will lead to the making of outrageous and dangerous videos which can lead to loss of life or accidents.
FAQs About TikTok Addiction
Q1. Does TikTok cause Anxiety?
Yes, TikTok causes anxiety in TikTok addicts as they are often exposed to a number of videos within minutes, which can increase mental stress and anxiety. This is a sign of mental disorder and why we should not be addicted to TikTok.
Q2.How does TikTok affect mental health?
According to current research, spending too much time on TikTok can affect your sleeping patterns and have a view that is not realistic of other people's lives leading TikTok addicts to anxiety and depression.
Q3.How much TikTok is too much TikTok?
Basically, TikTok becomes too much when you begin to notice the signs of TikTok addiction described in this article. It has been shown there is a reduction in the ability to focus and pay attention over time when TikTok is used for over 90 minutes.
Conclusion
Owing to the dangers and negative effects of TikTok addiction on teens, it becomes imperative on us as parent to prevent this from happening. This is why it is necessary to use the KidsGuard Pro  to control your children's activity on TikTok which will prevent them from becoming TikTok addictive.
The KidsGuard Pro Application is friendly and easy to use and it let's the parent monitor their kid's screen time and keeps them from becoming addicted to TikTok.