You've probably heard that WhatsApp is a great, secure way to communicate with family and friends. At the same time, it is a good app to contect strangers from internet. With the advent of WhatsApp disappearing messages feature, some users have also started using this feature for sharing sexual photos or messages. It has given rise to the problem of sexting on WhatsApp.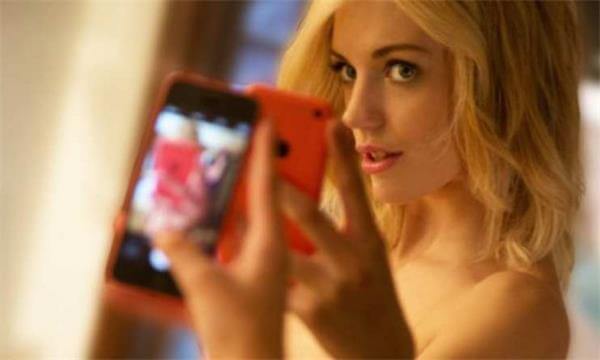 But how can you keep an eye on them and you must be in worry that how parents should deal with it? We are here to help. We will tell you different ways to deal with your teens who are into WhatsApp sexting.
Part 1: What is WhatsApp Sexting?
Teenagers are more familiar with sexting than most parents would like to be. Currently, WhatsApp sexting is a term used to describe the act of sending sexually explicit messages over WhatsApp because of the WhatsApp free calls and free video calls features.
It is an unregulated form of sexual communication that often takes place between two individuals. It's a form of cyberbully that can harm both parties. WhatsApp sexting can happen whether or not someone is in a relationship. It's often used as an alternative communication and to satisfy sexual urges when other forms of communication aren't available.
What's worse, WhatsApp is not the only app they used for sexting. Apart from WhatsApp, there are lots of sexting apps for teenagers on the Internet.
Part 2: Why Teens are Sexting on WhatsApp?
We hardly understand teens. They try different things to understand the world. The direct way to know what your kid is thinking is to use WhatsApp monitoring app. You can use KidsGuard for WhatsApp to track their WhatsApp secretly.
According to studies, there are 3 main reasons behind sexting that are mentioned below:
Curiosity:
Teens are growing from 11 to 16, and it's common for children to be unsure of their sexual desires and identity during puberty. If your child is unaware of sex and didn't get sex education, that grows curiosity in them, and they search for different ways to get to know about it. And they take the help of the Internet and their friends. They do sext with a friend, partner, or someone unknown to know more about sex. They think they are doing the right thing to know about sex.
Popularity:
Teens exchanging nude photos have become frequent and a new measure of popularity. Many kids acquire inappropriate desires for attention as they mature and establish relationships. Teenagers also crave approval from their friends and their crush. Therefore, others will start sexting if the popular kids at school do.
Fun:
One of the most common "fun" hobbies today is teenage sexting. While sexting seems risky, many teenagers relish that closeness. Teenagers sext when they think it's safe to do so. Anyone may mistakenly feel that the material is secure when sexy messages are exchanged back and forth. After all, the other person is also sexting.
When teenage females are involved in sexting, such naive trust may lead to dangerous situations.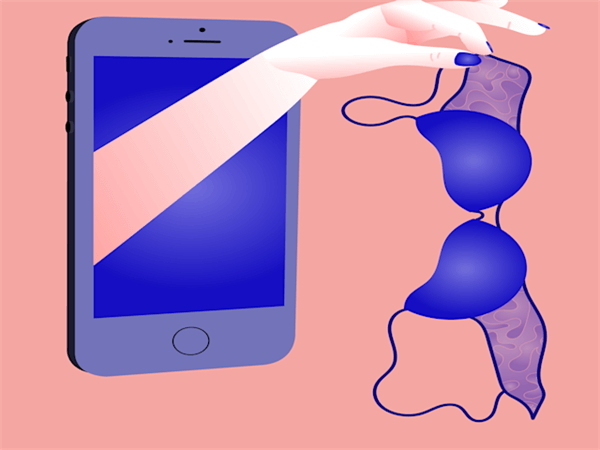 Part 3: How to Stop Your Teens from WhatsApp Sexting?
It's time to know about the solutions that can help you to stop your teen from WhatsApp sexting. Let's start.
1. Use a WhatsApp Monitoring App - KidsGuard for WhatsApp
It's important to keep an eye on your child's activities, and we will recommend using a third-party tool named KidsGuard for WhatsApp, which is a WhatsApp monitoring app helping you to take care of your teen and stop him doing WhatsApp sexting.
If you want to keep an eye on your children's WhatsApp, you can use a WhatsApp monitoring app. This tool will show you the name of the person who sent the message, what time it was sent, and how long ago it was sent; even this app will help you to see the deleted messages and pictures. Nothing will stay hidden. You can also see if there are photos or videos included in the message, along with their location if necessary.
You can access this information from anywhere at any time using the KidsGuard for WhatsApp website or mobile app.
How to Use KidsGuard for WhatsApp to See if Your Teens is WhatsApp Sexting?
If you want to install the app and use KidsGuard for WhatsApp to spy on your kid, follow the steps mentioned below.
Step 1: Create a KidsGuard Account
Click Monitor Now and create a KidsGuard account with your email address. After then, to use all advanced control functions, you must buy a premium package.
Step 2: Download KidsGuard for WhatsApp
You will be directed immediately to a page named "My Products and Orders Management" once the price plan is completed. You may locate your order, select "Setup Guide", and finish the necessary setup on the target Android device. The entire process may be completed in three minutes by following the directions in the app.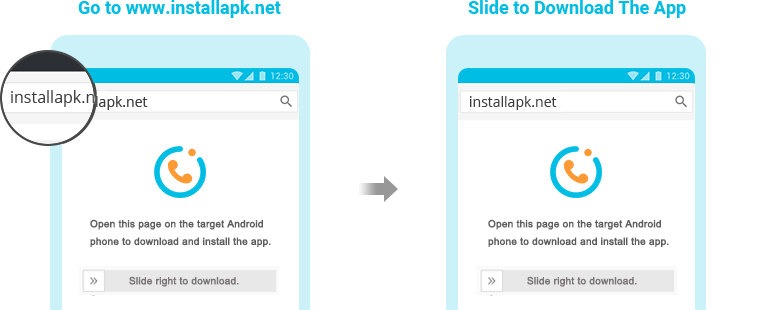 Step 3: Start Checking Your Child's WhatsApp
Click "Verify Setup" once installation and setup have been finished on the target device. You'll be sent directly to the KidsGuard dashboard when everything is finished and installed properly.
Here, you may start tracking and monitoring the target Android's WhatsApp data on your smartphones.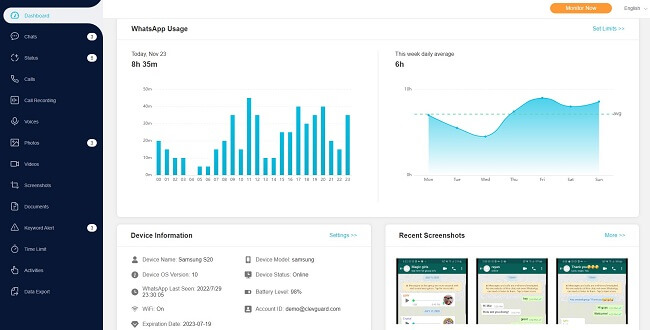 WhatsApp Monitoring Features:
KidsGuard for WhatsApp has amazing features which makes this app an amazing choice. Below are some of amazing monitoring features of KidsGuard for WhatsApp.
You can view all incoming, sent messages, and also see recalled WhatsApp messages.
Each WhatsApp status, including phrases, images, thumbnail videos, and more, may be seen anonymously. You may check any WhatsApp status, including removed or expired.
No WhatsApp voice conversations, pictures, videos, or documents will be lost.
When WhatsApp opens, a screenshot of the phone's screen is taken automatically. You may remotely keep an eye on WhatsApp activities with this.
You may view an exact list of all the people your child has called, along with the duration, dates, and time of each call.
You may record WhatsApp call secretly to listen to what they have been chatting about.
2. Have a Conversation with Your Teen
As we know, teens can get into trouble through sexting; it is also possible for parents to use it as a tool for talking about important thing s such as sex.
If you suspect your child might be doing something inappropriate on their phone, take time off your schedule and sit down with them. If your child is trying to send any offensive content on WhatsApp (and they're old enough), ask them if they want to talk about what happened before sending anything else. Explain what happened with another adult in charge of handling these situations.
They may not even know they are doing something wrong, but they are. You may not know how to talk to your teen about sexting, and that's completely undertandable. Just explain what is acceptable behaviour and what is not when using social media apps like WhatsApp. Tell them the dangers of WhatsApp sexting, don't make them feel embarrassed, and make them talk to you easily.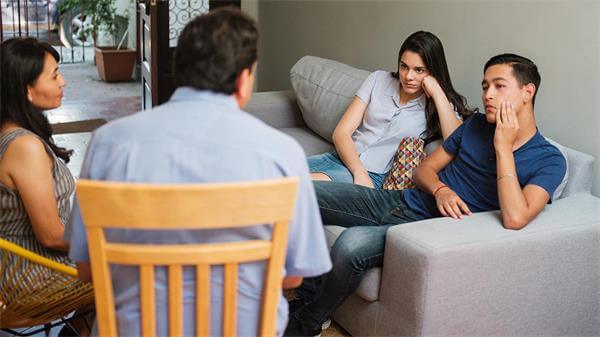 3. Delete Any Inappropriate Messages and Photos
Another thing you can do is to delete those messages. So, if your child is sending inappropriate messages or photos, we're not talking about kids who have a bit of a crush on someone—we're talking about young people their peers sexually harass.
So, if you know someone trying to send inappropriate messages or photos on WhatsApp, here's what you can do: delete the message ASAP! As soon as you see them sending a message or taking an inappropriate photo, press Delete, and it'll be gone forever.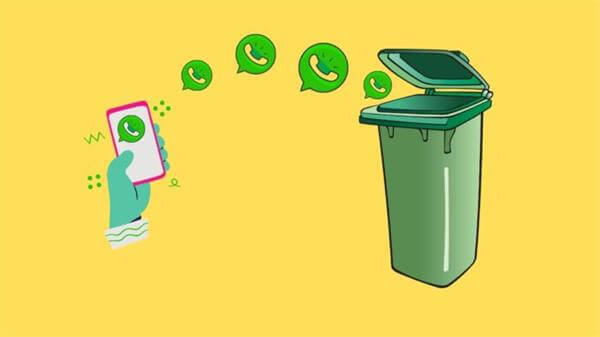 4. Set Limits
If the above methods don't work, it's time to set limits. Set a good example and tell your teenager what you want them to do. If they don't listen, then set strict limits. Set the right limits so they can still communicate with their friends and family easily but without giving any inappropriate texts and problems.
5. Talk About Healthy Sexuality
If things still are the same, consider the possibility of discussing healthy sexuality with your child. Parents are seen as reliable and important informational sources by children. So, it's probable that your teen will feel comfortable talking to you about the subject. You already have a caring and trusted connection, which explains why.
Inform your teen that it's natural to feel the urge to explore one's sexuality. However, stress the value of sexual privacy. Depending on your child's age, you might also want to bring up more serious subjects like contraception. Several resources can facilitate this approach. They are accessible both online and offline.
Part 4: Dangers of WhatsApp Sexting
There are a lot of dangers and consequences of WhatsApp Sexting. As a parent, it's your responsibility to take care of them. Here are some of the dangers of sexting.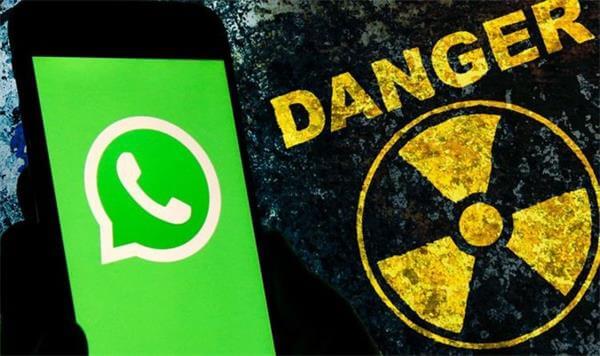 1. Risk of Blackmailing
Teenagers occasionally risk being blackmailed after sending an errant nude photo. There have been instances where the picture's recipient has threatened to humiliate the sender.
When faced with threats of this nature, many teenagers agree to the wishes of the blackmailer. They are frequently too ashamed to seek support and help.
2. Reputation Issues
No matter the deep connection, sending sexually explicit texts to another individual is never a smart idea. These pictures have the power to harm or ruin reputations. Once a photo is online, there is no way of knowing how many individuals saved it, tagged it, shared it, and so on.
3. Exposed Your Teen to Everyone
Once your child sends the photo, it is impossible to choose who sees it. Several times, a teen realizes that a private photo has been circulated and, in some circumstances, even shared online.
Sexual predators may see the photo after it is posted online. It puts your teen in danger of sexual exploitation.
4. Legal Consequences
Sexting might also result in your youngster being placed on the Sex Offender Registry and facing jail time. Those who demand or send the photo face the greatest punishments. Even if they are not breaching the law, your child's school has the authority to punish them and those involved, even if they are legal adults.
FAQs about Teen WhatsApp Sexting
In this part we will answer a few frequently asked questions about teen WhatsApp sexting.
1. How common is WhatsApp sexting?
WhatsApp sexting is becoming increasingly common among teens and adults, whether single or in a relationship.
2. Can you go to jail for WhatsApp sexting?
If both parties agreed to the sexting and shared nudes, explicit pics, or videos, the state might charge them with a minor charge rather than a felony. Consent as a defence may not be available if one of the parties is a minor.
3. How to prevent teen WhatsApp sexting?
There are many ways to stop your teen WhatsApp sexting, like using a third-party tool named KidsGuard for WhatsApp, or maybe you can sit with them and talk, tell them the consequences, or maybe set limits.
Conclusion
As a parent, it's your responsibility to keep them safe. Teach your teenagers about the legal and social risks of sexting. You can discourage them from partaking in the conduct entirely by informing them about the risk associated. We know, you are worried but you have to be strong to handle the situation.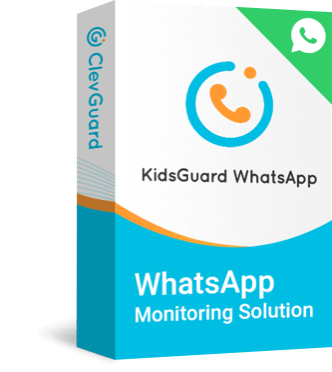 KidsGuard for WhatsApp
The Ultimate WhatsApp Monitoring App.