In Among Us video game, the players work together for fixing their crumbling spacecraft while finding out who are the intruders. This is the reason that this game is familiar as a game of social deduction. The kids can play Among Us game but not more frequently as it is a game of battles and there is a slight chance of the player becoming violent.
We know that many parents care about their children's health when they play online games. Therefore, in this article, we will discuss among us from the following many aspects.
Worry about Kid's Online Safe:Using Parental Control App KidsGuard Pro to Monitor Them
Is Among Us Violent?
This is the most important problem that parents are concerm. In Among Us video game, you have heard the words like killing. After hearing these words, you make a decision if it is a good game for your children or not. However, in the Among Us game, you will not see any bloody scenes. While playing this game, you will find another player's dead body in a cartoonish style. This cartoon-style does not make it a corpse but a colorful honey-baked ham.
On the other hand, there are also a few violent scenes like when you are killed some shocking kill animations are visible consisting of the stabbing with a sharp alien tongue or knife, breaking neck of the Among Us character, etc. These scenes can be pretty horrible. However, every horrible scene lasts for only two seconds. Moreover, you will not see any kill animation if you are an imposter. We know that many parents care about their children's health when they play online games. Therefore, in this article, we will discuss among us from the following many aspects.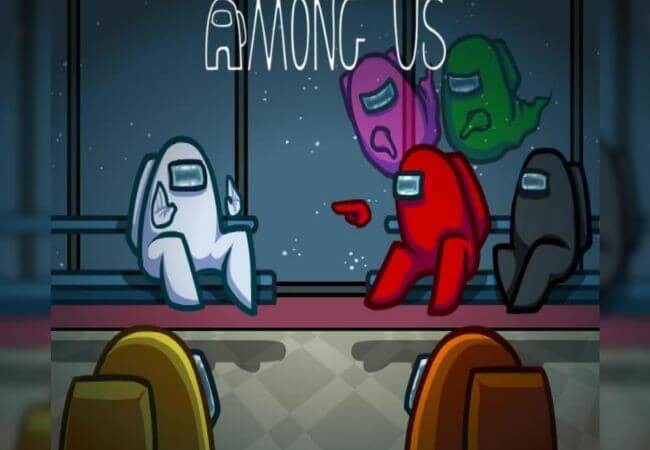 Why Among Us Become So Popular?
Due to several factors, the popularity of "Among Us" has been risen. This is a unique game that comes with asymmetrical multiplayer. You can learn it easily. This wonderful game is almost free on several most popular platforms like mobile and PC. Among Us PS4 is also available. Moreover, another factor of this game to become most popular is COVID 19. Due to COVID 19, a lot of people play this game for time pass.
The Benefits to Playing Among Us
There are a few special features in the "Among Us" game as compared to several other multiplayer games. Due to these features, there are several benefits of this game to its use in English classrooms.
The Among Us kids game is best for class settings as up to 10 people can play it. The teacher can make groups according to the class size to play this game in several rounds.
Every round of the game consists of about 20 minutes. The class will not be disturbed as it doesn't take a long time.
The "Among Us" game has a 7+ rating on the Google Play Store and E (everyone) on the Apple Store. This game is labelled as a non-threatening game and it is best for several younger students.
What is the Minimum Age for Among Us?
There is a quite disagreement to play Among Us online as to how old we should be. According to the recommendations of ESRB, a player should have to be 10 years of age. However, according to the Apple App Store, it will be fine if a player is 9+. Initially, it was rated for 16+ players by the PEGI rating board. Later, it was moved to 7+ when a rating audit found that the game was not violent or scary as initially thought.
However, you can't measure this game by its content only. You just be able to concisely and clearly communicate with others and can understand the uncomfortable and intense conditions.
Is Among Us Safe for Kids?
Possibly, you will be worried to think, is among us safe for kids? This is a wonderful game but contains cartoonish violence and themes that can't be appropriate for the younger kids. However, this game provides a chance for the kids to have a good connection with their friends and family via a fun online game. Moreover, it also comes with a few risks that a platform where any stranger can contact kids is not good.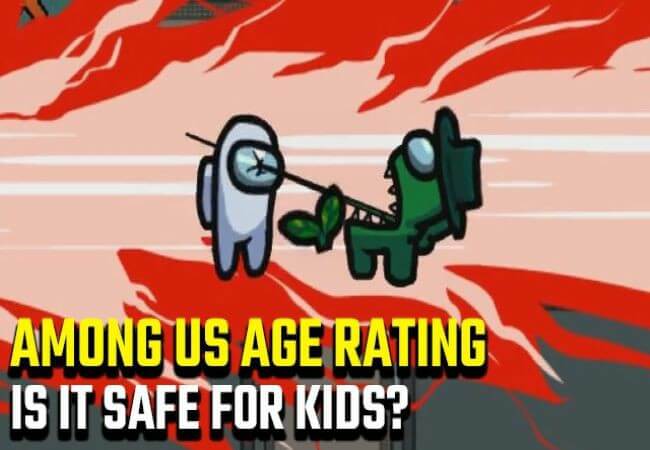 Do children need to spend money to play among us?
Is among us kid friendly? The short answer is "yes" and it is entirely free to play. However, your children may ask you to buy some downloadable content for the PC and mobile versions.
These are the cosmetic packs like in Fortnite, and will not affect the way you play games and help your children to win. These cosmetics packs only change the way you see your character on screen. It has a variety of color suits to wear your character like funny hats, consisting of a chef's toque, an Elvis-style pompadour, a flamingo floatie, and a toilet plunger, etc.
You will be able to buy skin outfits, more funny hats such as a brain slug or a flowerpot with the DLC. Moreover, you can also buy pets that follow you in the game.You can purchase most of them between $1-4. So, it will not be any distraction or harmful for your children to spend money to play the Among Us Game.
Will they meet any strangers when play among us?
Playing the "Among Us" game on mobile or iPhone, or Among Us logo (PC version), a player can meet several other players. These other players can be your friends, family members, or any stranger. Meet a stranger can be a major downside of this game.
As a parent, you must have to be familiar with the activities of your kids and the persons who meet your kids. Possibly, a stranger may distract your kid. Ask your kid not to contact any such person that may cause any harmful activity for you.
Moreover, you have to ask your kids not to play or contact any stranger. Guide your children to play the game with only their friends and family members in order to avoid an unusual circumstance.
Risk of indulging in the game
As we have discussed several risks above, as a parent, you must have to know your kids' activities while playing the games. You have to know that who are the persons meeting with your kids. If you find any stranger chatting with your kid, you have to stop him abruptly. If you see the activities of your kid by using his device, possibly, he may feel unsafe his privacy. As a parent, you can use the parental control application to know everything about your kid's activities.
There are several parental control applications, but you have to use one of the best apps. You have to use a parental control app that enables you to know every single step taken by your child even while playing a game or doing something else.
How to Make Among Us Safer for Kids?
Since "Among Us" does not have monitoring or parental control features, there is nothing parents can do to make the game safe for their children to play together or monitor the gameplay. No matter how old your child is, the parents have to help their children for their growth of "Digital Resilience", the responding and understanding ability properly to online threats.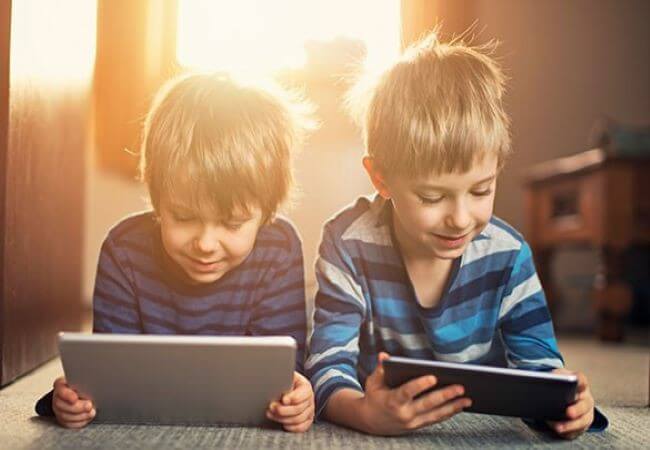 1. Limiting playtime of kids
Did you notice that your kid is not taking interest in his studies or any other necessary activity? Does your child always remain confused even during his studies? If so, it might mean your child always thinks about the game that he frequently plays. Now, it will be your responsibility to have control over the activities of your kids. It is not bad to play games, but to only play games is not good. So, know your kids what they are doing at this time and reduce their gaming time. Allow them to play games, but not all the time. Ask them to make a schedule to play games and other activities.
2. Pre-talk with them about the potential dangers
You have to pre-talk with your kids about the potential dangers. It is your responsibility to let them know the downsides of frequent gaming. To keep safe your kids from any type of unusual incident, you have to know their daily routine. In case, if you know something unusual, you have to tell them the upcoming risks that they may face. If you are unable to have a check and balance over their activities and do not tell them the risks that they may face, then you will ruin their future unknowingly. So, always be ready, let them know all the risks, and control everything within the time.
3. Set up parental control app on their device
If you can't know the activities of your kids and can't access the devices that they use, you have to use parental control apps like KidsGuard Pro. By using KidsGuard Pro, you will be able to know all their activities, even if you don't have their devices. No matter what devices they are using Android or iOS, you can access everything. You just have to install KidsGuard Pro on their device, and after a few necessary settings, you will be able to track all their activities.
With KidsGuard Pro for Android, you can track everything happening on your kid's Android device. There are several useful features of this app as given below:
It is 100% undetectable and your kids will not be able to know that they are tracked by you.
You can use this app in multiple languages.
It is completely virus-free and protects the user's data.
Related: Choose KidsGuard Pro for iOS if your kids are using iOS devices.
How to Use KidsGuard Pro Monitor App?
Step 1: Click "Monitor now" button as below to create an account for KidsGuard Pro and purchase a plan.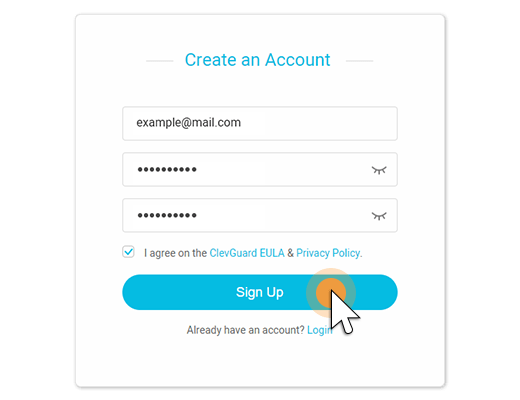 Step 2: On the target person's phone, open the web browser and visit download page.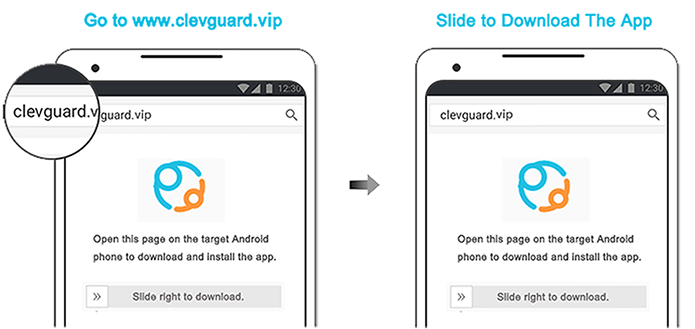 Step 3: You need to download KidsGuard Pro app and install the app from its APK file. Following the onscreen installation guide, the app will be hidden in the background to run.Thereafter, open the app and log in with your account's credentials.

Step 4: Come back to your phone or computer and login your KidsGuard Pro account to visit Dashboard. On the Dashboard, you can view the activities of target phone freely.