Before We Start
Sending money to anyone on your Facebook friend list through Facebook Messenger seems extremely convenient.
However, the recent data breach of Facebook has leaked the private information of nearly 500 million users.
Therefore, is sending money through Facebook Messenger safe?
Well, in this article, we will explain how safe is sending money through Messenger and what you can do to strengthen safety and protect your privacy.
Part 1: How Safe is Sending Money through Facebook Messenger?
The harsh truth is that no online payment service is safe from hackers. There are always some risks involved, and every user should be aware of the risks before using the service. Here are the common safety concerns about sending money through Facebook Messenger.
1. Risk of Messenger Account being Hacked
There is always a chance of your Facebook Messenger account getting hacked. It is not that difficult for hackers to get your Facebook account credentials through phishing pages, spyware, and various treacherous ways.
Once your Messenger account gets hacked, the hackers can transfer money to their Facebook profiles using your saved payment method.
2. Payment Cannot be Cancelled or Edited once You've Sent
This is the biggest drawback of the Facebook Messenger send money service. Once you have sent a payment to your friend, you cannot cancel it or edit the amount. There could be times when you might have sent the payment to the wrong person because there could be friends with the same name.
Besides, it is very much possible to enter a wrong amount, but there is no way to rectify your mistake through Facebook Messenger.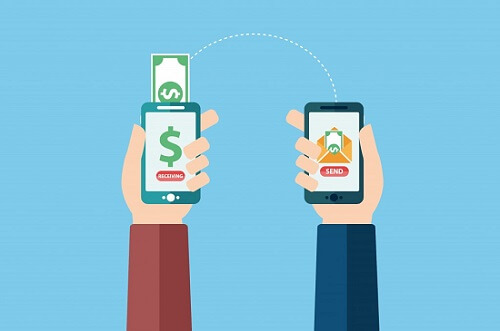 3. Risk of Your Financial Data Getting Leaked
The recent data breach incidents have exposed Facebook's vulnerabilities and shattered the trust factor completely. Therefore, you cannot be completely sure if your financial data on Facebook Messenger are not being shared with third parties by Facebook.
Any vulnerability in these third parties can lead to data breach incidents and your financial data getting leaked in hacking forums for free.
4. Messenger Has Become a Playground for Scammers
Scammers can get access to your friend's Facebook Messenger and request you to send money urgently. If you send money, you cannot get it back, and you or your friend can never track back the scammer or the money.
Scammers are coming up with ingenious methods and plans to trick Facebook users into sending them money and vanish from Facebook completely.
Part 2: How to Keep Your Facebook Messenger Money Transfer Safe? - Using ClevGuard Anti-Spy App [Best Choice]
No online payment service is completely safe, and Facebook messenger is no exception. However, you can use an external security app to make Facebook Messenger money transfer safer.
ClevGuard Anti-Spy app is the best choice to nullify the chances of hackers hacking your Facebook Messenger account and spying on your monetary transactions.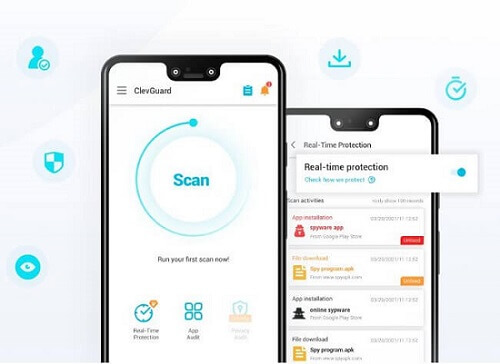 What is ClevGuard Anti-Spy App?
ClevGuard Anti-Spy app provides complete protection to your Android smartphone so that your privacy and safety do not get infringed.
It detects and deletes spyware, provides real-time protection, prevents remote spying, cleans junk files, and lets you check if your email address is breached. This is how it eliminates any risk associated with sending making through Messenger.
Key Features of ClevGuard
1. Detect and Remove Spy App on Your Phone

Various spy apps disguise themselves as regular apps. You yourself install thinking them as regular apps, but they are actually spying on your phone activities secretly including financial transactions through Messenger.

ClevGuard app scans your smartphone thoroughly and detects any spy app present. With a single tap, you can delete those spy apps instantly.

2. Provide 24/7 Real-Time Protection

When you are doing monetary transactions using your phone through the Messenger app, you need real-time protection. This will ensure that no spy app is spying on your monetary activity and recording your keystroke to get bank or credit card details.

ClevGuard app provides 24/7 real-time protection and alerts the users as soon as it finds any hidden spy app or malicious file trying to get entry on your phone.

3. Protect from Phone Microphone and Camera Spying

Hackers can get remote access to your phone camera and microphone through regular apps installed on your phone. You can monitor your activities in real-time as well as record your conversations through which they can get your Messenger PIN and even account credentials.

To prevent spying through camera and microphone, ClevGuard app notifies the users as soon as any inactive app starts using the microphone and camera.

4. Check Email Breach

Once your email address and password get leaked in any data breach incident, all the online accounts, including Facebook Messenger, linked with the email address are at a high risk of getting hacked.

ClevGuard app provides the function of checking email breach, you can finds out if your email address was leaked.

If so, it provides you details of the data breach incident. Most importantly, it suggests safety steps to strengthen the security of your email address immediately.

5. Clean Junk Files

Junk files of certain apps contain important information and data that hackers can get access to and extract them easily. For example, Messenger's junk files can have details of financial transactions.

Besides, junk files block space on your storage unnecessarily. ClevGuard app allows you to delete junk files on your phone entirely as well as selectively as per your requirements.
How to Keep Your Facebook Messenger Money and Information Safe with ClevGuard?
Now that you know that ClevGuard Anti-Spyware app can make sending money through Facebook messenger safe, let us check out how to install and use the app on your phone.
Step 1. Download ClevGuard on Your Phone
For your ease, you can directly click the "Google Play" button below to download ClevGuard.
Step 2. Scan Risks of Your Phone
After installation is over, open ClevGuard app. From the home screen of the app, tap on "Scan" option. Wait for the app to scan your phone thoroughly.
It will give you report after scanning so that you can check if there is any risks for your Facebook Messenger.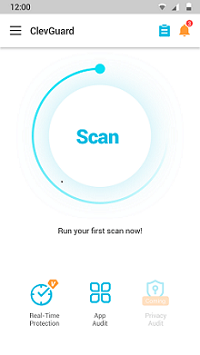 Step 3. Start Protecting Your Facebook Messenger
Checking the scanning report, you can tap on "Resolve All" button to fix and delete spy apps which threat your Facebook Messenger security.
Moreover, you can go to "Real-Time Protection" tab at the bottom of the screen. Toggle on the Real-Time Protection option to protect your activities on Facebook Messenger.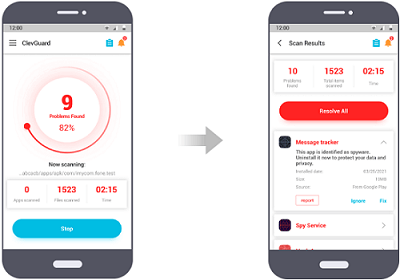 Part 3: More Tips to Keep Your Facebook Messenger Account Secure
Apart from getting complete protection using the ClevGuard app, there are a few additional steps you have to take in order to keep your account secure from all perspectives.
1. Enable Two-Factor Authentication
You should enable two-factor authentication for your Facebook account. Once you do that, even when someone gets your Facebook username and password, he won't be able to log in without the security PIN number sent to your associated phone number for every new login attempt.
You can enable the option from Settings & Privacy> Security and Login> Two-Factor Authentication> Edit.
2. Account Monitoring
You should regularly monitor your account activities to ensure that no one else is logging into your account and spying on your activities.
You can check your account activities from Settings & Privacy > Activity Log.
You can also check login and logout activities to ensure Settings & Privacy > Activity Log> Logged Actions and Other Activity> Logins and Logouts.
3. Create Strong Password
Hackers can easily guess your Facebook password if he is spying on your phone activities. The guessing can be based on passwords of any other online accounts and your personal data.
Therefore, you have to create a strong password for your Facebook messenger account such that no one can guess it easily. Moreover, make sure that the password is completely different from the passwords you use from other accounts.
4. Check Linked Funding Accounts
You might have linked your bank account, credit card, or PayPal account to Facebook Messenger for sending money instantly.
You should turn on alerts for these linked funding accounts so that you get instant notifications when someone hacks your Facebook Messenger and uses the funding accounts to transfer money.
Part 4: Other Options of Transferring Payment
When the answer to the question, "Is sending money through Messenger safe?" is negative, you must be looking for a safer payment service. Here is the list of the other payment services you can try out.
1. PayPal
PayPal is the most popular fund transfer service online. Most users consider PayPal more secure than Facebook Messenger, and hence, the trust factor is high for personal as well as commercial money payments.
Sending and receiving money in the US is free on PayPal while there are some fees charges for international transfers.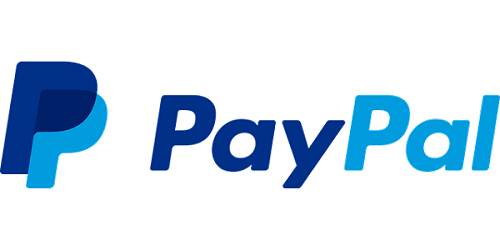 2. Venmo
Venmo is a popular mobile payment service that is now owned by PayPal. PayPal's brand value has made Venmo extremely popular for instant transfer of money to friends, family members, and even sellers.
There is a fee for transferring money using a credit card in contrast to Facebook Messenger where everything is free.

3. Zelle
Zelle is another reliable mobile payment service to transfer money from your bank account to the target person's bank account. You can send money using the person's email address or phone number.
Zelle's payment service is the most trusted, and over 1000 banking apps use its service. The service is completely free, just like Facebook Messenger.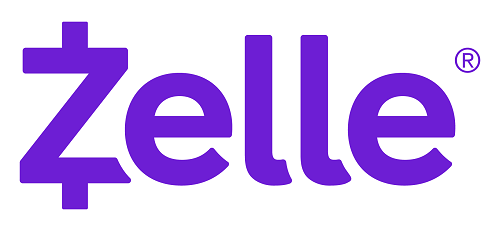 Part 5: FAQ about Facebook Messenger Money Transfer
1. How do You Send Money through Messenger?
Facebook Messenger Pay allows users to send and receive fund in simple steps. It acts as a medium between the payer and payee bank accounts. Facebook does not charge anything for being the medium, and you can send money to your Facebook friends instantly.
There are some requirements you need to fulfill to become eligible to send or receive money.
You should have an active Facebook account.
You need to have credit card or debit card or PayPal account.
You must be 18 years of age or older to use the payment service.
The payer and the payee must be U.S. citizens.
2. How can You Receive Money by Messenger?
If you have received money from your friend through Messenger, here are the steps you have to take to transfer the received money to your bank account.
Open the conversation of the friend who has sent you money on Messenger.
Tap on Add Card option in the conversation.
Add your credit or debit card details to set up your bank account for the first time.
The money will be withdrawn to your bank account within three business days.
3. How Much does Facebook Messenger Charge to Send Money?
Facebook does not charge any fee for sending as well as receiving money. You can link your credit card, debit card, and even PayPal account and send money from any one of them free of cost. However, your bank can charge you a fee depending on the bank policies.
4. How Much Money can You Send via Facebook?
The maximum transfer amount on a single transaction is $9,999 when you send money via Facebook Messenger. There is no limit on the minimum transfer amount on Messenger.
Conclusion
Hopefully, you have got the answer to the question, "Is sending money through Facebook Messenger safe?" Payment through Facebook Messenger involves some risk elements, but you can overcome most of them with the ClevGuard Anti-Spy app.
You should definitely install the app on your smartphone if you do mobile payment transactions. Moreover, you should take the necessary security steps to overcome unforeseen circumstances.