Hinge is a popular dating app, in 2016, the creator of the Hinge app relaunched it with the advanced features.
Hinge lets the people meet on the basis of their preferences and interests. The Hinge app is not for casual hookups, it is famous for serious relationships.
In this Hinge dating app review, we will talk about the Hinge app features, cost, privacy and especially its security issue. You will know whether it is suitable for you after reading.
Who is Suitable to Use Hinge Dating?
The Hinge dating app is perfect for single people from age groups 25 to 35.
Multiple surveys showed that Hinge worked great for people below 40s, but it does not mean that above 40 can't use this dating app.
Additionally, Hinge dating is the most downloaded app for a long-term relationship.Is Hinge a good dating app?>
Yes. Before 2016 it was just like other dating apps that support hooking, but the Hinge app after 2016 became a frequently downloaded dating app.
So, if you are looking for a serious and long relationship, then this app is made for you.
Related Read: Facebook Dating Reviews: Is It Worthy to Use Facebook Dating
Is It Safe to Use Hinge?
Yes, Hinge is safe to use because it has strict privacy rules. If someone tries to go against these rules, the Hinge app blocks their accounts.
But spyware can interrupt the privacy of users. Spyware can monitor all activities of Hinge users and provides all personal data and information to hackers.
It is a fact that no one wants to share their dating apps history with anyone. So, people want to secure their accounts.
The best option for people to remove spyware and protect their privacy is ClevGuard anti-spyware.
One single click to remove spyware.
Get notified when microphone/camera are used by third-party app.
Clean up junk to release memory and boost phone.
24/7 real-time protection against malicious apps.
NOTE:
Tap on Get it on Google Play button below to finish dwnload and install ClevGuard Ati-spyware. After installation, simply click Scan button to check whether there is spyware on your phone. When scannning is finish, choose Resolve All to remove spyware.
Hinge Dating Features Overview
Due to its new and unique features, this app is considered a trendsetter and better than all other dating apps. These features are "date from home, prompt questions, deal-breakers, etc."
Date from home
When people become comfortable with each other by chatting, they can contact each other by video call.
By this feature, two people from different cities or countries can date each other through a video call from their homes.
Deal breaker
By turning on deal breakers, you can only see those profiles which match your interests and preferences.
Your turn
Ever happened to you that you are chatting with someone you like, and you get ghosted? By using this feature, you will get rid from this problem.it reminds users to reply.
Undo
The outstanding feature of the Hinge is the "undo" option. This helps when someone skips the interesting profile by mistake.
They can reach this profile by tapping on option undo to undo their recent skip.
We met
After exchanging numbers through the Hinge, the app will check if you guys have met live or not. If you meet, the app will ask you about the match.
Your answer will remain secret. This is done to improve the matching algorithm.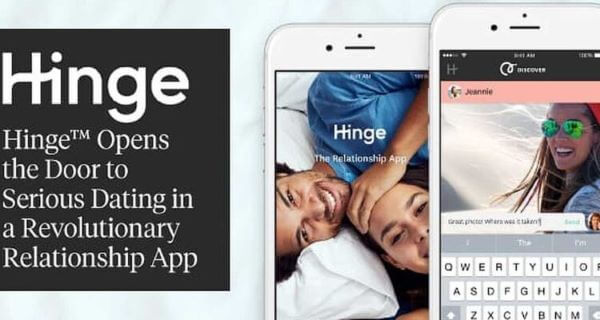 Is Hinge Expensive or Cheap?
The Hinge app is not an expensive dating app; actually, the Hinge's membership cost is almost equal to any other dating apps.
Even if it is more budget-friendly than other apps. You can also start by using the free trial.
How Much Does Hinge Dating Cost?
The Hinge app gives basic features for free. But if you want to enjoy all the features and are serious about it, you must buy a subscription.
This monthly subscription starts from 19.99 dollars. For three months, you will have to pay 39.99 dollars, and for 6 months, you have to pay 59.99 dollars.
Hinge Dating Vs. Tinder Vs. eHarmony
| Dating app name | One month subscription | Two-month subscription |
| --- | --- | --- |
| Tinder | $14.99 | $29.99 |
| eHarmony | $29.95 | $39.30 |
The Age Distribution in Hinge Dating
Most people belong to the age group of 24 to 32 years. They are professionals and want serious kinds of relationships after experiencing the hookup culture and tinder booming.
Users of the Hinge are mainly singles living in the United States. According to Jean Marie McGrath, there is a 50:50 ratio of male and female.
Latest Hinge Reviews
People have different thoughts about Hinge app because their experiences are different from each other.
According to one Hinge user, Hinge is the perfect app for finding a partner. According to his review the Hinge app helped him to find the best partner.
Because after the 10 years of his divorce, he found the love of his life from a Hinge dating.
Another Hinge user said that after breaking up with the third wife at the age of 46, he wasn't ready for any relationship.
Still, when he joined the Hinge app, he found a perfect match for him and spending a good time with her.
On the other hand, few people's experiences are worse because they got scammed by people on the Hinge app.
That's why they think there are a lot of people on the Hinge who are scammers.
Tips: How to Sign Up for Hinge?
There are two ways to create an account on the Hinge dating app, such as signing up with a mobile phone and using Facebook.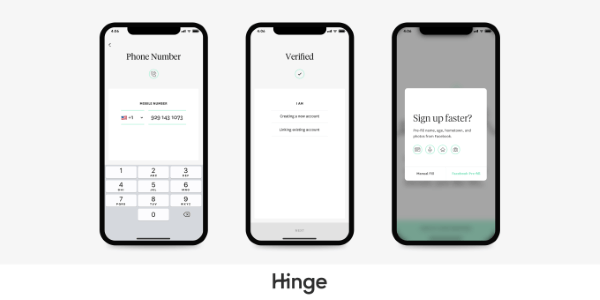 By Phone number
First of all, download the Hinge app on apple or android.
Tap on phone number.
Fill in all the information about your profile.
Allow the permission to Hinge.
Start interacting with new people.
FAQs about Hinge Dating App
Q1. How many matches will I see per day?
According to Hinge policy, there is no strict rule about how many matches you will see in a day.
It totally depends on the person, but the average matches should be 6 to 8. Another thing that the Hinge dating is offering is up to 8 likes per day.
Q2. Can I get a refund if my app stops working?
Yes, you can apply for a refund from your apple id. After submitting the application, the Hinge support team will check your issue and resolve it by its own rules and regulations.
If the problem is genuine, they will refund your money.
Q3. Is Hinge free to use?
Hinge downloading is free of cost. You can see other users' profiles, send likes, match with users, etc.
You can message them too. But to use all the features, you will have to buy a subscription.
It is not compulsory to purchase a subscription on Hinge. You can use it for free as long as you want. But certainly, there will be some subscriptions.
Q4. How do I connect my Instagram to my Hinge profile?
Open your Hinge app and go to the setting menu at the bottom left corner.
Click on account, select my Instagram option.
Add your Instagram information and log in.
Open the setting once again, click on the pencil icon and go to the bottom of the menu.
Click on "adjust the visibility of recent Instagram feeds".
Q5. Can other people see my Hinge preferences?
No, according to the Hinge team, users' preferences on their profiles do not show to other users. Instead, these preferences are just used as a filter to find the perfect partner for you.
Conclusion
Hinge is the top downloaded dating app with 3 million downloads. Because this app has incredible features as mentioned above in this Hinge dating review.
People use the Hinge app for long-term serious relationships, and its success rate is high. Additionally, Hinge is the safest dating app for both men and women.
But people can access your Hinge profile login with spyware, so you need to be aware of spyware. If you are trying to keep your chat and information private, you should download ClevGuard anti-spyware.