Before We Start
Facebook started its new dating service in 2018 at their F8 developer conference. This dating feature helps people across the globe to find their soulmates and is a great source of making romantic connections.
Facebook Dating apps are worth using for this, you will not have to make a separate dating profile. Instead, on the basis of shared interests, Facebook suggests potential matches.
In this Facebook Dating review, we will discuss some details of it and let you know Is it worth to use Facebook Dating. Moreover, this article will provide a tips on how to tell if someone is on Facebook Dating.
Part 1. Facebook Dating Features Overview
The Facebook Dating app has various amazing features such as:
Secret crush
There is an option "secret crush" available where you can add a maximum of 9 crushes (your Instagram followers or Facebook friends). If they secretly crush you back, then you both will get notifications. For this, both parties must have dating profiles.
Lucky pick
By the "lucky pick" option, you can broaden your search and find different profiles which have different preferences than you, but who knows? You may find a rare gem through lucky pick.
Share your plan
Facebook launched its new feature, "share your plan". It makes it quite easy for users to share their profiles if they want to meet each other or date someone.
After approaching your matches, you can select the "share your plan" option to let your family and close friends know where you are meeting with your match. This gives a sense of safety to your loved ones if you are meeting any stranger.
Virtual dates
This option permits the video calls with their matches. Facebook Dating users add hobbies to their profiles. Most common hobbies are watching movies, listening to music, travelling, etc.
Part 2. How to Activate Facebook Dating on iOS & Android?
It is easy to activate Facebook Dating on your Android and iOS. Here are complete details for both users.

For Android users
Are you an Android user? Are you looking for how to activate the Facebook Dating app on your Android phone? You can activate this feature by the following method.
Open the Facebook app and tap on the top right corner of your feeds. Then, use the link by clicking here.
Then tap on dating.
To set up the dating profile, you will have to follow some instructions. First, you will have to turn on your location and upload a photo. After this, your profile will be created.
After uploading all the information, you have to tap the done option.
For iOS users
Does Facebook Dating workon iOS device? Yes, here is complete way to activate Facebook Dating app on iphone.
First of all, open the Facebook application on your device.
Go to the menu option.
Select dating option.
After that, you will have to turn on your location and upload a photo.
Now the profile is created.
Related Read: [Proven] Is Tinder a Safe Dating App?
Part 3. Pros and Cons of the Facebook Dating App
Pros

This is free of cost.
You don't have to make a separate profile.
It is quite easy to use.
Cons

This is crowded as compared to other dating apps like tinder etc.
There are some privacy issues.
Part 4. Who is Facebook Dating Suitable for?
The Facebook Dating app is best for adults over 18 years. For people who are looking for a hookup or a serious relationship, this app is perfect for both. This is best for those who want an instant reply.
Like other apps, people do not need to wait for others turn. If you like someone, you can comment or like their profile and communicate easily. Facebook will also suggest your profile to their dating activated users.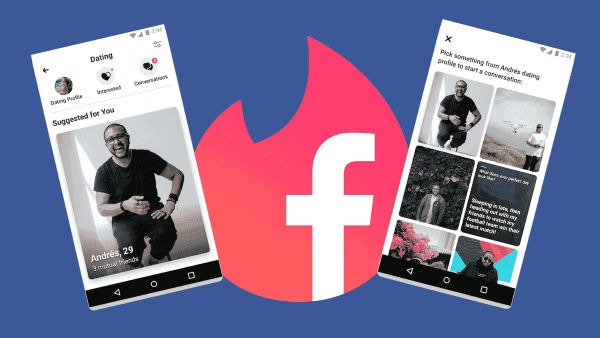 Facebook does not notify others if one of their contacts joins the Facebook Dating app because it is all about people's privacy, but there is concern people want to know if their boyfriend or girlfriend is on a Facebook Dating app, there is a best way to tell if your partner is on Facebook Dating – KidsGuard Pro for Android .
Monitor Someone's Facebook Activity with KidsGuard Pro for Android
Facebook keeps the dating profile secret. It does not send a notification to Facebook added friends and close family members, so no one will be able to know about it when you joined it and how your profile looks like.
KidsGuard Pro is the best option to check whether your partner is on a dating app or not. You can see all Facebook activity of your partner via the KidsGuard Pro dashboard.
Additionally, you can access the complete profile, inbox, usage time, etc. you just need to take 5 minutes to install the app on your partner mobile phone. After installation, the icon of this app will be hided. You can view target phone's activities remotely.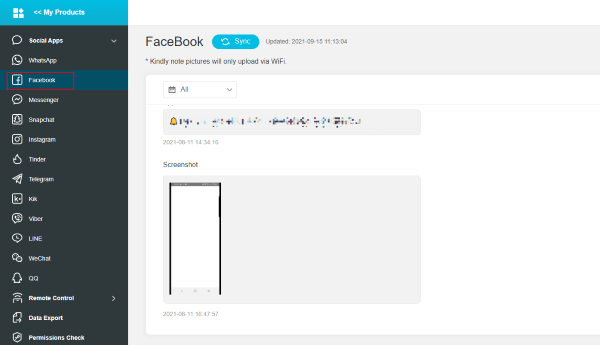 NOTE:
Click Monitor Now button below to sign up an account for using KidsGuard Pro for Android, after registration, log in and go into My Products page, tap on Setup Guide and follow the instruction to finish download and installation. Then you can enjoy your monitoring.
You also can click View Demo to check what you can monitor through KidsGuard Pro for Android.
Part 6. How to Fix It when Facebook Dating is not Working?
If your Facebook Dating not working happened on your device, there could be the different reasons such as bad internet connection.
Additionally, if your Notifications are blocked or device cache data is corrupted. You can issue if the Facebook Dating app is sometimes down for everyone. Next, let's check how to fix if Facebook Dating is not Working as follows:
If you are using Wi-Fi and having trouble using Facebook Dating, you should check your internet connection. On the other hand, if you are using your mobile data, there are some other methods to fix the internet problem.
When you can't see Facebook Dating, you must upgrade your Facebook app. You can also allow automatic updates on your device.
Notification for Facebook must be turned on.
If you face any problem in using the Facebook Dating feature, you must clear the cache to help the app run faster. In addition, you can fix problems by clearing the cache.
Sometimes the app is down for everyone, and you can't help. So must check if other users are also complaining about the same problem.
You should close the app once and then open it after sometimes because minor problems can be solved by doing this.
You can also fix the problems by turning off your device and then turning it on.
If your problems are not being solved on your own, then you must contact the Facebook help center.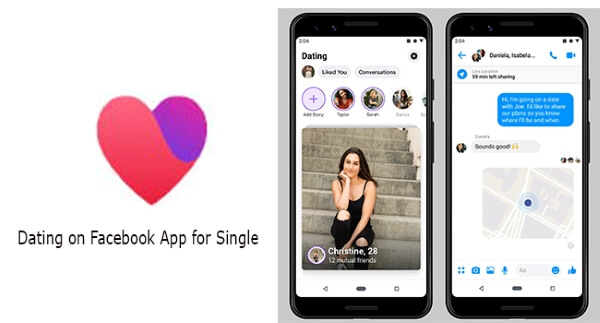 Part 7. Facebook Dating Safety Tips
If you are thinking to activate Facebook Dating Feature, then before account activation, read these safety tips, which will help to avoid any type of bad experience on the Facebook Dating app.
Here are a few safety tips mentioned below:
Don't share any personal information like your mobile number, address, full name, job place etc., with anyone in the chat.
Don't send money to anyone because people who ask for money are scammers on this dating app who can ask you for money for different reasons such as on the name of donation, business, etc.
Don't share the password or email of your social accounts with anyone.
Don't click on suspicious links because a hacker can hack your accounts with these links.
Do proper research before getting involved with anyone.
Before going to date with Facebook Dating app partner tell your close friend or family about this plan.
Choose a well-known public place for a meetup. Don't go to anyone's home for a date.
Don't share nudes or don't force anyone.
If someone is forcing you, block them.
Part 8. FAQs about Facebook Dating
Q1. Are there Any Facebook Dating Alternatives?
Yes, there are various alternative dating apps for Facebook Dating. However, as you know Facebook Dating feature is not available in all countries, you can use other reliable dating apps such as bumble, tinder and match.com.
Q2. Who can See Your Facebook Dating Profile?
Only those who have also opted for this option of dating feature will be able to see your dating profile. So, your profile will not be suggested to all your friends or to the people whom you have blocked.
Q3. Is Facebook Dating Good for Finding Long-Term Companionship?
Yes, the Facebook Dating app is not just for the hookups only. It is best for a long-term relationship. Because this suggests you according to your interest.
Additionally, this app has GPS tracking option by which people can search nearby people. According to experts, millions of people are on Facebook and using the Facebook Dating feature for serious relationships.
Q4. Can I Block Users on Facebook Dating?
To block unwanted people on Facebook Dating, open your Facebook app and tap on the dating option.
Click on Matches, click on the dating profile of a person you want to block. Tap on the top right corner. Block option will appear. Tap on it and block the person.
Q5. How to Delete Facebook Dating?
People usually ask how to delete Facebook Dating profile and here is complete process to delete account quickly.
At the bottom right of your screen will appear three horizontal bars.
Open the Menu.
Tap on Dating.
Now in the top right corner, tap the gear icon and open the setting menu.
You will see an option of delete profile will appear.
Tap on this option, and your dating profile will be deleted
Conclusion
The Facebook Dating app is best for finding perfect matches worldwide. You can check the Facebook Dating review on the official site. This is a totally free app, and all people can join this.
Even married or committed people activate their profiles for hooking up with others. If you are worried about it, you can check either your partner is on the Facebook Dating app or not with the KidsGuard Pro. You can read the chat, check the history, friends list, etc.