Before We Start
There are many online dating apps available in the market, but Eharmony dating app is used to pair people by using different dimensions.
It uses a logical approach to twin people who are on the same wavelength as each other. And it uses a personality test to match people with each other.
This review will tell you if Eharmony dating waste of time or worth it and how to stay safe on Eharmony.
Part 1. Pros & Cons of Eharmony
Pros

The platform is easy-to-use and is modern and the matching system is amazingly easy, the dating experience is completely personalized.
It also helps you to communicate.
It is best for international relationships.
Also, they have a 3-day-free trial so that you can search more about this platform.
Cons

They don't have any search feature and provide people they think that is compatible with you.
A little more expensive as compared to most of the competitors in another app.
The profile creation process is quite an extensive task, and it takes a while to complete.
A 3-day trial is limited.
Part 2. Eharmony Reviews
Eharmony Reviews on Reddit
Most people have negative reviews on Eharmony because of its paid subscriptions, and they do not rely on these apps just for the sake of their love life.
Also, some people say that they have used the Eharmony dating app for more than a year and went on almost 10 to 12 dates but no one turned out to be perfect. And most people in Eharmony dating site are scammers or catfisher.
Eharmony Review on Trustpilot
Many people thought says, they don't cancel people's subscriptions even if they want to, whether it is written quite clear on the app that "THEY WILL".
If people have given a choice to rate this app, they will rate zero stars to it, just because of the scammers and subscriptions. Also, they do not care about the client's safety and people can't report fake profiles. Hence, all the money and time got wasted.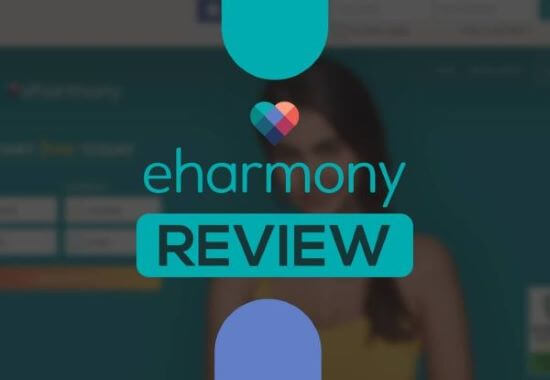 Related Read: Facebook Dating Reviews – Is It Worth to Use?
Part 3. How do I Stay Safe on Eharmony? - Dating Safety Tips
Always rely on your judgment, when using this app, because no one will tell you other person's instincts except your intuition.
If a person asks you to talk on any other platform (Facebook, WhatsApp, Instagram) except Eharmony dating, stop replying to that person. There is a high chance that these people don't have good intentions towards you.
Be cautious about spyware
With the advancement in technology spyware has also much updated that it can led to the theft of your identity like your bank account details, email, passwords etc. Online form filling is a very common source used.
However, to against these risks, you can use anti-spy app to check for spyware on your phone. One of the best apps used as anti-spyware is ClevGuard. Just with a single scan you can detect any spyware file in your Android phone and remove it.
NOTE:
Do you feel like you're being spied? If you are suspicious of this, click Get it on Google Play button below to download and install ClevGuard. After installation, simply click Scan to check for spyware on your phone.
Be careful of URL links in Emails
Keep in mind that the Eharmony dating has profiles of people and doesn't consist of any extra pictures outside the profile.
So, if anyone receives an email consisting of a link that guides to open up a file to view a PDF or JPG, don't open that.
Some people create login links of Eharmony to hack the account of other people. Always remember that once you have logged in Eharmony dating, you don't have to log in again and again. People do these tricks to hack your account.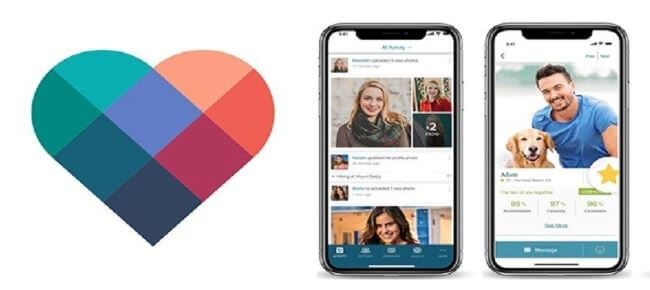 Never share financial or private information
When creating a profile, don't share where do you live, work, and house no, personal email, current phone number, your salary, or other private info from which a person can track you down.
If you are logging in to Eharmony dating in any public place, make sure no one sees your password. Don't share your credit or bank info with anyone and don't buy or send gifts to any online person. Once you have done any of these things your loss can't be retrieved.
Part 4. Free and Premium Features of Eharmony
Premium subscription offers you all the features which a 3-day trial does not provide you. These include unfinished matches, view photos of every person available on the Eharmony, and you can communicate with anyone there.
Also, you can match with a person almost every day this will help you find the best partner for yourself. Premium subscriptions consist of different months plans which include 6, 12 or 24 months.
When using a free Eharmony dating site you can read all messages, but you can reply to only one of those which are a con of a free account.
Part 5. The Sign-up Process of Eharmony
You can download Eharmony dating app on both Android and iOS devices, so you can sign up on both. When signing up first you have to select whether you are a man or woman and want a man or woman.
You can either enter your email or password, or you could also sign up with Facebook. Once you have entered the password, click Join, then choose the answer that suits you best.
Choose a picture after filling out the form. Again, it will ask you some personal questions answer them correctly then choose a profile picture and your account is ready to use.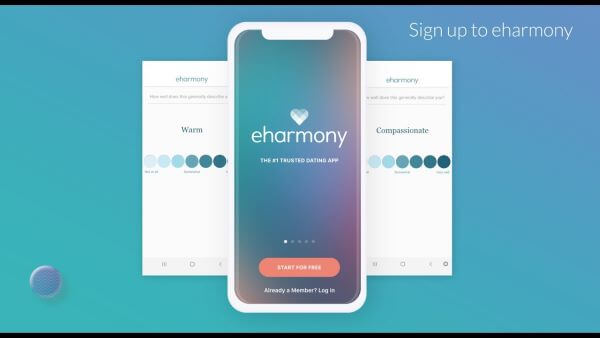 Part 6. How does Eharmony Customer Service is Compared to Other Dating Apps?
Eharmony Vs. other dating sites, we can see Eharmony is less deep than tinder; many people are just there for flirting. And tinder does not keep things complex as the Eharmony dating does.
If we compare match with Eharmony, we can sure that Eharmony consists of almost all age people most of them are scammers. On the other hand, the match provides you only singles who are in search of long-term relationships.
Also, the match has the advantage of the free version, which people mostly prefer.
Part 7. Eharmony FAQs
Q1. How much does Eharmony cost per month?
The subscriptions vary from month to month as 3 months subscription costs $13 per month or approximately $99 total.
And 12-month subscription costs $8 per month and $96 total. Although 12 months subscription is cheaper.
Q2. What is the success rate of Eharmony?
Eharmony senior site has a success rate of about three-quarters, because just in a year most of the men and women who met this dating site got married.
Q3. Why has my photo been rejected on the Eharmony site?
If your photo is not clear, or it shows some vulgar things on it, or you have edited your photo too much with anime characters the Eharmony dating will not accept it. Pictures of pets or nature also cause rejection.
Q4. Can I get my money back if I am not satisfied with the Eharmony?
You can cancel your subscription purchase any time before midnight of the third business day to receive a full refund.
Q5. How often Eharmony do matches update?
It is one of the most common asked in Eharmony dating questions, although it takes 3 to 4 months to match for 1 person because the word count of this app is high.
Summary: Is it Worthy of Paying for Eharmony?
Although Eharmony dating app is one of the best app used for searching long term and true relationships like marriage as compared to all other applications which mostly include scammers.
You need to fill a quiz on the basis of which Artificial Intelligence tools are used to make perfect matches.
But still there are some negative aspects of this application as it doesn't provide you with the service to search for specific person with specific qualities.
This may lead someone to meet a wrong person not compatible for long term relations. So, overall, this application is worth but only if it is used very consciously you can get a perfect life partner.