Instagram Stories have become a popular way to share moments and experiences with friends and followers. While these stories are designed to disappear after 24 hours, many users wish to save them for future reference or enjoyment. This guide will provide step-by-step instructions on how to download Instagram Story on your PC, including private stories, using reliable methods.
Table of Contents
Why Download Instagram Stories?
Instagram Stories offer a glimpse into the lives of users, providing a unique and engaging form of content. There are various reasons why one might want to download Instagram Stories, such as:
Preserving memories: Stories capture precious moments, and downloading them ensures they can be revisited even after they disappear from the platform.
Sharing with others: Downloading Stories enables you to share them with friends, family, or colleagues who may have missed them.
Inspiration and creativity: Artists, influencers, and content creators often draw inspiration from Instagram Stories. Saving them allows for future reference and creative ideas.
Downloading Instagram Stories on PC: Step-by-Step Guide
To download Instagram Stories on your PC, you can utilize different methods, each with its advantages and ease of use.
Method 1: Using Online Tools
Online tools provide a convenient way to download Instagram Stories without the need to install additional software. Follow these steps:
Step 1. Go to your preferred online tool website like Save-Insta that allows Instagram Story downloads.
Step 2. Copy the username or URL of the Instagram account from which you want to download the Story. Paste the username or URL into the designated field on the online tool's website.

Step 3. Click on the Download or Go button.
Step 4. Select the specific Story you want to download from the list of available Stories. Click on the "Download" button next to the chosen Story.
Step 5. The Story will be saved to your PC's default downloads folder.
Method 2: Using Browser Extensions
Browser extensions are another convenient option for downloading Instagram Stories on your PC. Here's how to use them:
Step 1. Open your web browser (e.g., Chrome, Firefox) on your PC.
Step 2. Search for and install a reputable Instagram Story downloader extension like Story Saver.
Step 3. Once installed, navigate to the Instagram website and log in to your account.
Step 4. Open the user profile of the account that has the Story you want to download.
Step 5. The browser extension will display a download button or icon on the Instagram page.

Step 6. Click on the download button or icon, and the Story will be saved to your PC.
Method 3: Using Third-Party Software
If you prefer a more comprehensive and feature-rich solution, third-party software can be an excellent option. Follow these steps:
Step 1. Search for and download a reliable Instagram Story downloader software for your PC.
Step 2. Install the software on your PC following the provided instructions.
Step 3. Launch the software and log in to your Instagram account within the application.
Step 4. Browse through the available Stories and select the ones you want to download.
Step 5. Choose the destination folder on your PC where you want to save the downloaded Stories.
Step 6. Click on the Download or Save button, and the selected Stories will be saved to your PC.
Downloading Private Instagram Stories with Computer Monitoring Tool
Downloading private Instagram Stories requires additional tools and steps to gain access. Note that attempting to download private Stories without proper authorization may infringe upon privacy and legal boundaries. Some phone or computer monitoring software will help you achieve Instagram private story download.
MoniVisor is a computer monitoring tool designed by ClevGuard team, once you get the chance to install software on the target computer, you will be able to monitor and check most activities conducted on Windows in real-time. Most people use it for web Gmail monitoring, Outlook Calendar checking and even use it as a keylogger.
Step 1. Sign Up and Choose Plan
First, Sign up with a valid email account by clicking on the Monitor Now button below. Choose a purchase plan according to your needs.
Step 2. Installation and configuration
Once you successfully purchased, you will need to install and configure the computer monitoring software on the target computer.

Step 3. Install Chrome Extension (Optional)
Chrome extension allows monitoring employees' social media chats and emails. So we strongly recommend you to install the extension for more monitoring features.
Step 4. Start Monitoring from Your Computer
When all setup on the target computer, you should go back to your own computer and visit member center, find My Product where you can check the dashboard.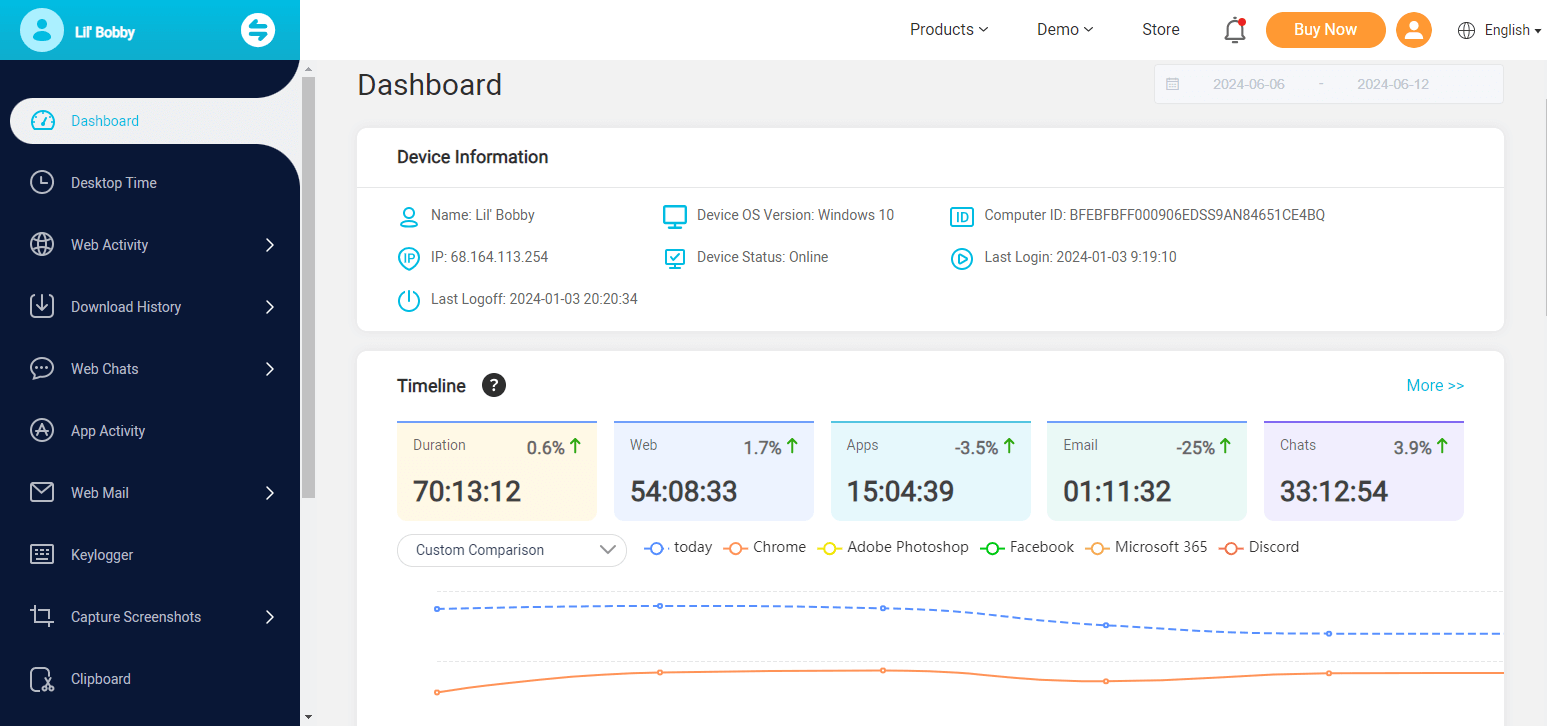 Now you can check all activities including private Instagram story, choose storage path and download it to your computer.
Conclusion
Downloading Instagram Stories on your PC provides a way to preserve memories, share content, and gain inspiration. With the methods mentioned above, you can easily download both public and private Stories. Remember to respect others' privacy and obtain permission when accessing and downloading private Stories. Enjoy saving and revisiting your favorite Instagram Stories hassle-free!