Question:
Have you ever experienced that you were gossiping about someone in a friend group on any social media platform and screenshots of your conversation were leaked?
Sometimes people do romantic conversations and share private pictures with their loved ones, but these kinds of things get leaked, and people start bullying them. These kinds of screenshots can ruin the lives of people.
This article will solve your confusion that "Does Tinder notify screenshot"? And other useful tips.
Does Tinder Notify Screenshot?
The good part about tinder is that it doesn't send notifications if you take the screenshot, unlike other apps such as Snapchat screenshot. Thus, you can save anything you want on the app.
And none will get to know. One can take a tinder screenshot on any device like Lenovo, HP, Dell, Windows, etc. Because the opposite person does not receive tinder screenshot notification. But you should keep in mind how you take advantage of it.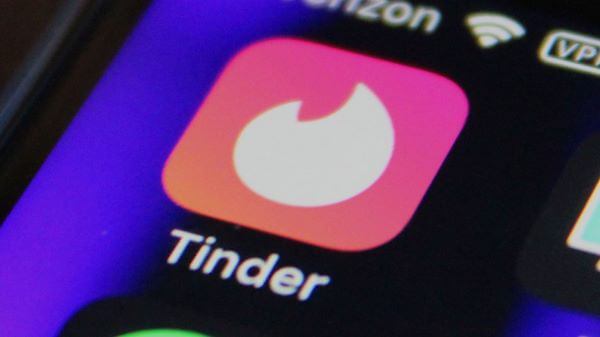 How to Take a Screenshot on Tinder?
Tinder is the most exciting dating app for young people nowadays. If You find something interesting or funny on tinder and want to take a screenshot of a conversation or profile picture, you can easily take a screenshot on any device such as laptop, mobile, mac, etc.
Screenshot on Android phone
If you are an android user and using the dating app tinder, you may think how can you screenshot on tinder? According to the makers, you can easily take a screenshot. Usually, people want to take screenshots of funny conversations or beautiful display pictures just for fun. Here are the following steps to take screenshots on an Android phone.
Its method is easy, and you can take a screenshot in few seconds.
Open tinder app.
Select the chart of the person whom you want to screenshot.
Press on the volume button and power button at the same time, here you are done.
NOTE:
Moreover, advanced android phones such as Vivo y21, oppo a83, and Samsung series have an easy option for a screenshot, and you just need to do basic setting: go to settings > tap on shortcut and accessibility > click capture and enable the setting > now slide down three fingers on the screen to screenshot.
Screenshots on Windows
Are you using tinder on a laptop or Windows phone? You can also take a screenshot of any tinder chat or pictures on the laptop with a few easy steps. There are various methods to take screenshots on windows. But here is the simplest way to take screenshots.
Go to your tinder profile.
Go to the message box and open desired chat or profile.
Press volume down button and power button at the same time
Now you will see taken screenshot on Tinder and you can save it in your desire folder.
Screenshots on iOS
Are you using the tinder app on an IOS device? No doubt IOS devices work smoothly. If you have installed a tinder app and want to take a screenshot of your favourite person's conversation, you can easily take the screenshot on IOS devices.
Open your tinder app.
Open the private chat of the desired person.
Now click on the volume button and home button together.
Now your screenshot is done, it will be automatically saved on your mobile device.
Can Someone See if You Screenshot Their Profile or Conversation with Them?
Tinder is a dating app, but it is interesting too; different people communicate with each other and ask or say funny things to each other and usually share the link of photos and directly share pictures.
People typically want to take screenshots of these Interesting and quite funny chats to show to their friends and family. But the question is does tinder notify screenshots?
The answer to this question is no, tinder is a safe app to take screenshots because it will not notify the opposite person that you have taken a screenshot of their conversation.
Additionally, you can easily take a screenshot of their interesting chat and gorgeous profile pictures. You can share these screenshots with your family and friends too. If someone is sharing helpful information in your chat, you can save this by taking a screenshot.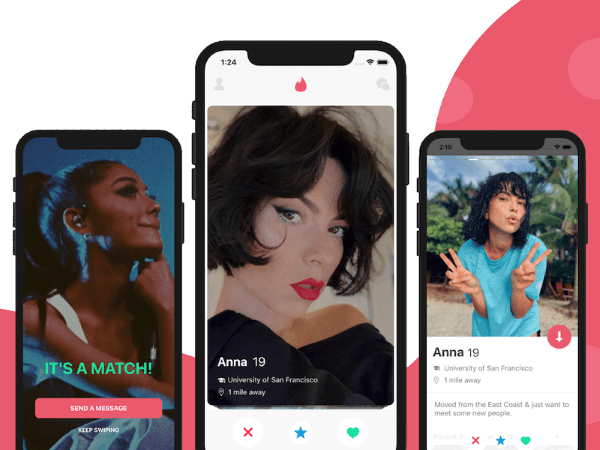 What do People Tend to Screenshot on Tinder?
People usually want to take screenshots of profile pictures of tinder users and conversations. There could be different reasons for taking screenshots of profile pictures and conversations.
Screenshot of message
Few people just take screenshots of funny chat and use these screenshots in memes. Several people take screenshots of the conversation of their perfect match to keep the conversation safe for a long time.
Taking screenshots of profile pictures of tinder users depends on a person's mind.
Screenshot profile or pictures
Tinder app users put their beautiful photos as profile pictures to attract people. People can take screenshots of these profile pictures freely because the tinder app does not send a notification to the person whose screenshot you are taking.
People take screenshots for different reasons, for example, take screenshots just for fun, few want to save the pictures of their perfect match and others take screenshots to reuse these beautiful pictures on fake accounts.
Related More: How to Find out if Your Boyfriend is on Tinder?

KidsGuard Pro for Android
The Ultimate Android Monitoring App for You.
Sign up free
You can keep an eye on your partner's activities with KidsGuard Pro for Android real-time monitor app. On social media, people do interact with each other. Thus, you can track your partner's activities whether he is flirting with someone else on any social media platform.
You can confirm this by monitoring his social media accounts. Additionally, this app can monitor 15 plus social apps like WhatsApp, Kiki, tinder, Facebook, Snapchat etc., and you can access all web history with the help of kidsGuard Pro for Android.
Moreover, you can also check the browser history of your partner. If he visits dating apps or searches some topics which show his cheating traits, you will become clearer. You can also get hands to his calendar to see if there are any unknown dates saved.
Install KidsGuard Pro to Detect if Your Boyfriend is on Tinder
Step 1. Click "monitor now" button and skip to KidsGuard Pro's sign-up website, sign up with a valid e-mail account.
Step 2. Following the instruction to download and install KidsGuard Pro for Android into target phone and finish set up.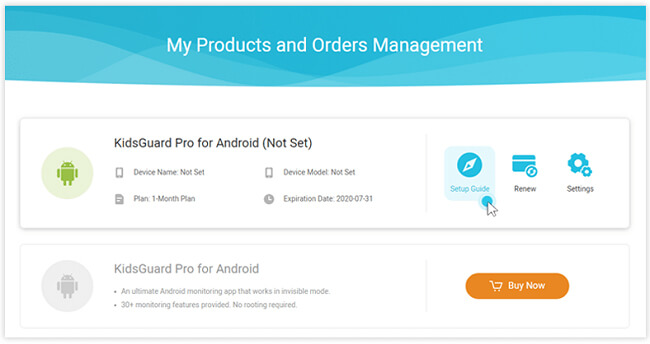 Step 3. After doing proper setting, now you can access the activity of the targeted phone on dashboard. You can visit the dashboard online and can keep an eye on your partner's activities.
Monitor the tinder app activity of your partner account, follow these steps:
Open the dashboard of KidsGuard Pro for Android.
Scroll down, tap on the option of social Apps, now click on tinder.
Now you can see the complete history, you can also check the chat, shared pictures.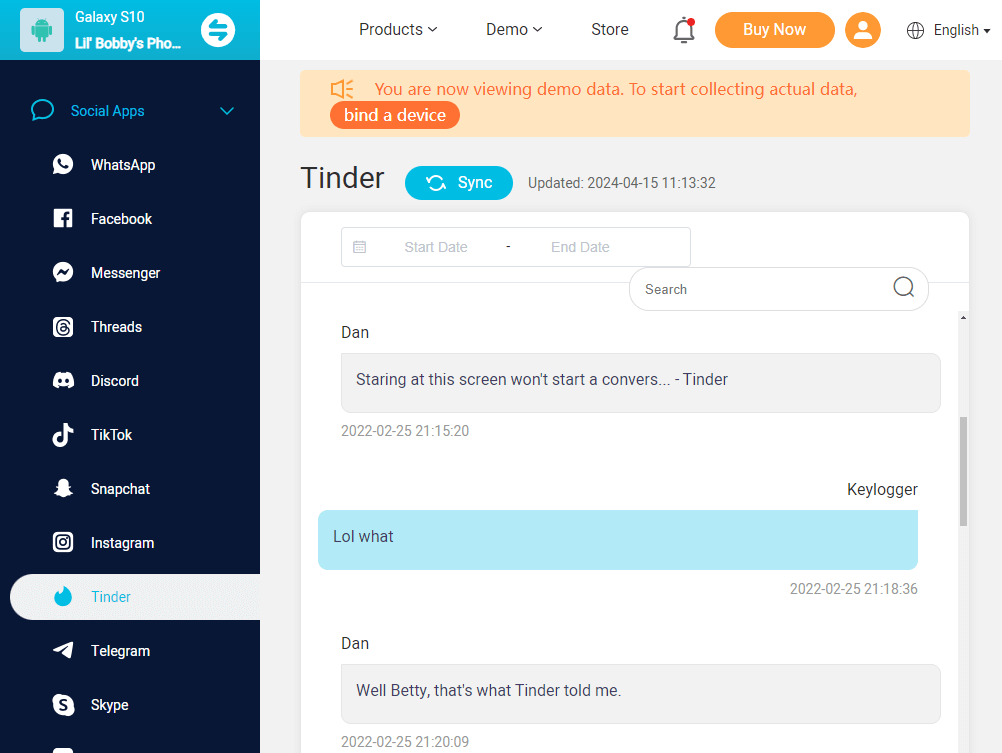 Extra Tips: What to Know About Unmatching Someone on Tinder
On the initial day's people add different people on this dating app; they start a conversation, ask about each other and add each other as a match.
Still, after some time, when they don't feel comfortable or bored, they have the option to remove each other by clicking the option "unmatch".
How to unmatch on tinder?
Unmatching is a standard option on tinder because people usually unmatched the people because they don't interact with them. Moreover, there are different methods for unmatching Android, Windows and iOS users because these devices have different settings and interfaces.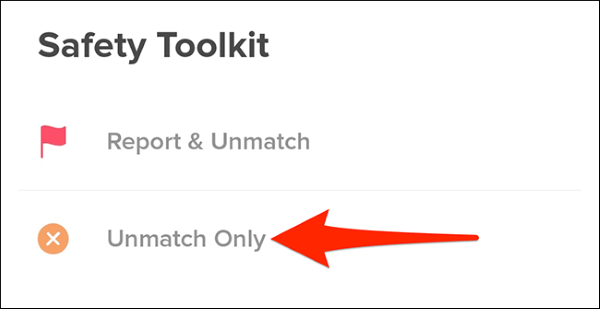 For Android phones
If you are an Android user, here is a process for tinder unmatch someone:
Go to your tinder profile, scroll down, tap on the message icon.
Now open the chat with the person whom you want to remove from your list.
Look at the top right corner, click on the flag icon or ellipses icon,now you will see the safety toolkit.
Here are two options report and unmatch, unmatch only if you want to just remove.
If you want to remove and block too then click report.
For Windows
If you are using the web version of Tinder, you can also access all features such as match, unmatch, report, etc. the unmatching of someone from tinder through a laptop, and you can easily unmatch your partner if you feel he is boring or not your type.
Here is a complete guideline to unmatch someone from your list. it will permanently remove that person.
Open tinder app, go to the chatbox, send open the chat of the desired person whom you want to remove.
Click on the three dots on the top right corner.
Now you will see, two options unmatch and report.
Click on unmatch and choose a reason to unmatch.
Select the reason of your choice and click on unmatch.
For IOS device
You can also unmatch the person from tinder on your IOS device. Here is the complete method mentioned below:
Open your tinder account.
Click on the message icon.
Click the shield icon, and it will show two options unmatch and report the second option is unmatched.
Now click on the unmatched, now you successfully removed the unwanted person.
Does Tinder Notify Unmatch?
Tinder users ask one question frequently: how to know if someone unmatched you on tinder? actually there is no specific way to check because tinder does not notify.
Because tinder does not notify the person whom you removed from your profile. It does send any kind of notification bout the unmatching option,
Final Words
Tinder is a well-known dating app, and young people have been using it for many years. This is also the best app for communication and to find someone special in your life.
No doubt it is best for communication, having fun, and hooking up. Although we can easily take screenshots of the dialogue. We still need to remain respectful. We cannot share other's profile pictures and screenshots of messages anywhere randomly.