Question:Do you receive unwanted or spam emails daily?
It is a fact that People hate to receive unwanted promotional or spam emails because the notifications of these emails disturb them a lot.
According to the report, in 2020, People sent approximately 306.4 billion emails, and the majority of emails were marketing.
People try different methods to get rid of these unwanted emails. So, in this article we will explain how to block emails on Gmail.
How to Block an Emails Address on Gmail on Computer?
It is quite easy to block unwanted emails if you know their email address.
By this, all the emails from that user will go to the spam folder.
Step 1.
Open Gmail on your PC. Sign in to your Gmail account.
Step 2.
Open the email you want to block.
Step 3.
On the top right corner of the email, you will see three dots.
Step 4.
Choose the block option. Finally, irrelevant emails are blocked.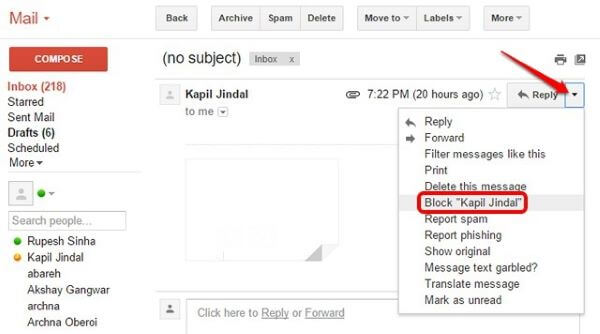 NOTE:
You will have to repeat the same process to unblock anybody. For this, you will have to choose the unblock option instead of blocking.
How to Block an Email Address on Gmail on a Mobile Phone?
In Gmail, you have built-in filters which aid you to keep the spam separate from your inbox.
Moreover, the question is how to block spam emails on Gmail app? But you don't need to fret you can report spam and phishing and can even block the sender.
This is the best way to keep your inbox free from junk. You can even unsubscribe from the link if you are offended by too many emails.
After blocking someone, all the emails from them go to the spam folder.
Block Email on Gmail of iPhone
Log in your Gmail account. Find an email from the sender that you would like to block and click it.
Tap the three dots in the top-right corner of the message.
Choose Block sender option from the dropdown box.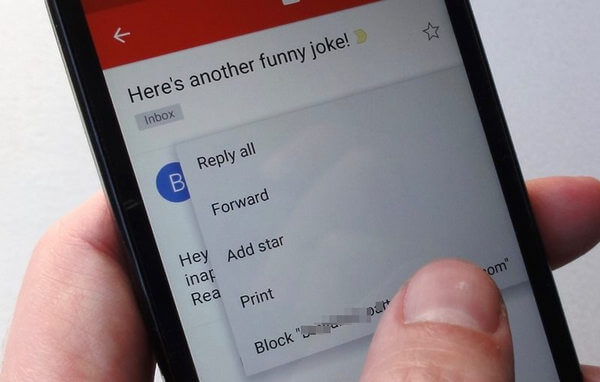 Block Email on Gmail on Android
There is the easiest way to block unwanted email on android phones.
Here is the complete procedure to block the emails on android.
On your android phone, open a Gmail app.
Click on the inbox option, open the message from an unwanted email address.
Look at the top right corner of the message, click on the More option.
Tap on the block option and block that person.
Now you successfully blocked the person.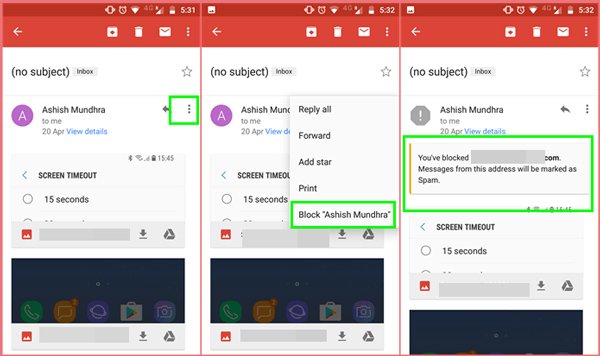 Bonus: Is Your Email Safe? How to Check?
People use the email account for two purposes, first for personal use and other for official use. So, they receive various important emails related to their work and personal emails.
It is important to keep your email data safe from competitors and hackers. Usually, we hear the news of email breaching of the highest-ranking companies.
People use different tricks to access your email account, such as spyware, hacking, stealing passwords from you etc.
But don't fret. You can easily check whether your email is hacked. Is it safe or not with ClevGuard.
ClevGuard Email leak checker
No doubt, with other amazing features, ClevGuard also helps to stop email data breaching.
ClevGuard email leak checker will share a comprehensive report if your account is hacked.
Here are easy steps to check if your email account is breached or not.
Step 1.
Click Get it on Google Play button below to download ClevGuard and finish installation.
Step 2.
Tap on the ClevGuard icon and open it, click on option email breach, add your email address and tap on the option
Check Now
.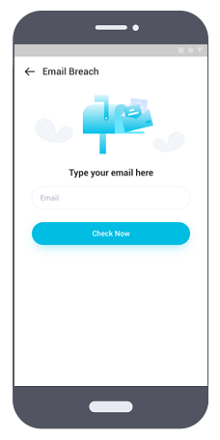 Step 3.
If your account is hacked, it will show you a statement that your password was leaked. You can see the details about where email was leak and date. If your email account is safe, you will see no leaks occur.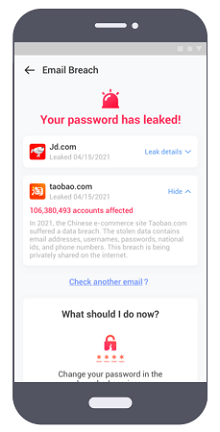 Related Read: 5 Things You Must Do if Your Email is Hacked.
How to Unsubscribe from Mass Emails On PC?
If you are irritated by so many emails for promotion of any website, you can unsubscribe link in the following way.
Open the Gmail on your PC.
Open the email for the user you don't want to receive.
The option unsubscribe will appear in the front of the username.
By clicking on this option, you can stop getting these unwanted emails.
How to Unsubscribe from Mass Emails on a Mobile Phone?
Do you mistakenly sign up on a website that sends different emails like promotional emails, newsletters, emails about upcoming articles etc.
People usually ignore this kind of email but sometimes, this kind of email sucks. so how to block emails in Gmail android app or iPhone?
Unsubscribe from mass Email on iPhone
If you are receiving bulk email messages on your iPhone devices from a site, and this thing irritates you so don't worry you can unsubscribe from these emails quickly.
Open your Gmail account on iPhone.
Open the emails of that website whom you want to stop sending spam emails.
Now go down and click on unsubscribe button to get rid of this website.
Unsubscribe from mass Email on Android
If you are an android user and receive mass emails, you can unsubscribe these emails on your android in the easiest way.
Follow the steps which are mentioned below.
Open Your Gmail account on an Android phone or tablet.
Open the emails from that unwanted site. In the end, you will see two options, unsubscribe and change preferences.
Click on unsubscribe, now, this website can't send you any kind of email.
If you are unable to see the unsubscribe option, here are few steps to follow.
Tap on the menu, click on Settings and click the name of the account.
Tap on inbox tips and click on the inbox tips settings, now click on unsubscribe tips.
People Also Ask about Block Gmail
Q1. Will someone know if I block them on Gmail?
Notifications are not sent to the persons whom you block. There is no way to confirm that someone blocks you.
Blocking email on Gmail is a secret process, so no one can know about this.
Additionally, the blocking option is quite different from other apps like WhatsApp, Snapchat etc.
Q2. How do you block emails on Gmail app without opening them?
People receive different types of unwanted emails like porn emails, threatening emails, virus-containing emails and hacking links containing emails.
So, people usually don't want to open these types of emails on their devices due to security risks and other reasons.
You can block the emails on Gmail without opening them. Here is the complete way to block emails without opening them.
Go to your Gmail account.
Click on the top left corner of the email.
Tap on the menu, click the option More.
Click on filter message, set your filter.
Gmail automatically removes these unwanted emails from the inbox and will send them in spam or trash.
Q3. What happens when you block someone on Gmail?
When you block someone on Gmail, you will not receive any email from that person. But the previous emails will remain in the inbox like before.
They will not be deleted automatically. If you want to delete them, you can.
But the new emails will not be in the inbox. Rather they will appear in the spam folder.
Moreover, you can send an email to a blocked address. If you block an address, the new incoming emails go to the spam folder.
Conclusion
People use Gmail to convey their message to others via sending Gmail. The different businesses also use emails for marketing.
But sometimes these marketing and unnecessary emails disturb the people, so they want to stop receiving these emails.
There are multiple ways to block unwanted emails on your pc, android and iPhone.
Additionally, some Emails contain important data, and leakage of email data can cause harm to your personal life and professional life. So, you can check if your email account is safe or not with the ClevGuard.