Question:
What does "Secret Conversation" Mean on Messenger?
The secret conversation Messenger enables people to talk in completely private and closed-off chat. It allows you to talk in an encrypted chat where no third party is able to see your conversation.
It claims that only you and the receiver can see your messages. However, is Facebook Messenger secret conversation really secure? How to make Facebook Messenger secret conversation safer? You'll know the answers after reading this blog.
Part 1. Why should You Use Secret Conversations?
According to this feature, the conversation will remain between 2 people. No one else can see this private chat, and even the Facebook book officials are not allowed to check this private chat.
Moreover, it has an amazing option to set vanish time. This means you can set when the delivered message should automatically disappear permanently. You can select a time from 30 seconds to 24 hours.
It totally depends on you which time limit you choose. In addition, this secret conversation will be on the device which you are using if you and your friend or partner try to access the secret conversation on any random Device.
You cannot access this, and the best thing about this secret Facebook conversation is that if you deleted the conversation, no one can recover it. That's why you should chat with your partner via Facebook secret conversation because it is safe.
Related Read: Is Facebook Messenger Safe for Privacy?
Part 2. Are there Risks when Using Secret Conversations?
People usually ask, is messenger secret conversation safe? But no, it is not totally safe. People can read your private chat by different ways, such as by taking screenshots or using spyware.
Anyone can take a screenshot of your secret conversation
Nowadays taking a screenshot of anything is normal. Different mobile phones have inbuilt easy screenshot-taking buttons or touch screen shortcuts, but this screenshot feature is bad for those who think no one can access this private chat.
Because people can take screenshots of your chat that could be dangerous, for example, if you were bitching about anyone.
The second person can take a screenshot of your conversation and can show her or him moreover if you have shared any kind of nudes or private picture.
They can take a screenshot of this too and can blackmail or harass you with screenshots.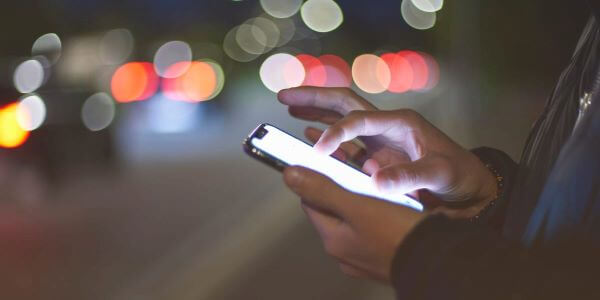 Facebook secret conversations still can be recorded by spyware
Spyware is an app that people use to monitor other's online activities secretly. Is secret conversation in messenger safe if your phone has spyware?
No, it is not. Suppose anyone added spyware on your phone, then that person can read your all-secret Facebook conversation.
This spyware records a video or screenshot and sends it to that hacker without informing you. So, your private chat does remain private at all.
Part 3. How to Make Secret Conversation More Secure?
The Facebook secret conversation owner claims that this conversation is end-to-end encrypted and only both partners can see or read this conversation.
But we know people can take screenshots and spyware also can access your Facebook secret conversation, so you should make it more secure.
You can make it more secure by installing ClevGuard to remove spyware, and using a secure VPN. Check the following methods in details, and you would know what to do next.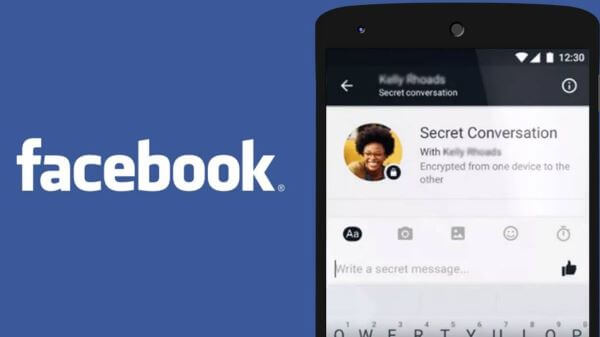 Check whether there is spyware on your phone with ClevGuard
Spyware plays a role in leaking your personal or secret chat with others. That's why you should remove the spyware.
But the question is, how can you remove spyware from your device? ClevGuard is the best option for removing spyware from devices.
ClevGuard is a well-known software that can detect the spyware or doubtful apps after scanning the device.
Here is the complete procedure to use ClevGuard anti-spyware to keep your data safe.
Step 1. Tap on Get it on Google Play button below to finish download and installation.
Step 2. Open ClevGuard to start scanning all apps and documents on your phone.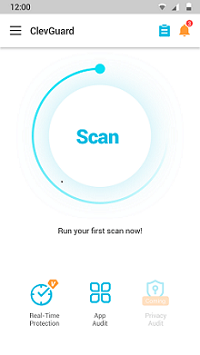 Step 3. ClevGuard will show the scanning results in few seconds, you can view the list and tap on Resolve All to remove spyware. Now your mobile phone is safe.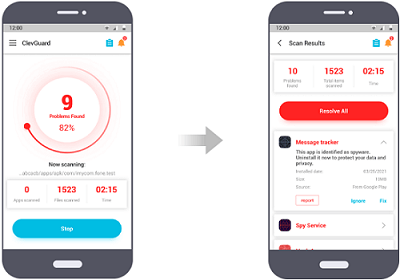 Keeping your data for your safety
You can make your Facebook secret conversation safe by doing privacy settings. People usually steal the data from your social media account.
So, avoid sharing your date of birth, location, date of birth, working place, and phone number. Because this thing will make your data safe, no one can steal your personal information.
Use VPN to keep your conversations secret
VPN is a new technology that helps to maintain privacy on Facebook secret conversation features. These VPNs are available with a no-log policy. So, VPNs help to prevent the chat from leaking.
Part 4. FAQs about Secret Conversations
Q1. How Do Secret Conversations Compare to Regular Facebook Messenger?
The Facebook secret conversation is a more advanced feature. This feature keeps the chat private between two people.
Additionally, you cannot read this conversation on any other device by logging in. On the other hand, the regular Facebook messenger is a standard feature.
Other people can read the conversation on messenger, and it will not disappear in 24 hours. You can recover the deleted messages.
Additionally, on messenger, people can add multiple people.
Q2. Can You Recover Deleted Secret Conversation on Messenger?
When you are in a Secret conversation, and a message gets deleted, then it can't be recovered. But if you are using simple conversation, you can check archived conversation.
Q3. How to Start a Secret Conversation?
If you want to keep your chat secret, you can convert the chat into a secret conversation. Here is the method to start a secret conversation:
First of all, open the Messenger.
Tap on the three red dot button.
Tap on the hidden chat.
Now your chat is secret and end-to-end encrypted.
Q4. How Many People can You Add in Secret Conversations on Messenger?
As you know, the secret conversation is between two people and it is end-to-end encrypted, so you cannot add a third person to it. But you can add multiple people in messenger group chat.
Q5. How Can You Tell if Someone Has a Secret Conversation on Messenger?
The receiver will know if you opt for the secret conversation option because the bubble will change from blue to black. Moreover, next to their picture will appear "encrypted from one device to the other" to let them know that they are in a secret conversation.
Q6. Do Secret Conversations Show Up in Messenger?
The secret conversation new feature is only available on the messenger app. Additionally, this feature is only compatible with Android and iOS.
People frequently ask one question: how to see secret conversations on messenger? So you can't see the secret conversation on messenger.com or Facebook chat.
This conversation will be visible only on the device you have used during the conversation. You cannot read this conversation on any other device.
Part 5. Summary
The Facebook secret conversation is the best feature to chat with loved ones safely. But few privacy concerns are still there, such as people taking a screenshot of chat and using spyware that steals personal information and shares it with the hacker.
How safe is secret conversation in messenger? It is not safe without ClevGuard so if you want your private chats to be secure, download ClevGuard anti-spyware, and it will help to delete spyware from your phone.