Child voices play a crucial role in text to speech technology, particularly when it comes to creating content for younger audiences or incorporating child characters in various forms of media. Using a child's voice in lectures, voiceovers, and content creation adds a unique and engaging element that resonates with children and captures their attention. In this article, we will explore some free and paid child voice generators and tell you how to find the best free text to speech child voice online.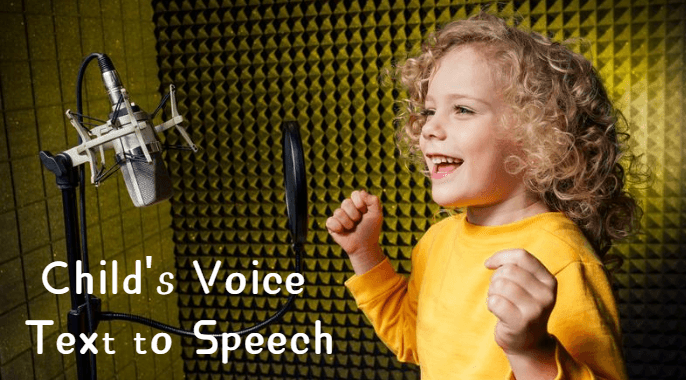 Part 1. Benefits of Using a Free Text to Speech Child Voice Online
Using a free text to speech child voice online offers several advantages. Let's take a look at some of the key benefits:
1.Engaging Content for Children
Children are naturally drawn to voices that resemble their own. By utilizing a child's voice in text to speech technology, you can create content that is more relatable and engaging for young audiences.
2.Language Learning Made Fun
Text to speech child voices are particularly useful in language learning applications. By using a child's voice, language lessons become more enjoyable and interactive for young learners. Children can listen to the pronunciation of words and phrases in a way that resonates with them, making the learning process more engaging and effective.
3.Versatility in Content Creation
A free text to speech child voice online opens up a world of possibilities for content creators. Whether it's creating YouTube videos, films, cartoons, or even radio ads, incorporating a child's voice adds a unique touch to the content.
Part 2. Popular Platforms Offering Free Text to Speech Child Voice Online
Now that we understand the importance and benefits of using a free text-to-speech child voice online, let's explore some popular platforms that offer this feature:
1.VoxBox
VoxBox is a leading platform that offers a free trial for its text-to-speech child voice generation service. It provides a user-friendly interface and a wide selection of child voices in different languages and accents. Additionally, if you feel that the functions of the free version cannot meet your needs, you can opt for premium plans to unlock additional functionalities.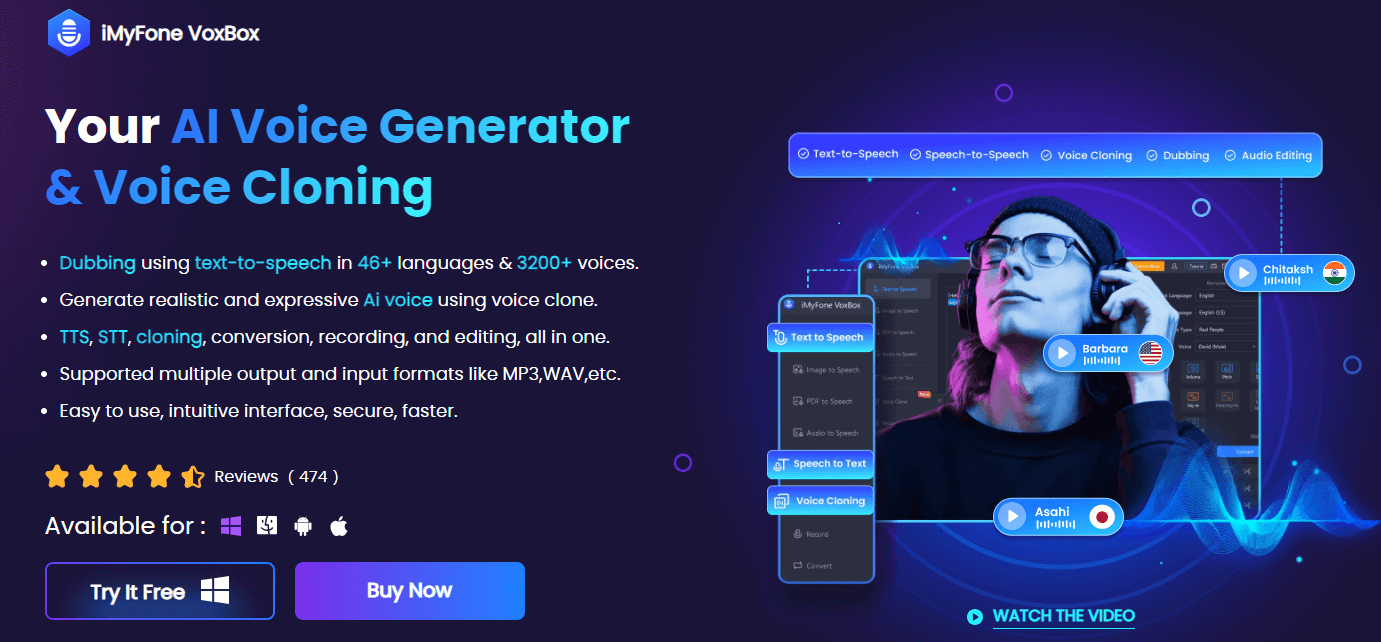 Various voices:VoxBox provides 3200+ voices, like text to speech celebrity voices, YouTuber voices, cartoon voices and so on.
Global languages: It supports 46+ types of languages, including English, French, Japanese, Spanish, etc.
Mutiple functions: Aside from celebrity text to speech, it also offers voice record, image to speech, voice clone.
Customization: You can custom the voice by trimming, cutting, clipping, and deleting soundtracks.
Free trial: It provides a free trial that you can use celebrity text to speech free.
High-quality voice generation: With VoxBox you can create high quality and realistic celebrity voice.
2.Narakeet
Narakeet is another popular platform that offers 26 child text-to-voice generators in 9 languages. It allows users to easily generate audio files using a boy or girl voice generator. While Narakeet offers 20 free text-to-speech child voice audio files, it also provides additional features for uploading Word documents, voice speed/volume controls, and working with Powerpoint files or Markdown scripts.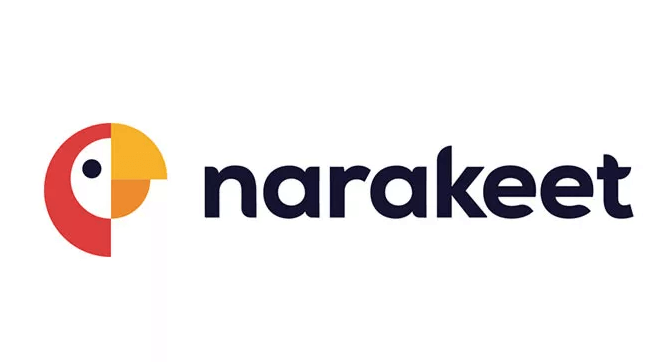 3.NaturalReaders
NaturalReaders is a popular platform that offers a free text to speech child voice online. With a range of child text to voice generators available in different languages, NaturalReaders provides users with the flexibility to create audio files for various purposes. Whether it's educational content or voiceovers for cartoons, NaturalReaders has options to cater to different needs.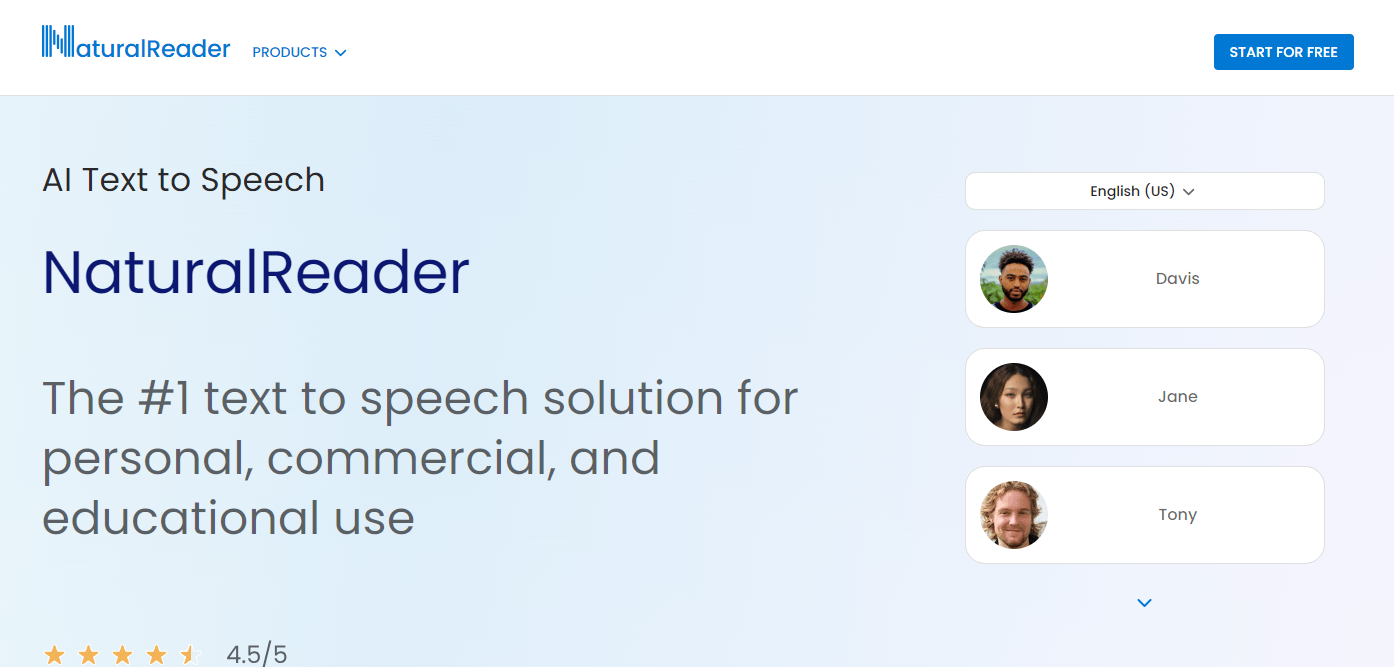 Part 3. How to Find the Best Free Text to Speech Child Voice Online
While free text to speech child voice online tools offer many benefits, finding the best ones can be challenging. Here are some factors to consider when evaluating different platforms:
Voice Quality: Look for platforms that offer high-quality, natural-sounding child voices. The goal is to ensure that the voice is clear, easily understandable, and engaging.
Language Support: Check if the platform supports the language you need for your content. Some platforms may have a limited selection of child voices in specific languages.
Customization Options: Consider platforms that allow users to customize the child voice's pitch, speed, and tone to match the desired context or character.
User-Friendly Interface: Opt for platforms with intuitive interfaces that make it easy to convert text to speech with just a few clicks.
File Formats: Ensure the platform supports commonly used file formats for audio, such as MP3 or WAV, to make integration into various applications seamless.
Part 4. Limitations of Free Text to Speech Child Voice Online
While free text to speech child voice online platforms offer valuable features, it's important to be aware of their limitations. Here are some common limitations:
Limited Functionality: Free versions of text to speech child voice online platforms often have restricted features and functionalities compared to their paid counterparts.
Compatibility: Some free platforms may only be compatible with specific operating systems or web browsers, which can limit accessibility for certain users.
Watermark or Branding: Free versions of text to speech child voice online platforms may include watermarks or branding on the generated audio files, which can be undesirable for professional or commercial use.
Part 5. Paid Options for Text to Speech Child Voice Online
For users seeking more advanced features and capabilities, several paid options are available. Let's explore a few popular paid options:
1.Woord
Woord is a paid text to speech child voice online platform that offers a range of voices and languages. With both free and paid plans available, users can access more advanced features, including unlimited audio creation, a larger variety of voices and sounds, and the ability to download files quickly and securely.

2.Speechelo
Speechelo is a renowned text-to-speech converter that specializes in creating AI-generated voiceovers with natural voice quality. It supports 23 different languages and offers a range of tones and inflections to enhance the voice output. Speechelo offers various pricing options, including quarterly, yearly, and lifetime plans.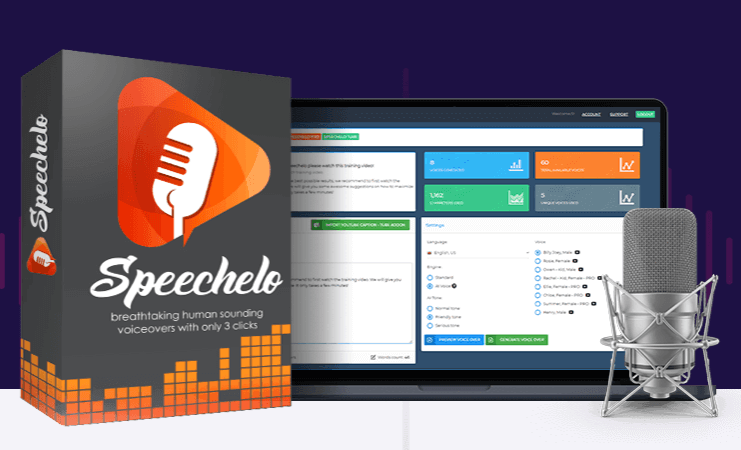 3.Notevibes
Notevibes is a text-to-speech platform that provides users with multiple voice options, including child voices. It offers customizable voice settings, allowing users to adjust parameters such as speed, pitch, and volume. Notevibes supports multiple languages and provides a range of pricing plans to suit different needs.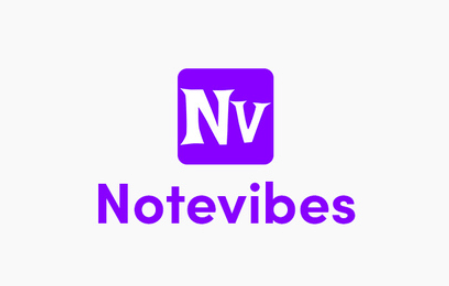 Conclusion
Incorporating child voices in text-to-speech applications can greatly enhance the engagement and impact of content targeted towards younger audiences. The use of free text-to-speech child voice online platforms provides a cost-effective solution for content creators, allowing them to create captivating and interactive content without the need for expensive equipment or professional voice artists. So, start exploring these platforms and unleash the power of child voices in your content creation journey!
Download for WindowsDownload for Mac