Are you tired of searching for a perfect voiceover artist for your project? Do you need a quick and efficient way to create voiceovers for your content? Look no further than Ghostface Text to Speech generator, the revolutionary way that can transform your written text into a clear, natural-sounding ghostface voiceover.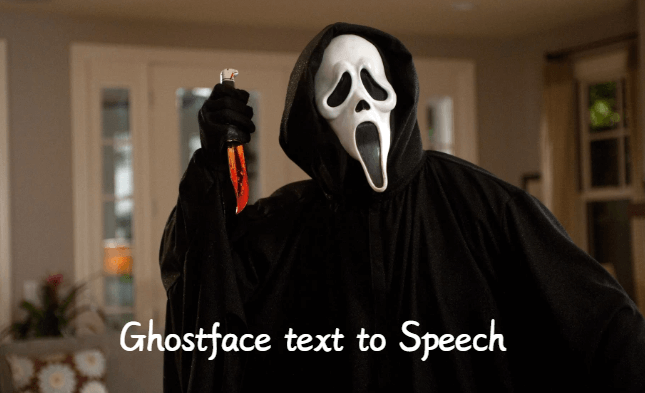 Table of Contents
Part 1. Who is the Voice of Ghostface?
Before diving into the world of Ghostface text-to-speech and voice changers, let's first understand who provided the iconic voice behind this character. In the "Scream" movies, Roger L. Jackson lends his vocal talents to Ghostface, bringing a bone-chilling and unforgettable voice that has become synonymous with the franchise. Jackson's haunting performance has left a lasting impression on horror fans worldwide.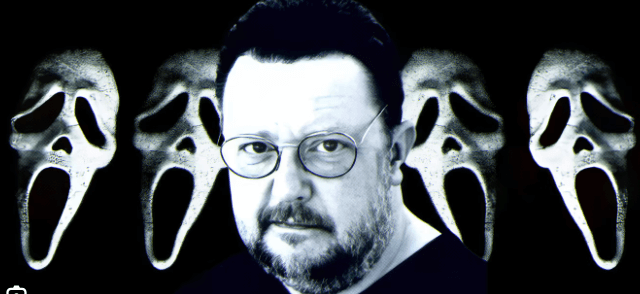 Part 2. How to Get Ghostface Voice?
If you're eager to emulate Ghostface's voice, there are various ways to achieve this eerie effect. One popular method is using text-to-speech (TTS) software that can generate Ghostface-like voices. These TTS tools allow you to type in your desired text, and the software will convert it into Ghostface's distinct vocal style. Additionally, there are voice changers available that provide pre-recorded Ghostface voice clips or offer real-time voice modulation to give you that authentic Ghostface sound.
Part 3. Top Ghostface Text to Speech Voice Generators
Now, let's delve into the top Ghostface TTS voice generators available today. Each of these tools brings its own unique features and characteristics to the table, allowing you to choose the one that best suits your creative needs.
1.VoxBox Ghostface Text to Speech
VoxBox is a recommended Ghostface TTS voice generator that that allows users to convert text into speech using the Ghostface voice, popularized by the Scream movie franchise. It is designed to provide an easy and convenient way for users to create voiceovers for their videos or audio content. Here are some key features of VoxBox:

Multilingual Support: With over 3,200+ voiceovers in 46+ languages, users can choose from various voices to match their content requirements.
Ghostface Text-to-Speech: VoxBox enables users to generate Ghostface-style speech by inputting text and converting it into audio using the iconic Ghostface voice. This feature allows users to follow the popular Ghostface text-to-speech trend on platforms like TikTok.
Voice Cloning: In addition to text-to-speech functionality, VoxBox offers voice cloning capabilities. Users can create dynamic, iterable, and unique human voices by analyzing given data and training the AI with just 20 recordings and 25 minutes of audio.
Audio Editing: VoxBox provides audio editing tools to trim and cut the Ghostface text-to-speech audio files. Users can adjust the audio files to perfectly match their video content on platforms like TikTok or other social media platforms.
How to make ghostface text to speech voice?
Step 1: Download VoxBox software compatible with your device (Windows or Mac). Follow the on-screen instructions to install it.
Download for WindowsDownload for Mac
Step 2: Once the installation is complete, launch the VoxBox application on your computer. Choose Text to Speech and click Change Voice.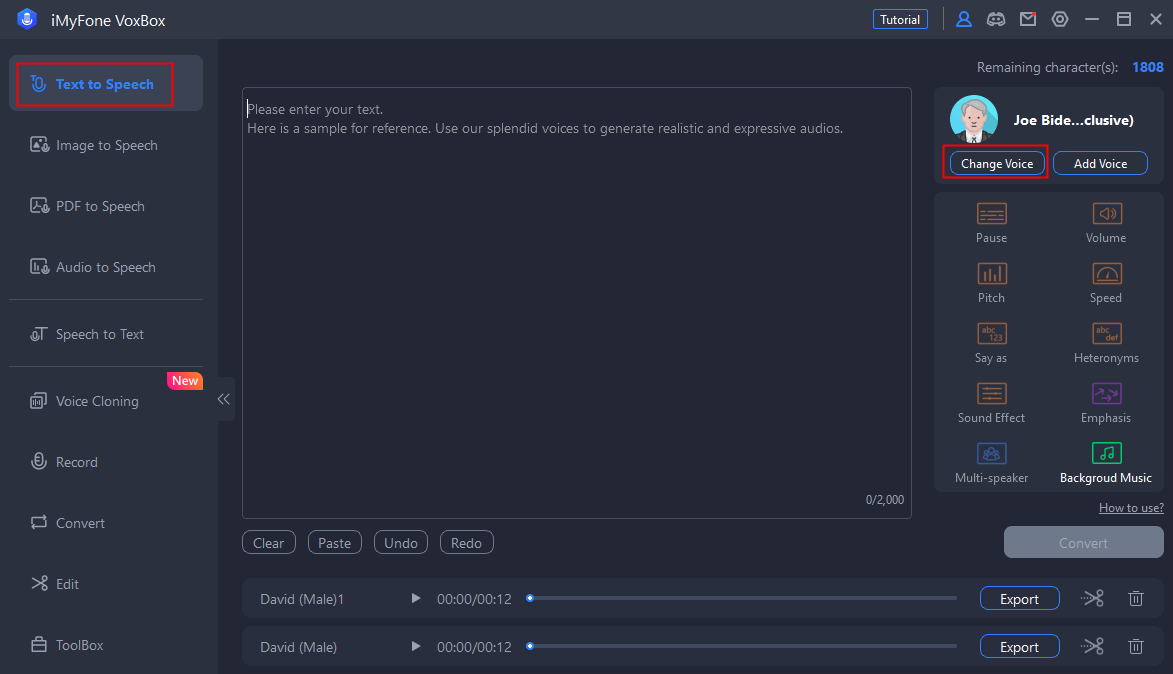 Step 3:Navigate to the voice selection menu and choose the Ghostface voice option. Click on "Use".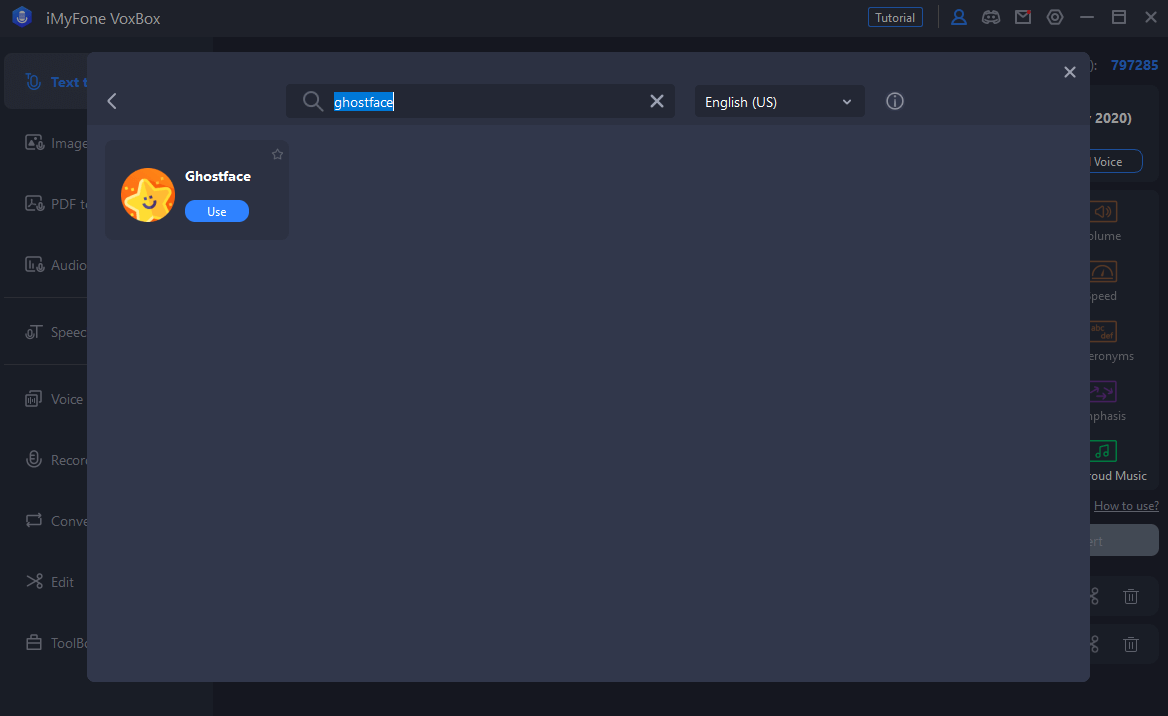 Step 4:Enter the desired text that you want to convert into speech using the Ghostface voice. You can type or paste the text directly into the VoxBox interface.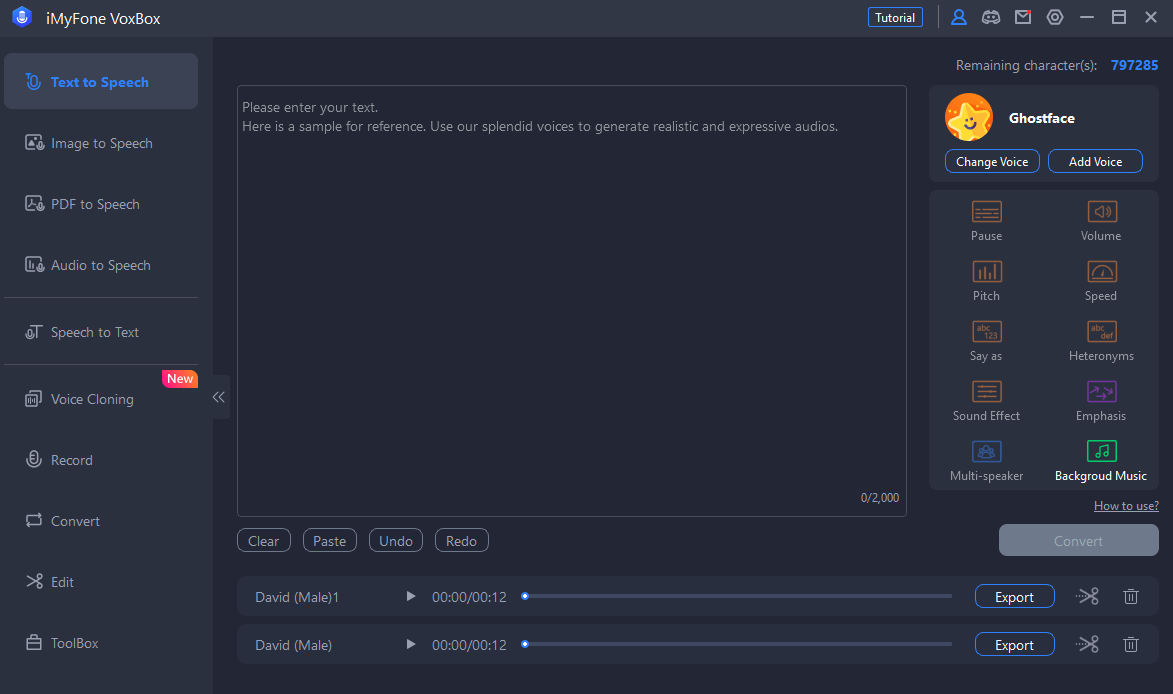 Free download the VoxBox text to speech software to get ghostface voice now.
Download for WindowsDownload for Mac
2.Natural Reader Ghostface Voice Generator
Natural Reader's Ghostface text-to-speech, along with its other AI voices, provides a versatile and user-friendly solution for converting written text into spoken audio. Whether for personal, commercial, or educational use, Natural Reader aims to make text more accessible and engaging for users.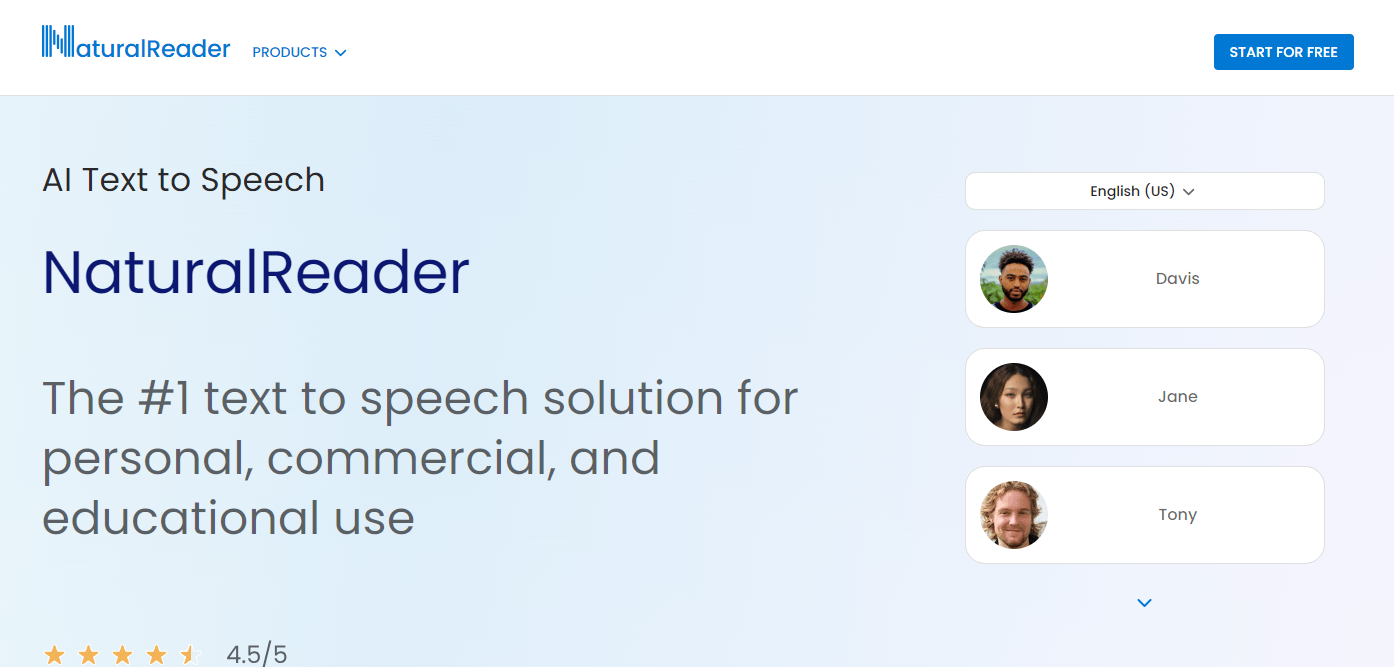 Realistic AI Voices: Natural Reader offers a variety of AI voices, including the Ghostface voice, which is designed to resemble the voice of Ghostface from the Scream franchise.
Text Conversion: It allows you to convert text from various formats, such as documents, ebooks, and PDFs, into spoken audio. You can listen to your documents anytime and anywhere.
Educational Features: Natural Reader offers an EDU version specifically designed for students and teachers. It allows teachers to create classes, add members, share documents, and manage class activities.
Accessibility Support: Natural Reader has been praised for its accessibility features, particularly for individuals with learning difficulties such as dyslexia.
3.Fakeyou.com Ghostface Text to Speech
The another ghostface text to speech generator is FakeYou.com. FakeYou.com is an AI-driven text-to-speech tool developed by Storyteller AI. It utilizes advanced natural language processing (NLP) and speech synthesis technologies to convert written text into realistic and natural-sounding speech.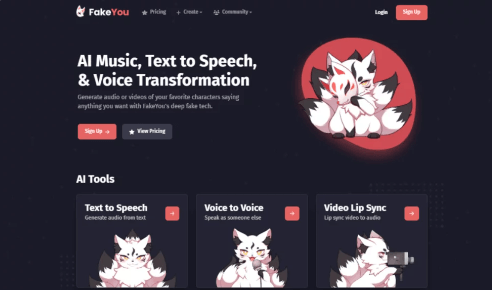 FakeYou.com offers a wide range of over 2,400 voices to choose from, including various categories such as "Real People" with over 180 voices.
With FakeYou.com, users can customize the generated voiceovers according to their preferences.
Users can generate unlimited amounts of text-to-speech output using FakeYou.com.
The Pro and Elite subscription plans allow users to upload their private models for text-to-speech generation.
4.Uberduck Ghostface Text to Speech Voice
If you are looking for a realistic ghostface voice generator, Uberduck AI is one of the best options. Uberduck AI is an artificial intelligence platform that offers advanced tools for text-to-speech, voice automation, and synthetic media creation. It utilizes innovative technologies to generate lifelike and convincing voices, allowing users to mimic the voices of famous or fictional figures for various purposes.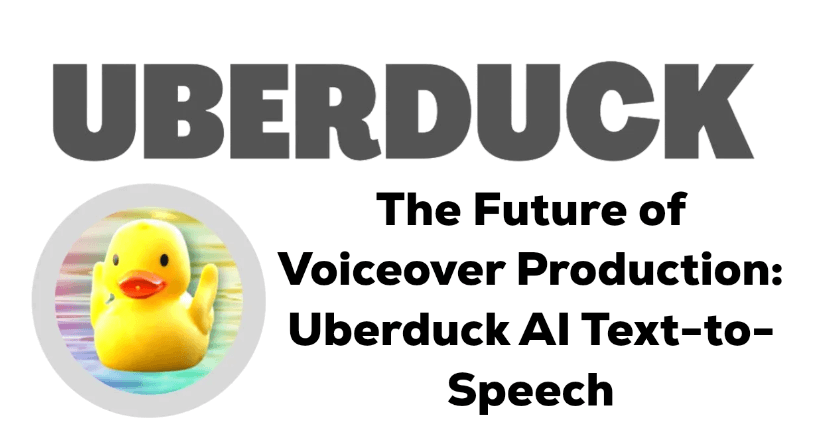 Uberduck AI provides the capability to clone the voices of celebrities and fictional characters.
With Uberduck Ghostface voice text-to-speech, users can convert written text into spoken words using AI technology.
It employs a WebRTC audio chatbot to transform the generated text responses into realistic-sounding voice messages.
In addition to text-to-speech, Uberduck AI offers the ability to generate rap videos.
5.Balabolka Ghostface TTS
The last ghostface text to speech voice generator that we recommend is Balabolka.Balabolka is a text-to-speech program that allows users to convert text documents into audio recordings using synthesized voices. It was designed by Russian programmer И.В. Морозовым and is available for free on the Windows operating system. The word "Balabolka" translates to "chatterbox" in Russian.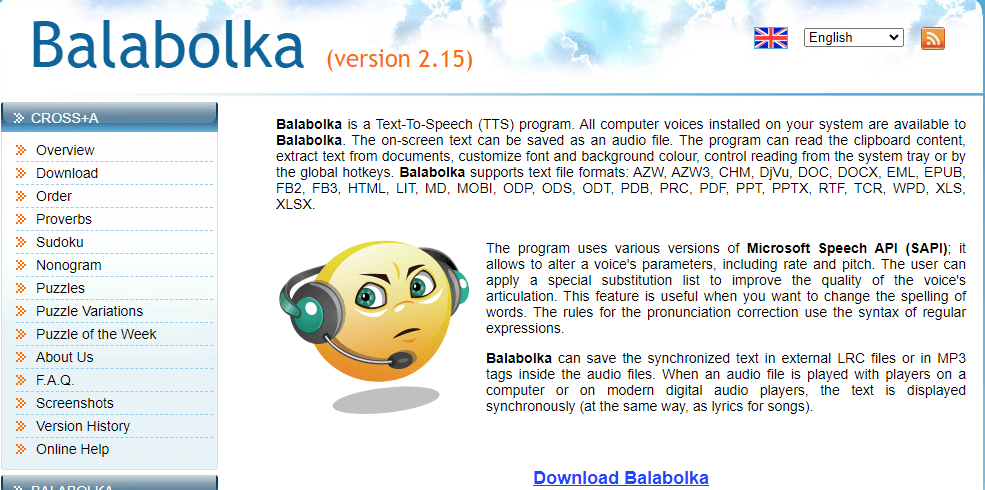 Balabolka can convert various text formats, such as TXT, DOC, EPUB, PDF, and more, into audio files.
It provides a wide range of synthetic voices that can be used for text-to-speech conversion.
Users can modify the tone and speed of the voices to suit their preferences.
Balabolka can utilize voices already installed on the PC, expanding the available options for text-to-speech conversion.
Part 4.Bonus Tip - Best Ghostface Voice Changer
Although there are several ghostface voice changer in the market, one of the best Ghostface voice changer that I recommend is the MagicMic Ghostface Voice Changer. MagicMic is a real-time voice changer that offers various horror voices and sound effects, including scary and scream sound effects. It is available for Mac, Windows, iOS, and Android platforms. MagicMic provides an immersive gaming experience with over 225+ voices, including terrifying voices, to enhance your gaming sessions.Here are some notable features of the MagicMic Ghostface Voice Changer: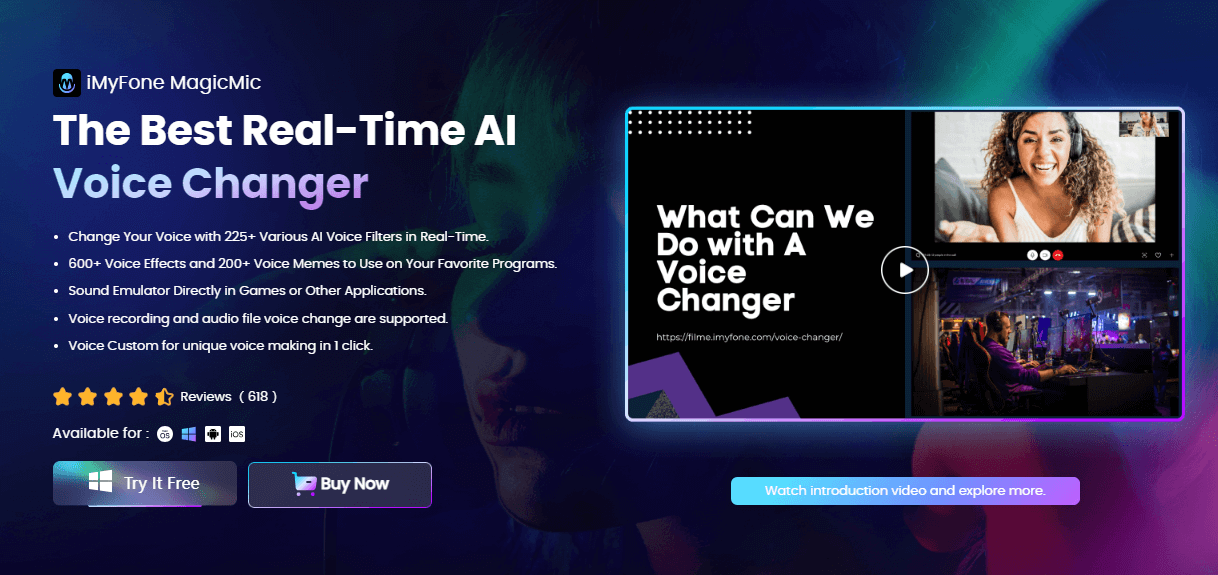 225+ Voice Filters: MagicMic offers more than 225 voice filters, including creepy voice filters like Ghostface, Jigsaw, and Vecna. It also provides voice effects similar to demon, Vecna, and Pennywise.
600+ Spooky Sound Effects and Voice Memes: In addition to voice filters, MagicMic offers a wide range of spooky sound effects and voice memes to fulfill your needs.
Voice Studio Function: It includes a Voice Studio function that allows you to customize your own ghost voice filter .
Import Audio File: With the Import Audio File function, you can apply any sound effects you like to further personalize your voice.
Background Effects: The voice filters in MagicMic come with background effects, allowing you to create a different environment and add horror background sounds.
Conclusion
The Ghostface Text to Speech voice generator, with its exceptional voice quality, user customization options, and the capability to deliver emotive performances, revolutionizes the world of voiceovers. Among the options available, VoxBox stands out as an exceptional choice with its advanced customization features. Don't miss out on the opportunity to enhance your content with the captivating Ghostface voice. Access the Ghostface Text to Speech generator today and bring your projects to life with a touch of professionalism and authenticity.